Media Matters
In general all EJU events are open for media. Unfortunately due to the coronavirus (COVID-19) pandemic we have restrictions for the upcoming events.
Media accreditation is currently unavailable for the Junior and U23 European judo Championships. For the Senior Championships in Prague we are still in negotiation with the local health authority and details will be published on this page. The accreditation procedure will start some weeks before.
About EJU
Detailed information about the EJU can be found here.
Media Accreditation
Entering the field of play, the mixed zone or the warm-up is not permitted without official media accreditation. To apply for your media accreditation, please register prior an event.

The deadline for accreditation application is one day before the event will start. Late registrations will not be considered. The accreditation cards are distributed during the official accreditation (please check the time and place at the event's Outlines) and also on site in the venue.
The registration is open for:
Online-, Print, Radio- and TV-Reporter
Photographer
Online Videographer
TV-Crew Members*
Press-Officers (National Federations, Regions and Clubs)
If you do not have an account please register below …
Login for registered users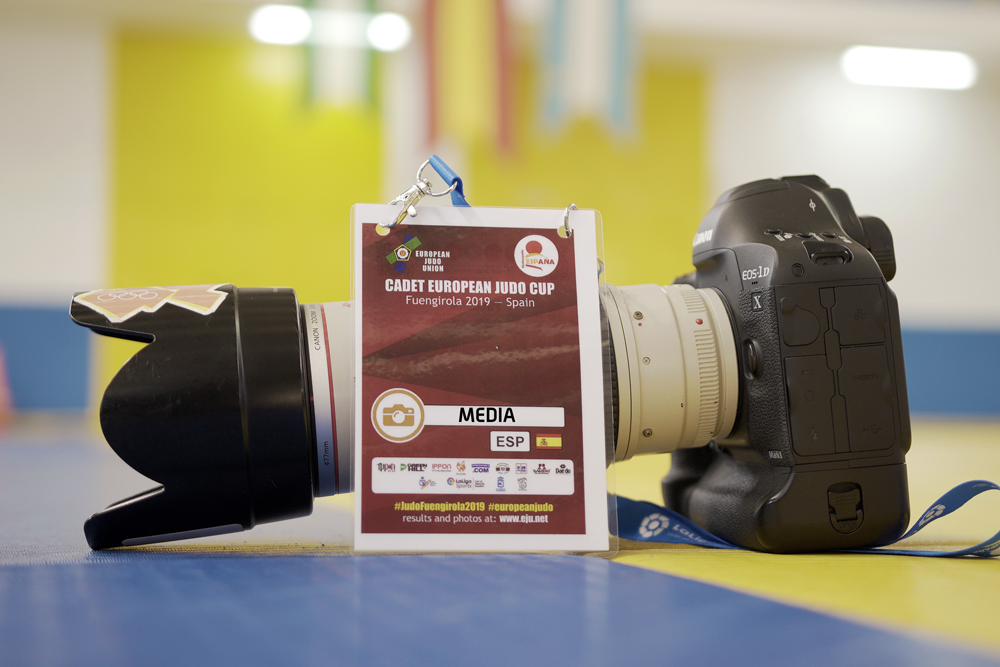 Registration for new users
After registration process you will get a confirmation email with your username and password.
---
Special Service for approved media
For media and our national federations we offer a unique service:
Non-Watermarked pictures in high resolution.
After the registration process you can chose the event you wish to attend.
NEW SERVICE: In the gallery you will find a special download link where you can download pictures without watermark and in high resolution.
All EJU content is licensed under the Creative Commons Attribution-NonCommercial 4.0 International (CC BY-NC-SA 4.0) license.

This license (BY-NC-SA) does not have specific support for media, but we are very willing to freely license our content to media.
Reporters are free to use up to three attributed photos per story (with credit* and a link back to EJU) without contacting us and without specific permission. More generous licensing is readily available by contacting us, and we are almost always willing to grant media the same rights as non-commercial users. The images can be used:
In a newspaper or magazine article, in either printed or electronic media
On a blog or website for descriptive purposes.
In a non-commercial presentation.
More generous press licensing is easily obtainable by emailing.
*Credit — You must give appropriate credit (mention the name of the Licensor and the name of the photographer), provide a link to the license, and indicate if changes were made. You may do so in any reasonable manner, but not in any way that suggests the licensor endorses you or your use.
Judo Federations and Everyone
Everyone is free to republish, share, and remix our manuals as long as they attribute the source link, use it for a noncommercial purpose, and distribute any modifications of the work under a similar license. Note that no double accreditation is allowed (e.g. as press and federation).
Commercial
If you want to use our content in any commercial way (outwith journalistic activities) please contact us with any inquiries by email.
Video permit
It is allowed to film in the venue during the day but Non-Right holders can only publish videos with a maximum length of 5 minutes per competition day. For special projects which are not producing daily news, we can find an exceptional solution. For more information about our broadcasting rights please contact us by email.