Concluding the Senior European Championships 2023 were the five remaining weight categories; -90kg, -78kg, -100kg, +78kg and +100kg. Georgia had three opportunities for gold, two women were looking to defend their European title, one of which, a French superstar.
The final block was opened by the -90kg category, a strong final between current Olympic champion, Lasha BEKAURI (GEO) and Nemanja MAJDOV (SRB). The latter succeeded last week in Abu Dhabi, taking the grand slam gold, and brought that energy in to the Senior European Championships this week, trying for the third time to take the title. 
For Bekauri, this was his second opportunity to become the European champion, taking the title in 2021, a deciding competition for the Georgian team to see who would be going to the Olympic Games between himself and Beka GVINIASHVILI. Now he is in another race with the world ranked number one and current world champion, Luka MAISURADZE. Arguably in normal time, the contest felt a bit slow with both athletes quite cautious and not fully committing to their attacks, however after two minutes of golden score, things really got interesting. The attacks were huge and came so close to scoring but in the end, and after nine gruelling minutes, Majdov looked the strongest and exploded with a drop seoi nage, scoring ippon for the title. Third time lucky.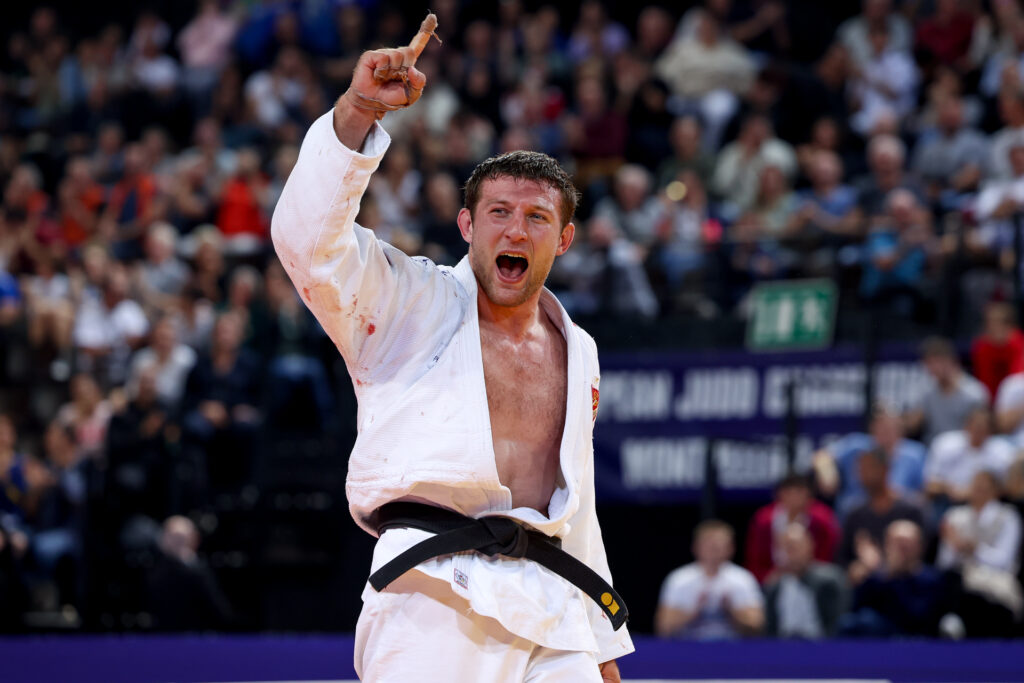 Next up was the -78kg category with defending European champion, Alina BOEHM (GER), half of the entry today and in a neck and neck race in the lead up to the Olympic Games. Defeating current world champion, Inbar LANIR (ISR), she looked set for a great triumph today, but in her way stood the world ranked number one, Alice BELLANDI (ITA) who was looking for her first senior title. Ceding two shidos, it looked like the contest was heading in favour of the Italian athlete and with only a few seconds left on a clock, golden score was looming. Boehm proved however, that it isn't over till it's over, scoring waza ari with o uchi gari right before the gong.
It was big celebrations for the German team and Boehm who now has two consecutive European titles.
Georgia's second hope of a gold medal was WRL #1 Ilia SULAMANIDZE who up until this point had a straight forward day with seemingly no real threat to his journey to the final, same could be said for his opponent, Zelym KOTSOIEV (AZE). It was always going to be a close final for the two who have very similar styles, extreme gripping and a tendency for huge ura names and a nail-biting clinch. In the end, this is exactly what happened, Sulamanidze attacked with o soto gari, Kotsoiev blocked and picked up his opponent who was unable to plant, leading Kotsoiev to score ippon and earn a second gold medal for the Azerbaijan team.
This also means that Kotsoiev has a completed collection, cadet, junior and now senior European Champion.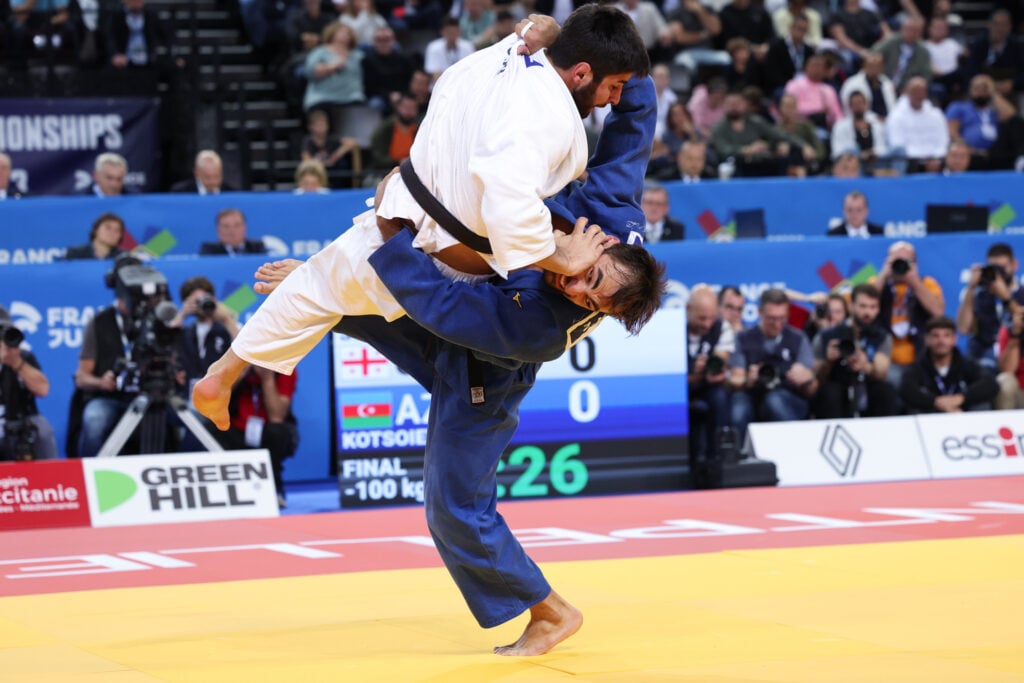 The one everyone was waiting for. The +78kg final between the nations superstar, Romane DICKO (FRA) who was competing for her fourth senior European title today. Last year she faced Raz HERSHKO (ISR) for the gold medal, and it just so happened that they were given the opportunity for a rematch. With the crowd behind her, it seemed like the result may be inevitable, and she was ready to deliver.
Hershko had the ball rolling, attacking with a drop seoi nage, but was unable to move Dicko on the first try, then in the following exchange Dicko, who has a height advantage in this instance, took a deep grip over the back and attacked with o soto gari. Both her power and the strength of the crowd helped to drive her opponent down for the ippon score, in only 33 seconds the title was taken.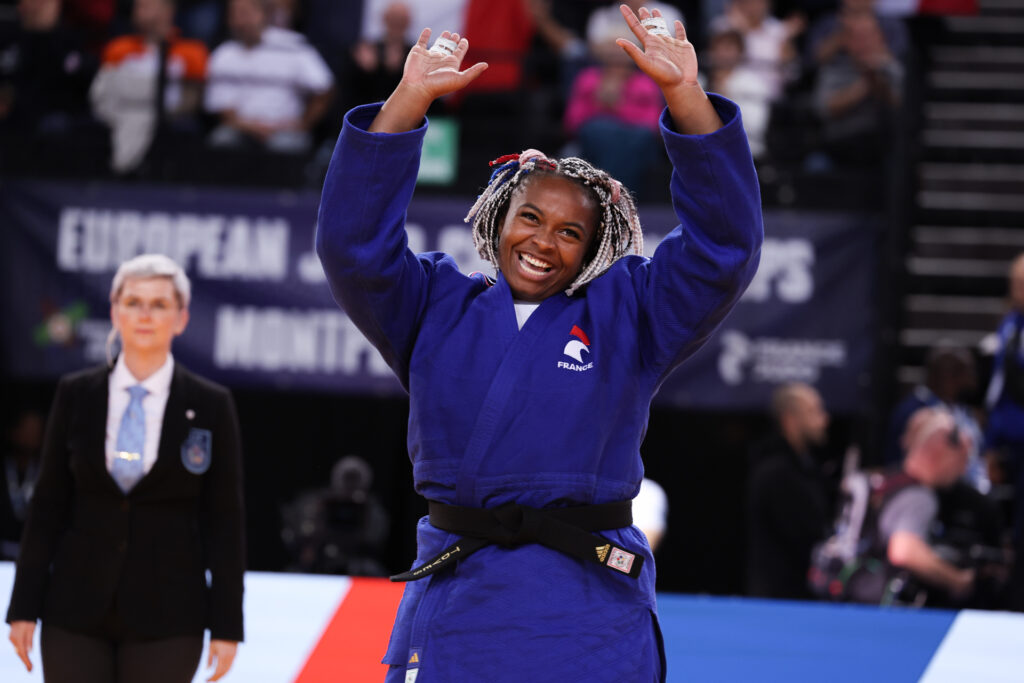 A greatly anticipated final came about in the +100kg category, former world and European champion, Guram TUSHISHVILI (GEO) and the rising star from Finland who took the IJF Masters title this year, Martti PUUMALAINEN. This was Georgia's final opportunity to take a gold medal, and Tushishvili scored an initial waza ari with uchi mata, but Puumalainen pulled it back right before the buzzer with ko uchi gari. The atmosphere was electric, both Georgian and Finnish flags flying and the crowd loving this close head to head. Tushishvili came on to his opponent a little too enthusiastically in the end, allowing Puumalainen to capitalise, spinning in with uchi mata, scoring the second, European title-winning waza ari. It has been an unforgettable year for the Finnish athlete and there is more to accomplish.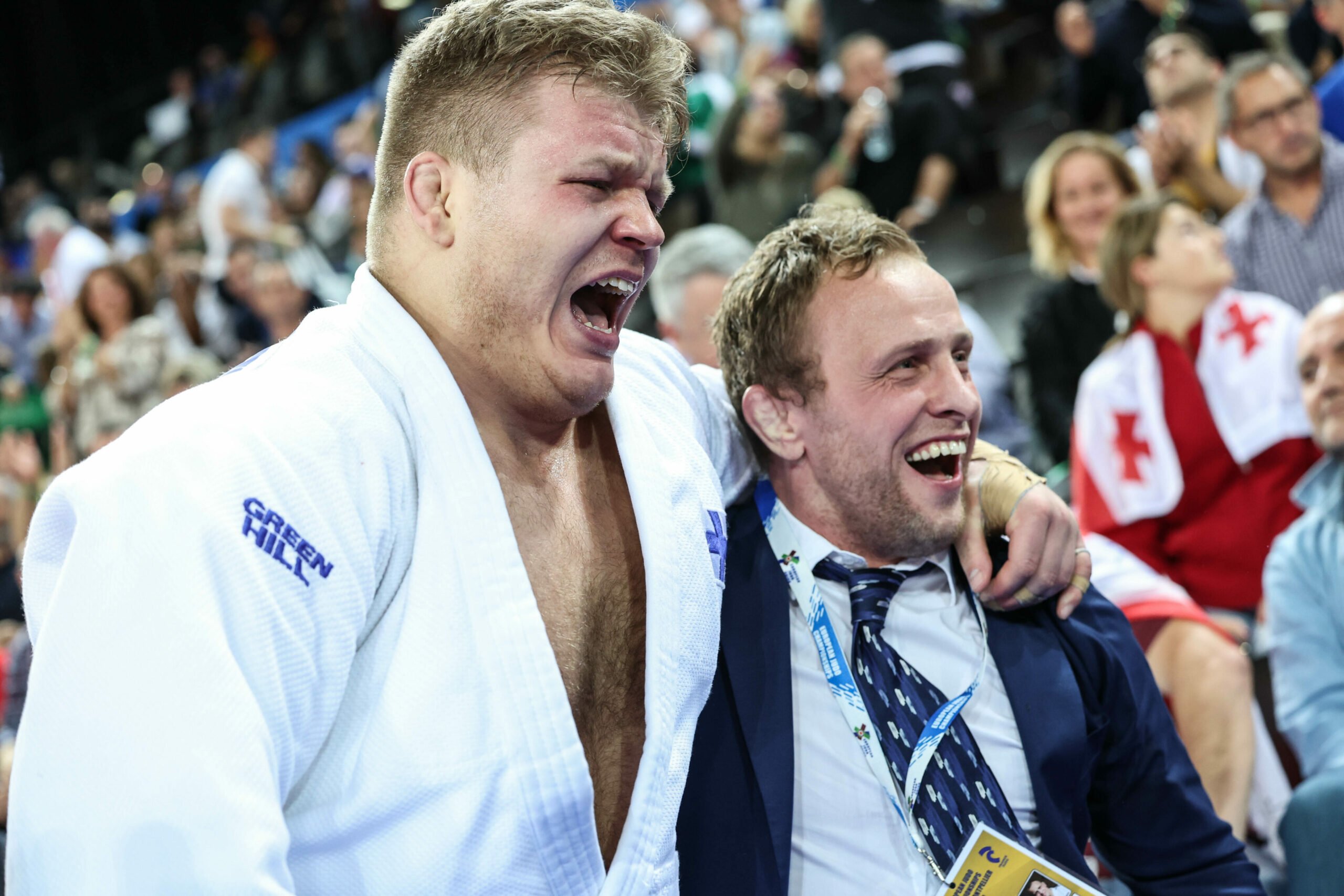 In the end, the hosts France finished on top of the medal tally with five gold medals, followed by Azerbaijan and Serbia. Congratulations to all medallists!
Judoka
Author: Thea Cowen
---