The 2024 Olympic Games in Paris are casting their shadows. There are still 16 months to go, and preparations are in full swing. In other words: In exactly 500 days, the first day of competition of the Olympic judo events will take place.
It was really fun, a goosebump moment for all of us. The hall looks even bigger because it is empty at the moment. It is supposed to hold a total of 9,000 spectators in July 2024. The fact that the Eiffel Tower is so close came as a surprise to me
says Olympic champion Distria KRASNIQI (KOS). There are exactly 500 days to go until the start of the Olympic judo event in the Champ-de-Mars Arena, a stones throw away from the Eiffel Tower.
15 top stars, among them, Krasniqi, Daria BILODID (UKR), Shirine BOUKLI (FRA), Romane DICKO (FRA), Barbara MATIC (CRO), Telma MONTEIRO (POR), Axel CLERGET (FRA), Peter PALTCHIK (ISR), Teddy RINER (FRA), Lasha SHAVDATUASHVILI (GEO) and Eduard TRIPPEL (GER), Lucy RENSHALL (GBR), Michaela POLLERES (AUT), Rafaela SILVA (BRA) and Jessica KLIMKAIT (CAN) got a first impression of the Olympic judo venue. The first impressions were all positive.
Olympic judo with a view of the Eiffel Tower is like a dream come true for a Parisian, especially since I fight for Paris Saint Germain. PSG has included the Eiffel Tower in its logo. It doesn't get any better than that for me. In one year, the dream will come true for me
host and superstar Teddy Riner goes into raptures during the first inspection of the venue.
Lots of lights, two big mats, plus the lights from the Eiffel Tower. It's a privilege to be able to experience the Olympic Games at home
emphasises Shirine Boukli. She already has the mixed team gold. In Paris, the 22 year-old world number one (-48kg) also wants to succeed in the individual competition.
Bienvenue, welcome – the Games in Paris will be the Open Games, open to everyone. Simpy crazy, brilliant,
beams Axel Clerget (-90kg). He too won the mixed team gold in Tokyo and he too is eagerly awaiting the battle against judo great Japan.
If we won in Tokyo, we certainly don't want to lose at home
jokes the 36 year-old Frenchman together with teammate Romane Dicko (-78kg).
The Japanese won't come for a silver medal again, they want Olympic gold
Teddy Riner knows. It remains to be seen who will have the better end for themselves on the 3rd of August, the last day of competition.
I hope my dream comes true!
That the 3-time Olympic champion dreams of two more gold medals (in heavyweight and with the mixed team) is no secret.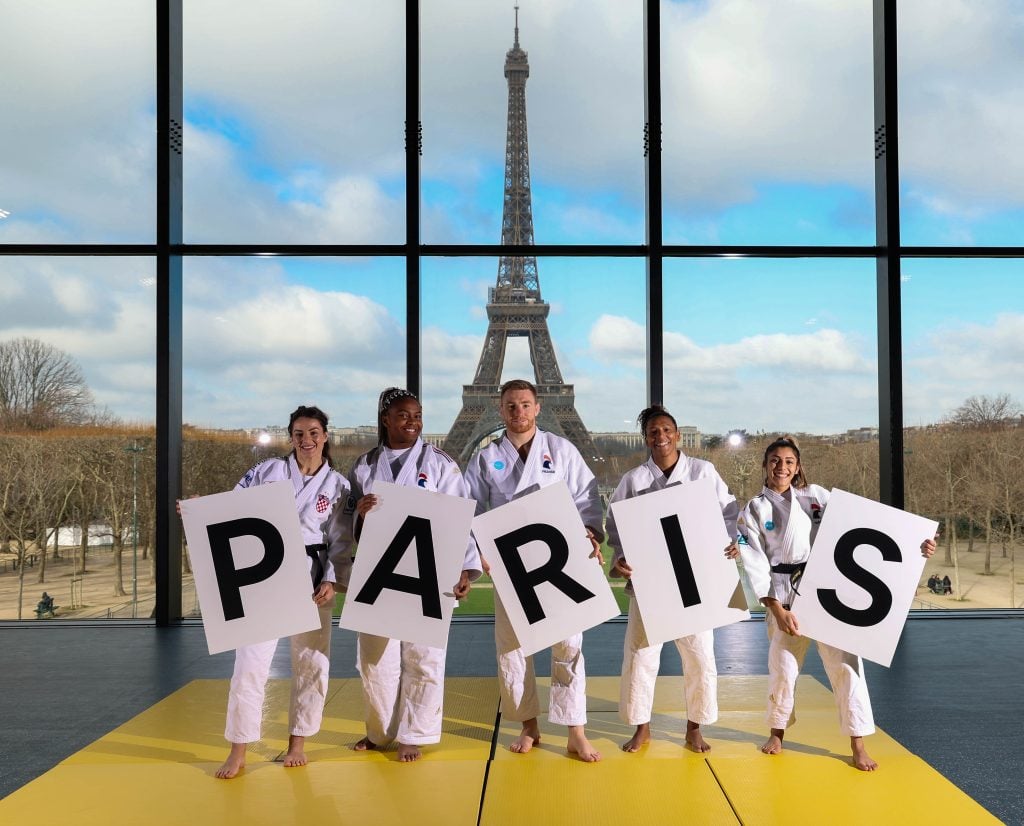 Author: EJU Media
---