The last and final day of the individual contests of the 2018 Junior World Judo Championships delivered a record number of 12 medals for this week. Although the only gold came by Gela ZAALISHVILI of Georgia, the celebration was still tremendous at the Imperial Ballroom. Japan won the overall medal table by 7 gold. Italy followed with 3 titles and Georgia finished third place with double glory.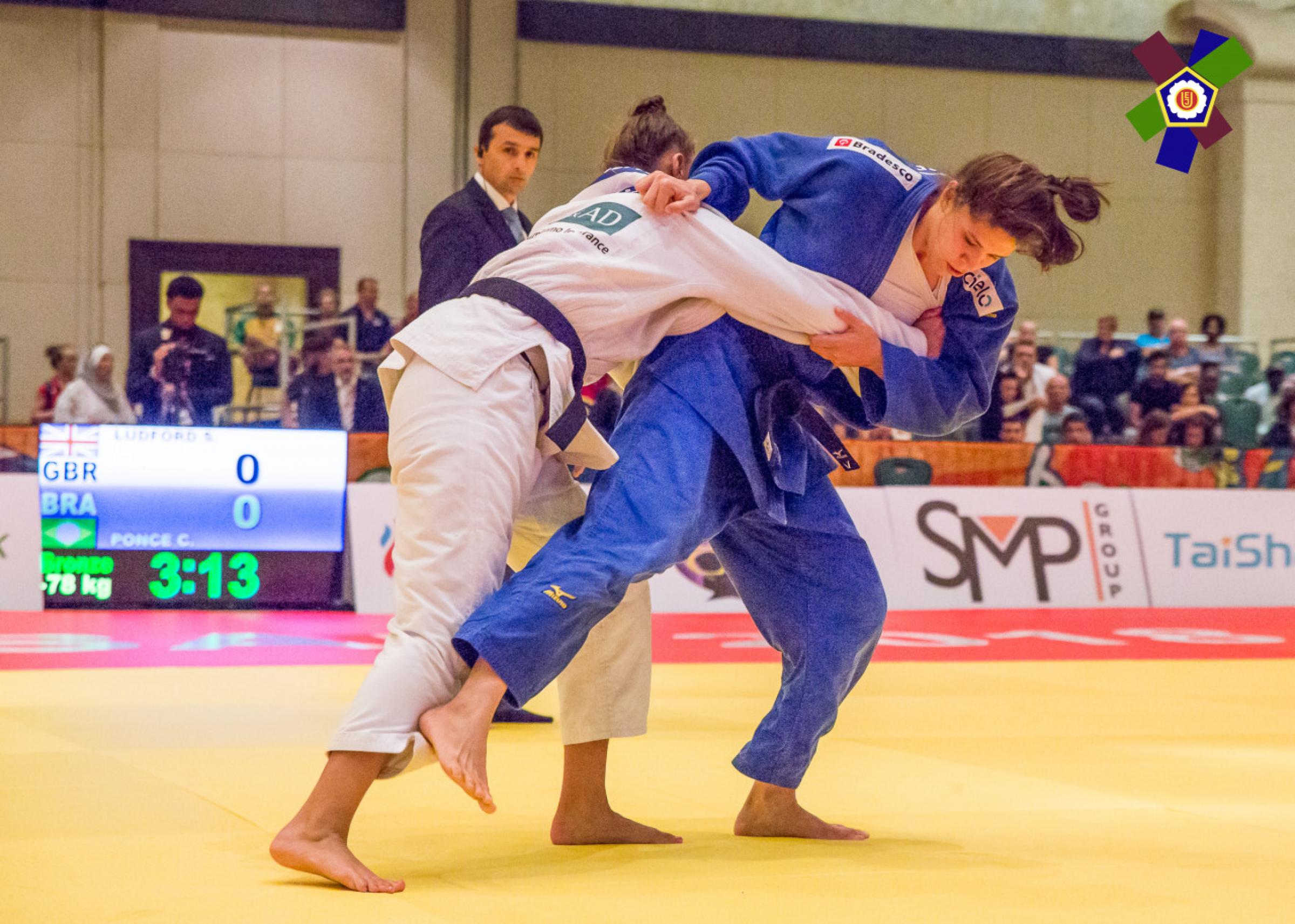 In white, Shelley LUDFORD (GBR).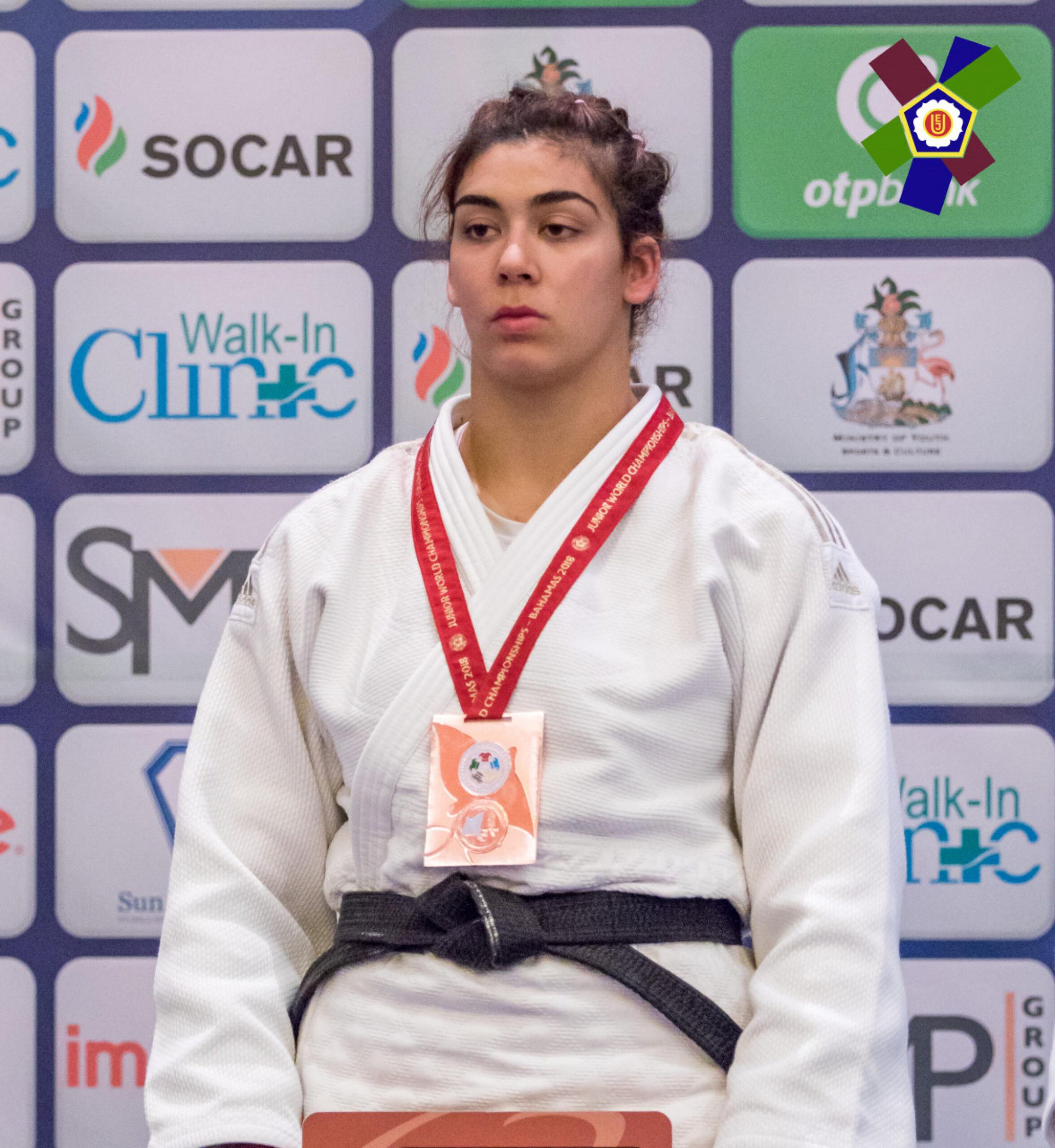 The -78kg category brought first medals to Croatia, Portugal and Great Britain. One of the bronze medal contest viewed Patricia SAMPAIO (POR) vs Teresa ZENKER (GER). Sampaio excelled with a lower morote-seoi-nage half way through the contest. Zenker fast bounced back. 2018 junior European Champion, Sampaio concluded the battle when she rolled her opponent for the second and final waza-ari by a lower ippon-seoi-nage. With a focused performance, the winner of the second bronze medal contest was Shelley LUDFORD (GBR). Both medallist shared their thoughts about their achievements;
"Sampaio: "I am happy to win the medal but I wanted to become World Champion. Last year I lost against Japanese judoka and today it was the same, which is frustrating but overall, I am glad I won bronze at the end."
"Ludford: "Winning bronze was a big surprise for me. The first fight is always like a warm up for me, that is when I can measure how I feel on the day. After winning the reprechage I was eager to be back on the mat and win the bronze. I didn't score for bronze as my opponent got hansoku make but I am still happy to get a medal."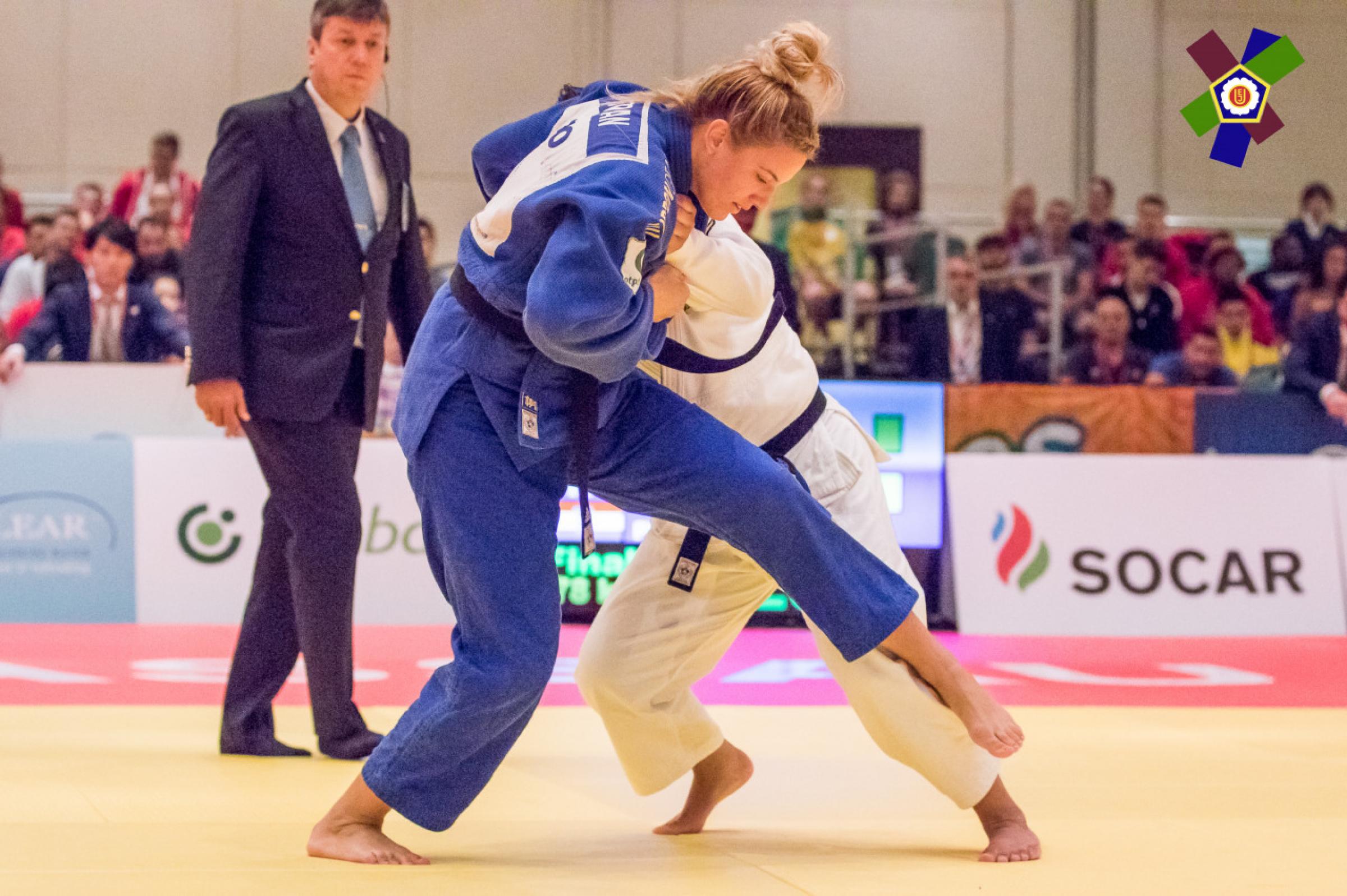 The final of the weigh category dispayed another Japanese glory by Rinoko WADA. On the receiving end was Karla PRODAN, who earned Croatia's first medal, respective silver. Wada overcome Prodan by a well-timed osoto-gari. The Croatian judoka spoken about her silver success after the medal ceremony;
"Prodan: I had a serious injury before the competition, I had a broken rib. I wasn't sure if I was going to be able to compete here. I just wanted to do the best I can today and I believe I did so. I didn't have any huge problems leading up to the final, however, in the final I was troubled. My opponent had good grip and good tactics, I lost the pace and fell for waza-ari. I am really happy with the silver regardless."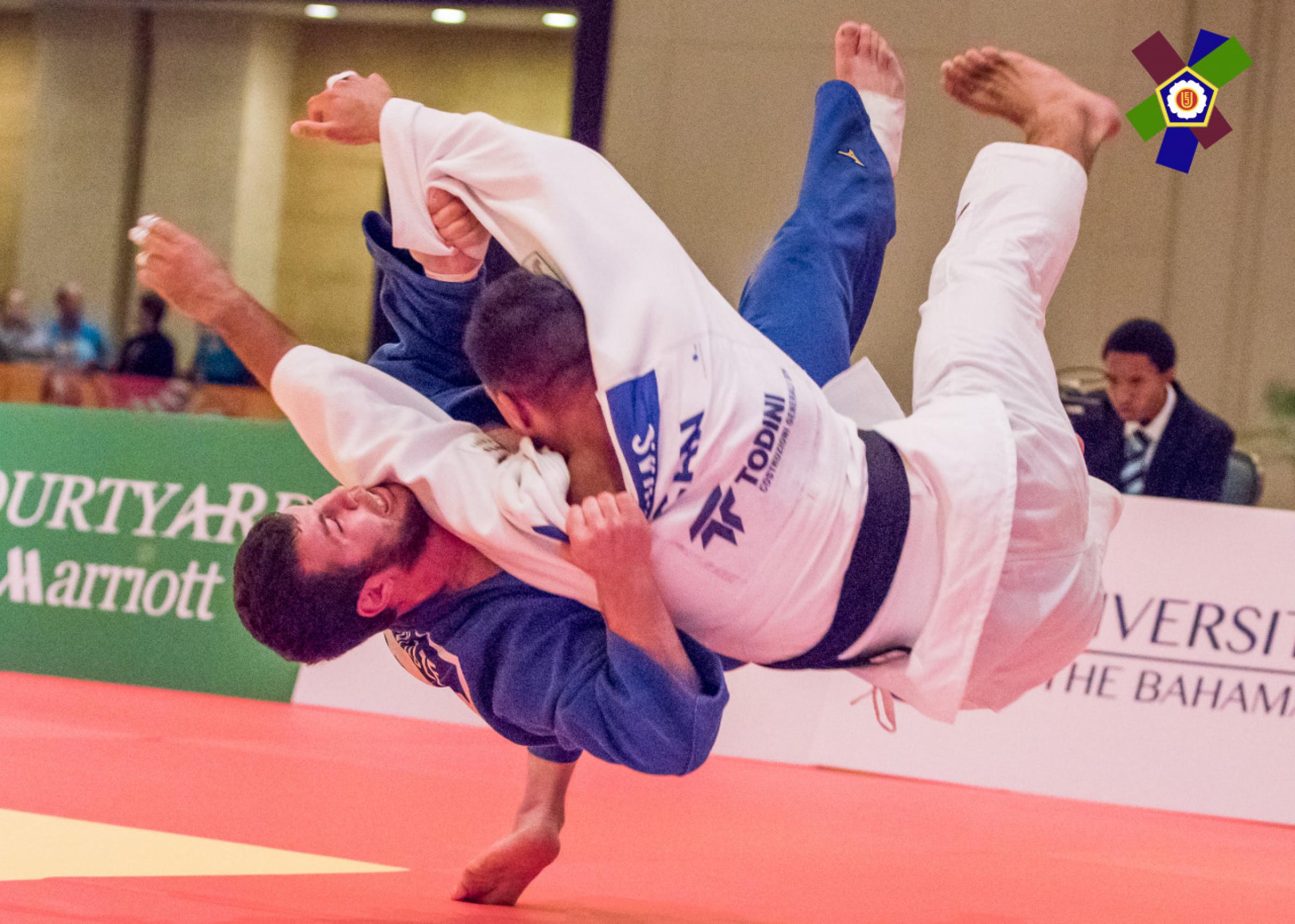 In blue, Onise SANEBLIDZE (GEO).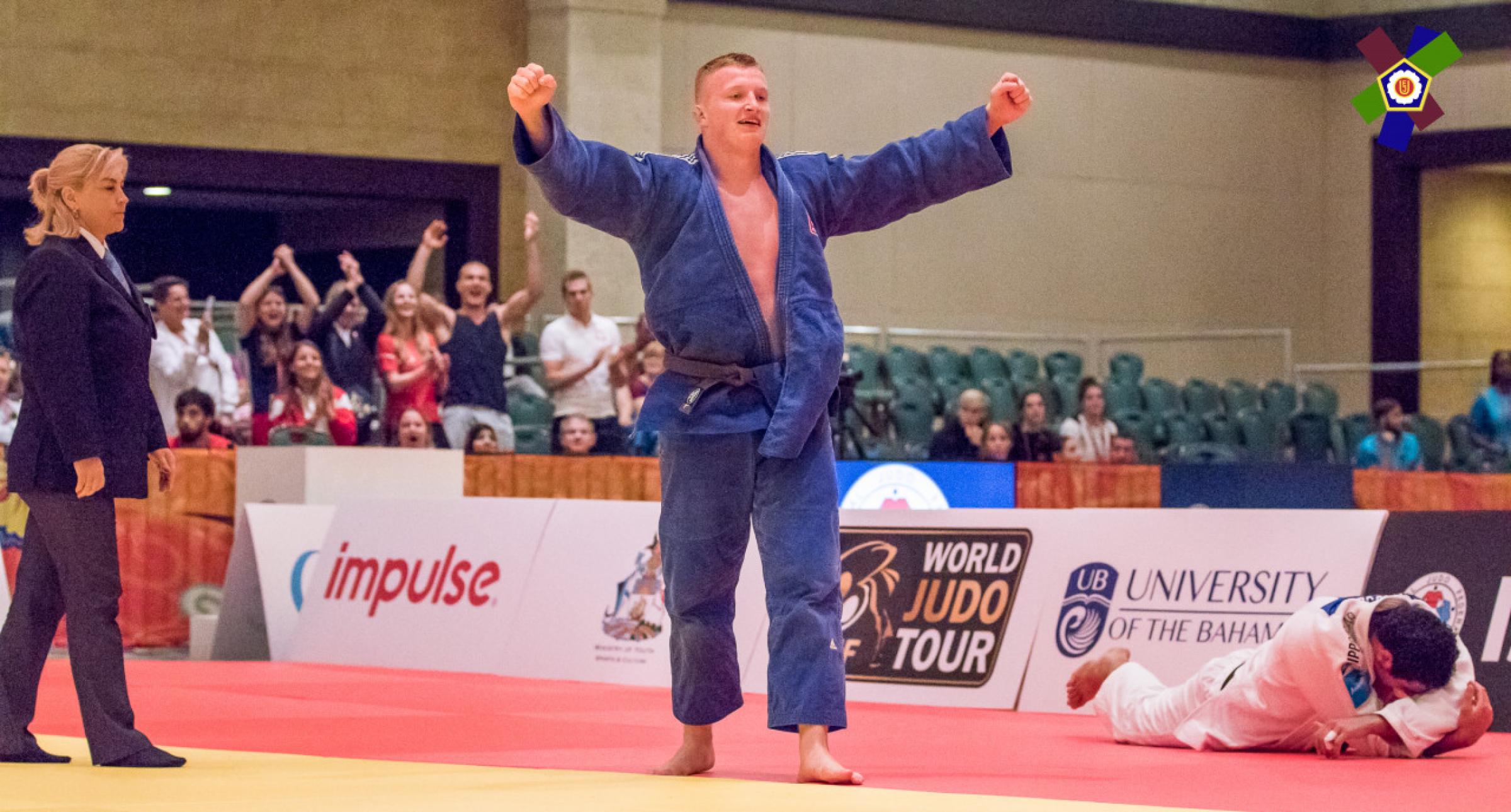 Another three medal was delivered in the -100kg category by Georgia, Poland and the Netherlands. Onise SANEBLIDZE (GEO) was one of the big hopes for gold in this weight division, however, after suffering a defeat from Simeon CATHARINA (NED), the Georgian had to settle for bronze. To earn the medal, he overcome Shady ELNAHAS (CAN). During the second bronze medal contest Iwo BARANIEWSKI (POL) threw Mathias MADSEN (DEN) at the last seconds by harai-makikomi. An interview was carried out after their winning contests.
"Saneblidze: I always want to win. I am Georgian, we always want gold, but today I felt tired due to jet-leg. I did not manage to recover of the 8 hours difference since we arrived. I couldn't adapt to the weather either, feeling tired and drained. That's why I couldn't bring my best on the mat today. Considering these circumstances, I am able to celebrate my bronze medal."
"Baraniewski: It is a good day for me. I trained very hard last year and now I succeeded. This is the best result in my career. At the Europeans I only managed a 5th place but today I managed to win a medal. I lost against Madsen before, so I am happy that I was able to win against him when it was important."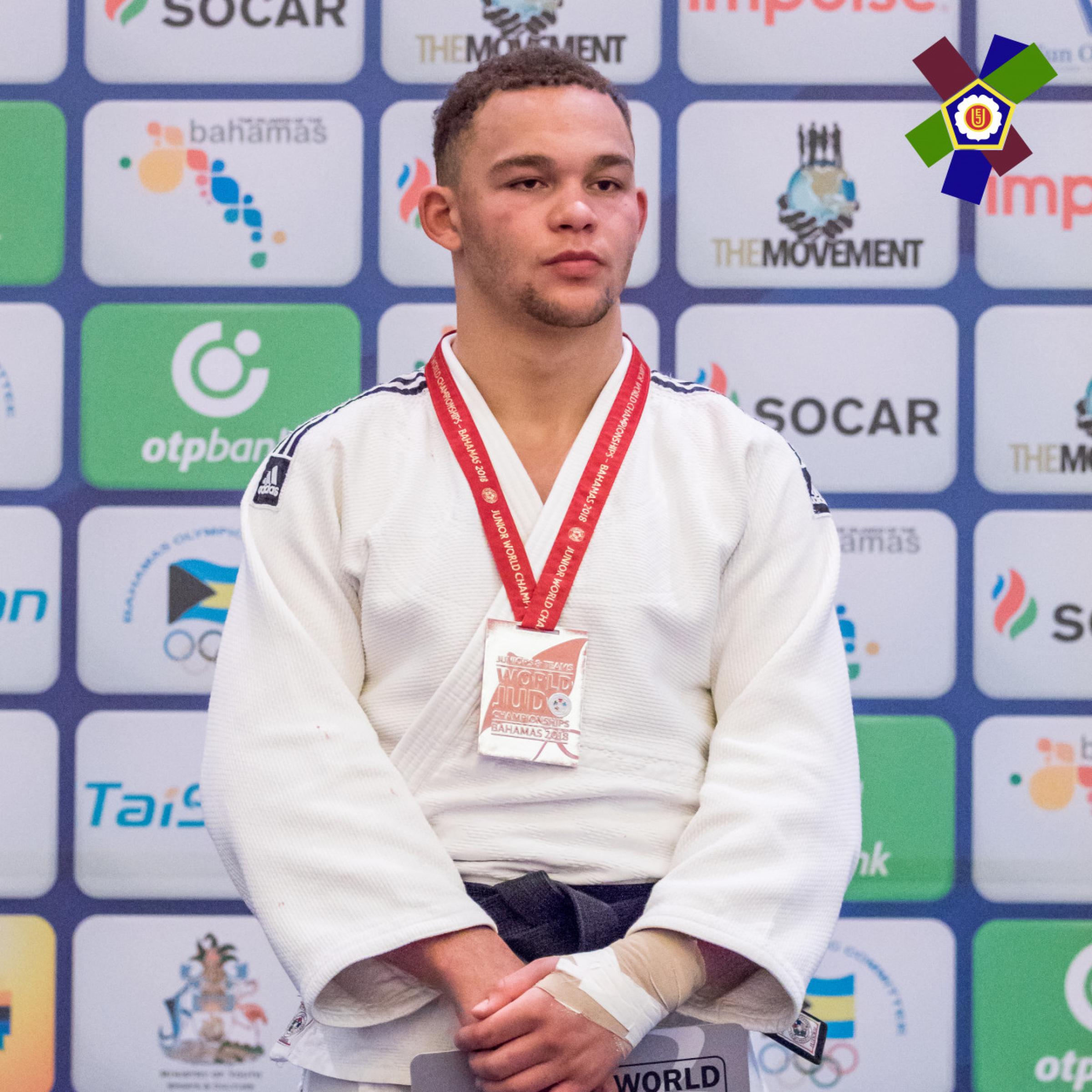 Japan once again dominated another final. This time it was in the -100kg category, where SEKINE Kiyotaka (JPN) threw Simeon CATHARINA (NED) during the first exchange of golden score. Catharina won the third medal for the Netherlands at the 2018 Junior World Judo Championships. The 20-year-old Dutch judoka said;
"I had a big injury last year. I did not compete at the junior Europeans, neither at the Worlds. I came a long way after that injury and I am really happy how far I managed to come. One mistake and you lose in judo. I made a mistake in the final and that is the reason I have lost. Nevertheless, I am pleased with the silver medal."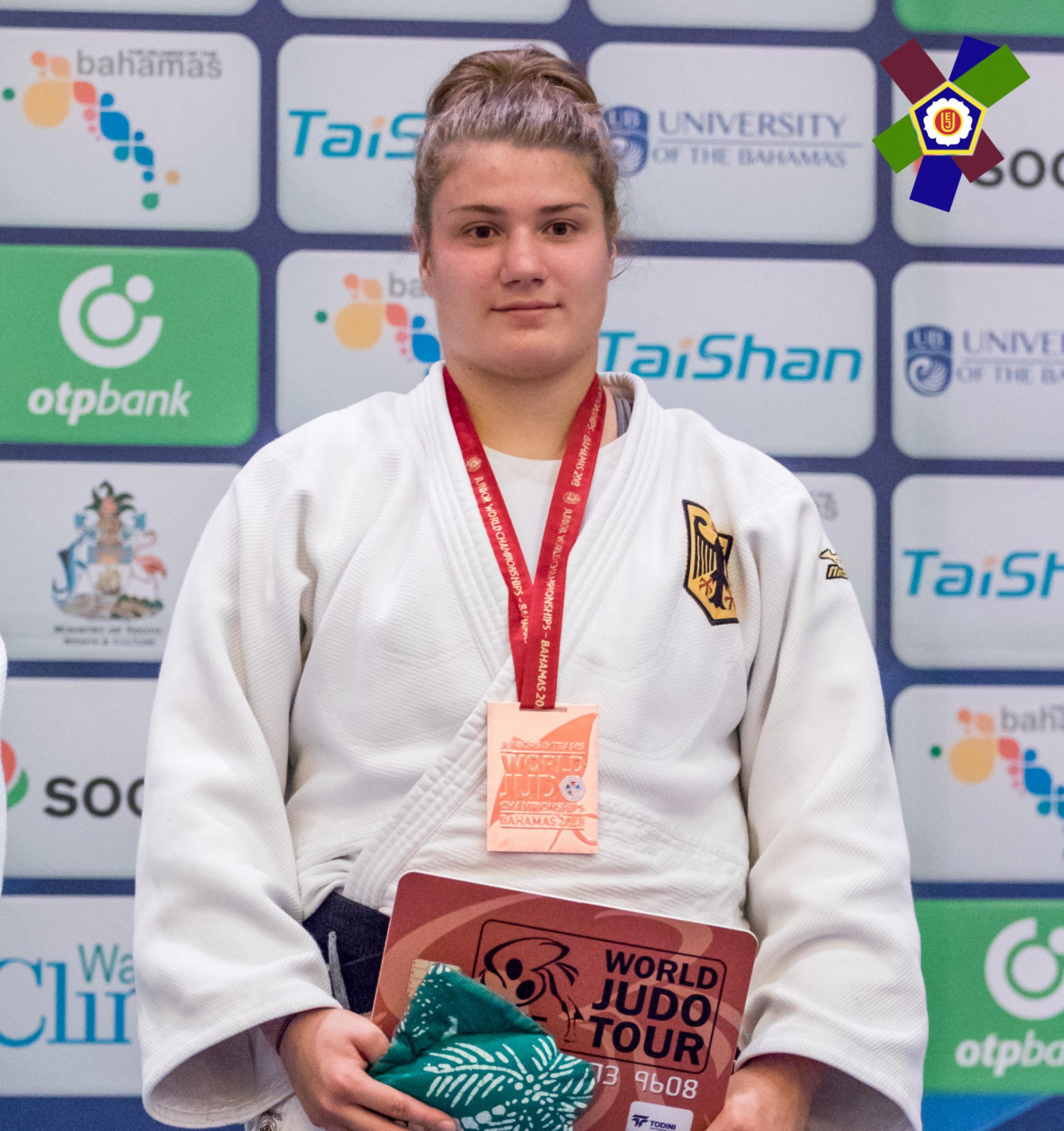 Europe collected two bronze medals in the +78kg category. Laura FUSEAU (FRA) scored early against SZIGETVARI Mercedesz (HUN), which she then managed to hang onto to pick up one of the bronzes. The second medal gone to Renee LUCHT (GER) after setting back Kamila BERLIKASH (KAZ) on penalties. Both athletes shared their views about today;
"Fuseau: As a first year junior I thought I would be just taking experience, I did not expect to win a medal. I made a mistake during the quarter final. For bronze, I won against current junior European Champion. The reason I think I managed to win is because I have a lot of fifth places and I just wanted it more today than others. I had a better drive and thrive to win today."
"Lucht: This is the first medal for Germany and I knew this but I tried not to get to me. After losing I had no problem of staying motivated and focused as I really wanted to win a medal here today regardless of its' colour. My self-confidence helped me to win the fight for bronze."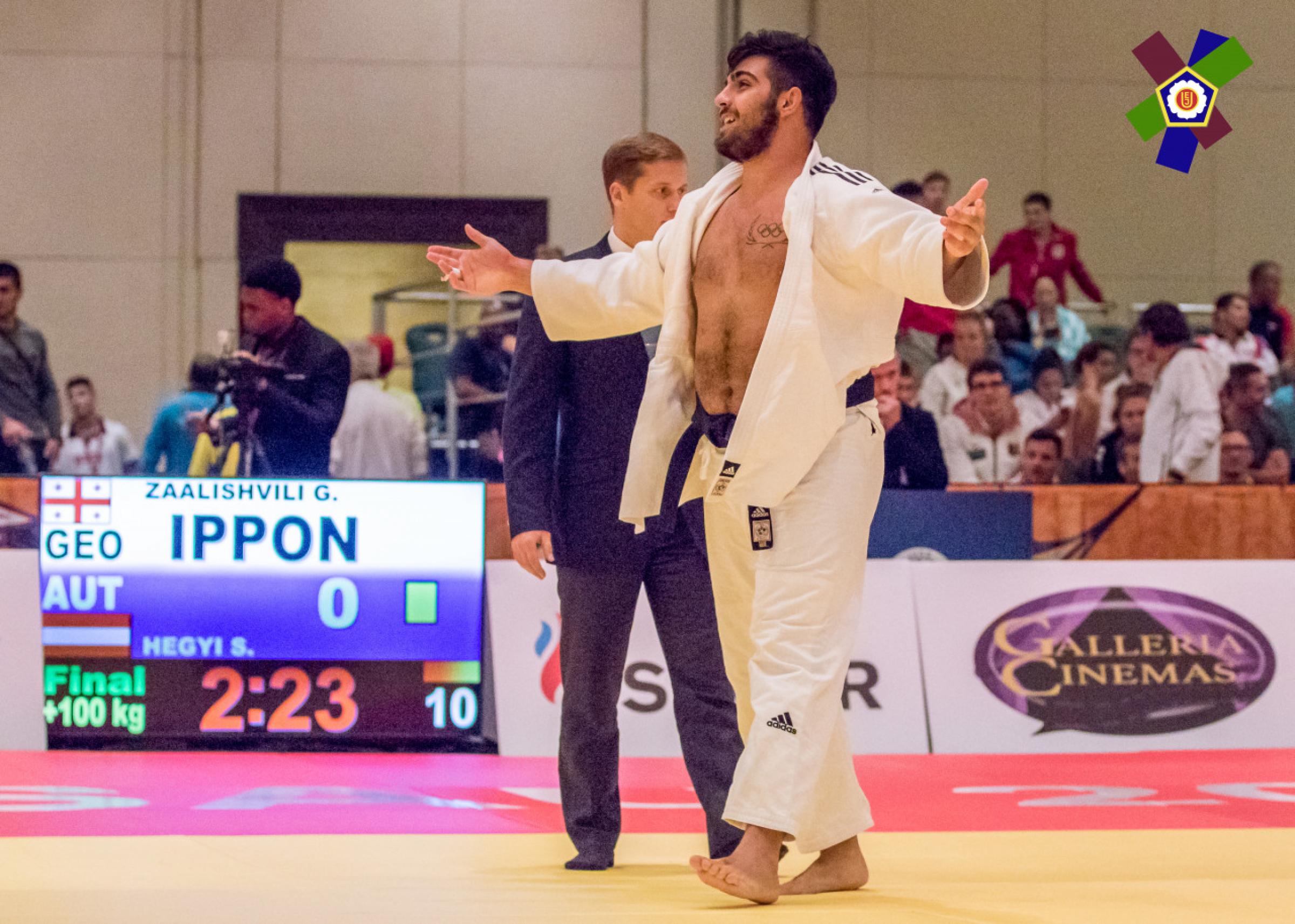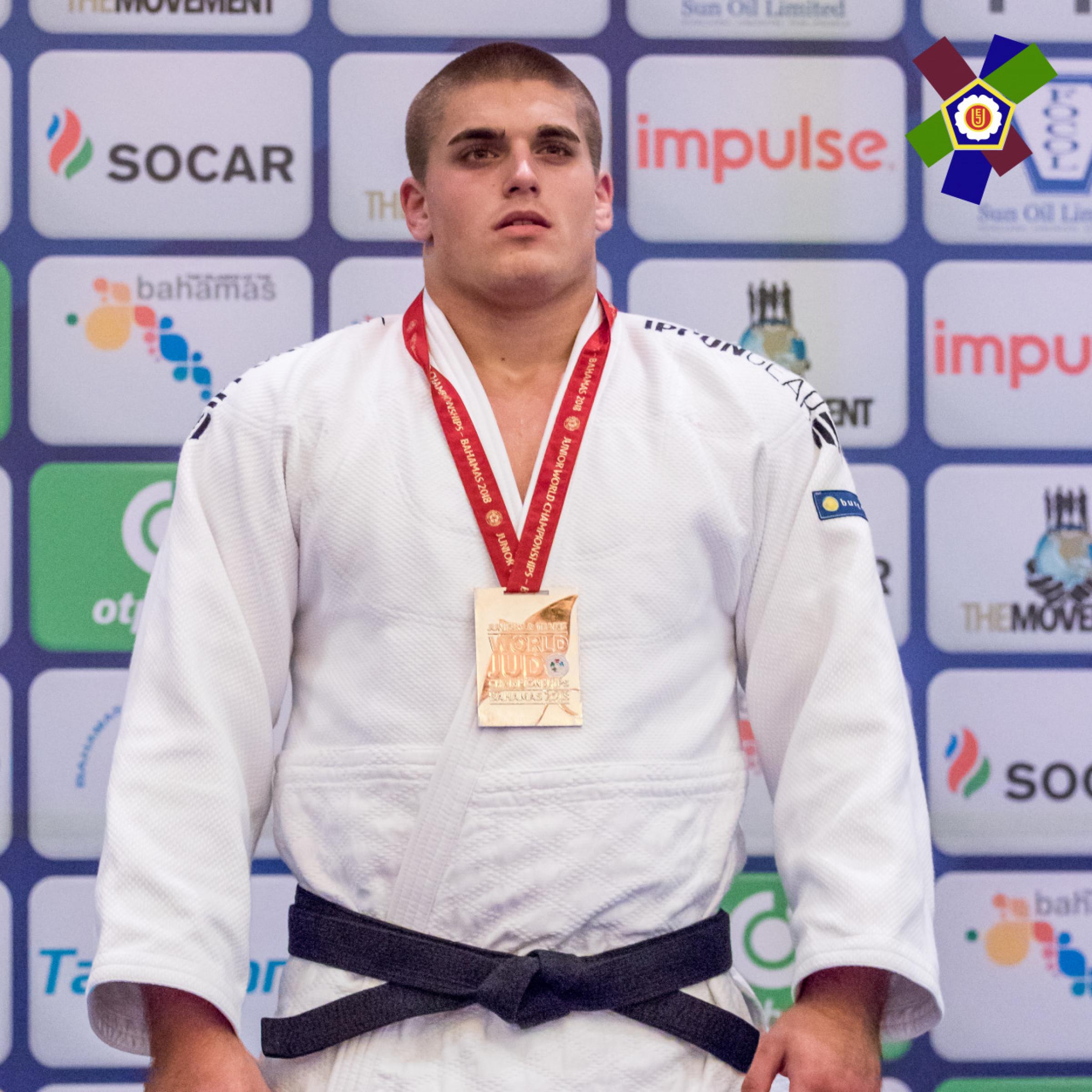 The +100kg category was built on European athletes during the final block. The first bronze medal fast finished by Erik ABRAMOV (GER) who stunned Enej MARINIC (SLO) by kosoto-gake. The second bronze medal contest viewed and all Russian line up with Kemal KAITOV and Dzhamal GAMZATKHANOV. The latter took a chance of a low uchi-mata attempt from Kaitov and countered for a Junior World bronze.
"Abramov: I am quite happy with my performance today. My bronze medal contest was difficult but I put myself out there and went forward to try everything to win. I took the risk in an attack and it paid off."
"Gamzatkhanov: Competing against my team mate is always morally difficult. In this case it was even more difficult as we are also roommates. Psychologically, it was difficult to go all out against him. I am happy with the bronze I just wish it did not have to be against my mate. This is my third Junior World medal so good way to close my season."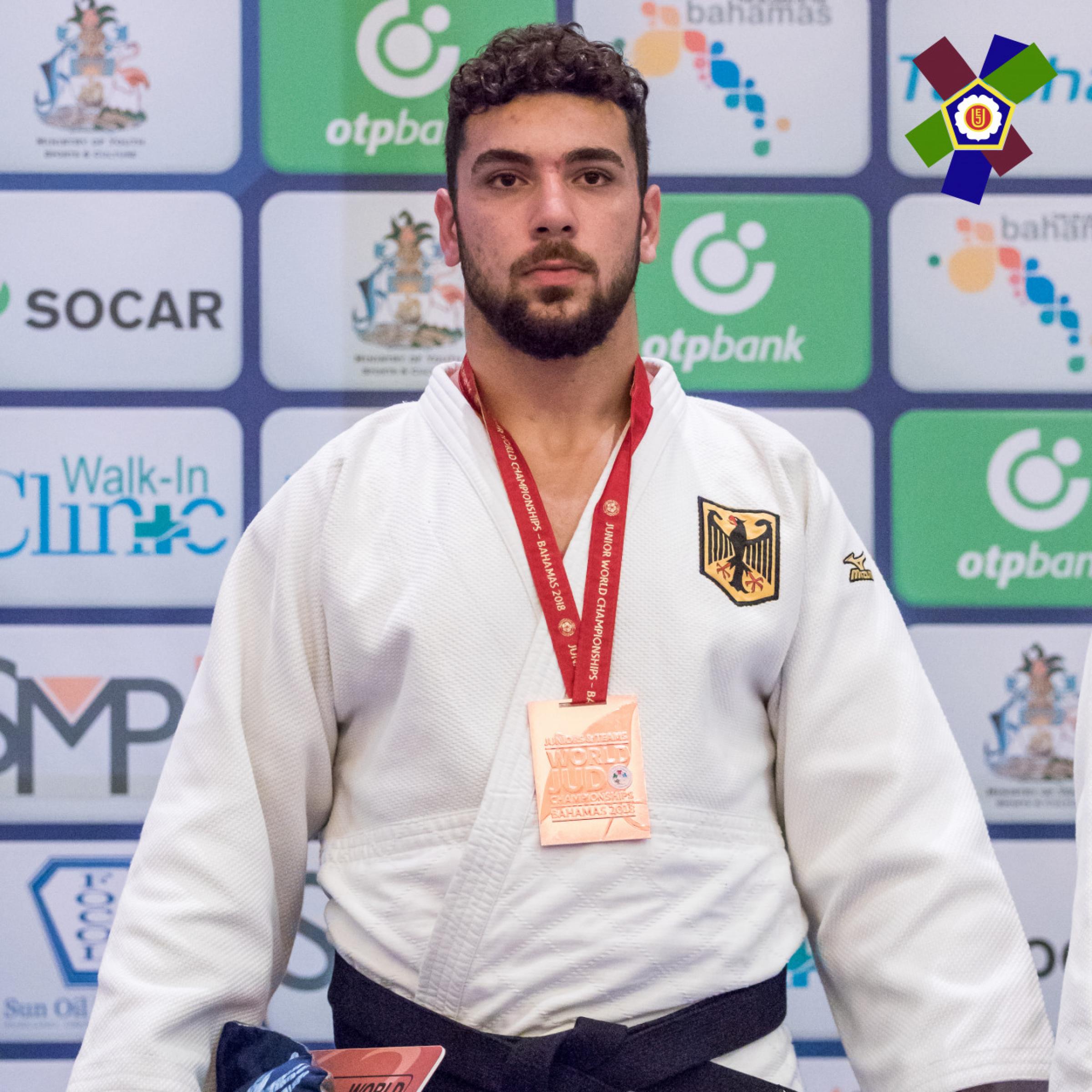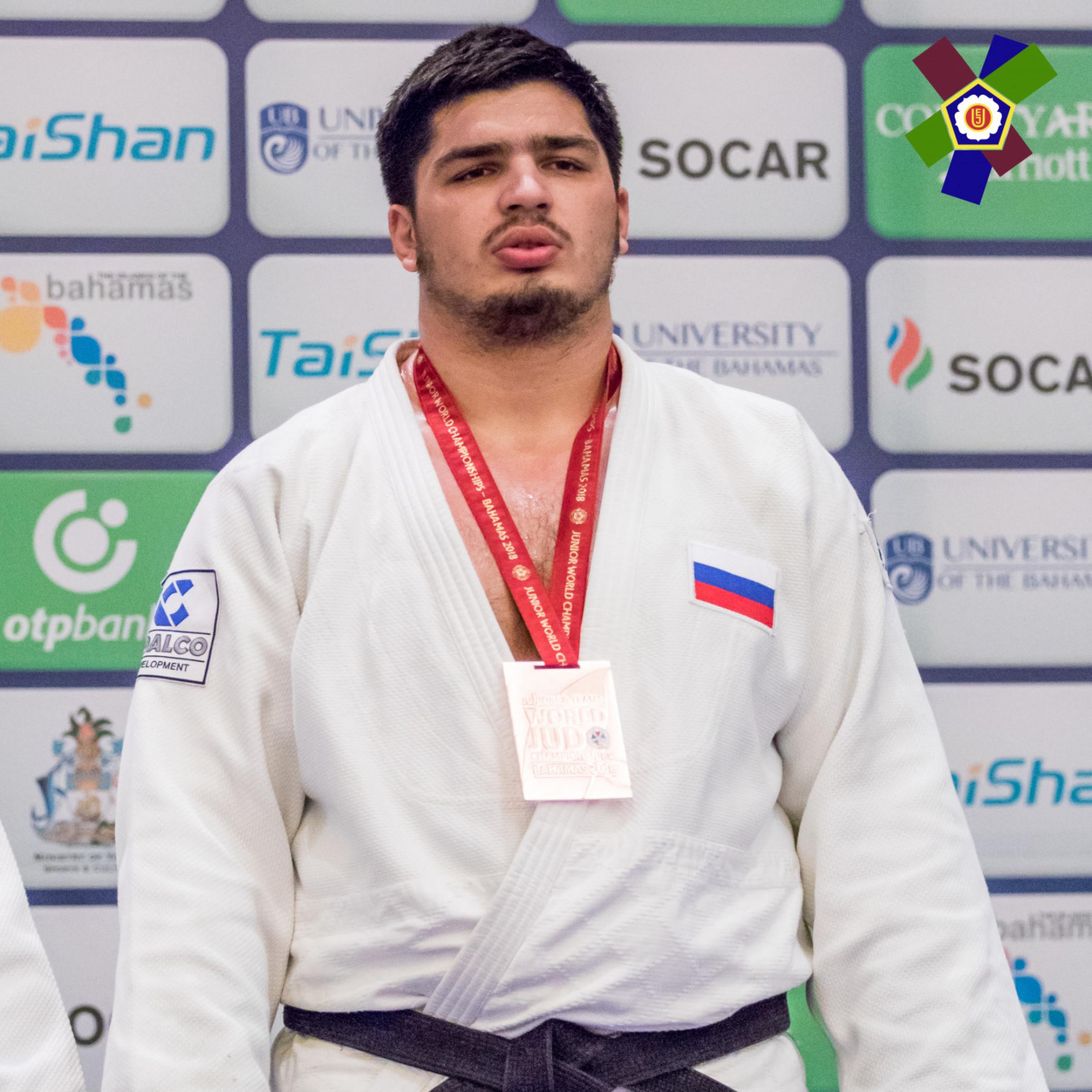 The final observed a contest between 2018 junior European Champion, Gela ZAALISHVILI (GEO) and 2017 junior World silver medallist, Stephan HEGYI (AUT). This was the fourth occasions the pair of them had to face each other. Before the contest, it was a 2:1 in favour of the Austrian judoka. Today, it only took a minute and a half for the Georgian judoka to even up their head to heads and gain a Junior World title. The success was completed when Zaalishvili threw Hegyi with a tani-otoshi which he had continued into an osei-komi. Let's hear from the pair of them;
"Hegyi: It is my first tournament since my injury. I am sad as I got silver last year and I really wanted the gold, so I am disappointed. Having said that, I couldn't do my best as I still feel the instability in my knee."
"Zaalishvili: Right now I am speechless. I can't believe that I am the junior World Champion. It is very special. I can't really say anything as I am overwhelmed with emotions. Maybe if you ask me in a few days I can describe how I feel. This was my best day."
The last day of the event will view the mixed team event with seven teams entered. The competition will begin at 13:00 local time. Follow all actions live online via judobase.org or follow us via our social media sites.
---
Video Review Day 4
Judoka
---