-63kg
Not only did Clarisse AGBEGNENOU of France stun the crowds in Japan by winning the World Championships, but she did so for the fourth time, making history as the first Frenchwoman to ever do so. The talented and intuitive athlete is a fan favourite and caused the Nippon Budokan in Tokyo to erupt with applause as she emotionally left the tatami after over 10 minutes of contest time in the final against TASHIRO Miku (JPN).
The emotion came out because I could never imagine when I started judo to have this many medals in the World Championships. Even one was really amazing for me and to continue like that, I think for all the judoka when I ask the question, they could never imagine this and say its crazy, also when I see myself I think 'How can you do this still?'
It started as a typical day for AGBEGNENOU, calm, collected and ploughing through her preliminary rounds, in search for one thing, the gold medal and her fourth title.
When I start a fight, sometimes I just see something, I don't even think, I just go. My legs are going before my head and it works, I think it is just because I train a lot, doing the same thing all of the time, it's automatic.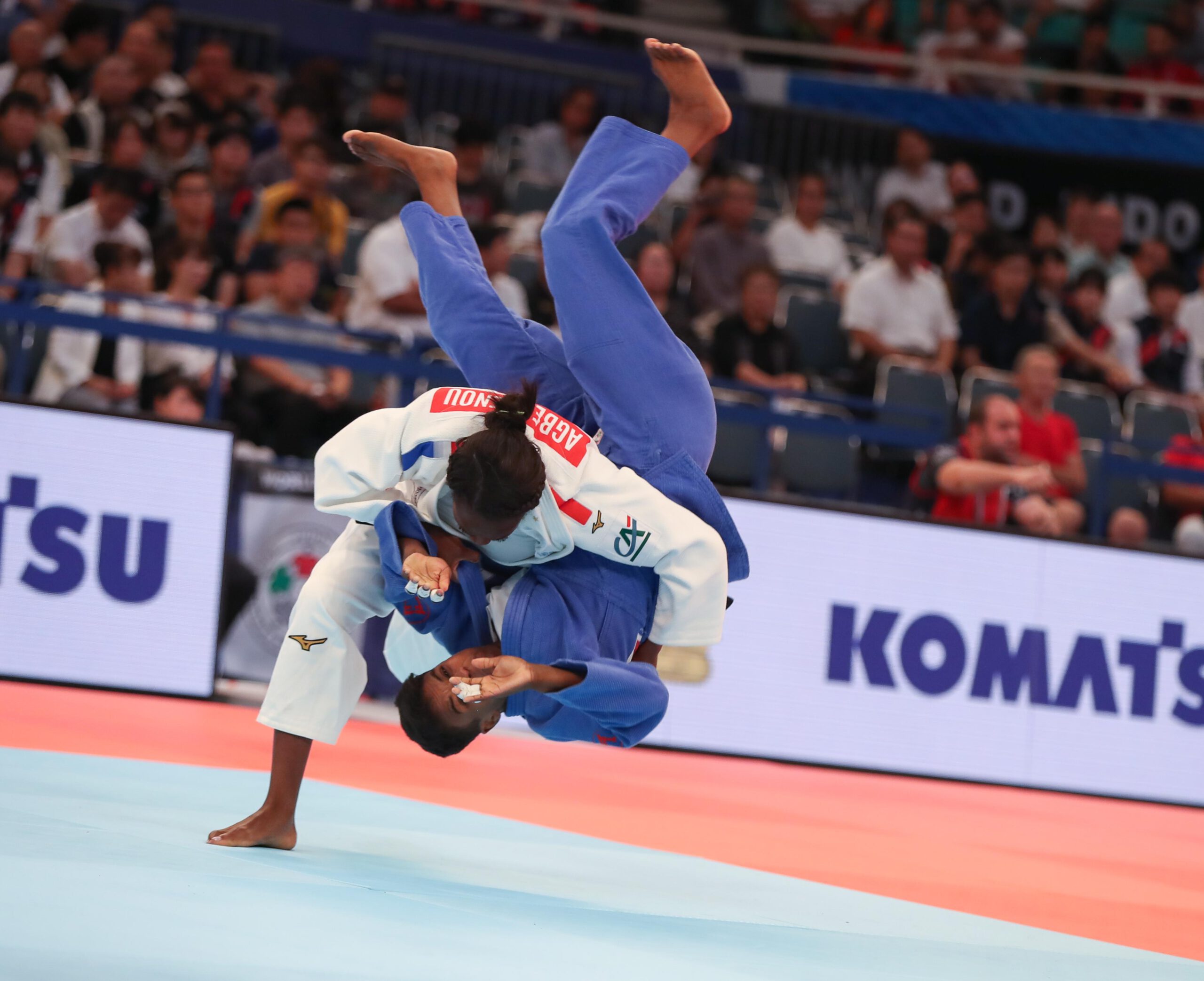 The final block proved more difficult for AGBEGNENOU, her semi final against eventual bronze medallist, Juul FRANSSEN (NED) running its course with a waza ari on the board for the French, unfortunately, FRANSSEN managed to escape a strong hold at 19 seconds, avoiding the ippon.
Then came the real test. Fighting against TASHIRO was the most likely ending for AGBEGNENOU, and also a rematch of the 2018 World Championships final in Baku. This year was definitely more difficult, the Japanese athlete chasing down the four time World Champion, becoming closer each time. The pair took the contest in to golden score and with will and determination on both sides, were relentless in an attempt to take the gold and it was never clear which way it would go.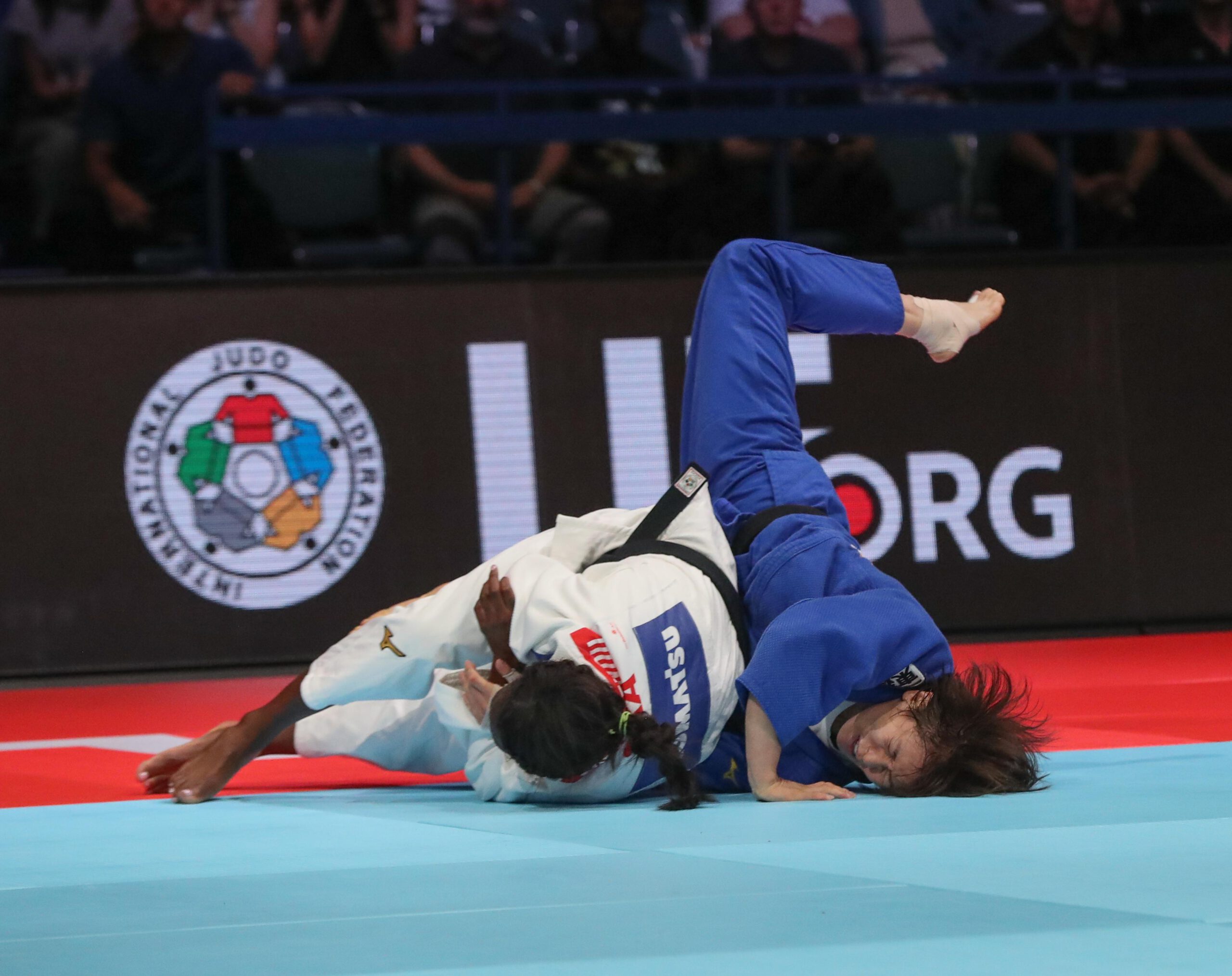 Eventually it was a driving last attempt from AGBEGNENOU that stole the gold medal, giving France its first medal, and a gold one at that. Emotions immediately poured out and both athletes sat on the mat, exhausted and with a mix of relief and disappointment, hugged one another. The French Champion exchanged words with her worthy opponent immediately, 'Thank you very much, that last fight was amazing, you are an amazing judoka and we have to do the same at the Olympics.'
I said this because this is judo and I prefer to win like this once than to win very fast or with shido ten times. I wish I can have this kind of crazy fight because it was the hardest fight, that is how I will become Olympic Champion and how I have become four-time World Champion.

The -63kg category continued with their European-athlete medals including two bronzes from Martyna TRAJDOS (GER) and Juul FRANSSEN (NED). This was the first World medal for TRAJDOS and a long time coming,
It is an incredible feeling, I have been waiting for this for a long time, two times in 2017 and 2018 it was really close and finished fifth so this time I'm quite happy still due to the disqualification.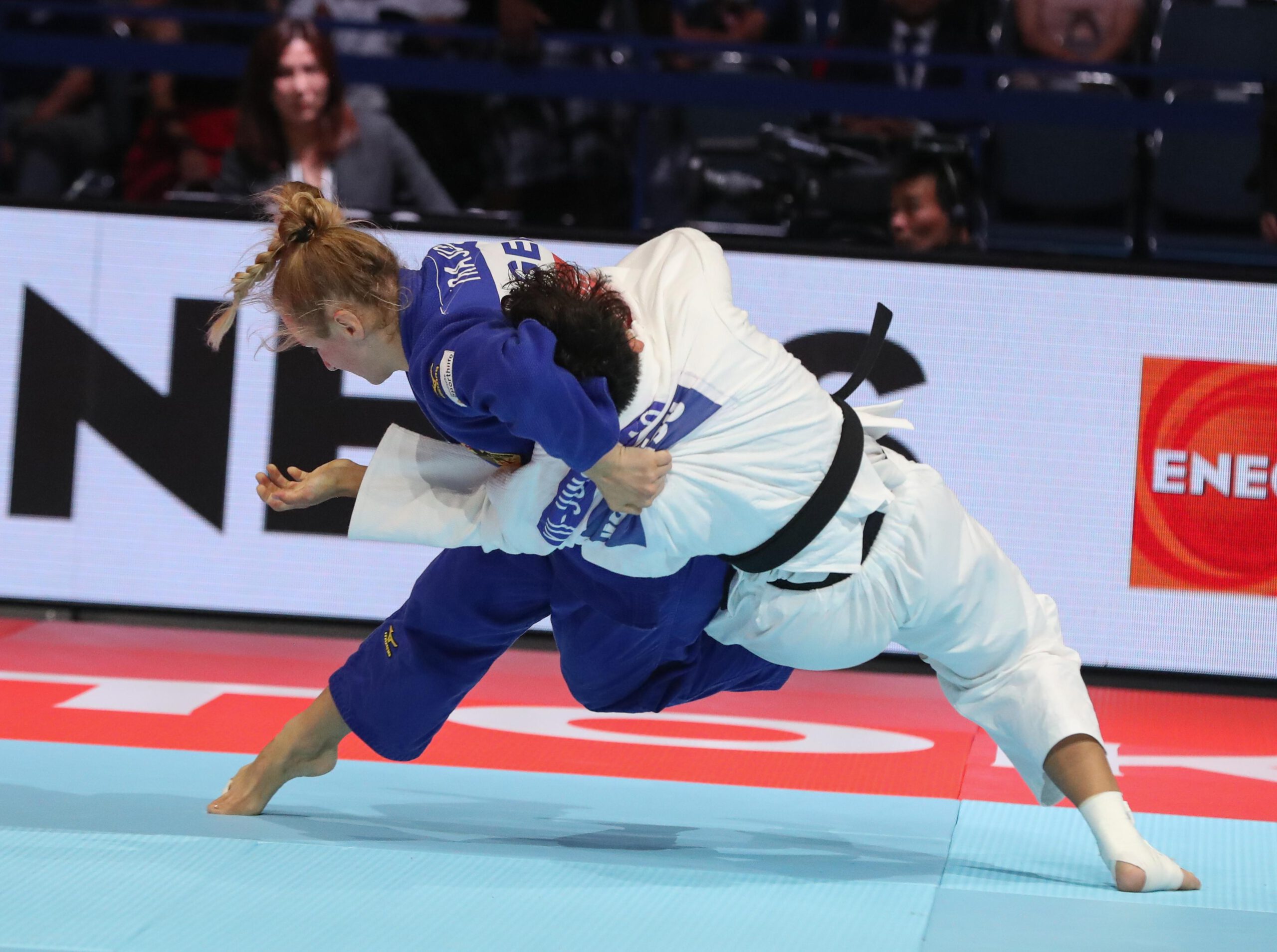 There was potential for a bronze medal fight against Tina TRSTENJAK (SLO) however the athlete was unfortunately disqualified due to waki-gatame in an exchange against TASHIRO.
FRANSSEN was very happy with this result, her second World bronze medal in two years and a good semi final contest against the eventual champion, as well as a head to head for bronze against team mate Sanne VERMEER,
We had it in the Baku Grand Slam before this year and I knew I just needed to do my task and then I could win. I did not want to go home without a medal because I knew I deserved that World medal and I won it last year and wanted to keep it up.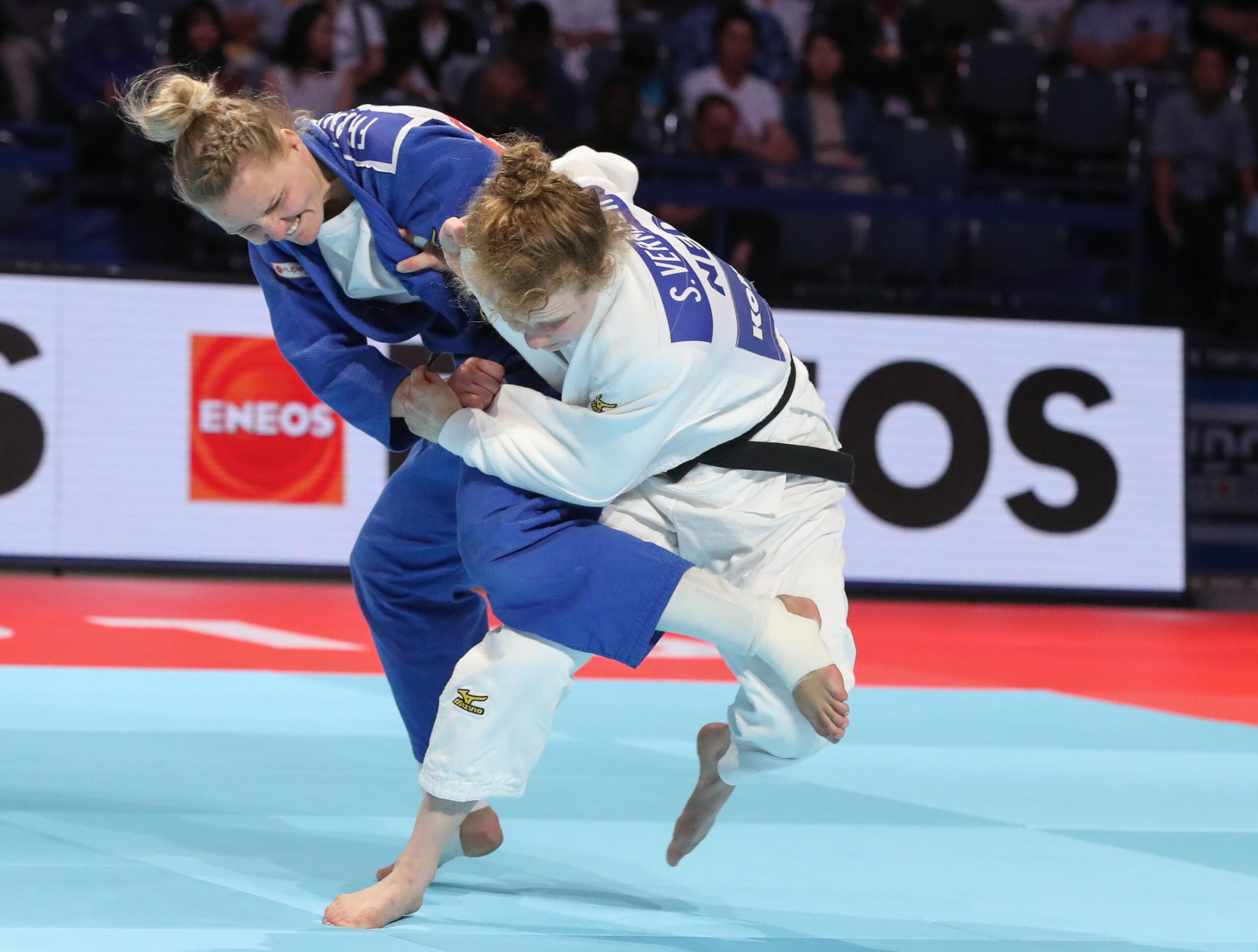 Like AGBEGNENOU, FRANSSEN likes to fight in a similar style, really going for it and not holding back, though the Frenchwoman has difficulties catching the Dutch, FRANSSEN admits, she made a mistake in ne waza that was 'punished immediately', which led to her bronze contest.
-81kg
It was a first World medal for the Israeli athlete Sagi MUKI and he managed to make it a gold one here in the home of judo. It wasn't an easy route to the final but he delivered an outstanding performance and earned his place in the final block ready to embark on his last journey to the medal.
These are very special emotions for me because I am 27 and I finally did it. So it was a tough day with top athletes and all of the medallists deserved it so I am happy for them also.
Even more emotions were being stirred due to this monumental achievement for MUKI, following the medal ceremony, the new World Champion received a call from his Prime Minister to congratulate him on his achievement here in Tokyo. This is when the Israeli competitor realised his gold medal represented much more than himself,
Judo is a little sport in Israel, we don't have a lot of success in Worlds, Europeans or Olympics even in other sports, so every medal from this kind of competition makes a lot of noise and creates big emotions not only for me, also for my Israeli people, some came from Israel to Tokyo. They brought me a lot of power and this is really connecting everybody so I'm happy that I could do it and also to get this phone call.
Next to him on the podium in silver medal position was the current European Champion, Matthias CASSE (BEL) The pair have fought each other on numerous occasions, seven times in the past 12 months with MUKI losing only once in the IJF Masters. The contest started evenly but MUKI managed to catch his opponent for a waza ari score and continued his onslaught taking a second score and confirming his gold medal.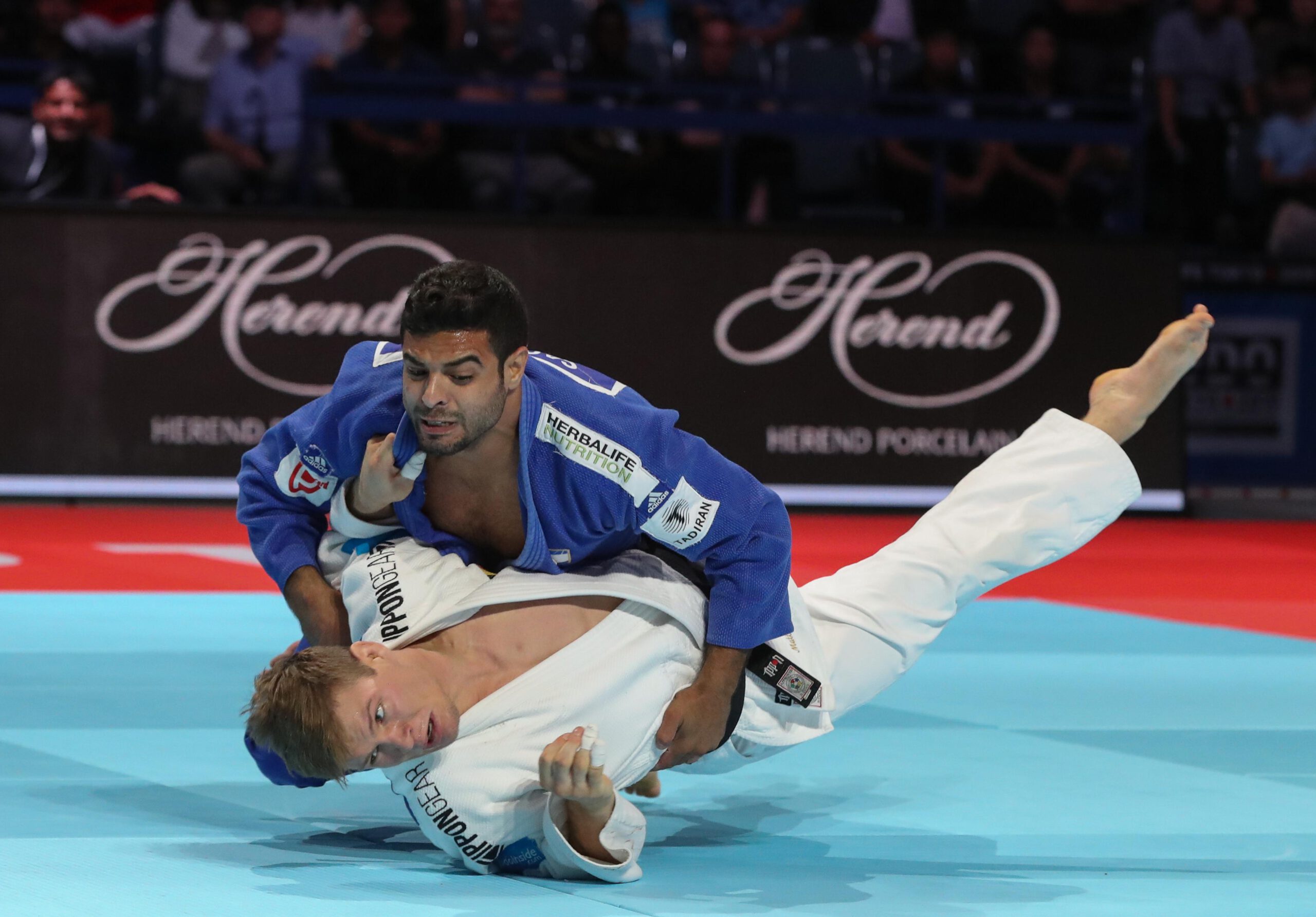 Perhaps following his gruelling semi final against Mohamed ABDELAAL (EGY) he relaxed slightly against a familiar opponent and was able to fight more naturally.
It was very close, that I could have lost the fight but I was believing in myself, moving forward, continuing to try to throw, I threw for waza ari, didn't finish the ippon but I'm happy I could handle this pressure.

CASSE was pleased with his achievement, though admitting it is hard to be satisfied with a silver when being so close to the ultimate win. The Belgian athlete made some tremendous steps today, particularly in the semi final, beating the 2018 World Champion, Saeid MOLLAEI (IRI),
This was the fifth time I fought him, I know him well and he knows me so I had a good plan for him and tried to manage it as well as possible for as long as the fight lasted. It was a long fight, but I felt really good and was ready to take on anybody.
Another young medallist from the European Games who managed to take the bronze from MOLLAEI was Luka MAISURADZE (GEO). His earlier contests were extremely difficult including his second against Vedat ALBAYRAK (TUR) who took a World bronze just last year. In regards to the bronze medal contest, the preparation was simple, to gather himself,
It is hard to express the feelings in this situation because to beat the World Champion is something special. I just collected all of my energy for this contest, and it just happened here in Tokyo. I'd like to say a big thanks to my fans, the Georgians who were here today in the venue, this gave me additional energy.
With such a phenomenal display of judo today it will certainly be a difficult act for the -70kg and -90kg categories to follow but there is no doubt that we will welcome yet more incredible talent to the podium, stepping up to claim their title of World Champion.

Judoka
Author: Thea Cowen
---