Events are rarely completely seamless, with the odd uncontrollable issue arising, however here at the 3rd European Games 2023, it appears to have gone off without a hitch! For this we can give thanks to the top organising team with years of experience, both on and off the tatami. Today we were able to speak with EJU Head Sport Director, Catarina RODRIGUES, EJU Sport Commissioner, Wieslaw BLACH and EJU General Secretary, Dr Martin POIGER on their experience in the build up for this European Mixed Team Championships.
Rodrigues has ample experience, on all levels, both for the European Judo Union and her own federation in Portugal, most recently the Cadet European Championships which was held in Odivelas. On this occasion Rodrigues was a Technical Delegate,
This is my first time in this role in a senior event, I have past experience in this role for EYOF for a couple of years now. I would say the main differences are in the preparation, the pressure is higher, the amount of documents and paperwork is much greater, checking, correcting, it is considerably more. Each step of the event must be detailed as there are so many areas they need to combine, and in case of any problems, every scenario must be explained in full. Of course many of these things for us are just natural now, like we cannot predict times but we can make a plan for it, we have requests for hours of action, no breaks but this is focussing only on broadcasting rights but it is something we need to consider, even in case the lights go out! There must be a detailed plan in place for the organisation.
Here we don't have so much contact with judo people, usually events rely heavily on the federation but not here, mainly with people who are not involved at all with judo events. This meant we needed to explain our concept and in actuality, it was adopted for the Taekwondo event that happened here prior to the judo. It was great that we could provide this set up and be setting a high standard for other sports, that our experience was used.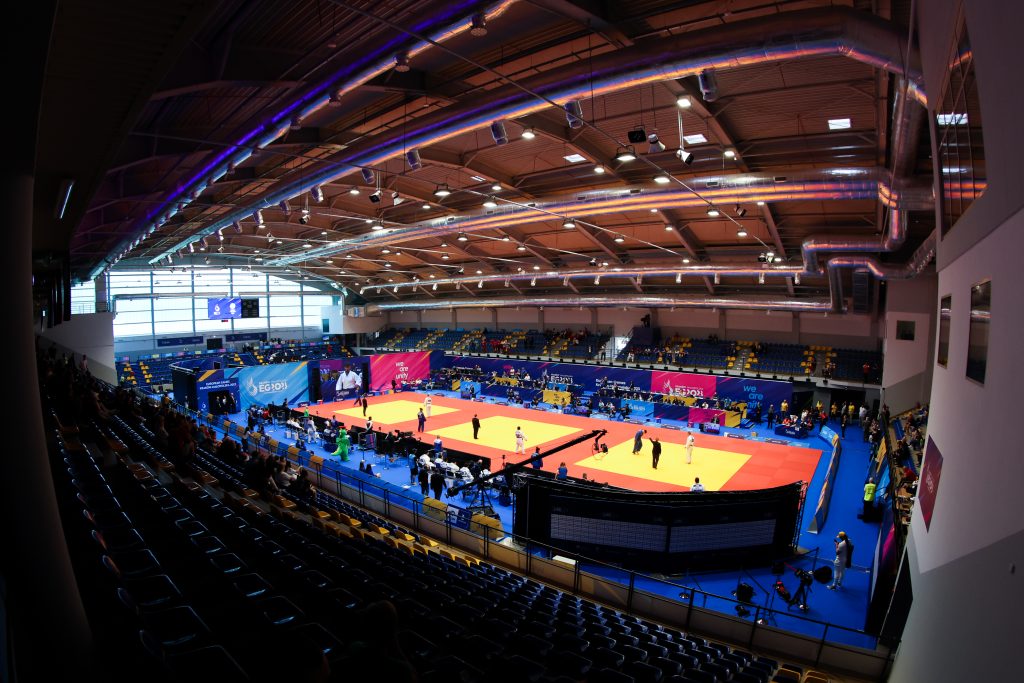 It was a good day actually, we had a good mix of athletes, some younger and really showing potential, of course some champions but it was all a good standard. They are all aware of how important this event is and it was a really interesting day. If we go from the seeding, it didn't go as planned for the top ones, France and Netherlands, so yes a very interesting day for the other teams that came through to the top and the ones that took medals.
For Blach, this is a special opportunity as the European Games are in his home country and was invited to be the Competition Manager for Judo.
This role is absolutely everything to do with sport, from the tatami to athletes, the weigh in, everything. I am working within the European Games company, and of course I cooperate with the Polish Judo Federation but they aren't an organiser of this event, just the European Games Committee. The Committee took me on because of my experience in judo.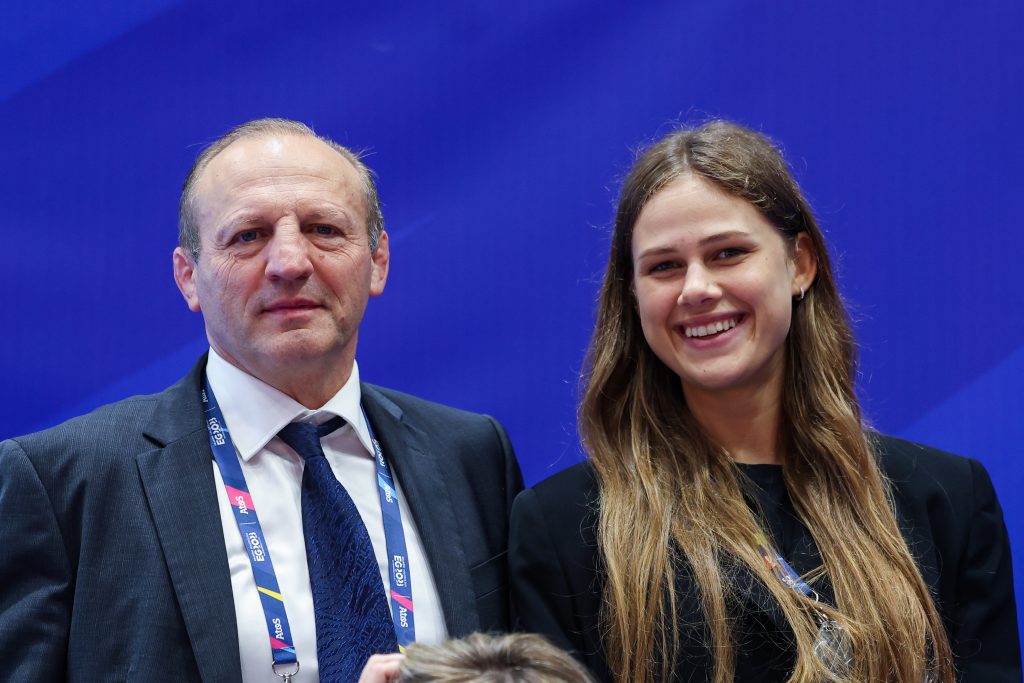 A lot of work has gone in to this, to arrange this competition from zero, finding the sports hall, rebuilding the sports hall, all of the tatami here are new, both competition and warm up, even down to the scales, everything was bought new for this event. It's actually very good because after the European Games, all of this equipment will be donated to schools and clubs in the area. I think my experience in the EJU, my role as technical delegate in EUSA (European University Sports Association) has contributed to my work here, and very important is my experience as an athlete and coach. I have been through it all, competing, to education, then president of the Polish Judo Federation, Sport Director in EJU, each of those functions has influence who I am and my decisions in this work. I know what everyone expects and how to deliver to them in the best way.
As for Poiger, he is still acting within his EJU role however was heavily involved in the preparations for this event.
The European Games are always special and we were already involved in the European Games in Baku and Minsk, this time it worked out with the Mixed Team Championships but not the individual. I think what is important for us is simply to be a part of these Games, part of the Olympic movement, this is a project of the European Olympic Committee and we've collaborated very well for many years, with the European Youth Olympic Festivals, always putting in a lot of effort in and giving the event high priority. Things like making sure we have a feed on all three tatami, we want to give, from our side, a lot of resources because the European Games and the Mixed Team Championships are important.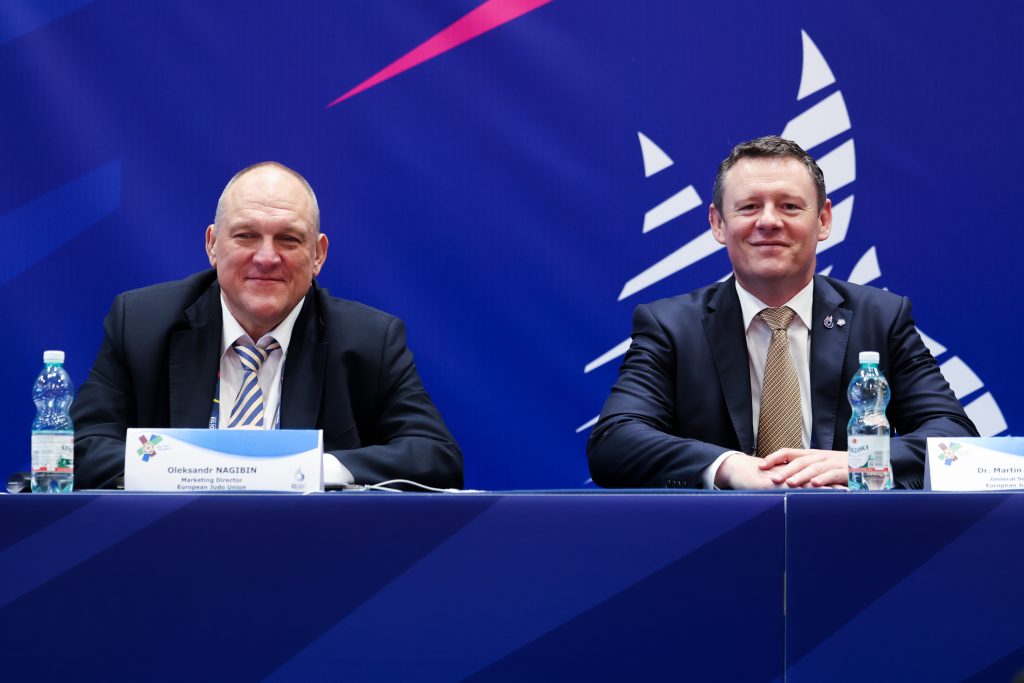 We have some mixed opinions of course regarding having the mixed team event separate, for some teams they've clearly come to win and have sent strong teams, others maybe a second team but in general the line up is really nice. You also see that judo has a different level of importance among various National Olympic Committees, for example for Georgia it is very important.
In the two editions before, the athletes said it was a nice rehearsal for the Olympic Games in the following year but this year the aspect is a little different. In terms of the calendar we have just moved away from a busy period ending in Mongolia and are only four weeks from the IJF Masters, so I think in this tournament, the athletes who wanted to compete, it was a good opportunity, just a one day event.
Poiger discussed the difference of having the mixed team event as a one-day occasion as opposed to having it at the end of the individual championships, explaining that it has it's difficulties given that there is no rehearsal, there is only one shot and everything must work from the beginning which puts a bit more pressure on the organisation. However, he concluded the point by stating,
We have plenty of experience with single day events, and mixed team championships so out organisation and team don't see this as a big obstacle. Some things are out of our hands here, in terms of branding for example but I can say that we had really great collaboration and they really took on board our advice on venue layout, broadcasting proposals so this worked out really well.
It may have only been one day, but the preparation is extensive and intricate in order to pull off a priority event as part of the European Games.
Author: Thea Cowen
---