The first day of the European Judo Open 2018 saw Japan winning two gold medals whilst Spain and France picked up a piece each. The Italian team earned three bronzes, one of which was produced by London 2012 Olympic bronze medallist, Rosalba FORCINITI.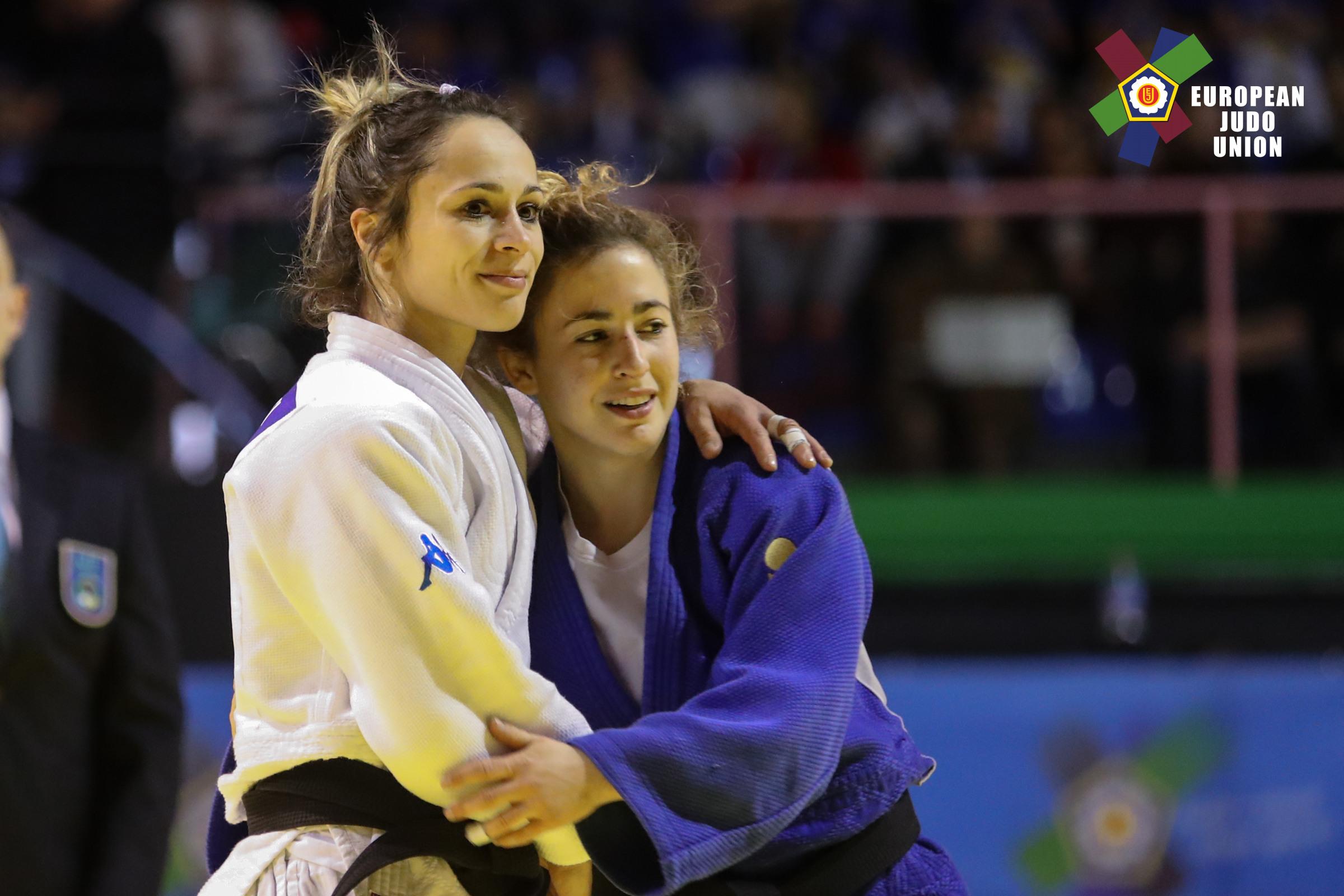 Forciniti last competed in March 2014 at the Tbilisi Grand Prix before retiring from high level performance. Soon she gave birth to her first born, Alida and a little over a year ago her second child was born, Romeo. Four years and two beautiful children later, Forciniti returned to Sportshall Palapellicone to shine at home once more in the -52 kg category. She revealed her thoughts after the medal ceremony;
"I got back to full time training about 3 months ago. I did train before but not on a regular basis. To be selected for this tournament I needed to win a medal at the nationals which took place exactly two weeks ago. I managed to win it which meant I will be on board for this weekend."
"I was not nervous at all coming into this event. Fighting home is everything for me, my mission, my life. And now that I have two children I feel stronger within as they carry my power."
"For me I think it is mainly about the challenge of trying new elements on the mat, this is what drives and motivates me, the opportunity to challenge myself every time."
"I have no idea what's now. I don't have any plans so I can't tell you what's next. In regards to today, I feel tired and missing my children but overall I am happy, competing at home is always emotional. Kisses and hugs to my kids, mummy is coming home."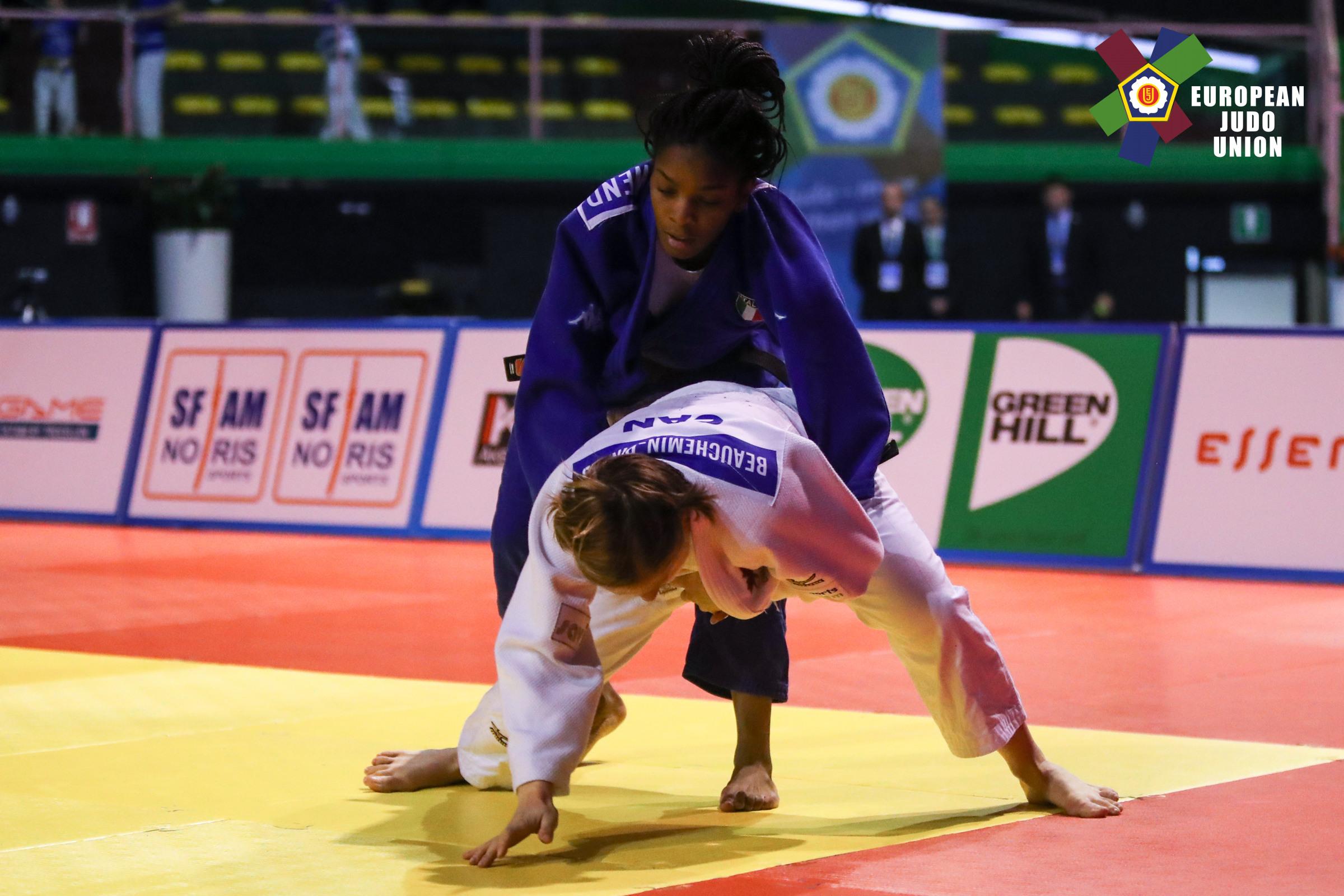 One of the other Italian bronze medal won by Edwige GWEND in the -63 kg category. This moring, WRL #11 and number one seed, excelled during her first two contest and only lost out in the semis against Tina ZELTNER (AUT). Gwend surely has bigger fish to fry, yet, we asked her overall feelings of today;
"It was a pity to lose the semifinal but I am happy to finish with a medal. Unlike others, I don't get pumped when competing at home, I rather get nervous and pressured if anything. Especially for this reason I am pleased with the medal at the end. I will be competing at the Ekaterinburg Grand Slam and then prepare for the Europeans. Nevertheless, in the meantime, as my primary targets I am focusing on my kumikata and to be able to finish my attacks as well as improving in newaza. This is what I have been focusing on today as well."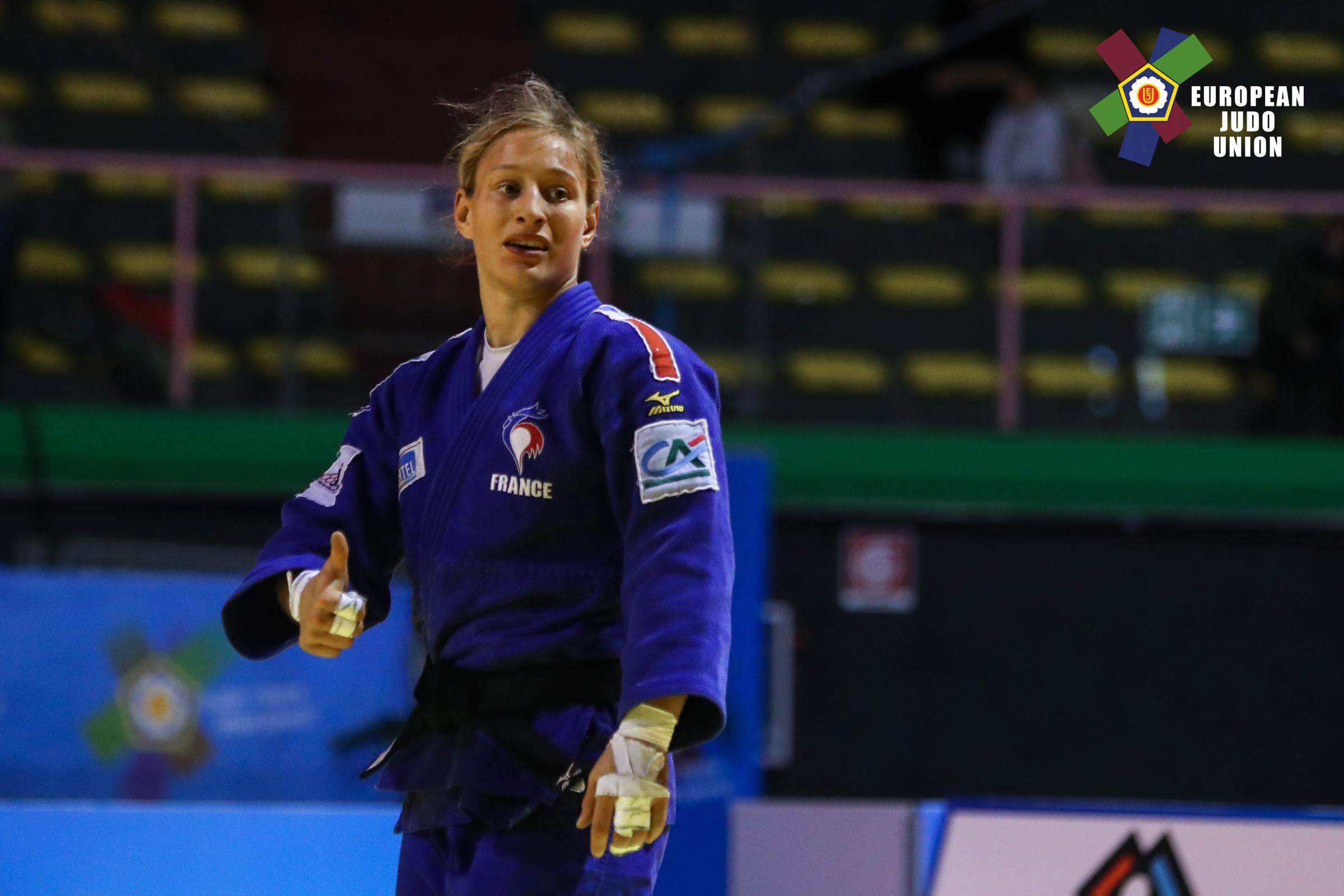 Long time, no see French judoka, Maelle DI CINTIO ended her day in golden style. After almost a three-year break due to an injury and a quiet a few warrior scars on her knee, Di Cintio managed to return last year June when she won the European Cup in Slovenia. To regain her spot in the national team, she won the French nationals in November last year. From this moment, she was ready to fulfill her ambitions. Today, she saw herself back on the top of the podium in the -63 kg category. The 26-year-old judoka looked fit and healthy with full of energy throughout the day. After her winning performance, she expressed her desires;
"My ambition now is to go up on the WRL so that I can be considered as part of the national team for the upcoming European Championships. It has been 5 years since I attended at my last Senior Europeans. This is my desire now to be part of the team for the Europeans and to excel there. I will take every chance I have to make it happen."
During any injuries, it is not easy to keep motivated, especially when it last as long as almost three years. How did you hold it together?
"Good question. To be honest prior to my injury my body already kept on telling me to take a rest. I underperformed and I was tired, which made me push myself even harder. I changed club to follow my coach, Anthony Rodriguez, and we just kept going with the route for recovery. At the time, before my injury, I was tired in my head and in my body, I did not want to do it. So, life took a decision for me and now I am fully recovered and full of ambitions, loving it all over again."
"When you on the judo mat, you don't realize how lucky you are but the minute you have to spend every single day at the medical center and you are drifting away from the atmosphere of judo and the joy it has been giving to you, it is the time you began to understand what has been taken away from you. At least I did. Above all, no regrets, now I am back with 200%. Time goes fast, I will take all opportunities I can."
Tomorrow will bring on the remaining three weigh categories: -70 kg, -78 kg and +78 kg. The tournament will start 11.30am local time.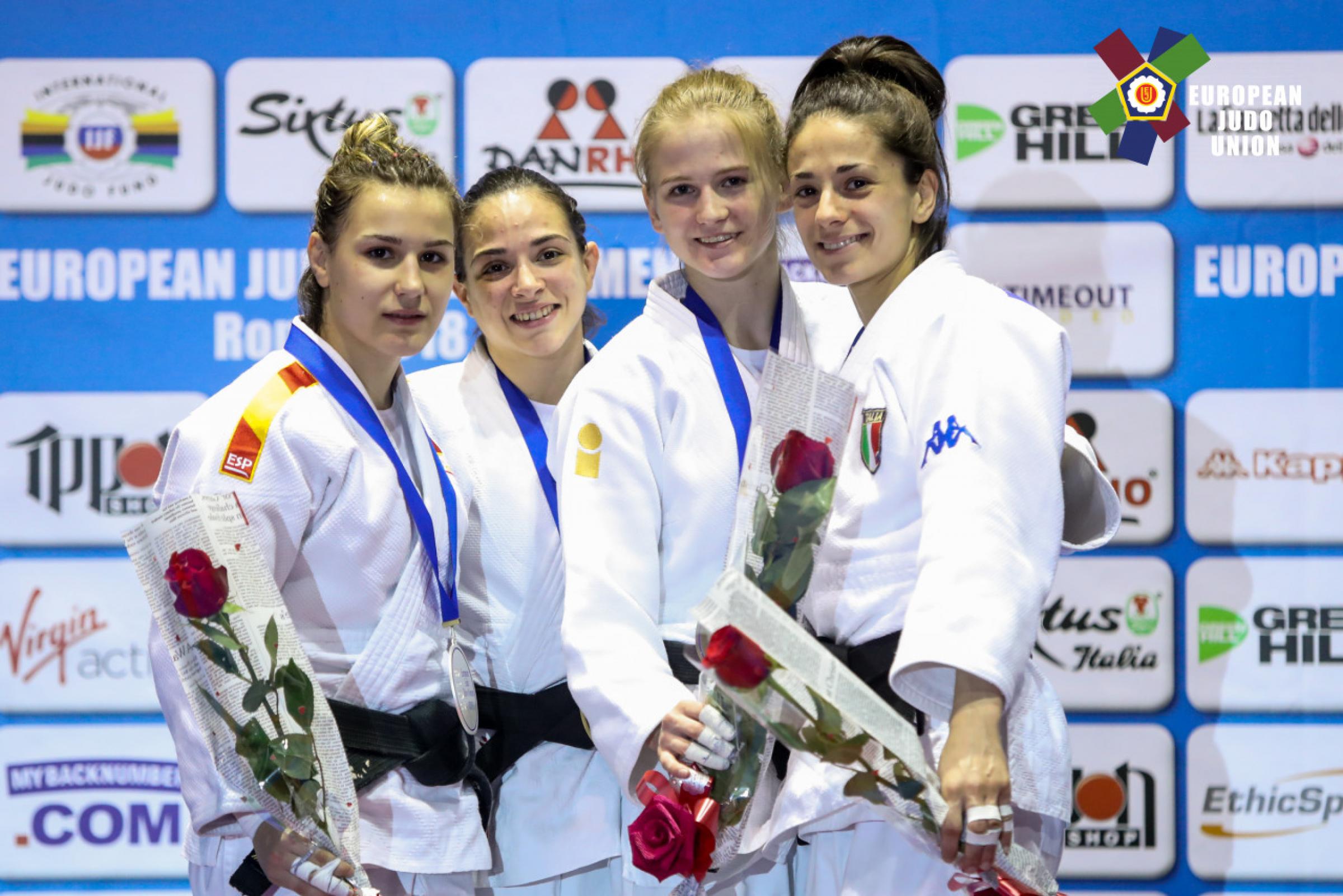 Podium -48 kg 1. FIGUEROA, Julia (ESP) 2. MARTINEZ ABELENDA, Laura (ESP) 3. PICHKALEVA, Daria (RUS) 3. MILANI, Francesca (ITA)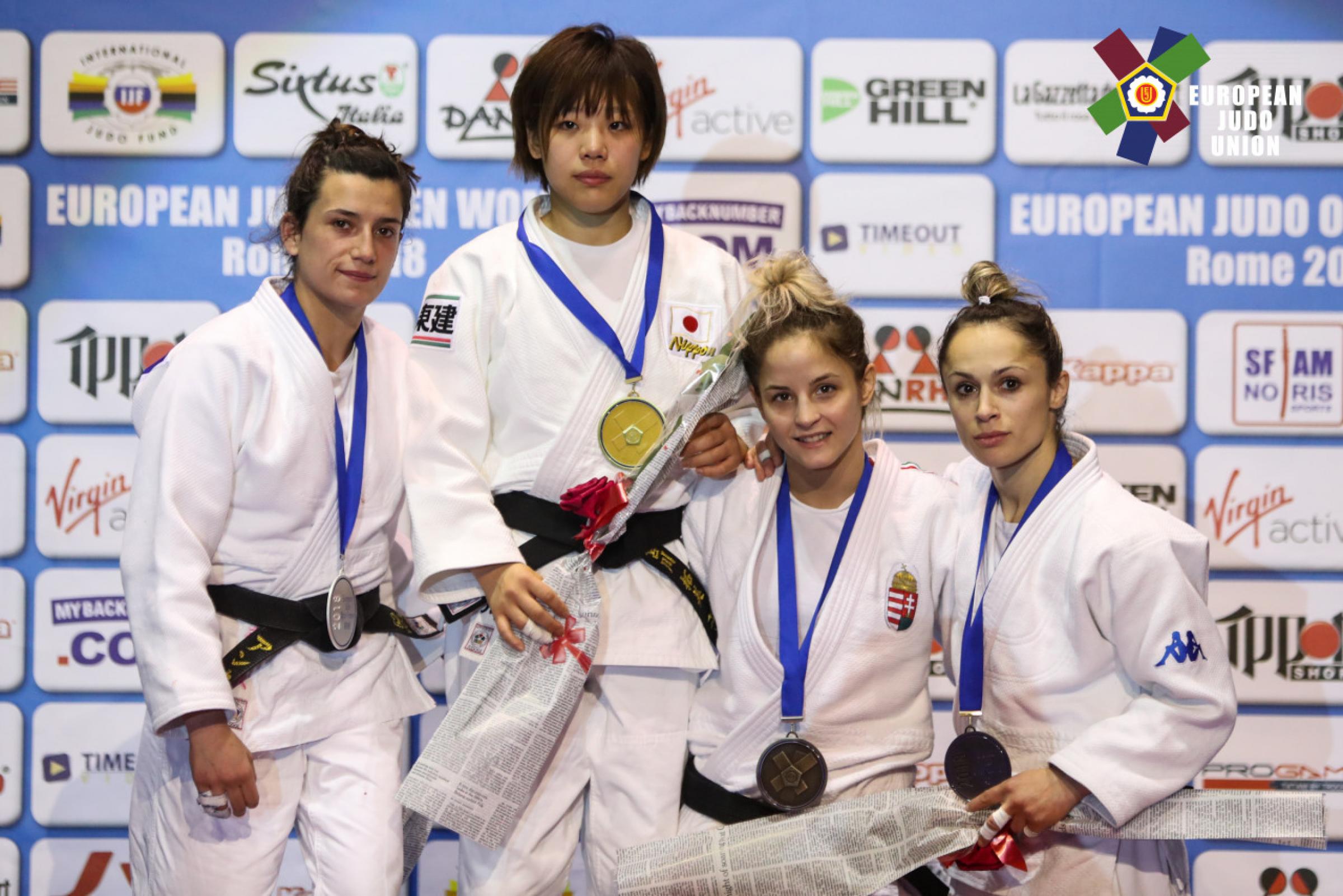 Podium -52 kg 1. MIYAKAWA, Takumi (JPN) 2. PEREZ BOX, Ana (ESP) 3. SZABO, Katinka (HUN) 3. FORCINITI, Rosalba (ITA)
Podium -57 kg 1. FUNAKUBO, Haruka (JPN) 2. IRAOUI, Soumiya (MAR) 3. BENARROCHE, Lola (FRA) 3. MAJOROSOVA, Viktoria (SVK)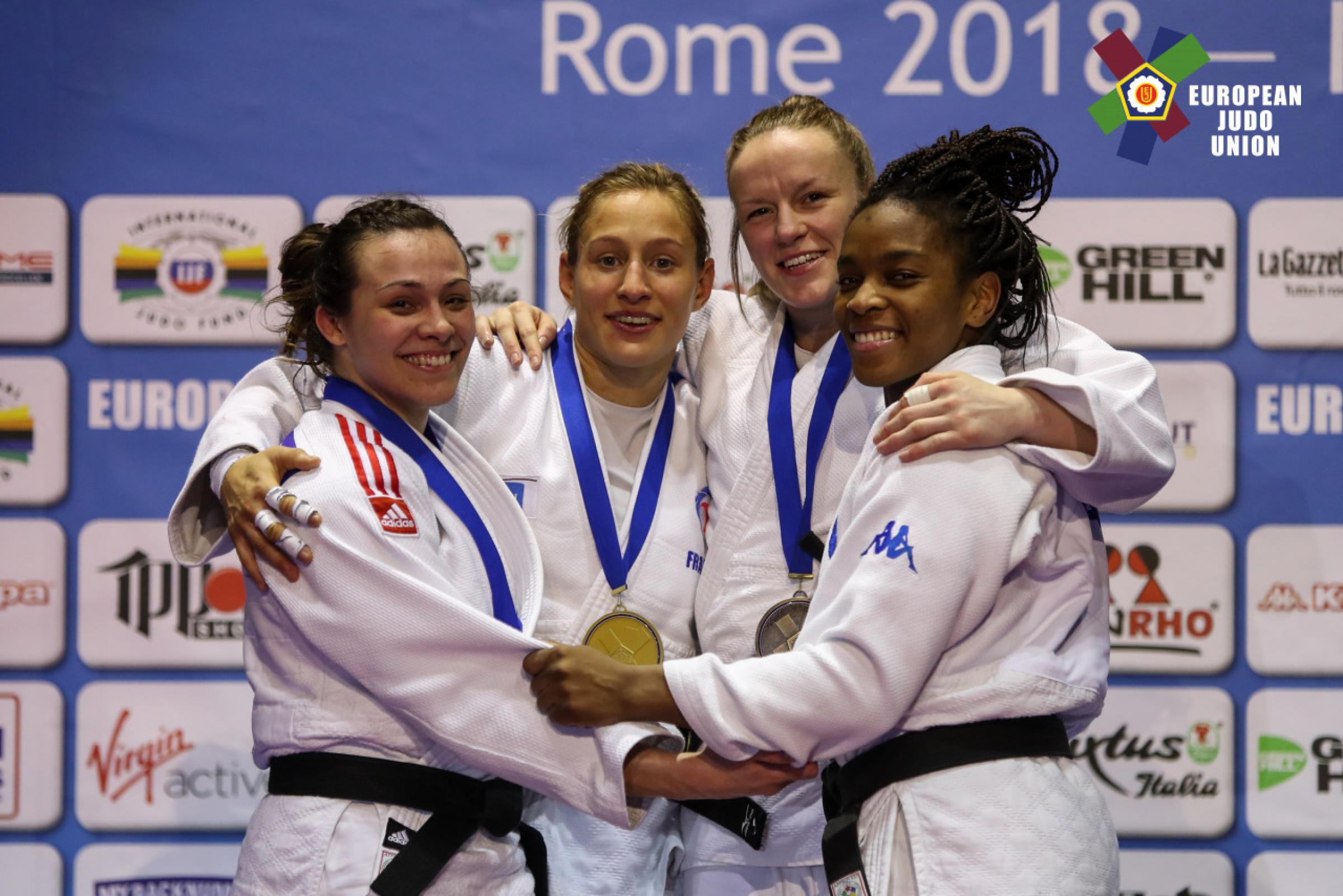 Podium -63 kg 1. DI CINTIO, Maelle (FRA) 2. ZELTNER, Tina (AUT) 3. VAN DEN BERG, Geke (NED) 3. GWEND, Edwige (ITA)
---