On the first day of the 2020 Junior European Championships, the -52kg category welcomed the first Junior European medallist from Cyprus.
Sofia ASVESTA missed out in the repechage rounds of the Junior European Championships last year, but made up for it with an outstanding performance to take the first ever Junior European medal for Cyprus in the 2020 edition here in Porec, Croatia.
Not a complete stranger to success, ASVESTA has a Junior European Cup gold from Athens and a bronze at the same level in Sarajevo. The 20 year-old has only been wearing a gi for five years, with a previous eight year career as an artistic gymnast.
Growing up in Cyprus, and despite her other sporting dedications, she has had a great connection to judo through her mother who practiced the sport in Russia when she was younger.
Her history in disciplined sport set her up well for a career on the tatami and she would like to imagine that one day the Olympic Games will be in her sights but isn't naive to think it will happen overnight for her, given that she came to the sport at a later stage than most.
The U23 European Championships will be next for me. I know everyone says Olympic Games is the goal, but for me, I understand I started late at 15 years old so I know I must go step by step. In the beginning I must go to European Cups, now I have done the Junior European Championships I will go to worlds and afterwards, the seniors. Then when I have a lot of experience I will change my goal for the Olympic Games.

– a sensible plan for a level headed athlete.
Her favourite technique is actually quite unfortunate given her stature, being smaller than her opponents, she laughs as she explains,
I like uchi mata but it isn't for me because I am a little bit small, so for me it is better to do ippon and morote seoi nage, but what I feel the most, is when my opponent attacks with uchi mata. To counter, it is the most natural thing for me.
The flexibility from her gymnastic past helps to escape these uchi mata attacks, setting her up for a perfect counter. Moving on to her ne waza skills, she continues to laugh at the prospect,
Hmm… I'm not great, I want to be better but starting late I think put me at a slight disadvantage. I know that the greatest judoka have everything and being good in ne waza is a great defence. I have only just started to play around with this as it is very important.
Although her brothers practiced judo a little, ASVESTA's mother was her original inspiration. The Russian background has also influenced her current situation. The -52kg athlete is studying Sport Science at university in Russia, not too far from Soichi, explaining she actually trains at the same club as the Naguchev siblings (their fathers club) – two of the brothers took medals on the same day in the -66kg category.
When back in Cyprus she returns to her dedicated club and team mates including Georgios BALARJISHVILI who fought in the -66kg category but went out to Kazbek NAGUCHEV.
I think we have been able to achieve this medal through a lot of dedication from our coaches. It is not a sport with much money in our country so it can be difficult but they sacrifice a lot for us so we do the same. They put their time, energy, their heart in to it and I think this is why we will start taking these medals for Cyprus, it means so much to us so achieve this.
Other small nations who train in small groups have this dedication transferred to medals as they support one another through very tough circumstances, very much like Kosovo who completely transformed their success in recent years.
We look forward to the development of this team and wish them all great success in the future with many more medals on the horizon.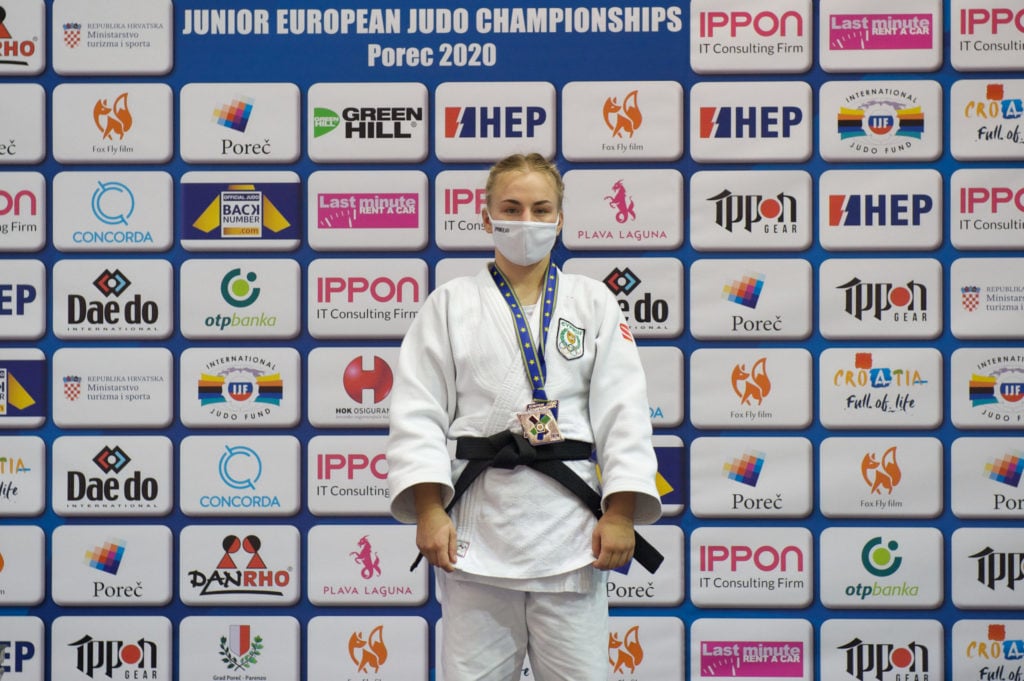 Author: Thea Cowen
---