Though the top seeds in the -60kg and -66kg categories; Marcus AUER (AUT) and Eran FIKS (ISR) weren't so lucky and suffered defeat in their respective quarter finals to see them in to the repechage contests, the women sold a different story.
In the -48kg category, defending junior European champion, Merve AZAK (TUR) wasted little time against the current cadet world champion, Aitana DIAZ HERNANDEZ, in under 30 seconds she tucked herself tightly under her opponents arm and threw with a smooth kata guruma.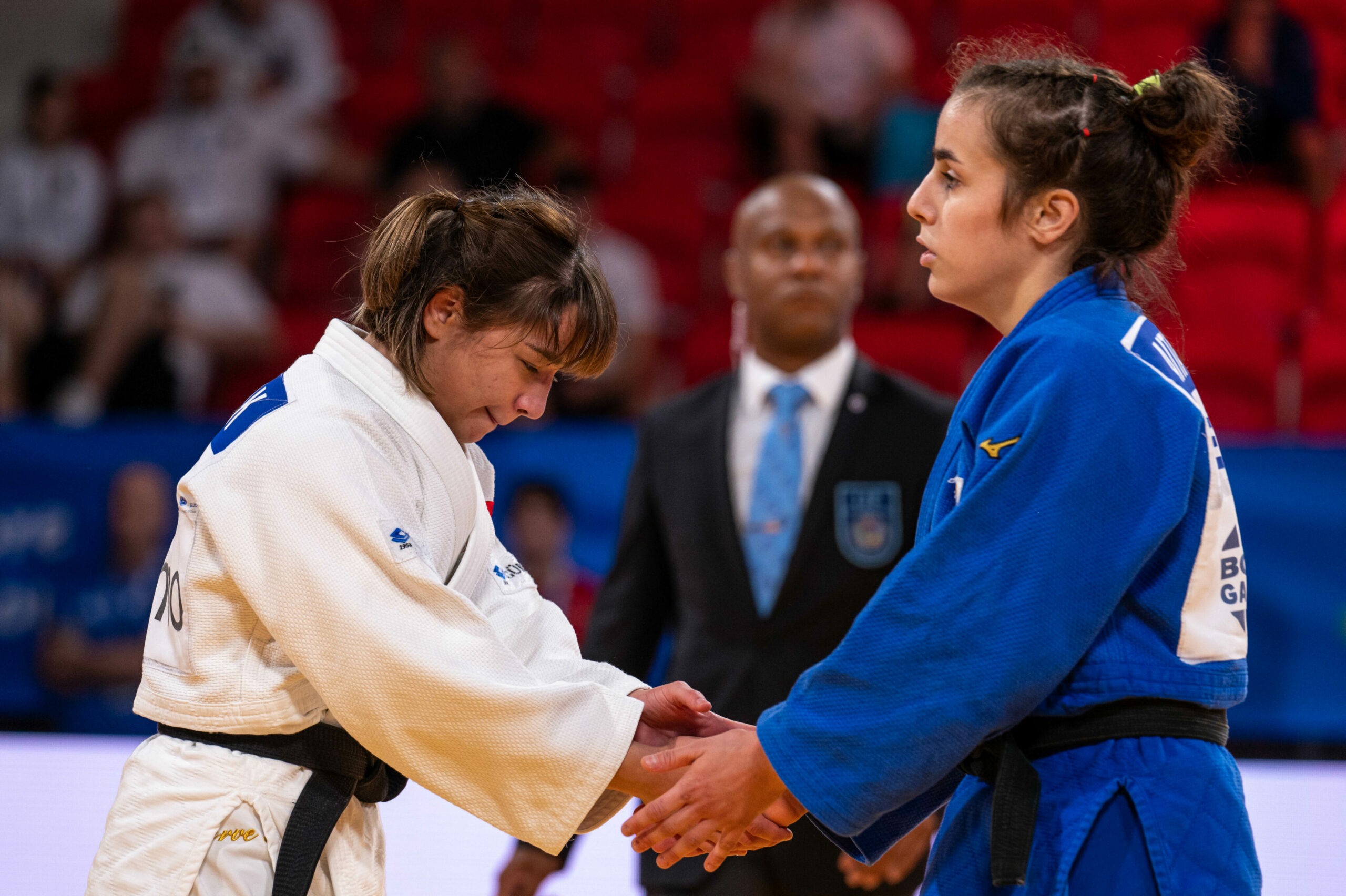 On the other side of the draw, it was an all-Italian battle between Sofia MAZZOLA and Giulia GHIGLIONE. The pair, knowing each other well, went in to golden score with only one shido on the board for Mazzola, eventually hansoku make was issued to Ghiglione for throwing against the elbow, handing her team mate the place in the final against Azak.
Giulia CARNA (ITA) was the top seed in the -52kg category and had given strong performances throughout her preliminary matches, demonstrating her maturity and experience. In her semi final against Azerbaijan's Aydan ALIYEVA, it was a tricky head to head but Carna worked systematically and identified an opportunity to apply the juju gatame for the submission and a place in the final.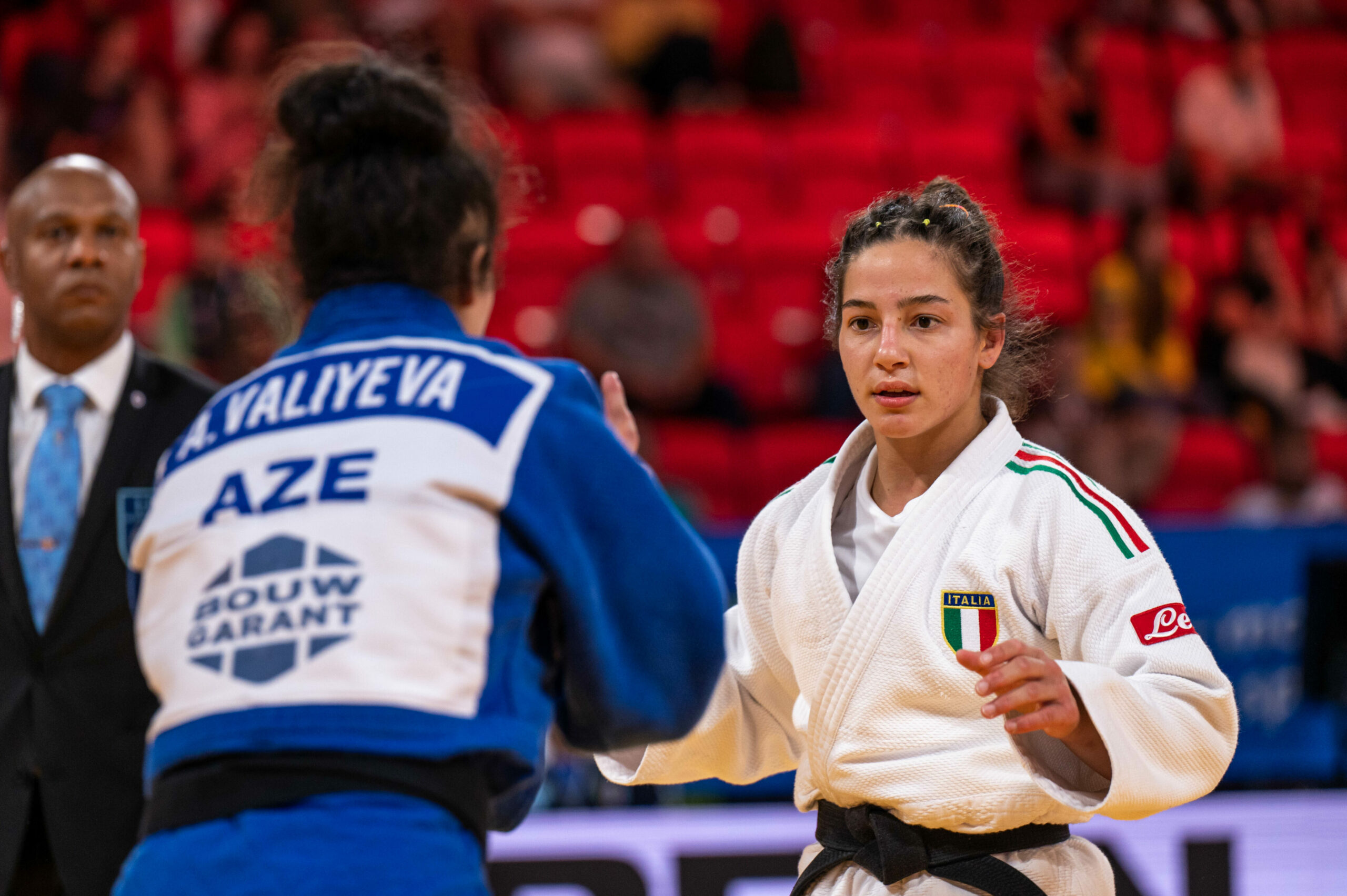 Meeting her there will be the U23 European silver medallist, Ariane TORO SOLER (ESP). The Spanish athlete also had a steady route to the final, and managed to earn her place in less than a minute against VEG Luca (HUN). An attack took Veg to the ground and unfortunately there was little defence, leaving her wide open for Toro Soler to transition in to ne waza and hold her opponent.
Toro Soler and Carna have only one head to head on the records, the final of the Coimbra Junior European Cup in 2022, with the win going to the Spanish judoka. Both have two continental championship medals, across cadet, junior and U23 levels, so who will finally be on top of the podium?
Top seed in the -57kg category, Veronica TONIOLO (ITA) came in to the tournament as a favourite given her current record on the IJF World Tour, but wasn't given an easy ride from her junior contenders. The last hurdle to the final was Adriana RODRIGUEZ SALVADOR (ESP) and it was a fight to the death. The pair picked up two shidos each and went deep in to golden score, Toniolo hooked in for ko uchi at a side angle, and managed to secure the score, despite a great ura nage attempt from Rodriguez. 
Pihla SALONEN (FIN) had an extremely tough journey, even in to her semi final. Salonen took a historic junior title for Finland in the -52kg category last year but is now battling away in her new -57kg and was faced with home favourite, Julie BEURSKENS. This was in fact a terrific match up, and exciting to watch with both demonstrating physical prowess as well as their technical range. Finally, and unfortunately for the home crowd, an o uchi gari from the Finnish athlete took Beurskens off balance, and although she stepped off the hook, Salonen continued the drive with great momentum for the ippon score.
In Salonen's semi final against Alya DE CARVALHO (FRA), she tried her hand in ne waza, looking for the shime waza on a number of occasions but somehow De Carvalho was managed to hold off and avoid the submission. It was an incredibly physical contests between the two, and went in to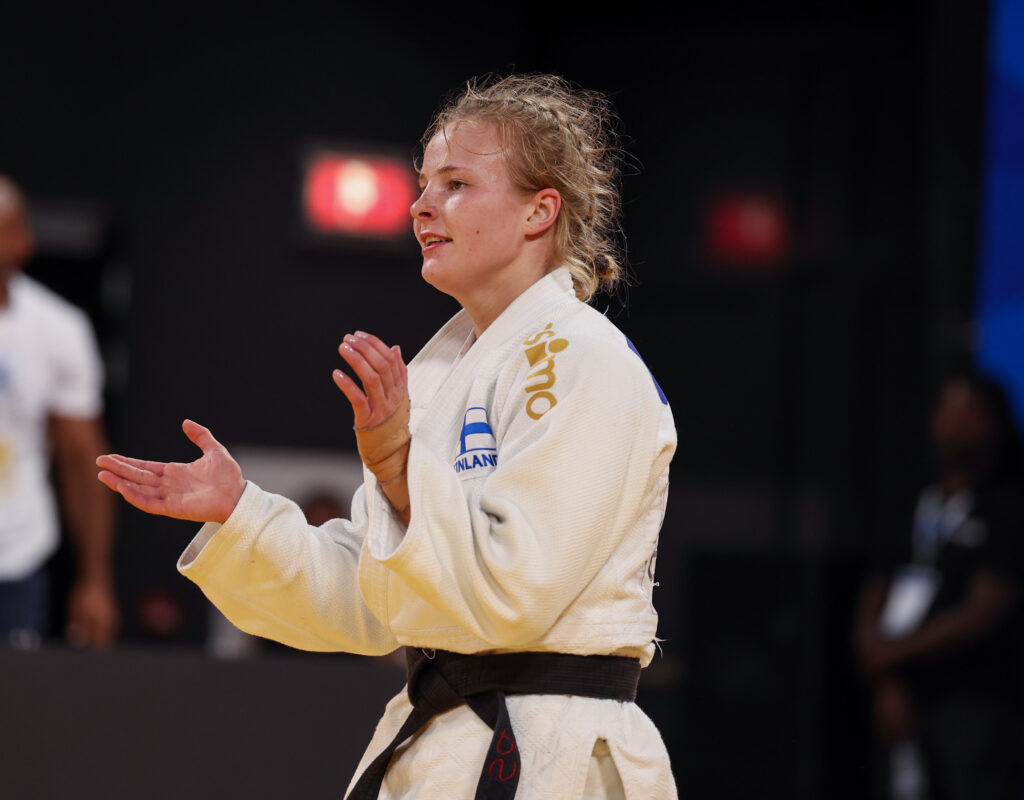 As favourite, Auer, didn't make it to the final, we look to those who came through the rankings. Yehonatan VEKSLER (ISR) became the cadet European champion in 2021 and today defeated the defending junior champion, Kwasery IGNASIAK (POL) on his way to the semi final against Spain's Luis BARROSO LOPEZ. Though the latter managed to defeat the number one seed today, he couldn't seem to find a way in against Veksler, who scored twice with tomoe nage for a place in the -60kg final and a chance to earn his second continental title.
Nizami IMRANOV (AZE) became the cadet European champion last year and now has his sights set on the junior gold, working quickly in his semi final against Olivier NAERT (BEL), entering for kata guruma but throwing backwards instead, assisting the direction of his opponent with his leg. This earned him a waza ari score, but was unable to finish off and saw the full four minutes of contest time.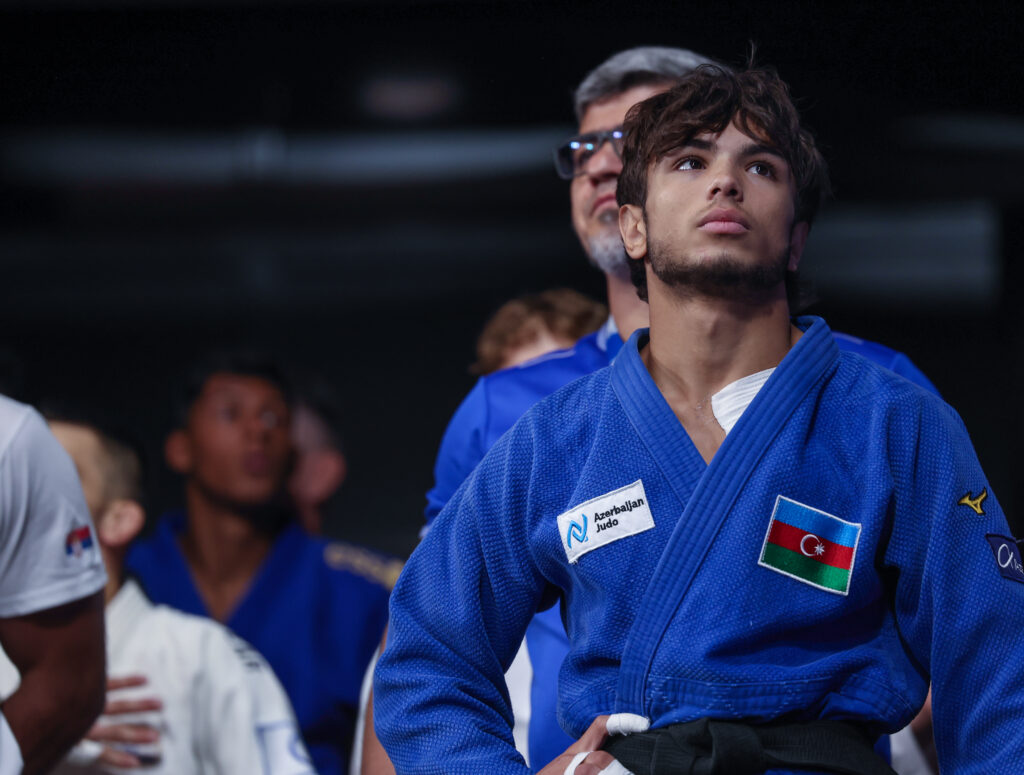 It was a quick semi final in the -66kg semi final for Aydan RZAYEV, executing a seoi nage and lifting his pponent Ibrahim DEMIREL (TUR) high and driving in to the ground to score a waza ari, then within the first 30 seconds of contest, executed yet another seoi nage to double up on his scores to win a place in the final. The next semi final went in quite the opposite way, with a gruelling golden score contest. Tengo ZIRAKASHVILI (GEO) and Miguel GAGO (POR) came in to the tournament unseeded but fought their way through their respective quarters to meet in the -66kg semi final. Picking up two shidos, Gago was forced to be on the offence and in fact put his Georgian opponent under a great deal of pressure, however an o uchi gari attack from the Portuguese judoka was countered with a devastating ura nage, earning Zirakashvili his place in the final.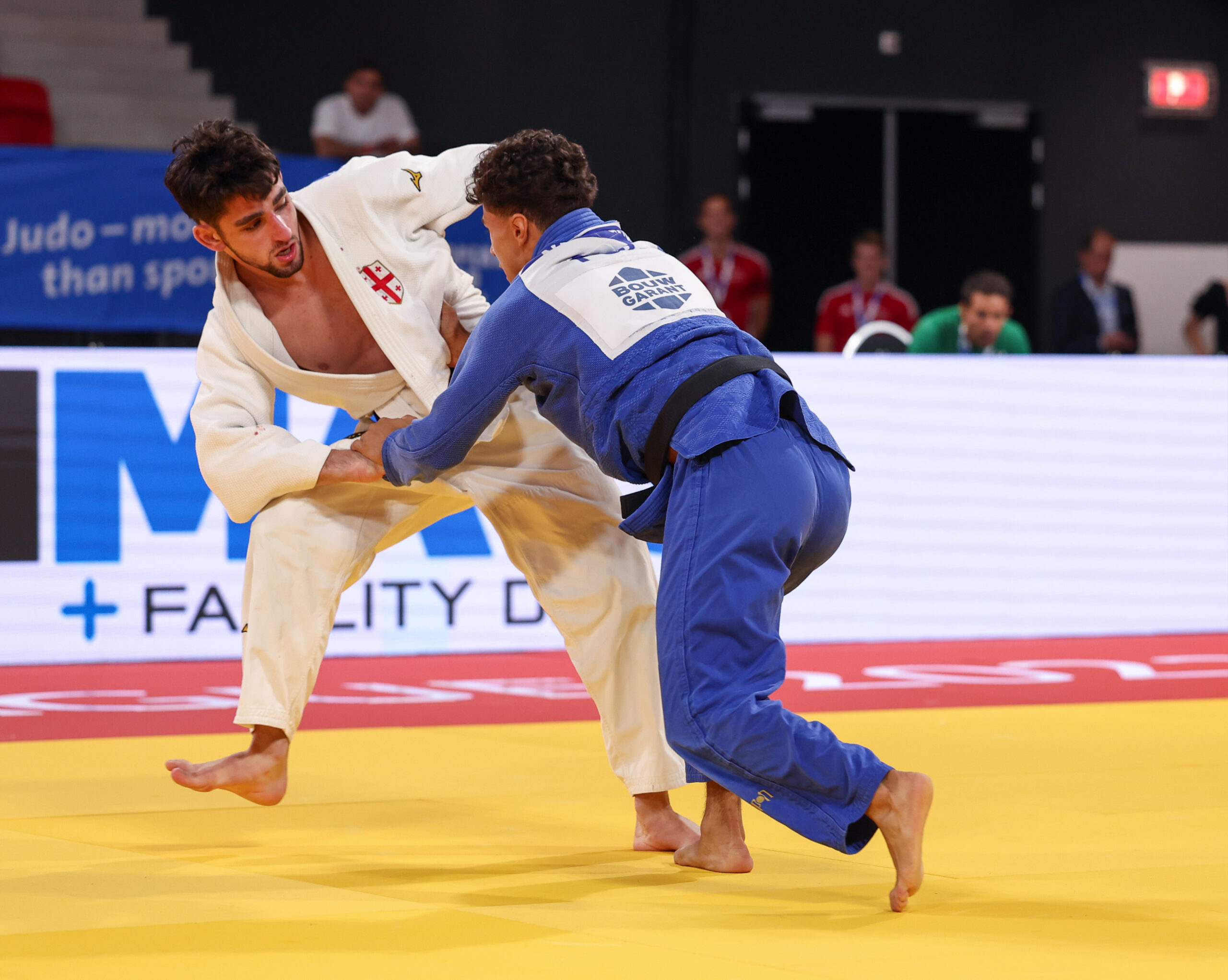 Join us for the final block at 16:00 local time on JudoTV.com to see who will become the new junior European champions and if Azak and Salonen can continue their golden trend.
Judoka
Author: Thea Cowen
---