After the disappointment of missing out on a medal at the European Championships in Tel Aviv last month, today saw Sanne VAN DIJK (NED) back to winning ways as she took the gold medal defeating Kelita ZUPANCIC (CAN) in the final of the -70kg category on day two of the Hohhot Grand Prix. This was always going to be a tough category with, among others, the world number one and two both in attendance. But van Dijk showed her best today and something of her form from 2017.
Van Dijk was animated, relaxed and clearly happy when she said, "It's really important to get a good start. So for me the qualification period has begun in the best possible way. I am particularly pleased because it was a strong field and I managed to come out on top. I had a tough contest against Gemma HOWELL (GBR) who had already defeated current world champion ARAI Chizuru (JPN) and Olympic bronze medallist Laura VARGAS KOCH (GER). So it was good to defeat a difficult and tactical opponent. I will be off to Japan for training and after that we'll decide whether to compete in Zagreb or Budapest."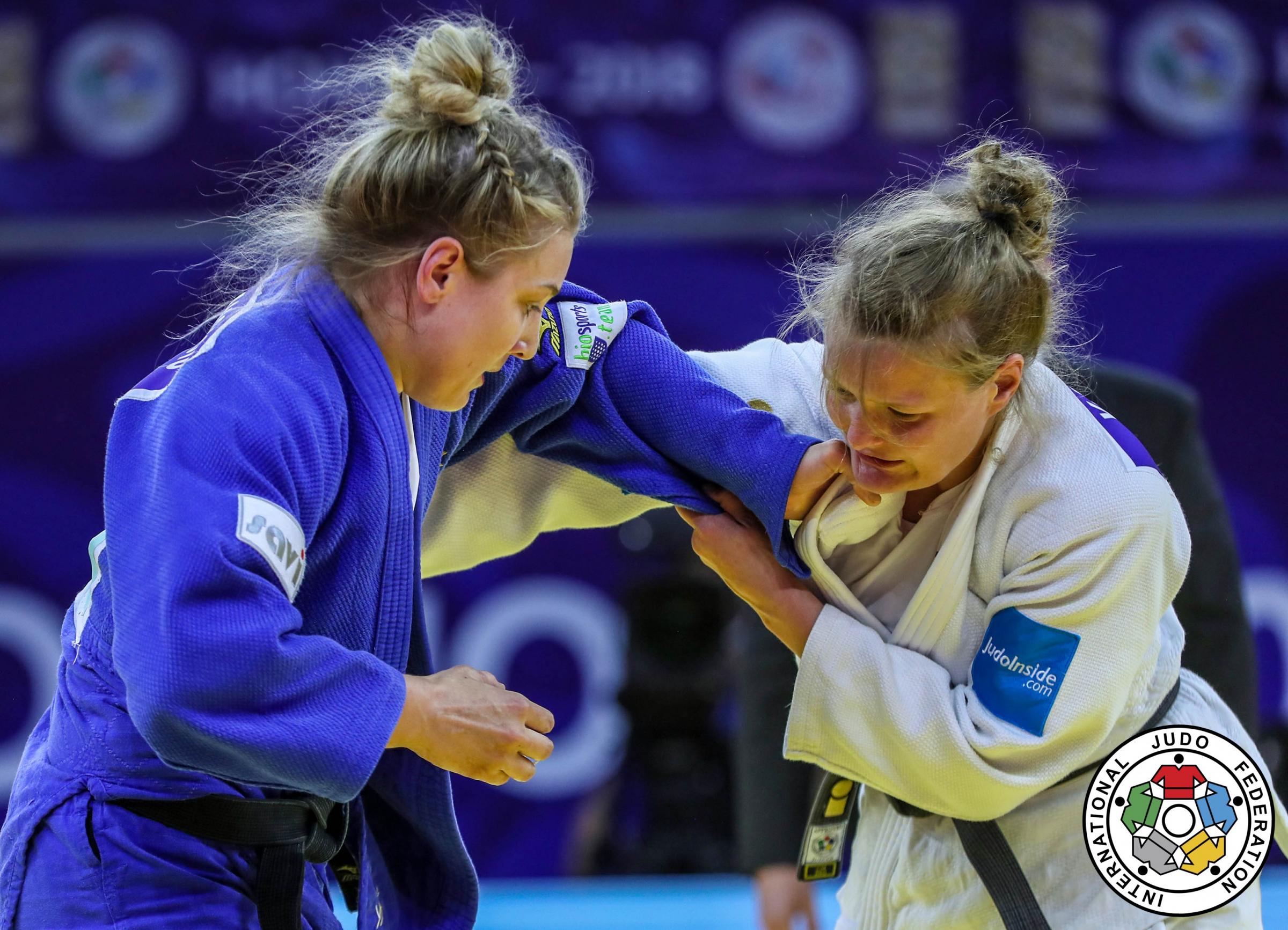 There was a medal too in the -70kg category for Gemma Howell who collected a bronze medal when she defeated Anna BERNHOLM (SWE). Whilst in the -63kg category 18-year old Gili SHARIR (ISR) continued her progress by taking her first ever IJF Judo World Tour medal. Sharir was unfortunate in having to withdraw with injury after her semi final leaving the young Israeli to hobble to the podium to collect her silver medal.
In the -73kg category Anthony ZINGG (GER) picked up a bronze medal when he defeated Musa MOGUSHKOV (RUS). The Russian team were able to collect two more medals in the -81kg category where Alan KHUBETSOV (RUS) picked up a bronze whilst team mate and current Olympic champion Khasan KAHLMURZAEV had to settle for a silver medal after losing out in an exciting final to SASAKI Takeshi (JPN).
---
Podium
Final Results -63 kg
1. NOUCHI, Aimi (JPN)
2. SHARIR, Gili (ISR)
3. BOLD, Gankhaich (MGL)
3. BEAUCHEMIN-PINARD, Catherine (CAN)
Final Results -70 kg
1. VAN DIJKE, Sanne (NED)
2. ZUPANCIC, Kelita (CAN)
3. ARAI, Chizuru (JPN)
3. HOWELL, Gemma (GBR)
Final Results -73 kg
1. AN, Changrim (KOR)
2. HASHIMOTO, Soichi (JPN)
3. TSEND-OCHIR Tsogtbaatar (MGL)
3. ZINGG, Anthony (GER)
Final Results -81 kg
1. SASAKI, Takeshi (JPN)
2. KHALMURZAEV, Khasan (RUS)
3. LEE, Seungsu (KOR)
3. KHUBETSOV, Alan (RUS)
---