Like many of our team, Rui is an active judoka and teacher of a club in Lisbon, Portugal. Though he is a valued photographer on our talented team, he has an impressive background in film making, productions, commercials and feature films, offering yet another distinction to the talent in EJU.
Name: Rui Telmo Romão
Age: 38
Nationality: POR
Residence: Lisbon, Portugal
Working for EJU since: 2017
Equipment: This is the equip that I use when doing judo photos (in order of most used): Canon: 5D iv, 7D ii, G7x. Lenses: 70-200mm, 24-70mm, 20mm.
In line with the ethos of judo, Rui enjoys the balance of the sport, between mind and body and can link this with his daily life outside of the sport. Aside from his prominent sports photography, he has a collection of stunning images that he captures when enjoying his free time in the outdoors, hiking and climbing in the wild.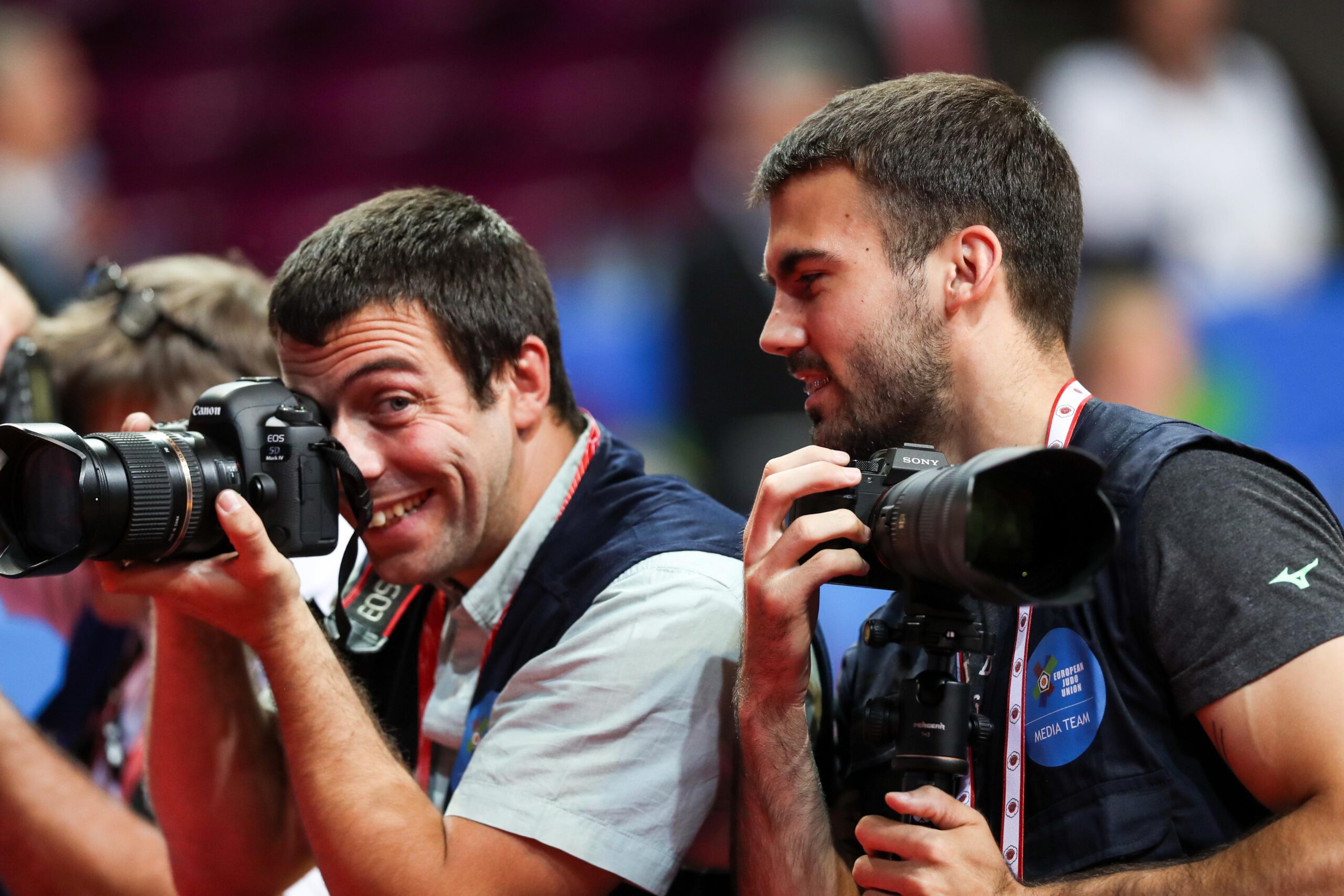 As an avid nature-lover, it is unsurprising when asking where his favourite destinations have been when travelling with judo, be it a city or countryside,
When you travel for work there is a short opportunity window to go on sightseeing. It is nice to go out for a run and clear up my body and my head. So I go on a sightseeing run around the city. It is funny because I get to have a good overview of the city, the parks, some historical monuments and the people on their daily business. Sometimes I pass by some of the previous day athletes who are coming back to their regular practice.

In this sense, Maribor and Cluj-Napoca were a nice surprise. In Sarajevo I could feel the history weighing all around. I really enjoyed the river front and parks in Glasgow and in Vantaa it was amazing to run early through the cold forest and see some wildlife surprised with this strange human passing by.
At 38, he certainly has plenty of experience and even took to the camera at 5 years old, holding his first DSLR and has never put it down. Rui confesses,
I was the weird kid with a camera bigger than himself. When my school class went on a field trip, or if there was a birthday party, in the next week I would be the one bringing photo prints for the other kids. While I was studying graphic design at the Fine Art University, I became more interested in photographic image as a way to tell stories. My projects tend to include a strong image component; either still or moving photography. All of this was followed by a gradual and natural progression until today.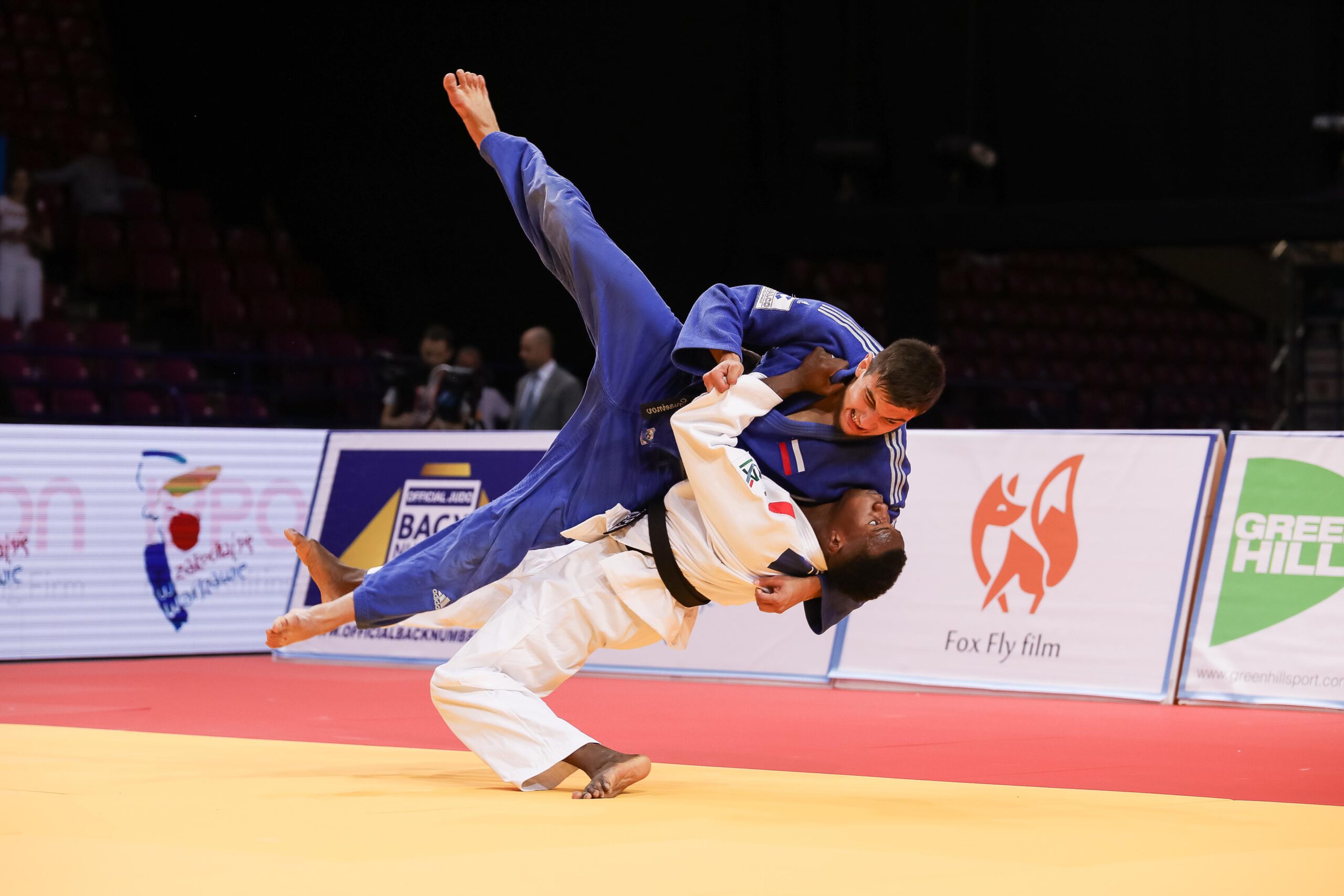 -90kg. Final. LIVEZE, Kenny (FRA), GUSEINOV, Dzhavad (RUS). LIVEZE's Uranagi earned him the gold medal. Cadets European Championships – Warsaw 29.06.2019 – Rui Telmo Romão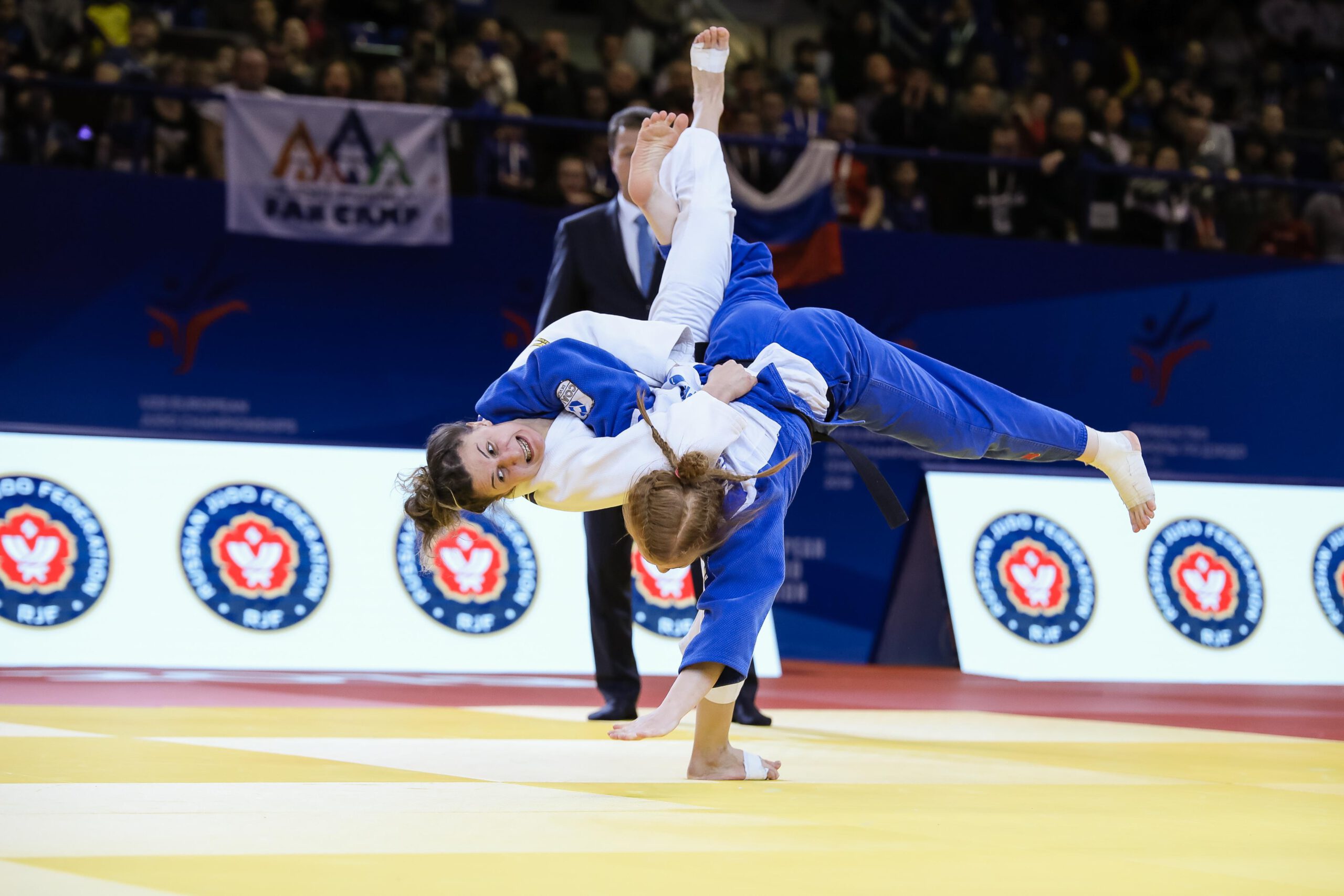 57 kg. Final. LIPARTELIANI, Eteri (GEO), NAGUCHEVA, Danna (RUS). Impressive counter attack by E. Liparteliani after the Ouchigari by the D. Nagucheva.U23 European Championships – Izhevsk 01.11.2019 – Rui Telmo Romão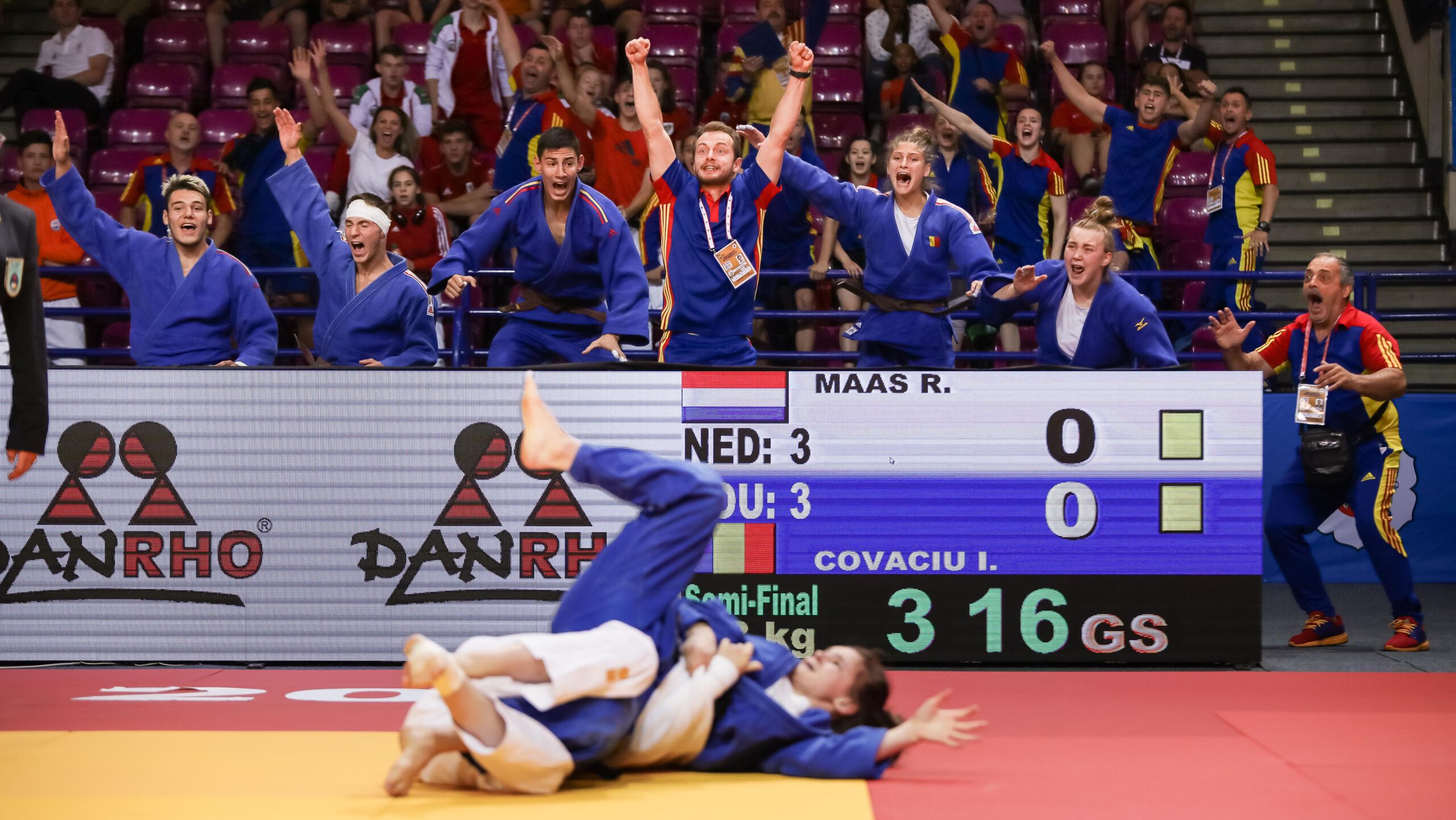 Team Final. NED, ROU: -48kg (tie match: GS) Cadets European Championships – Warsaw 30.06.2019 This is a photo of celebration and the definite turning point of the match. It is not the typical big throw photo. The athletes are already falling in the ground and they are out of focus. So why do I like this photo so much? The focus is instead on the team mates and coaches, behind the main action. They are on an ascending movement, just starting to celebrate with such a big energy. On the background you can also see the other team mates celebrating. If you now look at the board, you will understand why are they in such a big joy. The time is still running, remember that the action is still taking place. You can see it is the semi-final. That Netherlands and Romania are in a tied situation 3 against 3 wins. That means that this match was randomly picked for a Golden Score. Who ever scores, any score, goes to the final. And the score is unfolding right in front of Romania's team. With such an energy, this is my favourite judo photo ever! Romania went on to the final and got the silver medals after losing to Turkey. – Rui Telmo Romão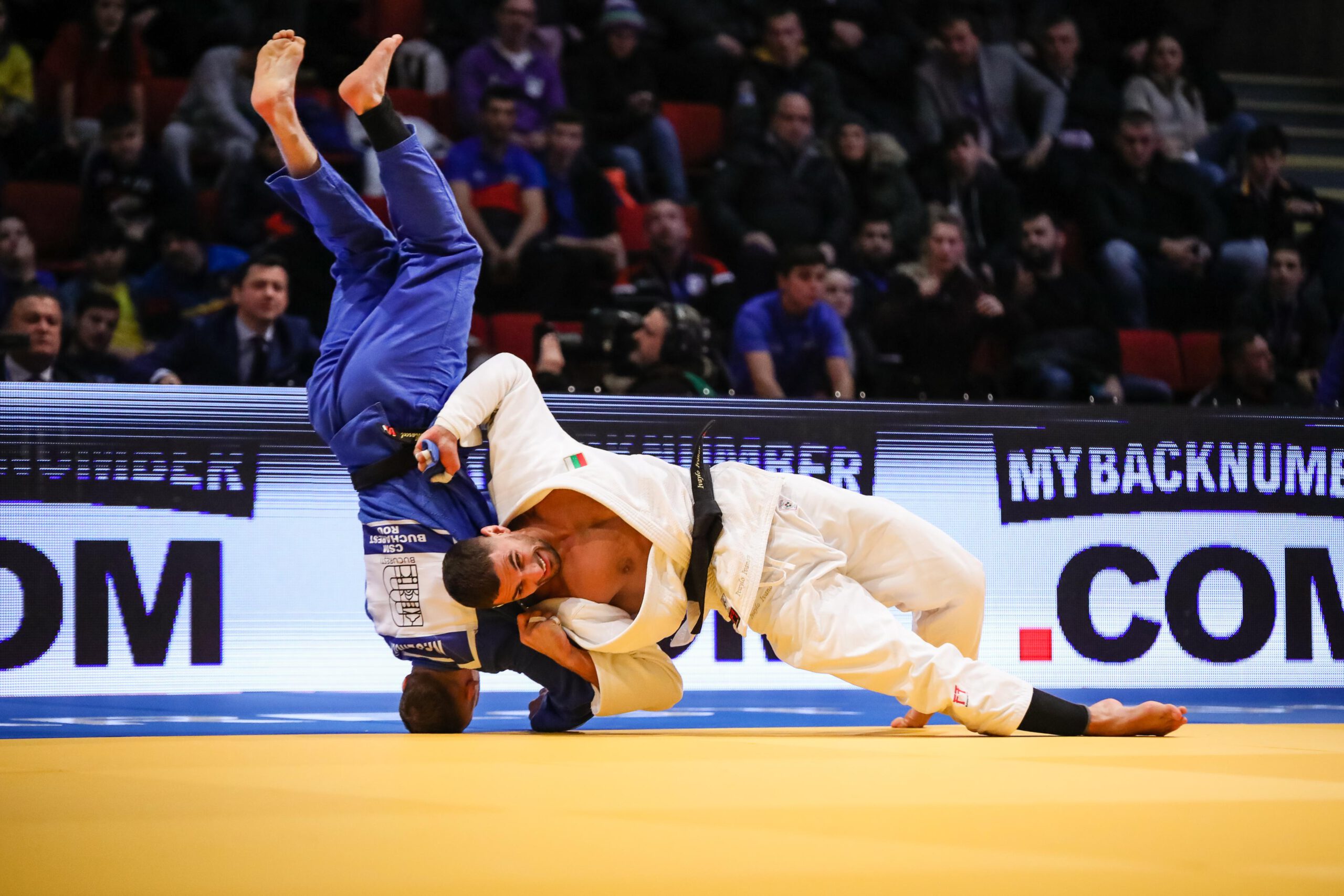 Bronze Fight. -73 kg. In white: RAICU Alexandru, CSM (ROM). European Club Championships – Champions League – Bucharest 07.12.2018 – Rui Telmo Romão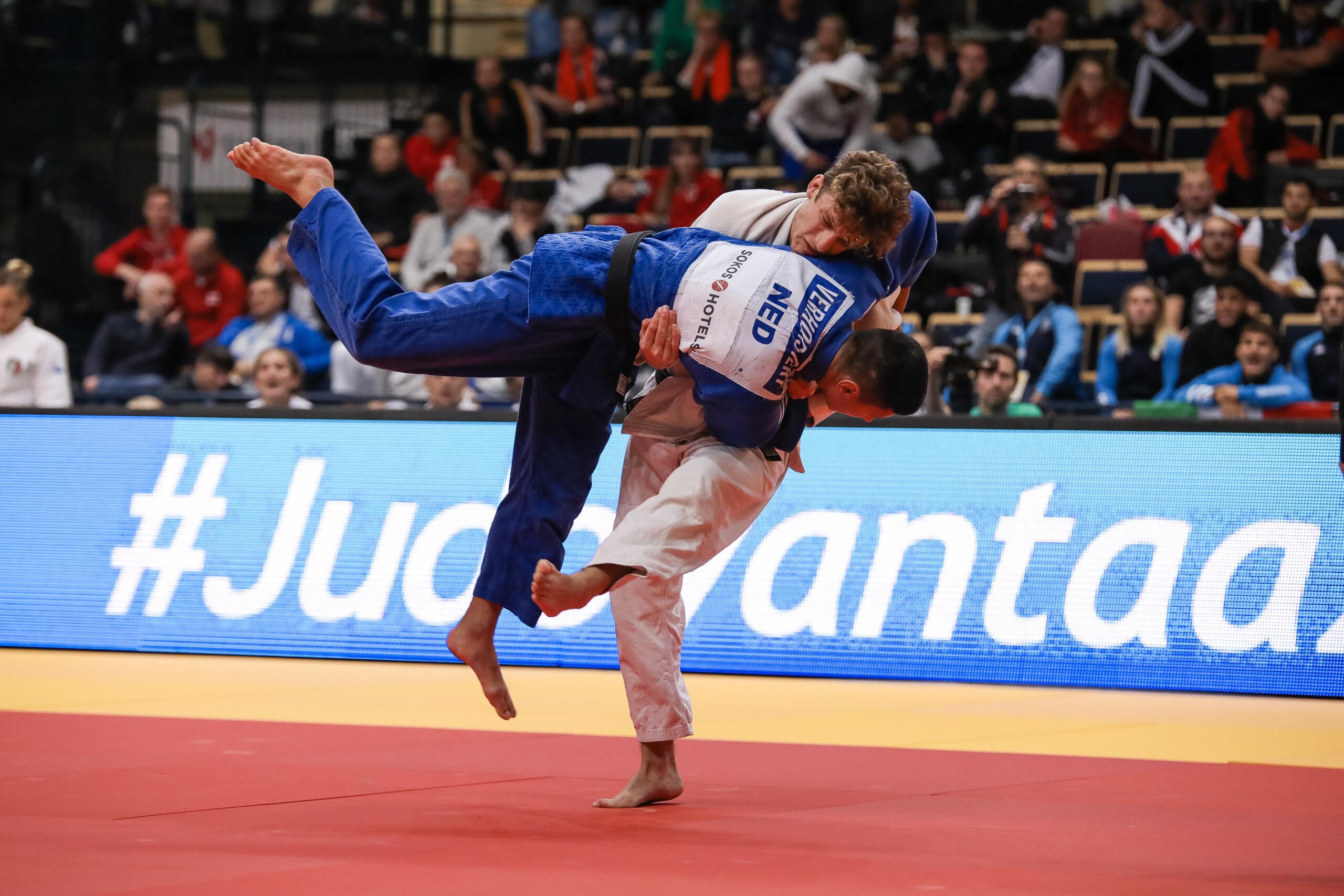 Semi-Final. -73kg. ITA v NED Juniors European Championships – Vantaa, 15.09.2019. – Rui Telmo Romão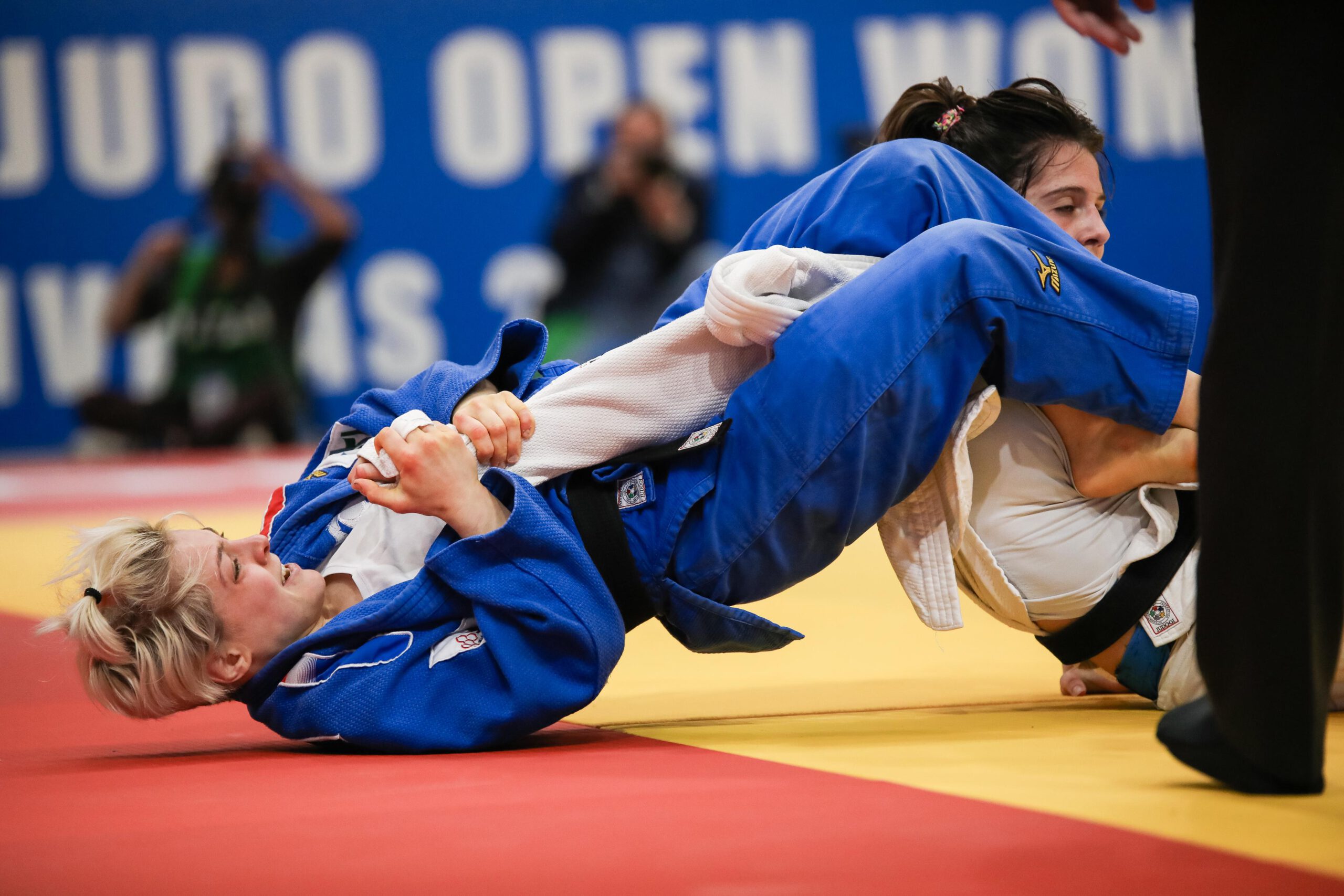 -50 kg. Final. PONT, Blandine (FRA), LHENRY, Marine (FRA). M. Lhenry won the Gold medal with this Jujigatame. European Judo Open Women – Odivelas 01.02.2020 – Rui Telmo Romão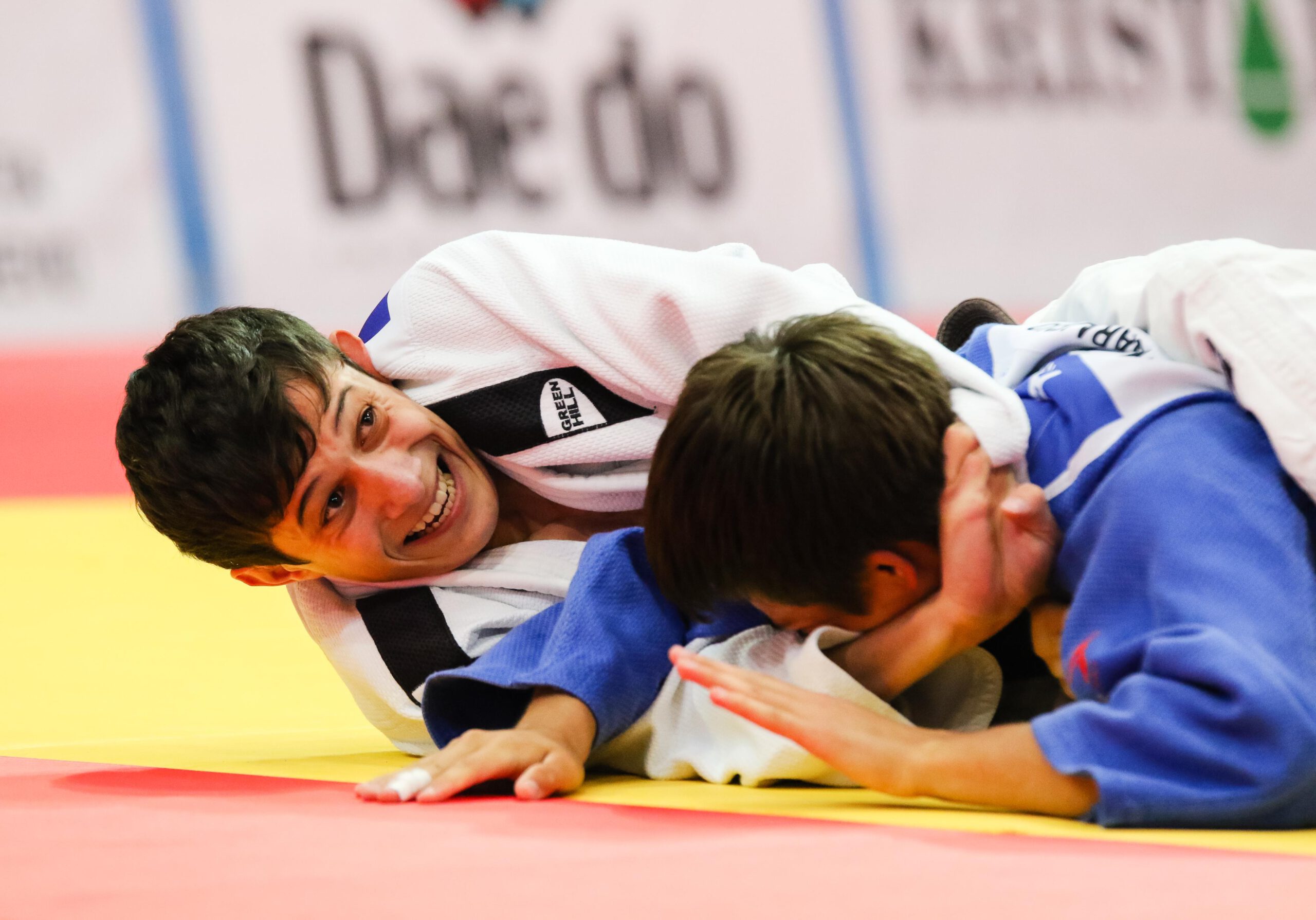 -50kg. SAAEV, Iznaur (RUS). Saaev went on to win the Gold medal. Cadets European Judo Championships – Sarajevo, 28.06.2018 – Rui Telmo Romão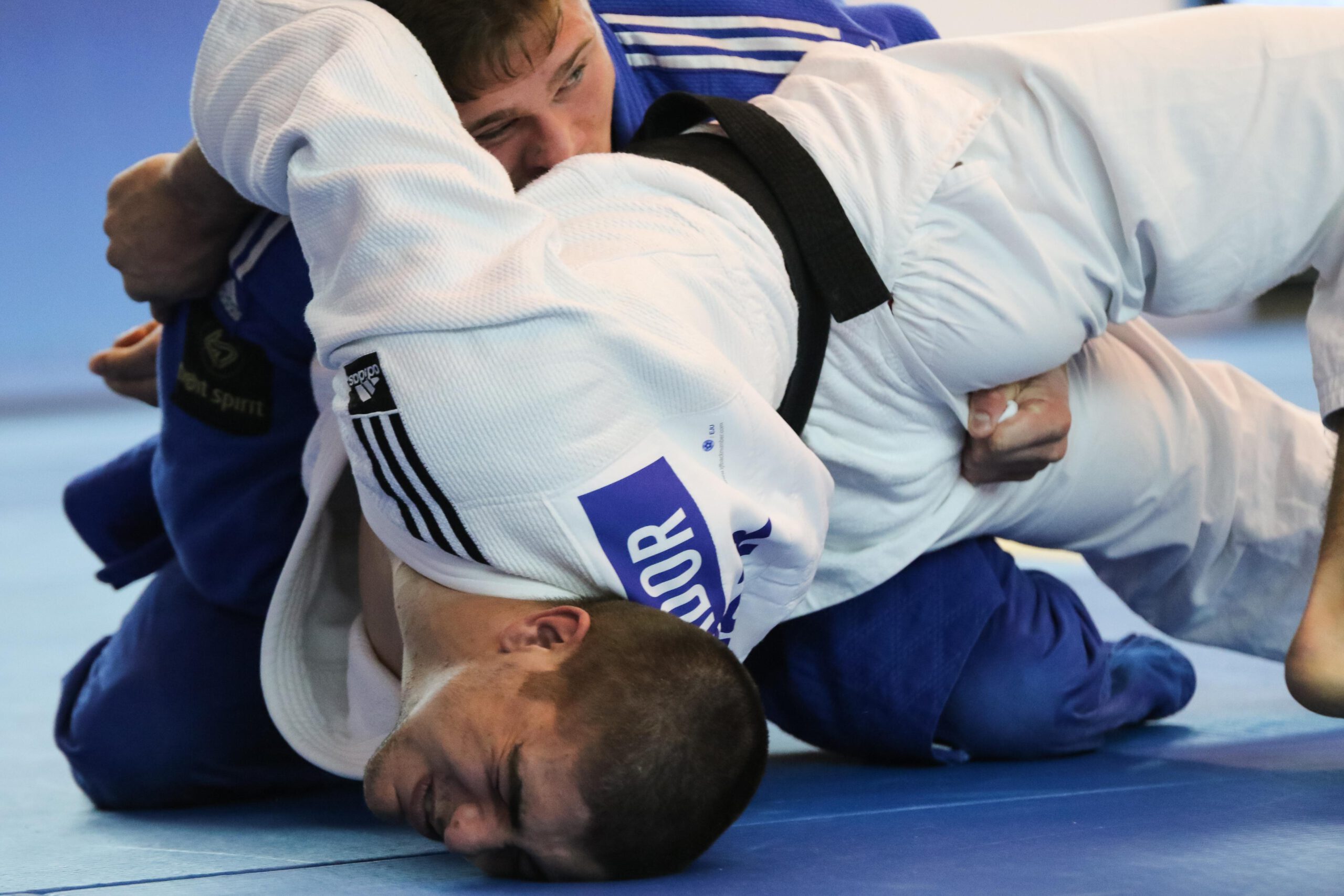 -90 kg. round 2. SALVADOR, Guilherme (POR), SONERUD, Julius (SWE). J. Sonerud went on to the final and got a Silver Medal. Juniors European Judo Open – Coimbra, 19.03.2017. Personal comment: I really like this photo, because you can almost feel the athlete struggle trying to get out of the osaekomi. Guilherme is actually from my judo club. Although as a photographer I try to keep neutral emotions when shooting the athletes, at the end of this fight my camera was surely slippery from my nervous sweaty hands. – Rui Telmo Romão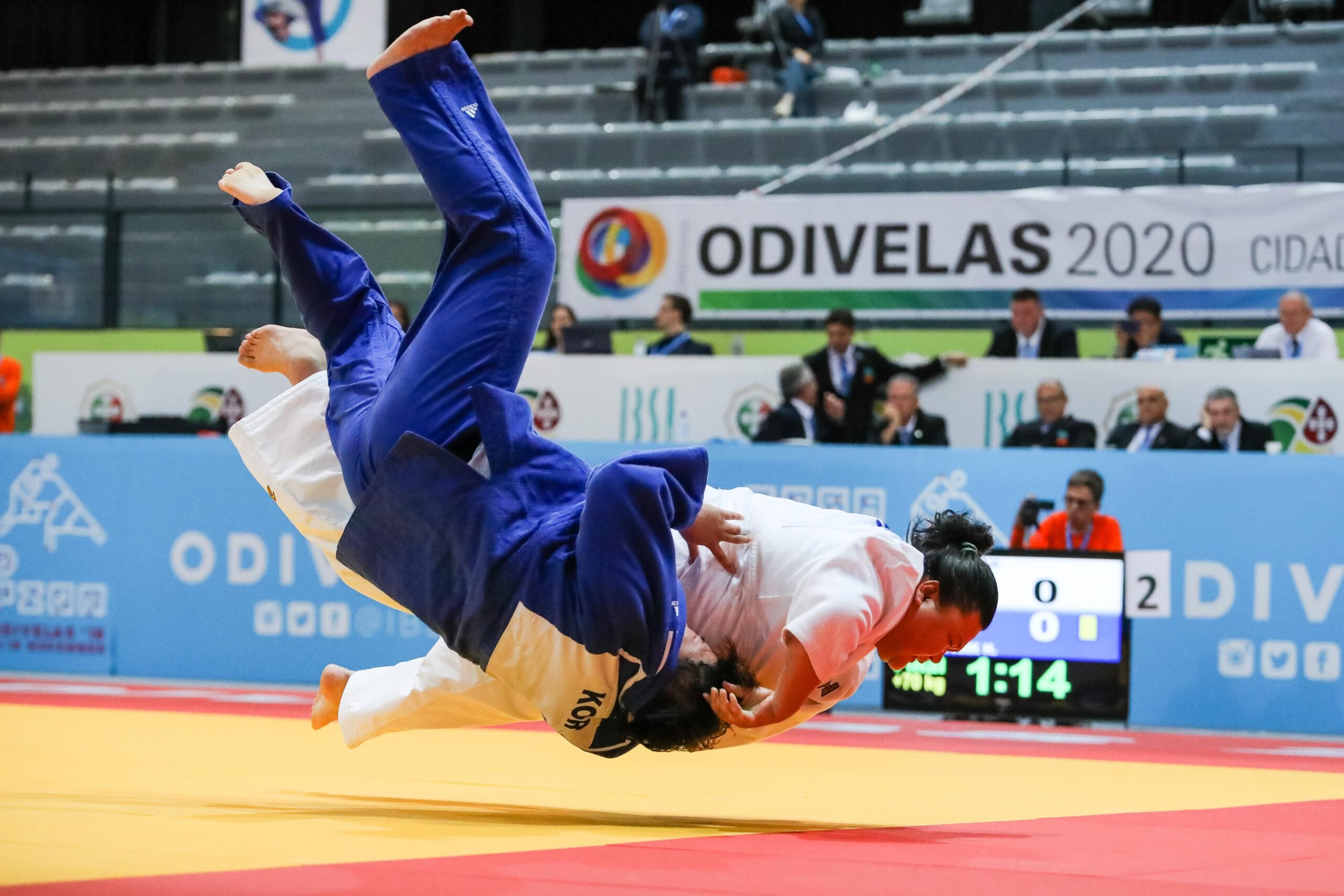 +70 kg. Final. WANG, Hongyu B2 (CHN), PARK, Hayeong B2 (KOR) Flight Haraigoshi performed by the short vision Chinese heavy weight. IBSA Judo World Champioship – Odivelas 17.11.2018 – Rui Telmo Romão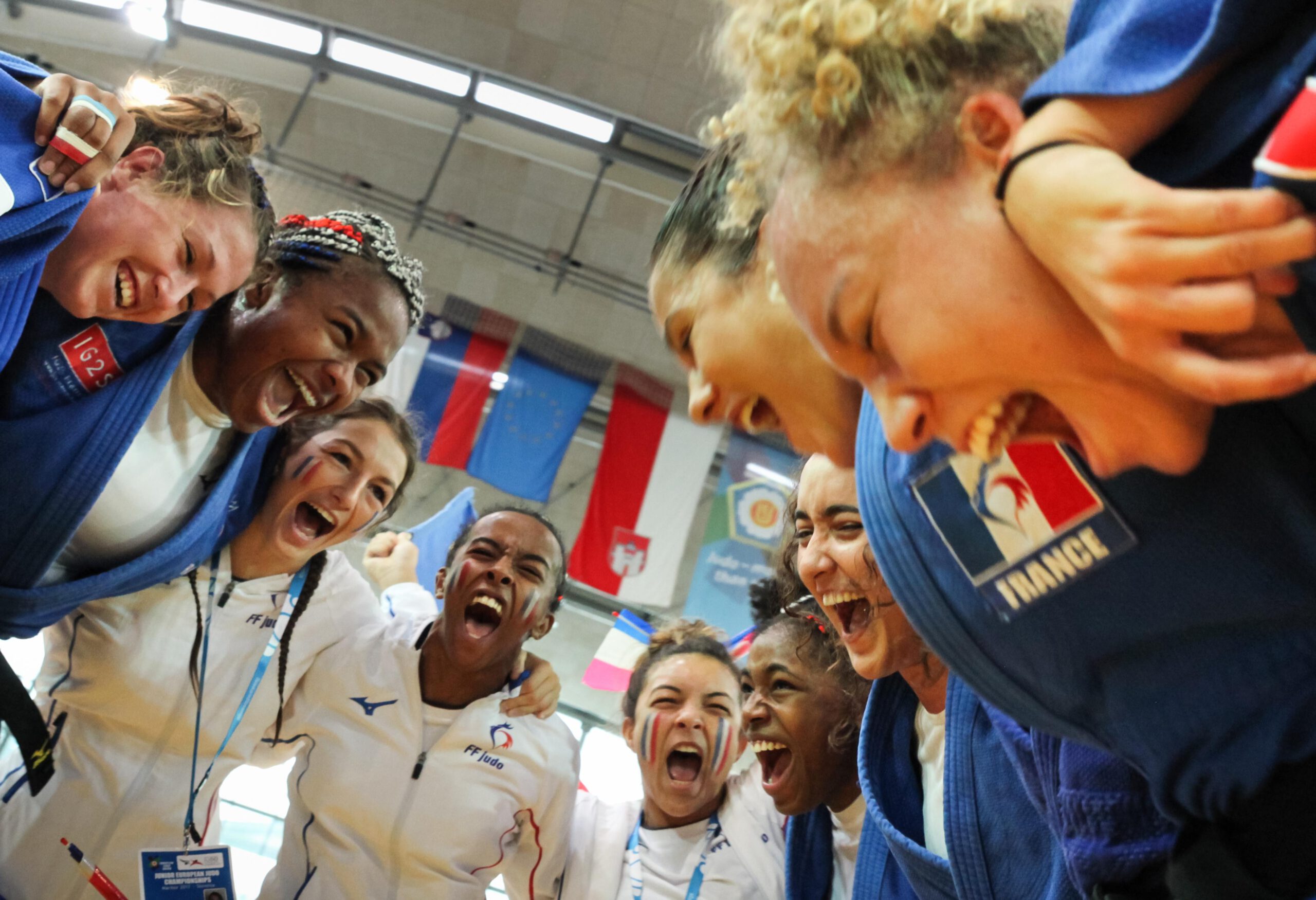 French women team get together to cheer up, just before the start of the competition. Juniors European Championships – Maribor, 17.09.2017. – Rui Telmo Romão
In judo there are many special moments and emotions to capture and the first time Rui was able to see his work on the big screen was a nice surprise, being able to see all of the details; the sweat, the facial expressions in the action shots. Being able to connect with an image on an emotional level is a special talent that our photographers are able to portray constantly for our judo family and leave an impression. However the first time he managed this was in a personal capacity.
The first thing that came to my mind is a moment back in 2012. I was developing a photo art project about memories and objects. I collected and organised some of my late grandfathers personal objects and photographed them. When I showed the work to my mother she collapsed in tears. I was worried first, but I then realised her tears where not from sadness, they were from feeling reconnected and revisiting her father once again through those photos.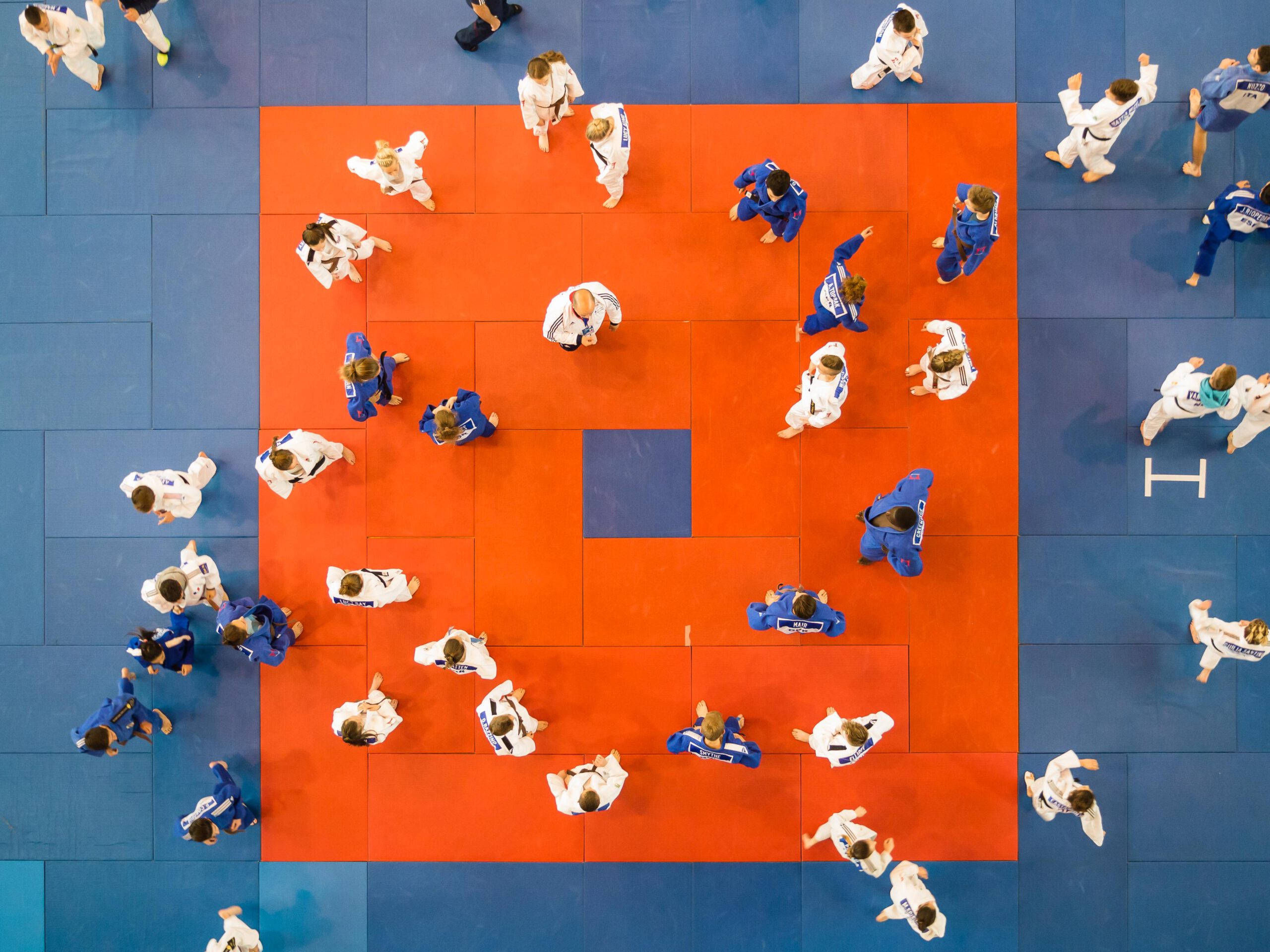 The trying thing about sports photography is the lack of predictability, you can follow the number one seeded athlete, but there is never a guarantee of the perfect shot, and waiting can be a hard game to play, as Rui has experienced many times.
So many times! I bet on a match, on one tatami, that will give the best photo of the moment. I prepare, I get focused and aim my camera at those athletes and through the corner of my eye, on another tatami, I can see this massive throw and the audience cheering. That is part of the job. If you try to get everything, by the end of the day you get no action photos, or blurred photos, or nothing at all.
His advice is simple,
Get your camera, get out there and shoot, shoot, shoot, shoot… The more you shoot the better.
Each individual has there own reasons for loving their job and this team, and Rui is no different,
The opportunity to work and collaborate with so many different people from all around the world, always give me a great accomplished feeling by the end of the week. Judo also brought a lot of good and long lasting friendships.
Judoka
Author: Thea Cowen
---