Larbi Benboudaoud of France has an incredible legacy, on and off the tatami.
Many will have know Larbi as an incredibly successful judoka for France, racking up numerous major medals, including a World Championship title in 1999 and an Olympic silver in Sydney 2000. His continental success peaked on 1998 and 1999 when he became European Champion. Following his personal accomplishments, he moved to the coaches chair and worked with talented athletes, creating a formidable women's team. Lucie Decosse, Clarisse Agbegnenou and Madeleine Malonga are but a few examples of his ability to nurture Olympic and World champions.
2012 Olympic Champion, Lucie Decosse.
Celebrations in the -78kg category at the 2019 World Championships in Tokyo.
Larbi will be looking to continue the celebrations again in Tokyo with a strong team already announced.
So it comes as no surprise that he has been awarded as the EJU Best European Female Women's Coach 2019 and 2020. It is hard to argue with this as the French women are in a league of their own, with four of the judoka holding number one spots in the WRL. When asking Larbi how they have become such a impenetrable fortress, he states clearly,
It's the power of the group.

For me the power of the group is very important. We have a young, dynamic team and we have confirmed athletes. When the youngsters arrive they look at the best and say "it's possible". There is always a transmission between the young and the old to go and get the medals, it is important.
As an Olympic finallist, World and European Champion, he has more than enough experience of his own to reflect on in order to pass his wisdom on to the current world-class athletes.
We can say that my experience as an athlete, today I put it at the service of the athletes I coach, because I know what it is to prepare for a World Championship or the Olympic Games, I try to transmit to the athletes what I did, so that they too can manage this pressure. Even if it's a different time, a World Championship or the Olympic Games, 20 years ago or today it's the same, and we try to accompany them so that they don't suffer too much from this pressure and so that they prepare themselves in good conditions to be as efficient as possible.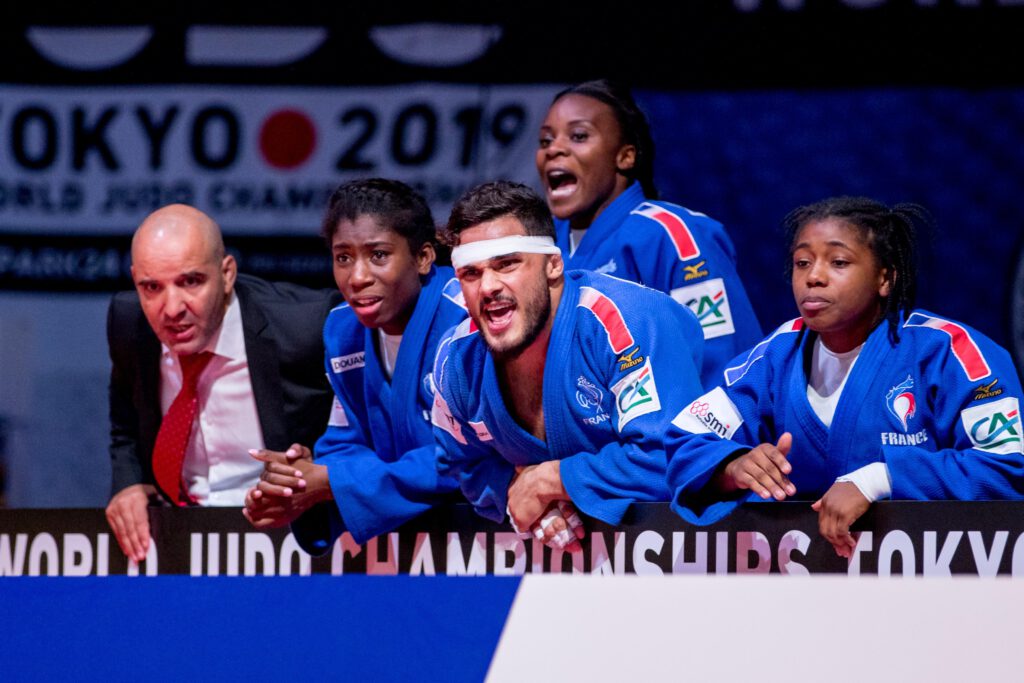 It will soon be time for Larbi to step away from the coaches chair and in to his new role as Director of High Performance, overseeing both the women's and men's team where he will operate primarily in the management of the French squad. It is the end of an era for both Larbi and the judoka he has coached, creating space for new development. Of course he is looking forward to his new position, but as with every step, we ask if this will be an emotional transition for him.
Yes, of course it's normal, I've lived and experienced a lot as a coach, but as I said before, it's important for us to be able to pass on "the winning spirit" to them, we need to do the same thing with the coaches, trainers, we need a new Benboudaoud, man or woman because today my right and left arms are two women, Lucie Decosse and Séverine Vandenhende, two great Olympic Champions! So I hope it will continue.
Lucie Decosse with Melanie Clement, IJF Masters, Qingdao 2019. (c) Gabriela Sabau
Séverine Vandenhende with Amandine Buchard, Grand Prix, Tbilisi 2017. (c) Gabriela Sabau
There is little doubt that the women's team will continue to be successful with fresh faces such as Shirine Boukli and the return of Romane Dicko. Perhaps this move will be of benefit to the men's side as well as they also have Olympic potential with the likes of Luka Mkheidze. We wish Larbi the best of luck in his new role and to the French team.
Judoka
Author: Thea Cowen
---