Since 1984, Austria have been trying to beat their best results of an Olympic gold and bronze from Peter SEISENBACHER and Josef REITER, and after eight Olympiads, they did just that.
Medallists, Michela POLLERES and Shamil BORCHASHVILI had the most successful days of their careers in the -70kg and -81kg categories. Add in to this mix a new head coach, Yvonne BÖNISCH, who has been going from strength to strength with these athletes, as well as new president, Martin POIGER, it was a recipe for success.
On the fourth day of the Tokyo Olympic Games, Borchashvili was in for a tough time. He wasn't a favourite or one of the top ranked but this worked out in his favour and led him to an Olympic victory, making him the first refugee to medal in the Olympic Games for Austria.
I arrived in Austria in 2004 and received my Austrian documents in 2017. This is a big achievement for me, I was busy with college and so have only been a professional judoka for a few years and started competing on the IJF tour in 2018.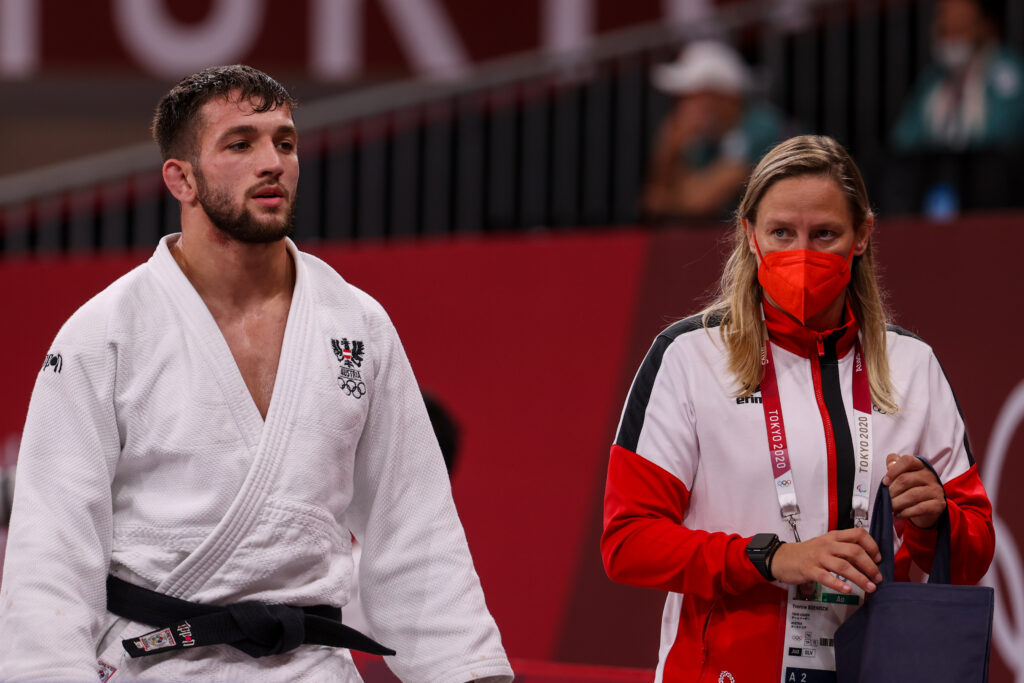 I have fought in European and world championships but made big mistakes, me and my coach, Yvonne talked about it and said we wouldn't make the same mistakes. We really took the time to analyse my opponents and have a new concept for each player. She told me on the day to just enjoy myself, there was no expectation or pressure and that one day the result would come. I'd say 95% of the athletes could have medalled, it's the Olympic Games. I think maybe the pressure was on those with higher rank like Ivaylo (Ivanov BUL) and Frank (De Wit NED).
Immediately he was drawn against the 2021 world bronze medallist, Anri EGUTIDZE (POR). With it being the first contest of their Olympic debuts, both fought tentatively and the contest ran in to golden score.
We've never fought each other before on the IJF tour, only on camps. He is really strong and took bronze at the world championships this year, I don't like fighting against this style so I knew I had to take it to golden score and win on conditioning.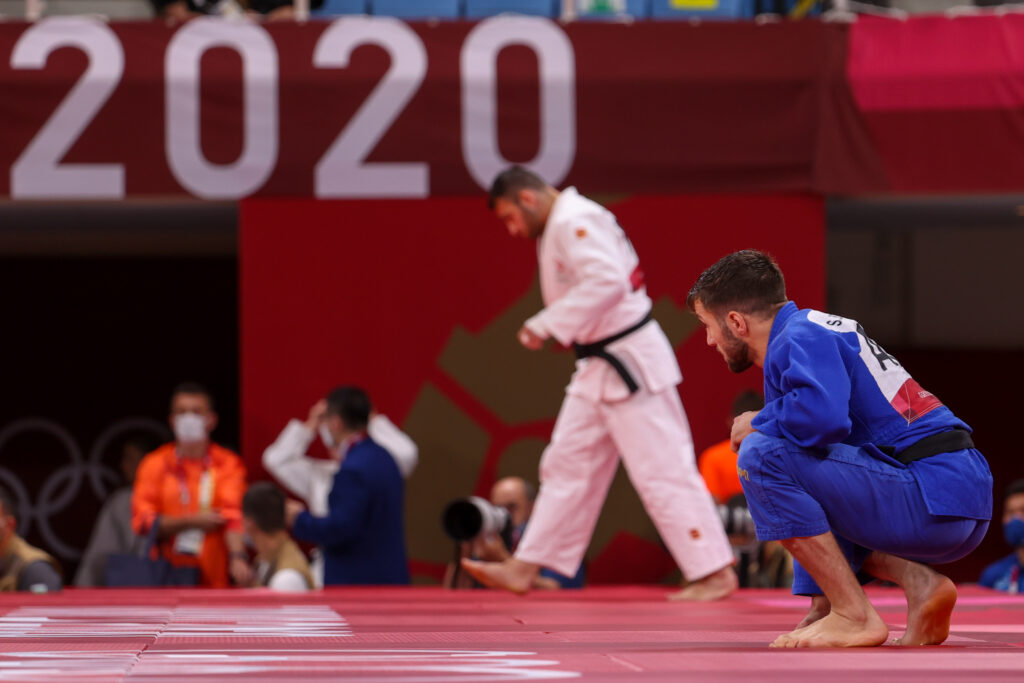 An eventual waza ari took him through to his next contest against the 2019 world champion, Sagi Muki (ISR). Once again – and not for the last time – he entered another gruelling golden score and with two shidos each, the pressure was on. Borchashvili demonstrated that he would be going all the way. A similar fate awaited him in the third contest against Sharofiddin BOLTABOEV (UZB).
The only one who managed to put a stop to his journey to the final was Saeid MOLLAEI (MGL), this semi-final loss was simply a detour to the podium. In the bronze medal contest against Dominic RESSEL (GER) who had also performed incredibly well, it was ne waza skills that secured a win relatively early in the contest for the Austrian and made him the first to take a medal for his nation in the judo event.
Celebrating in the village isn't quite the same as at home, with many still waiting for their big day and especially in these Games, there were no family members cheering from the stands.
When I returned home and I saw my family at the airport, training partners, I realised what I had achieved and it was incredible, very emotional.
For those who don't already know, he is not the only Borchashvili brother. With him in Tokyo was older brother Kimran as his training partner and at home waiting for him was Wachid. In Paris, Shamil hopes that all three will be there to compete for Austria.
On the following day, Polleres took this Olympic opportunity and turned it in to a silver success. The first contest was in fact a rematch against her most recent opponent in the world championship bronze medal contest, Megan FLETCHER (IRL), where she also came out on top to take her first medal at in a major world tournament and the first world medal for Austria in 11 years.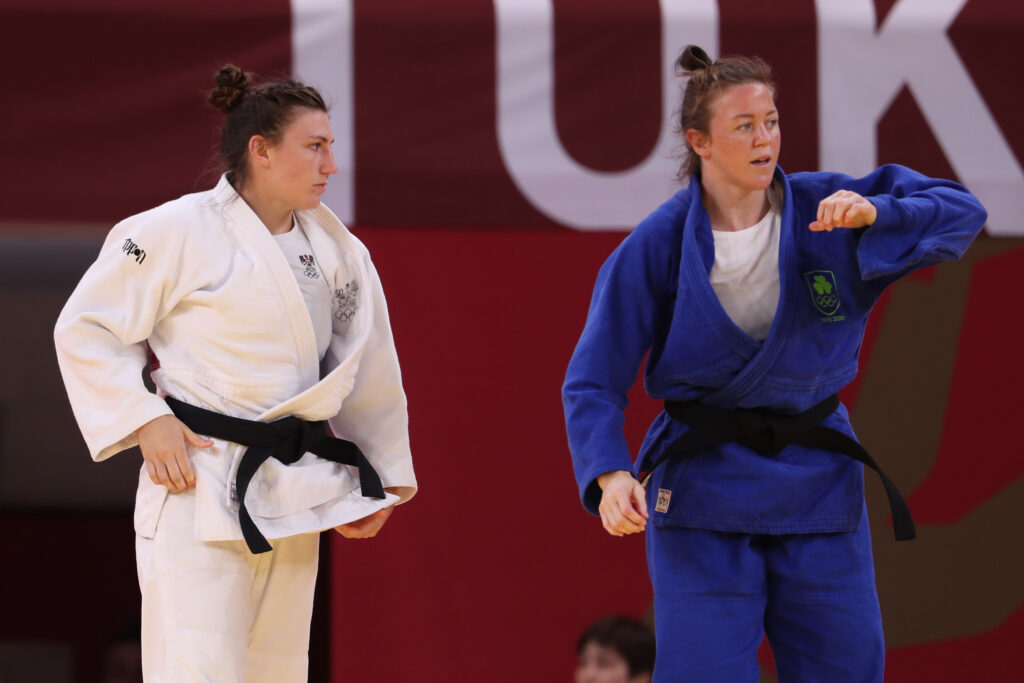 Still confident in her abilities, she stepped in to the next contest against KIM Seongyeon (KOR). It was a golden score decision, but with two shidos against her, Polleres was put in a tricky situation, yet despite Kim's efforts to take a tactical win, Polleres won positively and scored.
The third contest, yet another world championships rematch, was against the current world champion, Barbara MATIC (CRO). Now given the results from Budapest, it was Matic who stole the show then, but Polleres wasn't going to let it be a repeat. Sanne VAN DIJKE (NED) gave her a tough battle for a place in the final but in the end, the Austrian could do no wrong on day five of the judo event and earned her place in the final of the Olympic Games. 
The Olympic medal means an insane amount to me, it shows me that every training was worth it, no matter how exhausted I already was. It's awesome that I was able to show my best at the most important competition.
The Japanese team were on a major roll in the Nippon Budokan, having already secured five gold medals along with a silver and bronze. It seemed to be written in the stars for them to take two more on the fifth day making their total seven. Polleres put in a stellar effort and ARAI Chizuru (JPN) was only able to win the contest with a waza ari score.
President of the Austrian Judo Federation, Martin POIGER was in Tokyo to witness the incredible success of their team as well as the retirement of Austrian legend, Sabrina FILZMOSER. It was an emotional tournament, and more so given the location;
It has been the most successful Olympic Games since 1984 and these two medals were number six and seven for Team Austria. Especially with the bronze in the World Championships from Michi Polleres, we thought she could be the one to make it, the fact that Shamil managed it was a surprise, we already knew he could beat all the best but weren't sure if he could manage it in such a tournament but on his day he showed great determination along with a great plan.

Yvonne is a big part in this, she earned the trust of the team in just over half a year, she created a great team spirit, found the right words, she has the ability to push those that need pushing, and calm those that need to be calmed. We believed Yvonne was the missing puzzle piece because we've always had good teams and good athletes but to perform on this special day in such a way, I think she had a big contribution to this success.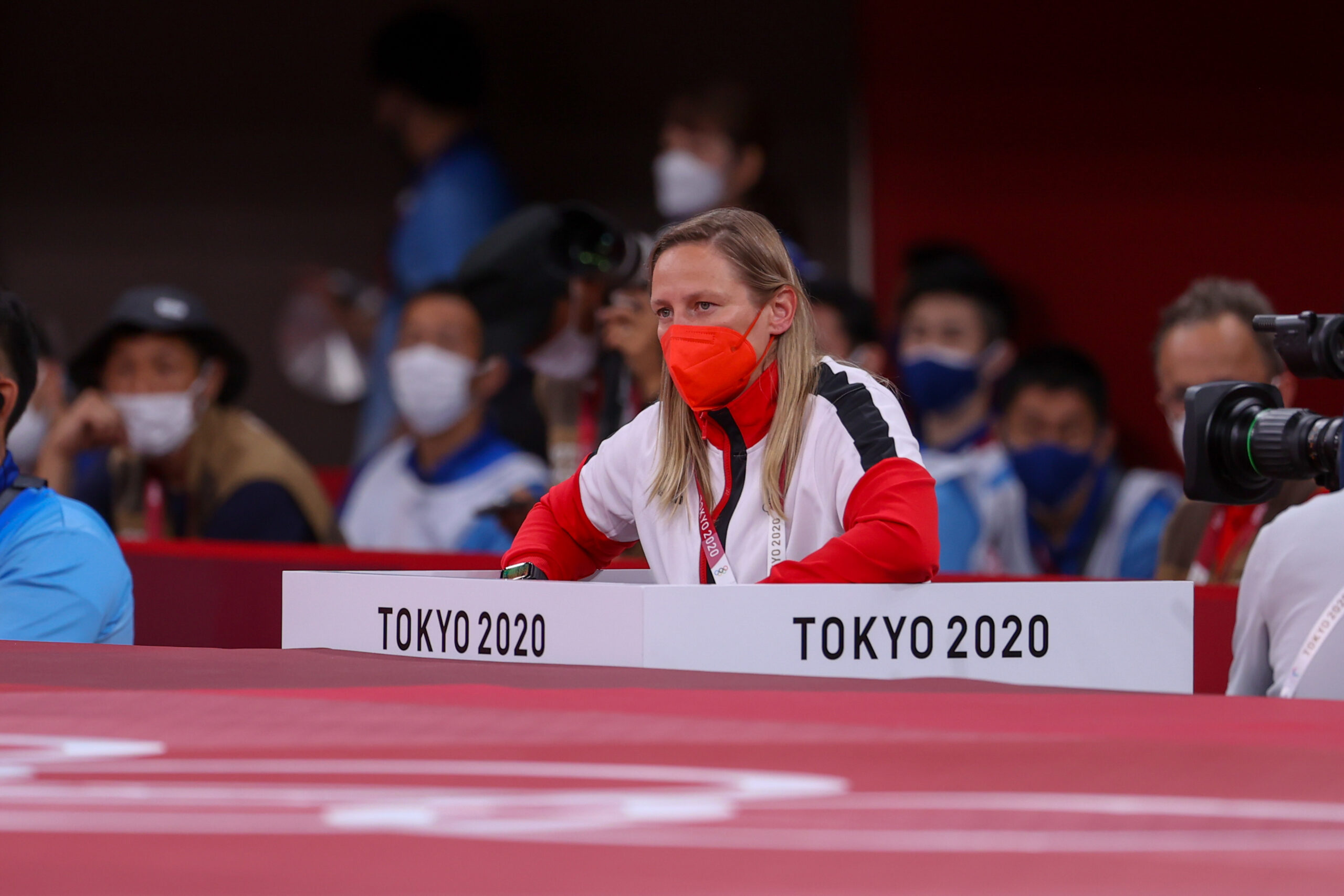 Judoka
Author: Thea Cowen
---