Not only do we have Olympic medallists on the tatami, but we are pleased to say that on the commentary during the Prague European Open this weekend, 2008 Olympic champion and 2012 silver medallist Ole BISCHOF is leading us through the contests. It seemed that the Olympic theme continued in the coaching chairs as well with double Olympic medallist Ylenia SCAPIN supporting her Italian team, and Estonia's 2000 bronze medallist, Aleksei BUDOLIN, the national coach, for the elite athletes based at the national performance centre "east", in Brugg Switzerland.
It seemed like the perfect time to reunite Budolin and Bischof, members of TSV Abensberg, the home of champions.
Happy to see one another – off the tatami now and not looking at their own draw – Bischof was quick to find out how the feeling was in the Swiss camp, after making history this year with their first ever world champion, Nils STUMP in the -73kg category.
We won a world title so of course everyone is happy, but we also have some injuries so we are working hard within our performance team, for everyone to be strong, so still a lot of work to do! In general everything is very good for me in Switzerland, I am comfortable, living very close to the dojo that I can cycle, about 40km from Zürich towards the German border.
It is a different life to the one they used to lead as athletes, competing against one another and as previously mentioned, on the same team.
It's a team you never leave, I still have very good connections, Ludwig PAISCHER for example, who is now living in Tokyo, we attend a camp there and it just so happens to be his birthday so we get together and stay in contact a lot.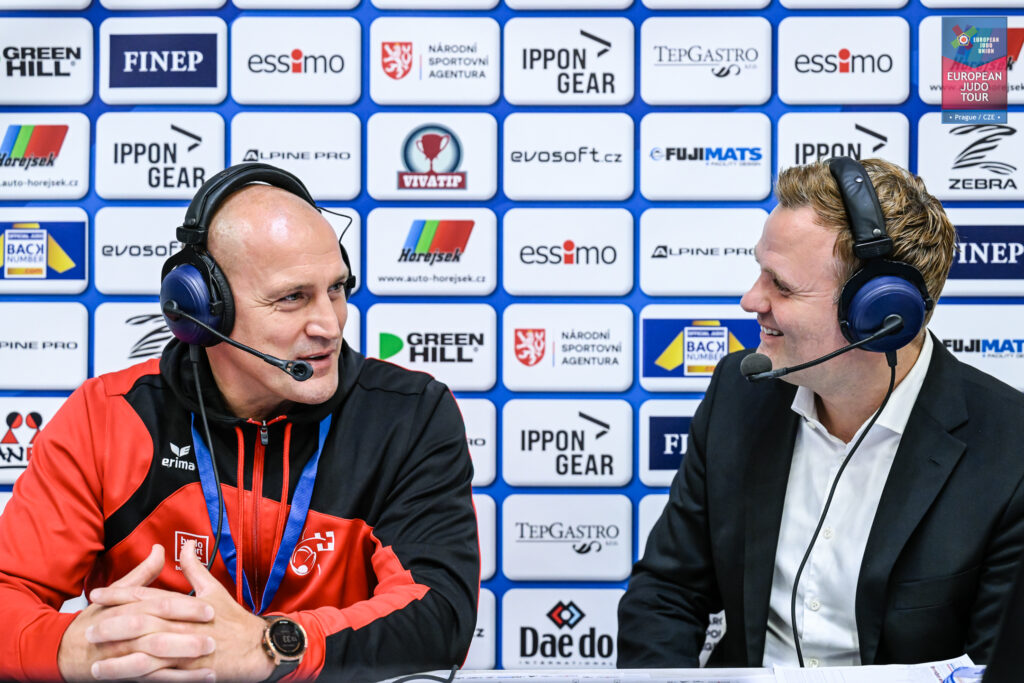 Speaking of camps, will there be more preparation in Japan prior to the Olympic Games or will the Swiss team be staying closer to home before the major event in Paris next year?
This year we will go to the Grand Slam in Tokyo, and have a 12 day preparation camp before the tournament, then we will return at the end of January. We have a good relationships with the Kokushikan University, they are strong from light to heavyweights and that's perfect for our team.
So how is Budolin feeling about his team's chances at the fast-approaching Olympic Games?
You can see judo now is so – I don't like to say complicated – but there are so many ways to win. The Olympic Games is always a little bit special, you know more than me, if you are so focussed on the day sometimes your preparation isn't so important, anything can happen! We see so many examples of this so it can be hard to say how an individual will perform. For us it is important that our team is growing, and we are going in the right direction.
The focus might be on this last stretch in the qualification phase but what happens after for the Swiss team?
The Olympic cycle takes so much energy, so I think everyone will need a little rest at least. Depending on who it is, Fabienne KOCHER will be retiring after this cycle, but we have Ndiaye BINTA who will continue afterwards in -52kg or -57kg category. I think everyone needs to make the right decision for themselves. We saw after Tokyo that Nils took a year off, had a small surgery on his shoulder and came back slowly after a good rest, it was great for him.
All in all, things are certainly looking up for the Swiss Judo team as they continue to go from strength to strength, the evidence of a strong coaching and specialist team is clear. Budolin also attests that they are finding success under great leadership, an Olympic medallist himself and now EJU Vice President, Sergei ASCHWANDEN.
Author: Thea Cowen
---