On the third and final day of individual competition in the 2019 Veteran European Judo Championships in Gran Canaria, Spain, 124 women made their debut. Valerie TALY from France was crowned Veteran European Champion in the -52kg, F3 category.
I am very proud to be on the top of the podium today because I had a really difficult preparation. My work takes a lot of place in my life, so I had to train sometimes early in the morning, late at night or on the weekends.
At 44 years old, TALY has been the director of the National Centre for Scientific Research since 2016 and group leader at the University Paris Descartes, France. Her group studies 'Translational Research and Microfluidics', which focusses on developing innovative technologies for cancer research based on microfluidics in strong collaboration with oncologists and clinicians. She is the leader of a 15 person team and gives instruction to an impressive 50-person laboratory.
Our goal is to develop single cell technologies and tissue engineering with the aim of understanding tumour heterogeneity and resistance acquisition.
Being a judoka and a researcher at the same time has not been always so easy for the fighter of Judo Club Bourg La Reine, especially in the last few years.
Two years ago I decided to stop judo because I was still at school. I was so exhausted after the class, but quickly I started to feel bored, I needed to do sport to move, something was missing in my life. So, I decided to take part in Veteran European Championships in Glasgow, last year and my bronze medal made me realise that I needed judo.
The researcher is coached by Cedric MARGALEJO who trained world class athletes such as the 2016 Olympian Killian LEBLOUCH (FRA) and 2013 Junior World Championship bronze medallist, Sarah HARACHI. She had a good preparation for this event but couldn't believe she could take the gold medal.
In the final, I was facing Sandrine PIET from France. It was a repeat of Tours Veteran tournament in France this year. After we both earned a waza-ari in the match time, I scored one more in the golden score, but this time the gold medal is mine.
This European title definitely gave her the motivation to take part in the Veteran World Championships in Marrakech this October and she will train even harder to grab the gold medal.
She uses her fighting spirit at work as well and thinks that Judo gave her the determination to face the important tasks she has every single day.
AN EPIC FINAL MATCH FOR KOTOVA AND COX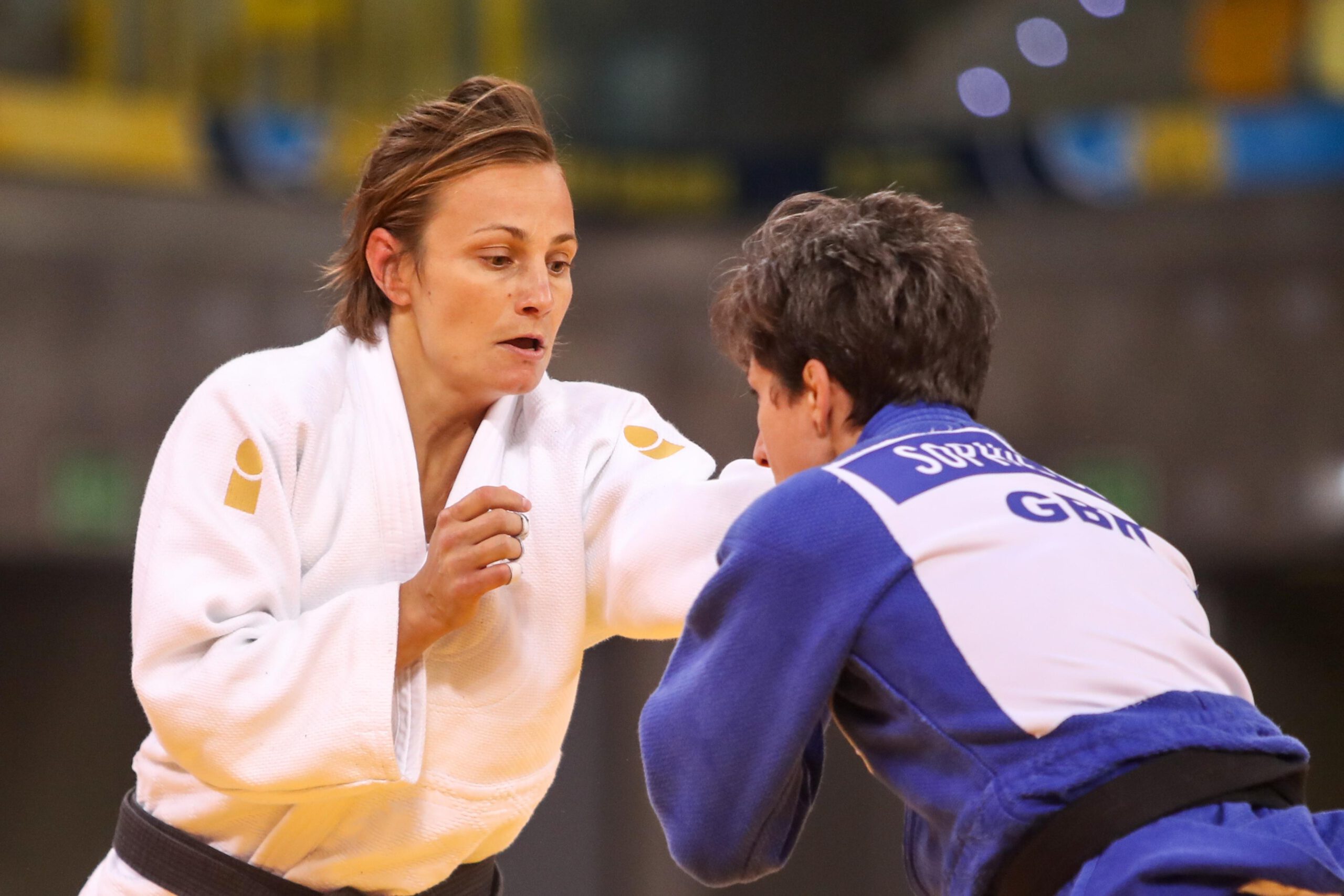 Iuliia KOTOVA (RUS) was on point, defeating her opponents with ease in the -57kg, F2 category. She could have been the female fighter of the day, but she had to overcome the tough Sophie COX from Great Britain in the final.
The crowd watched a spectacular final between two world class judokas. COX was not only multiple European medallist but also a 2004 and 2012 Olympian. The two women fought an epic final showing some exceptional physicality and ne waza skills but no one scored. The battle ended when KOTOVA finally picked up a third shido in the golden score.
TSKILAURI THE SURPRISE GUEST
Veteran European Judo Championships are also a way to see some talented judokas who had some notable results from the past in the Judo World Tour at the senior level.
Levan TSKILAURI from Georgia is one of them. He took the Veteran European title in the under -90kg, M1 category. He won silver at the 2009 World Cup in Tbilisi and a bronze at the European Championships Senior in Tbilisi in the same year in -81kg. He is also an accomplished sambo fighter.
Like the previous edition in Glasgow, Scotland, France is the nation in first place with 20 gold medals, 22 silver and 46 bronze followed by Russia and Spain.


Team event program on Sunday 28th of July
9:30 Preliminaries and Repechage
14:15 Flag Handing Over Ceremony
14:30 Finals
Author: Sarah Loko Gürschner
---