During the 8th Judo Festival and OTC in Poreč, Croatia, the Croatian Judo Federation took the opportunity to celebrate the history-making athlete, Barbara MATIĆ. Not only has she become double world champion, defending here 2021 title in Tashkent, 2022, but has remained on top form, taking a bronze medal recently in Doha, adding to her incredible collection.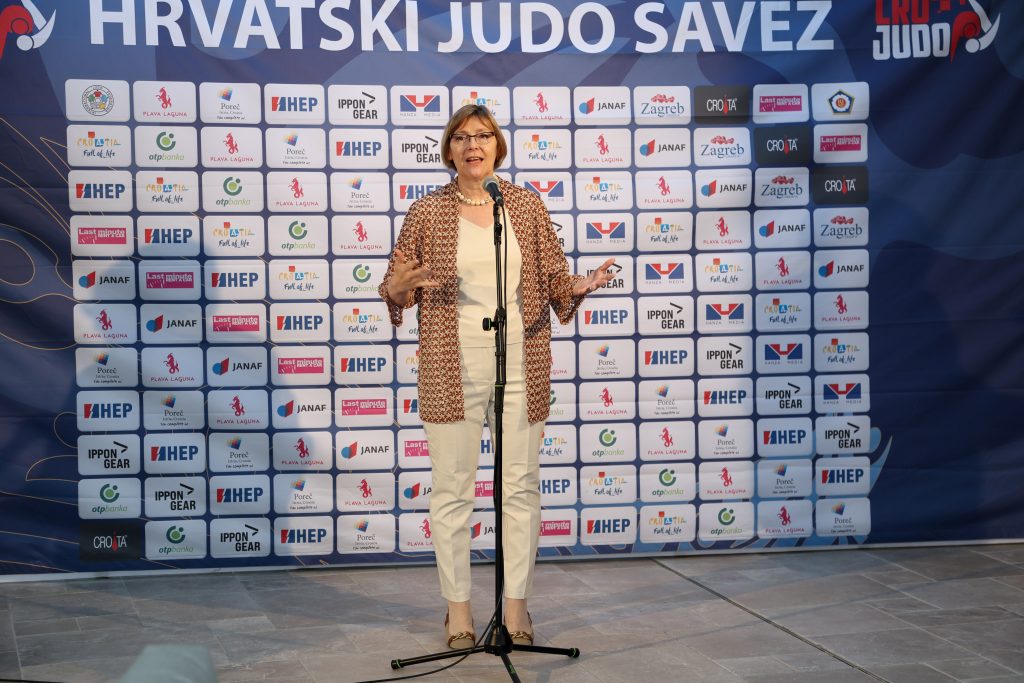 There were many to celebrate with her, including a selection of Olympic champions and medallists, friends, family, sponsors, officials, EJU President Dr László TÓTH and of course her supportive federation. President of Croatian Judo, Dr Sanda CORAK gave the welcoming words,
Dear judo friends and colleagues, it is a great pleasure to welcome you to the judo festival and this evening in celebration of Barbara Matić. It is my honour, for the Croatian Judo Federation to have celebration like this to show our unification. I would like to congratulate Barbara on all her dedication and everyone who is working with her, coach, club, sponsors, ministry of tourism and sport, Olympic committee, EJU and IJF, without their support we would not be here today. To win a world medal we need team work, it is important to us to keep this continuity as it is giving strength and visibility to our sport.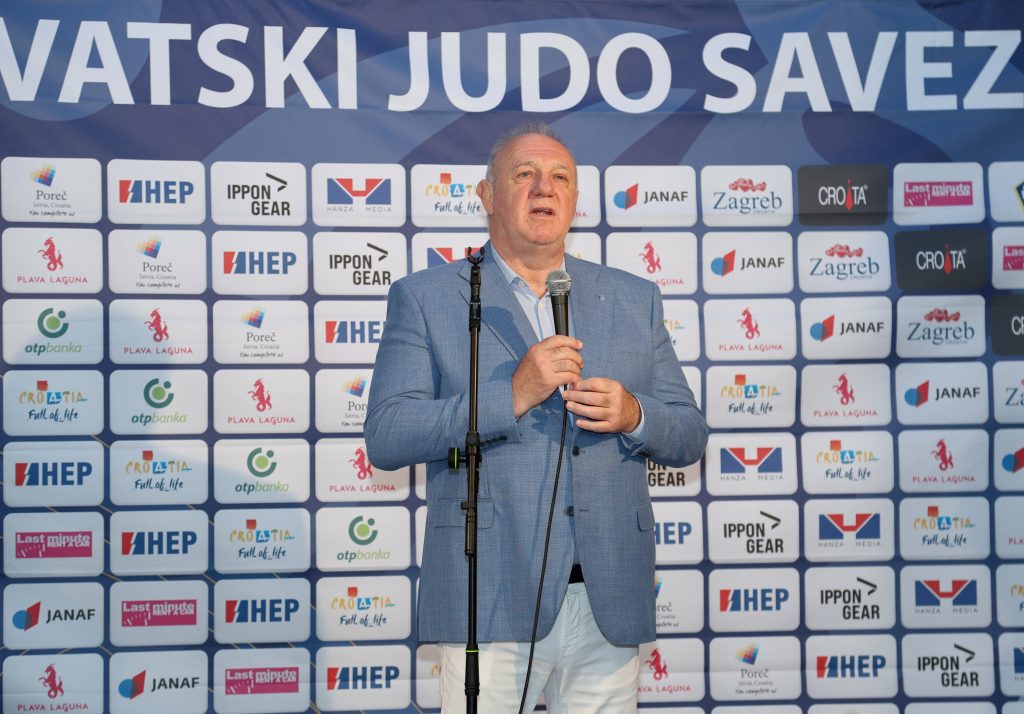 Following Corak, President Tóth spoke of the importance of this success,
Dear press, judo family and honorary guests, we are here at this special event because in our judo family – I concentrate on this term – we are very proud of this event because I believe that the federation who is ready to celebrate is a strong federation. It is easy to put competitors in to world and Olympic events and then forget the results, but we see the appreciation for Barbara and this is important, Croatian judo are always ready to celebrate their shining stars and not ten years down the road. For us it is a great pleasure to celebrate this bronze medal with you all. We aren't only here in professional capacity but to celebrate these achievements as a family.
Tóth then welcomed former and current Olympic champions and medallists; Majlinda KELMENDI, Urška ŽOLNIR JUGOVAR, Lukas KRPALEK and Krisztián TÓTH to share the stage with Matič and wished her future success to join the Olympic family soon, hoping that being around these athletes will be a motivation for her and that she will get to enjoy special feelings in Paris next year. President Tóth continued,
As we now know, the European Championships 2024 will be in Zagreb, thank you for supporting this idea and I'm really very happy that after the European Championships we will have a great celebration. My last words are to the sponsors, several are here that have been here for Barabra but the most important are her parents, the most important supporters and sponsors. Congratulations to Croatian Judo for this celebration and to welcome her family, to remember that the judo family is extended, not just athletes and employees. Good luck for preparation for the next event – I hope that your dream will come true.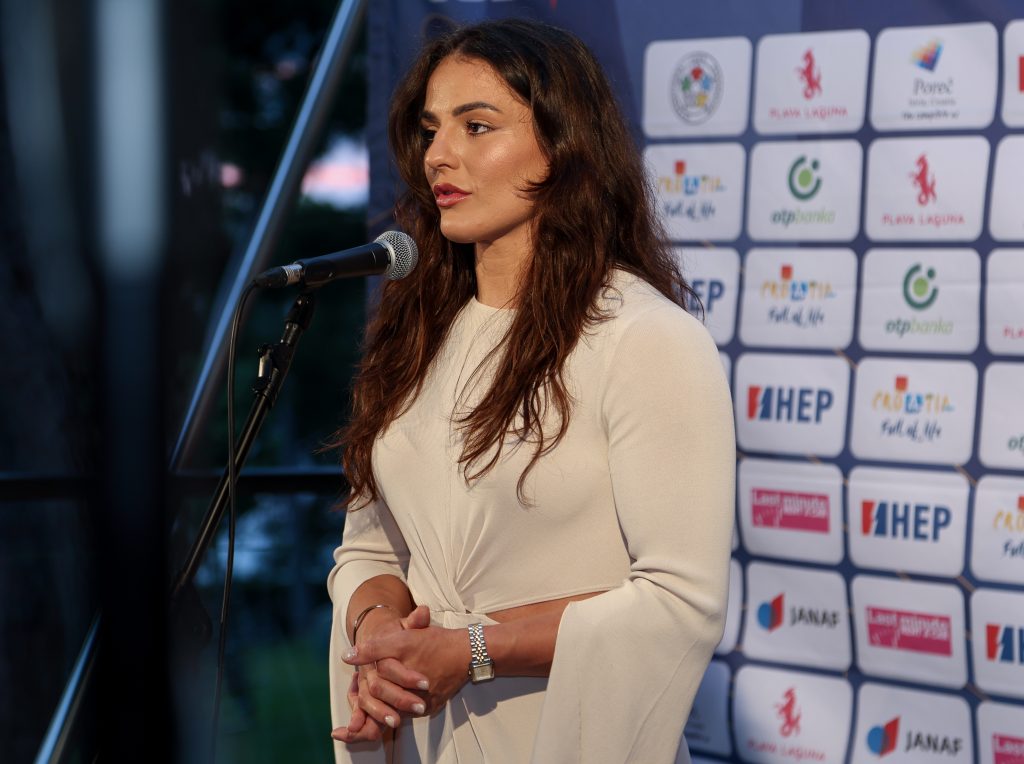 Finally, Matić took to the stage,
Hello everyone, a big thank you for all for coming here and hope you're enjoying your time here in Poreč. To the Croatian Federation, Olympic Committee, my friends and family, thank you for supporting me through the good and the bad times. All the best and enjoy this evening!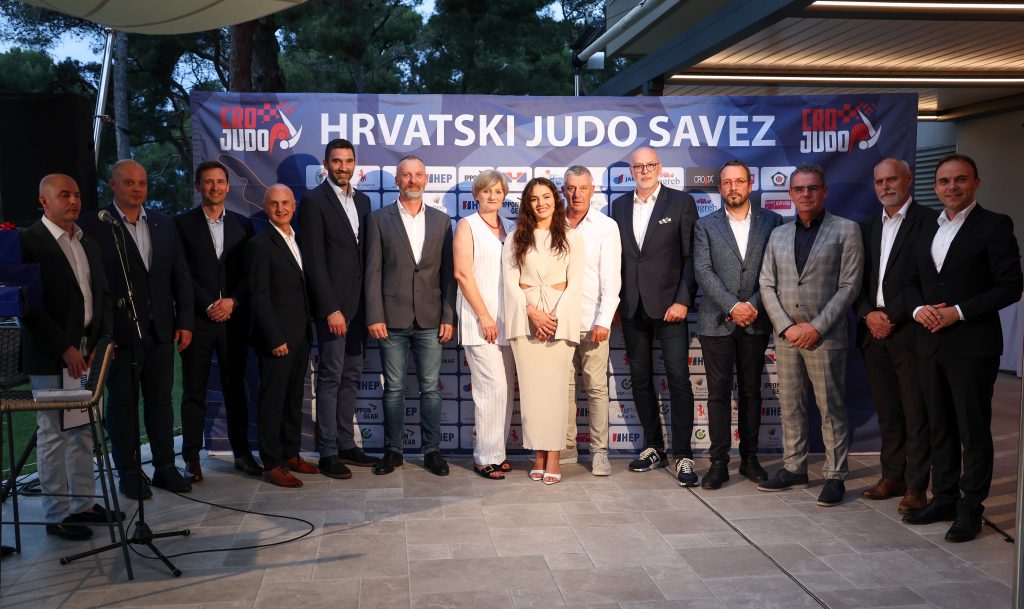 Judoka
Author: Thea Cowen
---