It would appear that Guillaume CHAINE FRA needed the European Judo Open in Cluj last weekend to properly prepare for this weekend's EJOpen in Minsk. The French fighter won gold in the under 73kg category here in the Belarusian capital – and he did so in the most convincing way. Apart from the final he defeated all of his opponents by ippon. "I wasn't satisfied with fifth place last weekend in Romania. Today I wanted more and knew that I could to do more. I think I won it in good style today", the 28 year old athlete said.
The day started against Jan GOSIEWSKI GBR whom he defeated by ippon, the British fighter having received four shidos inside 2:30min. The next contest was against the Ukrainian Ramaz MUTOSHVILI against whom after 40 seconds CHAINE scored waza ari with sumi geashi and then finished in osae komi.
In the quarter final CHAINE was up against the German Igor WANDTKE. "Last weekend I lost to him. Today I felt in better shape, and I was fighting better" he argued, explaining why he was able to throw the German within the first 15 seconds by ippon with a huge seoi nage.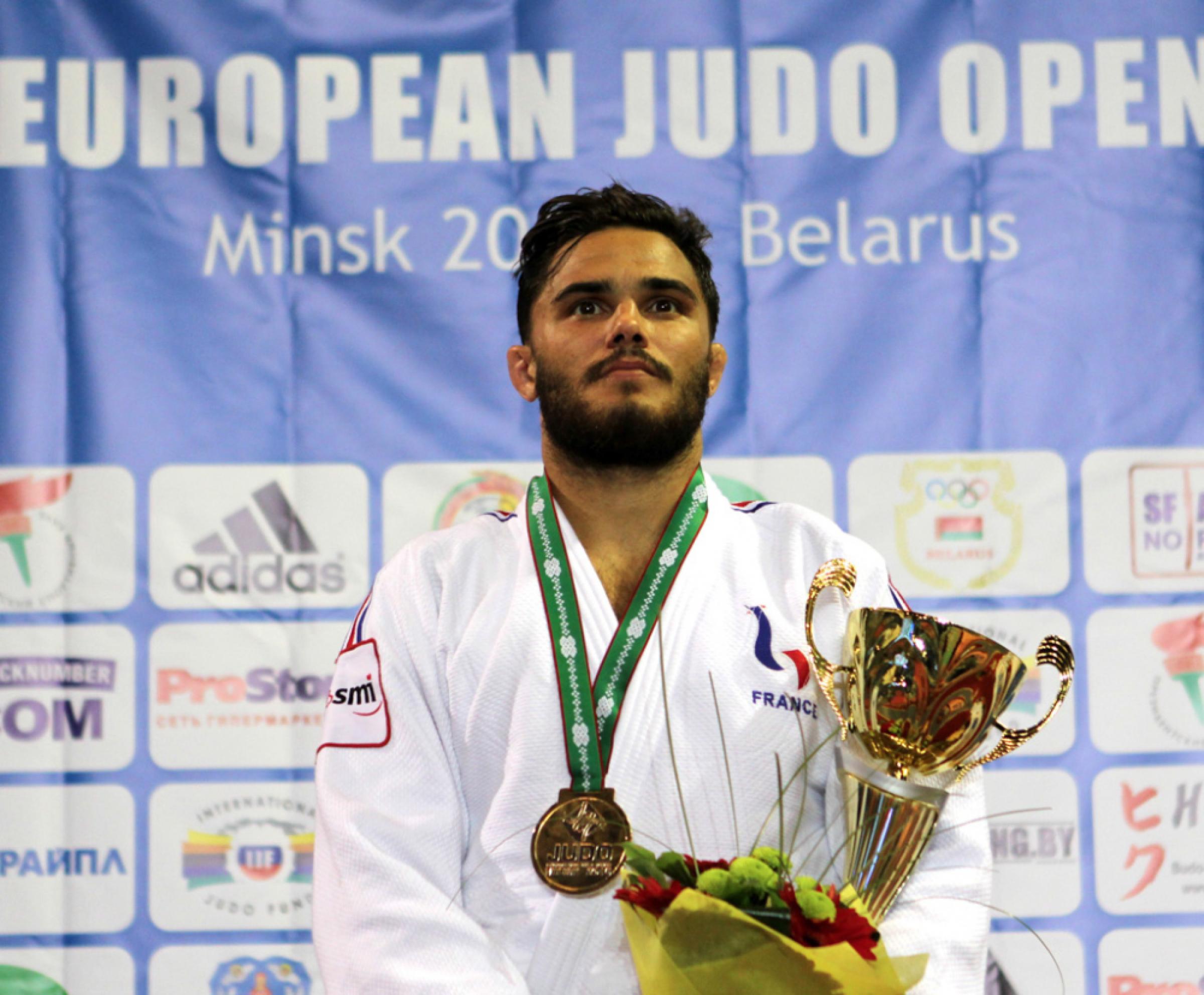 In the semi final he choked his Uzbek opponent Giyosjon BOBOYEV after 35 seconds with such speed and control that he had to help him stand up again. Up to that stage he had won all his fights by ippon. "I just wanted to go as quickly as possible from fight to fight to leave some energy for the end", Guillaume said.

In the final the number one seed was waiting for him: Magdiel ESTRADA. The Frenchman had also faced him a week ago in Cluj. "Last week I won by ippon. I guess he just knew me much better today. So it was a much harder fight. I had some possibilities to throw him, but it wasn't enough for a score", he analysed. In the end there was still a fascinating final although he only won by penalties – 1:3 shidos.

This morning he started as 67th in the world ranking list. With that gold medal Chaine collected important points and moved up about 20 places. "In my category in France there are still some fighters like Pierre DUPRAT, Ugo LEGRAND Florent URANI in front of me", he answered and added immediately with a smile on his face: " But I try to go as fast as I can."

The other gold medalists were Otar BESTAEV KGZ in the category under 60kg, Kilian LE BLOUCH FRA -66kg, Alexandra PODRYADOVA KAZ -48kg, Darya SKRYPNIK BLR -52kg, Shushana HEVONDIAN UKR -57kg and Marielle PRUVOST FRA -63kg.
---