The fourth day of competition was the most successful for Europe so far, not only claiming a second gold medal, but five out of the eight medals available in the -63kg and -81kg weight categories.
Humble athlete Clarisse AGBEGNENOU (FRA) told us after her success that she "didnt want to make any mistakes today." She didn't.
The astounding athlete came in to the arena with one purpose, to win. Sporting her World Champion red back patch, the French athlete started her mission in a calm fashion, tactically taking her grips before her talent did the talking. When asking about her approach to the contests today she told us,
"I thought, okay, I need to save some energy, I must just win, I don't have to be crazy, that was for the semi final and final, thats when I could really go crazy" she laughed.
You must laugh with her, there is nothing relaxed about her groundbreaking techniques!
The second round contest was her first appearance in front of the crowds against the Mongolian, BOLD Gankhaich, succeeding with a tremendous o soto gari and countering her opponent for the win. Though she tells us she will be working on her ne waza in the future so that it is at the same standard as her tachi waza, the three time World Champion demonstrated her ability on the ground against Busra KATIPOGLU (TUR). AGBEGNENOU took no prisoners on her way to the final, storming through her quarter final against Katharina HAEKER (AUS) and her semi final opponent Martyna TRAJDOS (GER).
Now was the World Champion's time to really get in the zone and focus, one person stood in the way of her and the gold medal and Champion title: TASHIRO Miku (JPN). With the crowd on their feet, she thought,
"Clarisse, she will go down, you will not, if you need to stay here all night, you will stay all night."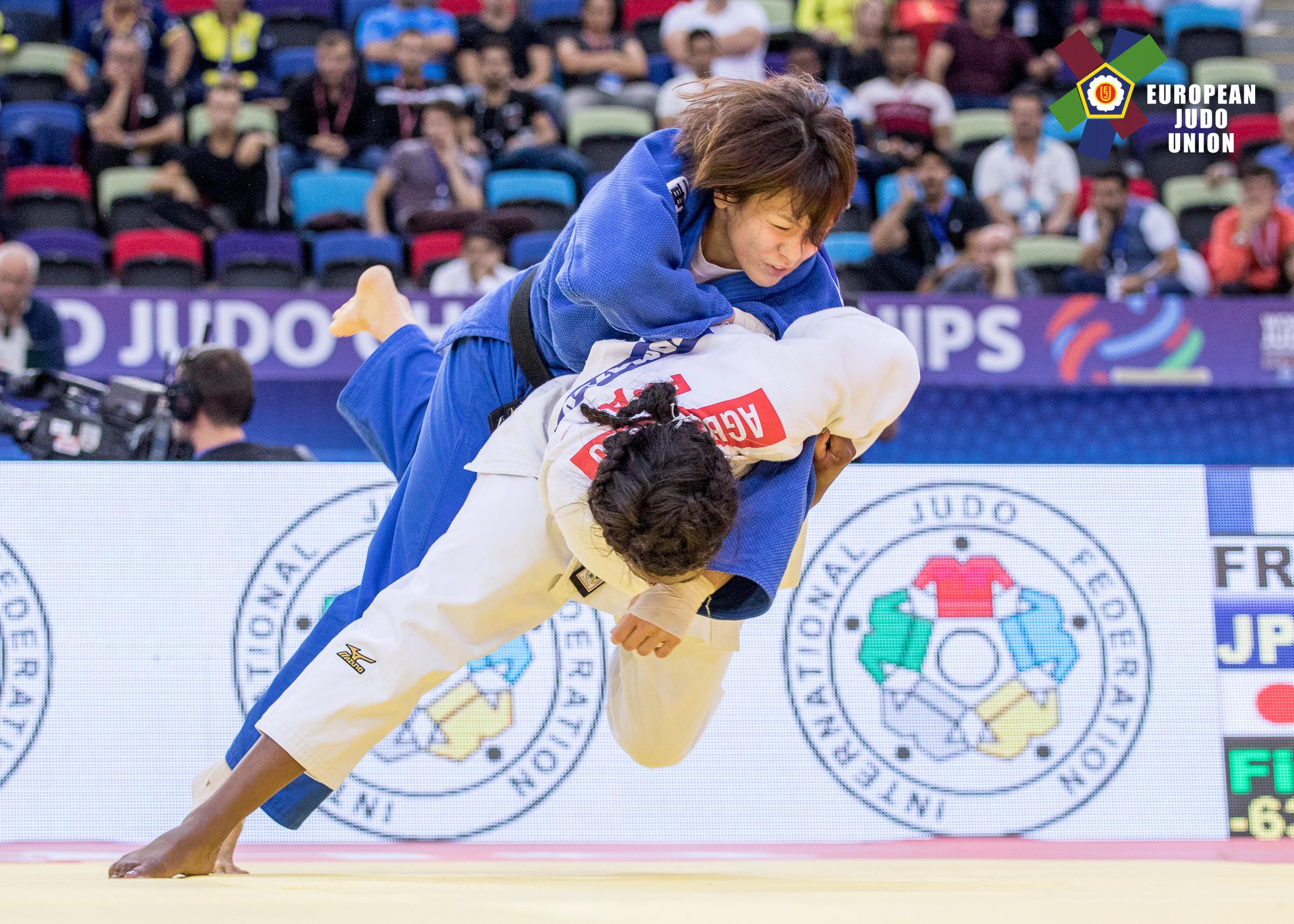 AGBEGNENOU's abilities on the tatami are second to none, literally. She stole the show to secure her second consecutive World Champion title, making it a total of three. The expectations are high for this incredibly talented woman and confidently, she lets us know her intentions of gold next year,
"It's Tokyo World Championships and Olympics, and I want both."
The 25-year-old has an infamous back and forth with Tina TRSTENJAK (SLO), the judo world buzzing over a repeat final, however it was not meant to be for the Slovenian as she settled for a bronze medal.
---
With a solid start, all eyes were on Tina TRSTENJAK, a hopeful for a final against the French athlete AGBEGNENOU. Unfortunately, it was the Frenchwoman's day for glory and TRSTENJAK will need to wait till next year to attempt to take the World title.
The first contest was Amy LIVESEY (GBR), a tough first fight for the current Olympic Champion, scoring only a waza ari against the u23 European Champion. Her next contest was awkward for her, though Isabel PUCHE (ESP) prevented TRSTENJAK from executing any techniques, she won due to accumulation of penalties by her opponent, but was able to perform in ne waza in her quarter final against Kathrin UNTERWURZACHER (AUT).
Accepting defeat is never easy but TRSTENJAK took her quarter final loss to TASHIRO and used her disappointment to fuel her determination in her bronze medal contest against Maylin DEL TORO CARVAJAL (CUB). Once again, her vice grip in ne waza won the Slovenian the contest and a bitter sweet bronze medal.
"I know that she was physically strong, we had good tactics and in the end I won. […] I am happy with how I fought, it was a very tough day, but the medal is here it is my fourth in a row, so I am still happy."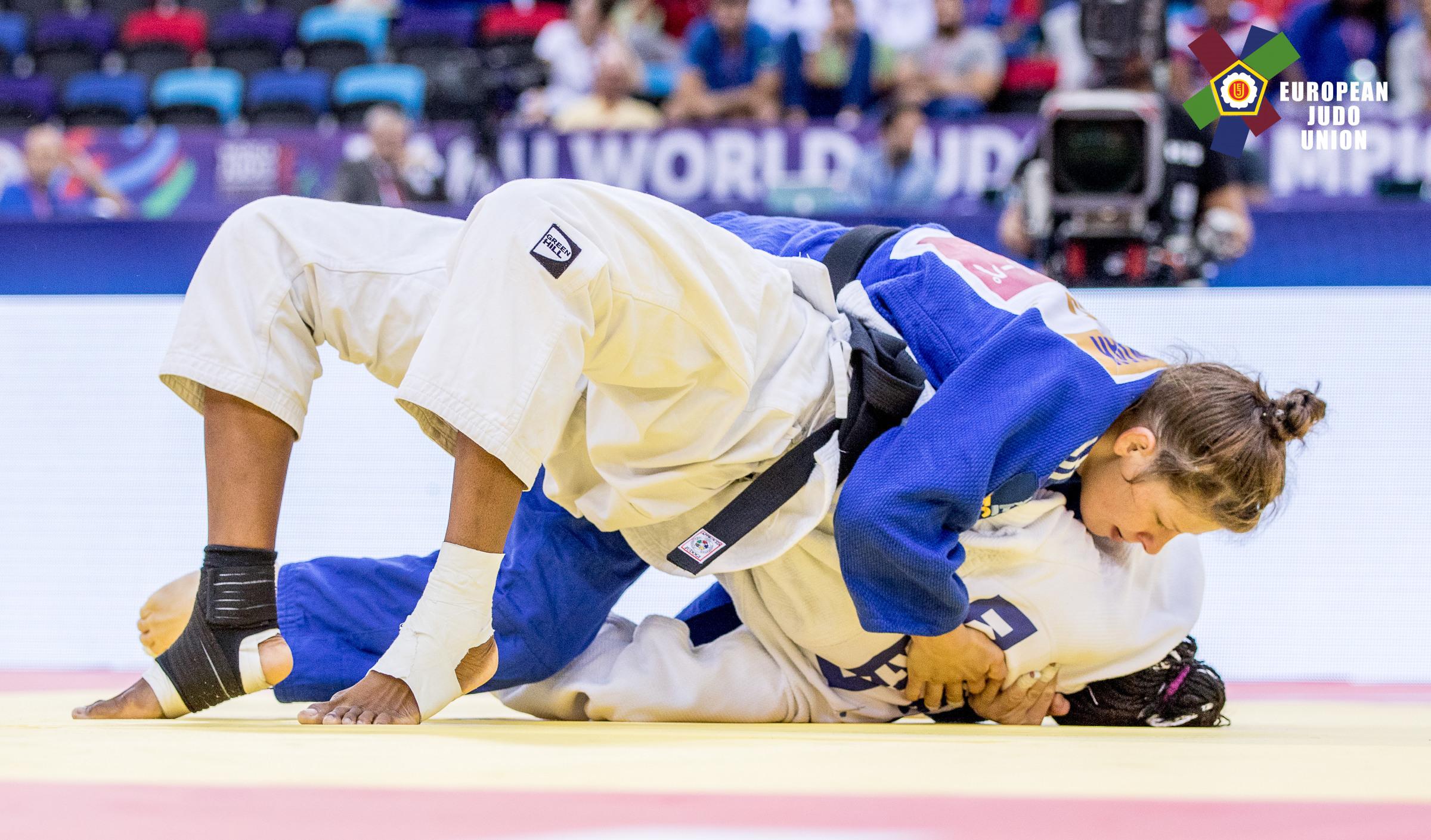 ---
At 28 years old, Juul FRANSSEN (NED) was overwhelmed with emotion to finally achieve a World Championship medal in the -63kg category. The Dutch athlete went from strength to strength in the preliminaries, putting two waza ari scores on the board against BALDORJ Mungunchimeg (MGL) to progress to the third round. The Ekaterinburg Grand Slam silver medallist had a tough contest against Ekaterina VALKOVA (RUS) to move in to the quarter final against eventual World silver medallist TASHIRO Miku (JPN). The Japanese dominated in ne waza early in the contest sending FRANSSEN to the repechage with UNTERWURZACHER. Despite a strong record against the Austrian, this was a hard fought exchange between the athletes, but again, the Dutch athlete controlled her opponents grips, successfully scoring for her place to fight for the bronze.
TRAJDOS was to be her opponent in the bronze medal contest as she lost her semi final against 2017 and current World Champion, AGBEGNENOU. The pair have never met in competition so it was anyones fight. The head to head eventually went in to an agonising golden score period, and a counter attack from FRANSSEN reduced her to tears as she realised she had won. When speaking to FRANSSEN after leaving the tatami we found out how she was feeling in that moment,
"I'm so incredibly happy, it was a tough road, and I'm very happy I finally have my world medal, I'm 28, it was time!"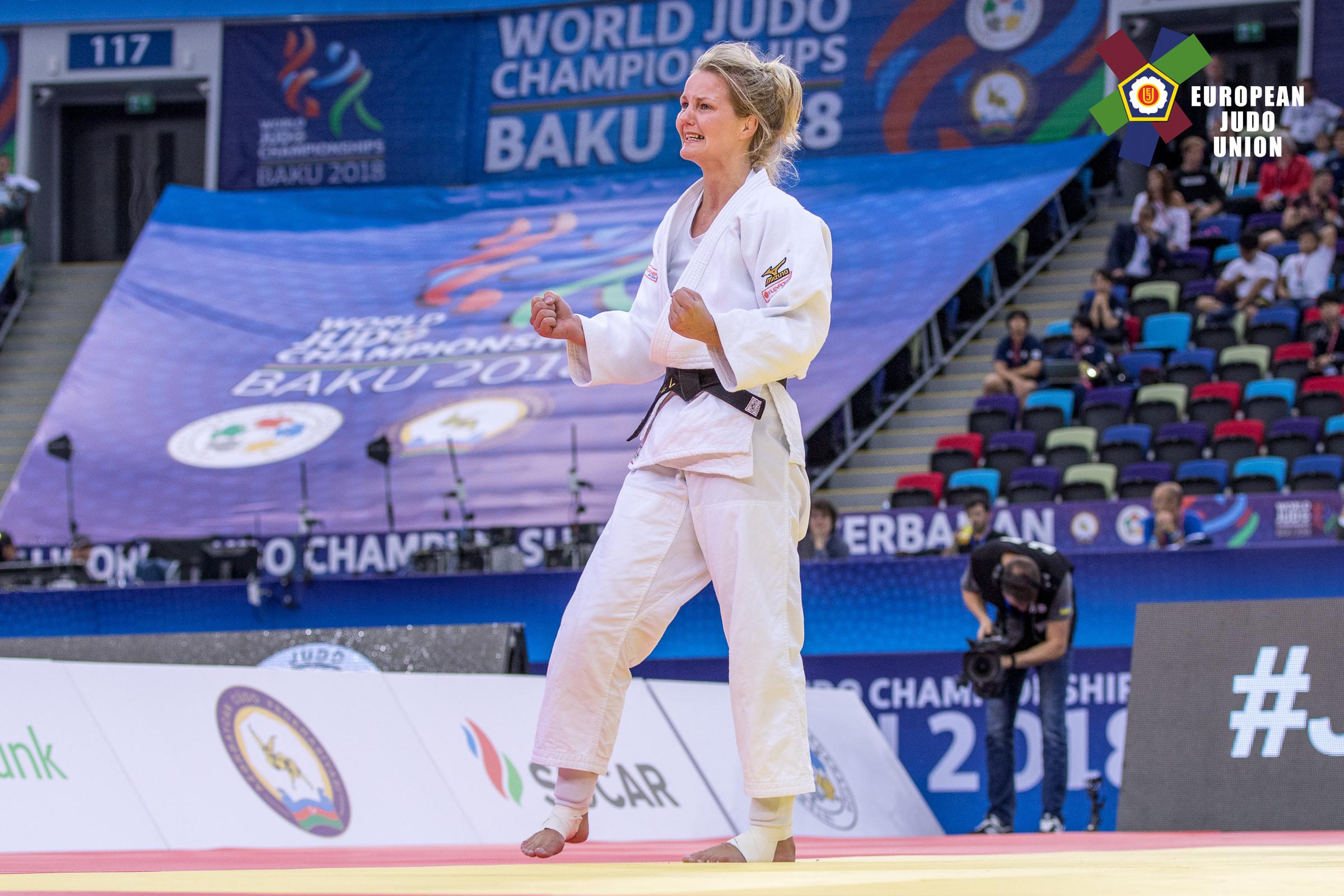 ---
Georgian-born Vedat ALBAYRAK (TUR) performed incredibly on day four, drawing the attention and affection of the crowd instantly. The strong athlete confidently executed powerful and dynamic technique throughout the day, to the crowds delight, but to his opponents' dismay.
With a first round bye, his first contest was against Srdjan MRVALJEVIC (MNE), ALBAYRAK proved his speed and strength outmatched that of his opponent, initially throwing with uchi mata for a waza ari score and within the first minute and a half, ended the contest with a counter. The this round did not last much longer due to an accumulation of penalties, sending him in to a round four exchange with worthy opponent, Aslan LAPPINAGOV (RUS).
LAPPINAGOV attempted an uchi mata attack over half way through the contest but it was not strong enough to move the Turkish representative and was countered to win the fight. The 2017 World Champion Alexander WIECZERZAK (GER) did not change ALBAYRAK's opinion that he would succeed today. His confidence proved every bit as useful as his talent, at 1.19 in to the fight, he committed to a colossal uchi mata, an undeniable ippon.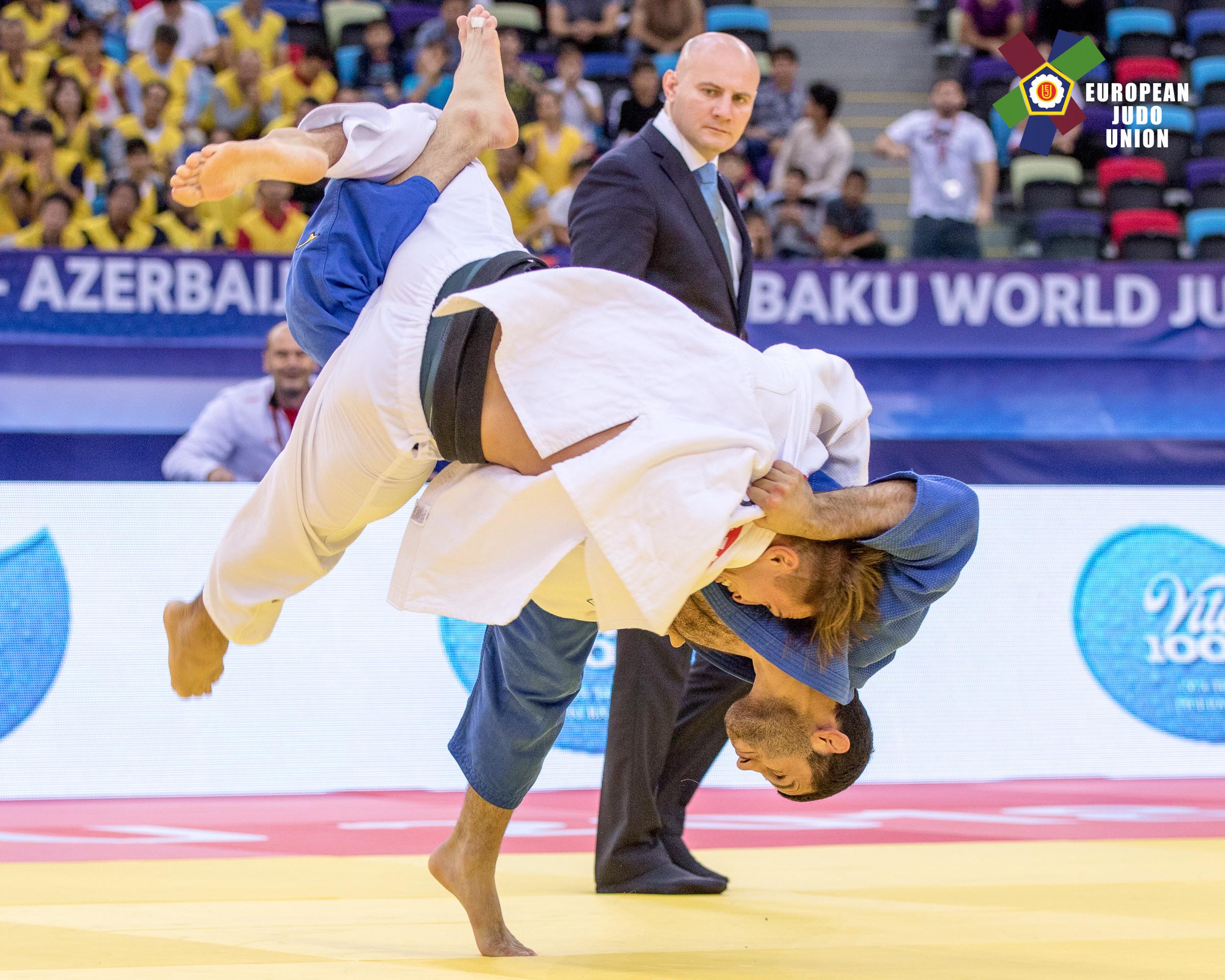 When asking about tactics, ALBAYRAK was quick to let us know that sometimes there are no tactics,
"The plan is always just to win."
The real problem came in form of Saeid MOLLAEI (IRI). The 2017 World bronze medallist came in as the #1 seed of the tournament and from beginning to end, showed everyone he was just that, number 1, becoming the World Champion. The two athletes were very similar in their fighting styles, eventually fighting in to golden score, resorting to grappling low to the ground to find a base to explode from. After six and a half minutes, the Iranian threw himself across ALBAYRAK and threw with a maki komi, sending the Turkish athlete in to the bronze medal contest against Polish dark horse, #48 seed, Damian SZWARNOWIECKI.
Vedat ALBAYRAK is not only an athlete with strong techniques but demonstrated on more than one occasion at this World Championships that he is able to anticipate his opponent and counter. The World Bronze medal went to the 23 year old. This fantastic young man has the talent in his genes, his father, Giorgi REVAZISHVILI won a silver in the 1997 World Championships, European Champion in 1996 and won the Tournoi de Paris in 1998. There is no shortage of ability in this family and his son is now able to perform and medal on the World stage. When asked how he felt about this, ALBAYRAK stated,
"This is good for me, it gives me motivation to be better."
---
Though unable to retain his World Champion title, Alexander WIECZERZAK of Germany refused to leave Baku without a medal and a place on the podium.
Sporting his red back patch for the final time this year, we asked how it felt to come away with a bronze and the realisation he had given up his title,
"I wanted to be World Champion for the second time, it is the dream of every sportsman but I am very happy with my bronze medal, it is very hard work."
Despite all of this, the German had a fantastic tournament, his first round fight displaying his Championship winning ne waza against British competitor, Stuart McWatt. It was a difficult first contest as his opponent was very strong but he had the feeling he could do it today.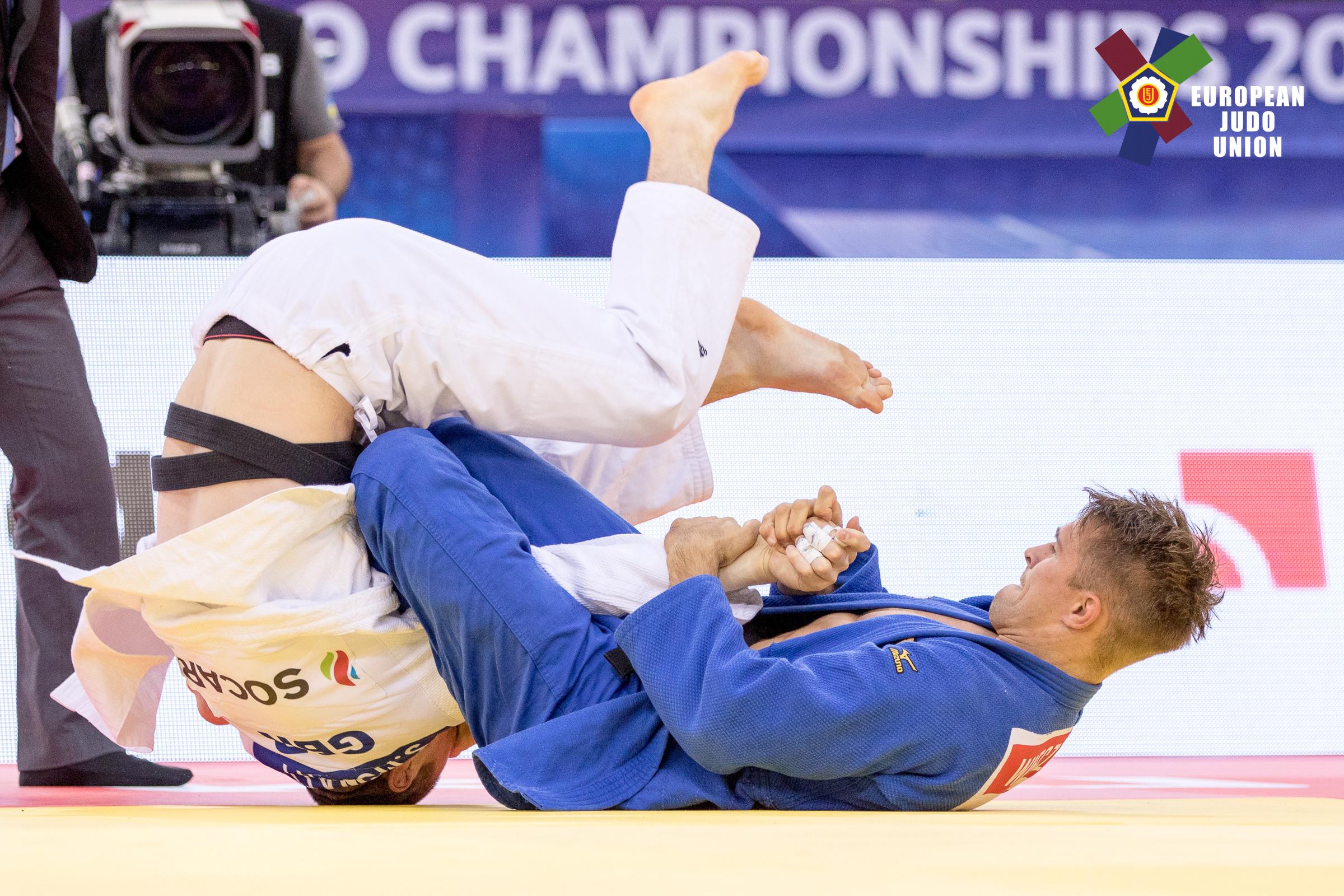 Another difficult contest came from the eldest ESPOSITO brother, Antonio of Italy. After an already exhausting exchange, the pair entered golden score for almost two minutes before WIECZERZAK managed to counter an attack to move through to round four. The Brazilian, Eduardo Yudy SANTOS had his opponent on his toes and were eventually even, a waza ari a piece, the 2017 World Champion driving through with a drop seoi nage for waza ari awasete ippon securing the win.
Unfortunately, hopes for the final were taken away by ALBAYRAK and he needed to prepare for the repechage against current junior World Champion, Matthias CASSE (BEL), the more experienced athlete came out on top with a single waza ari score.
This of course meant he was in the bronze medal fight against his team mate, Dominic RESSEL. It was a difficult contest for both men, WIECZERZAK scoring with only six seconds left on the clock. When asking him how he felt about this exchange, the bronze medallist explained,
"Not so good, I hate to fight against a team mate but it is sport and we try our best."
---
Podium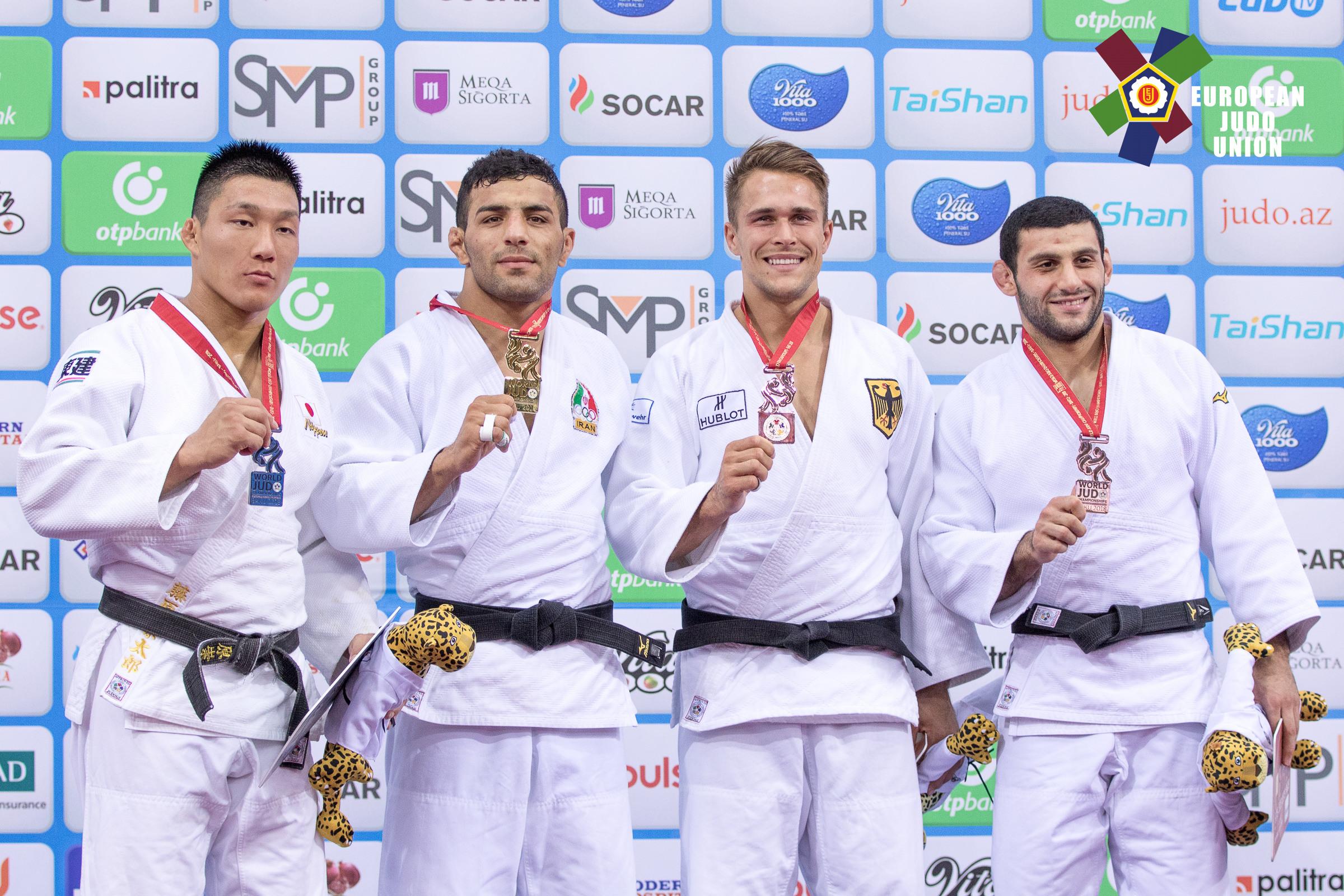 -81kg Podium 1. MOLLAEI Saied (IRI) 2. FUJIWARA Sotaro (JPN) 3. WIECZERZAK Alexander (GER) 3. ALBAYRAK Vedat (TUR) – Rafal Burza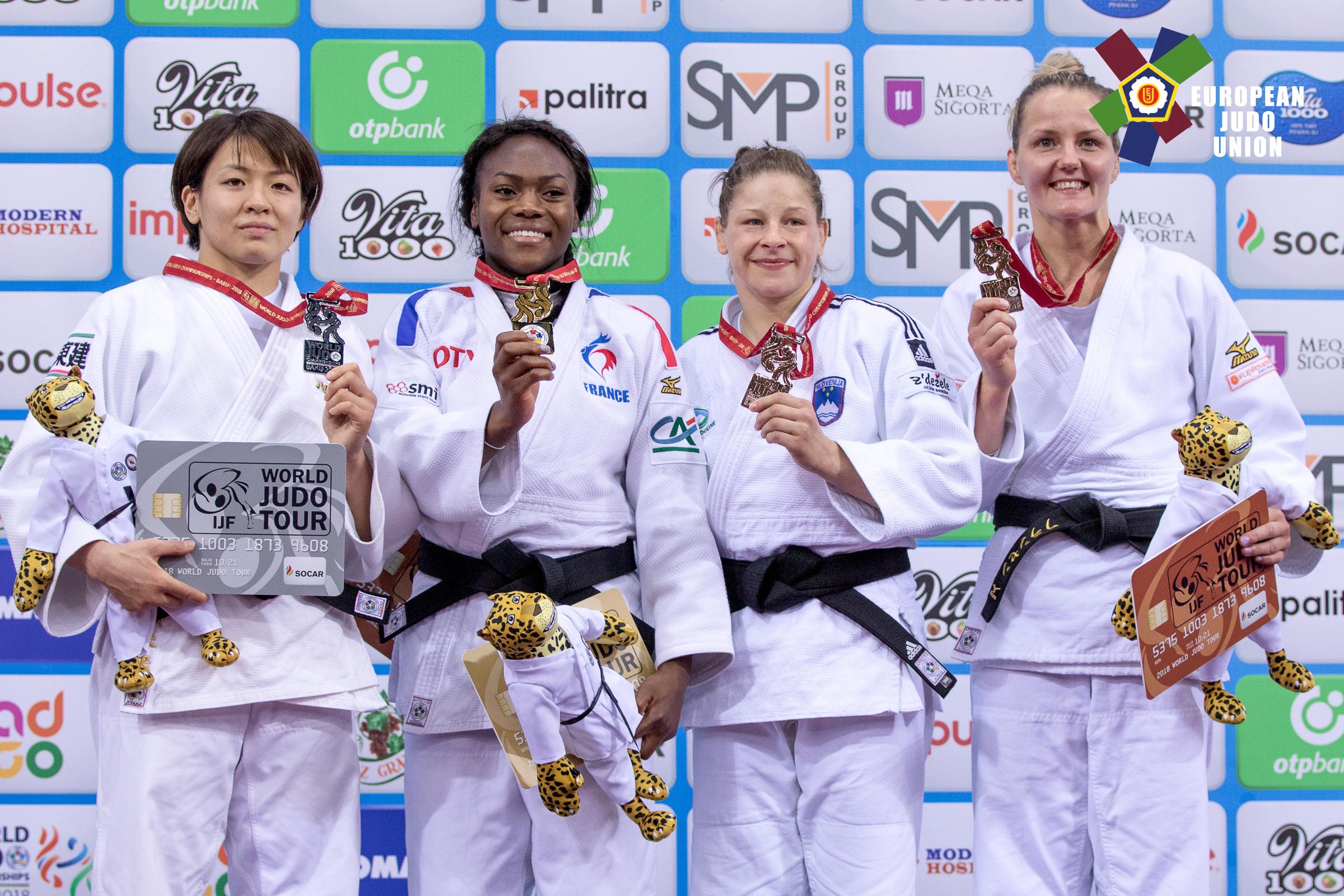 -63kg Podium 1. AGBEGNENOU Clarissa (FRA) 2. TASHIRO Miku (JPN) 3. TRSTENJAK Tina (SLO) 4. FRANSSEN Jaul (NED) – Rafal Burza
Judoka
---