The 2023 Antalya Grand Slam is off to a terrific start, especially for the French team. Four finalists in four categories is most certainly something to boast about, let alone the eventual four gold medals that were claimed by the team.
First up was Blandine PONT, the current -48kg French superstar. This is her third consecutive grand slam final, winning gold in the Paris and Tel Aviv IJF World Tour stops this year. Since then she had a stint of training in Japan, but working it in with her dentistry and daily life has been difficult, yet she seems to have found the perfect balance.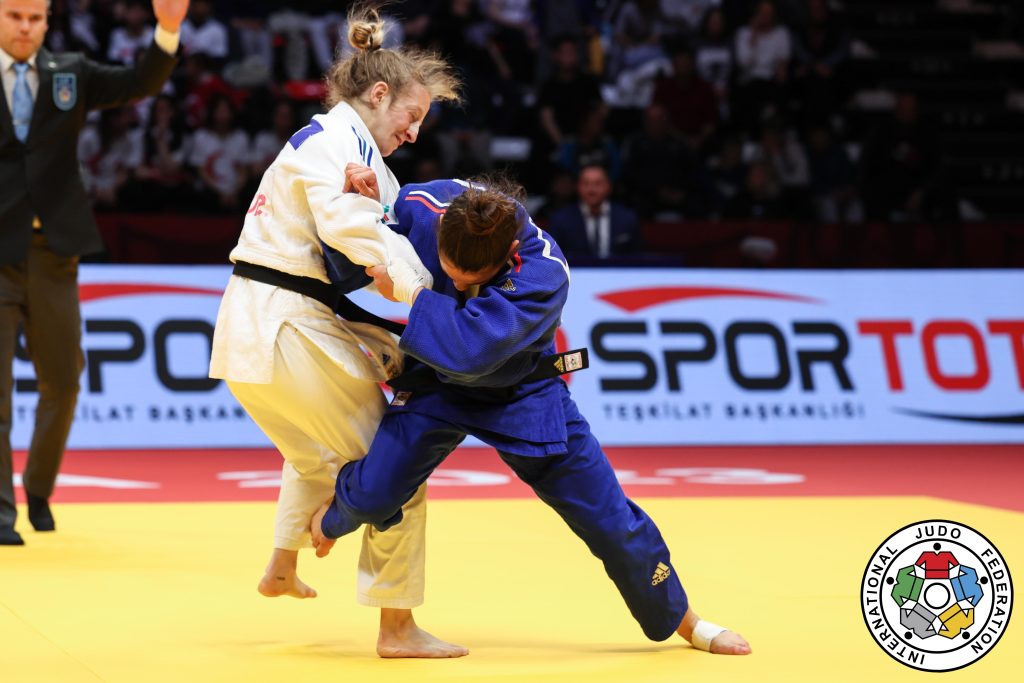 Having already defeated half of the Israeli entry, Pont faced Shira RISHONY for the gold medal. Though she shouldn't have been a surprise, as one the strongest in the group, the Israeli competitor hasn't managed to find her way to a final since 2019 when she won the Tel Aviv Grand Prix event. So a surprise it may have been but it was a long time coming. 
In the end, Pont continued her domination of the -48kg category with a blinding, o soto gari and is constantly becoming a greater threat to world ranked number one team mate Shirine BOUKLI. 
Luka MKHEIDZE kept the French train rolling in the -60kg category, and with his place in the final, overtook his team mate Cedric REVOL in the world ranking list before claiming his medal. The Olympic bronze medallist slipped down the list following an absence from events but he is back and on top form. His opponent Dilshot KHALMATOV (UKR) was 2018 Junior European Champion and has proven his super ne waza skills today as well as in recent events, though he just missed out on a medal last week in Tbilisi, he has already claimed a grand slam final place in Baku last year.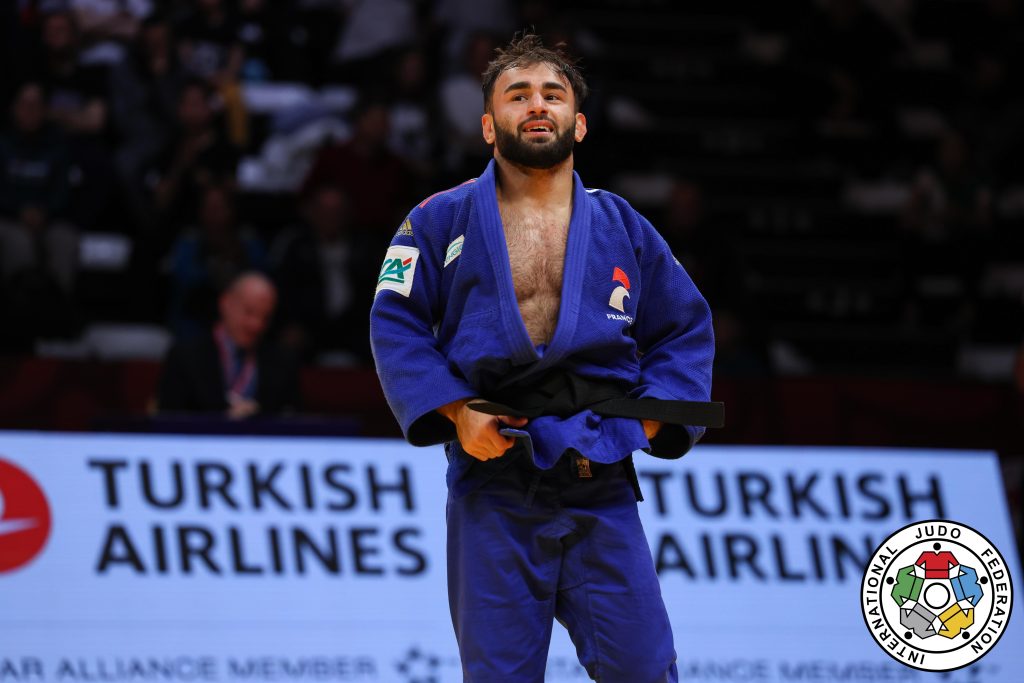 Khalmatov would have to settle for yet another silver medal, as Mkheidze secured his win with a driving drop seoi nage, his second grand slam title in a row.
In the -52kg category, Chelsie GILES (GBR) is on a roll. Since the world championships in Tashkent, she feels she has silenced the naysayers, she is not a one trick pony and she doesn't simply win in ne waza, but if the opening is there she is most certainly taking it. This of course was expected from Amandine BUCHARD, her French final opponent, they weren't done yet. 
As the preliminaries went, based on seedings of their opponents, Buchard probably had a tougher run of things, especially in her semi final against PUPP Reka (HUN) where she only just managed a waza ari score in the final seconds. However Giles was faced with Sita KADAMBOEVA (UZB) who had been tearing through her opponents, the 21 year-old is slowly making her way up the ranking. Unfortunately this great contest ended with a head diving infringement from the Uzbek athlete.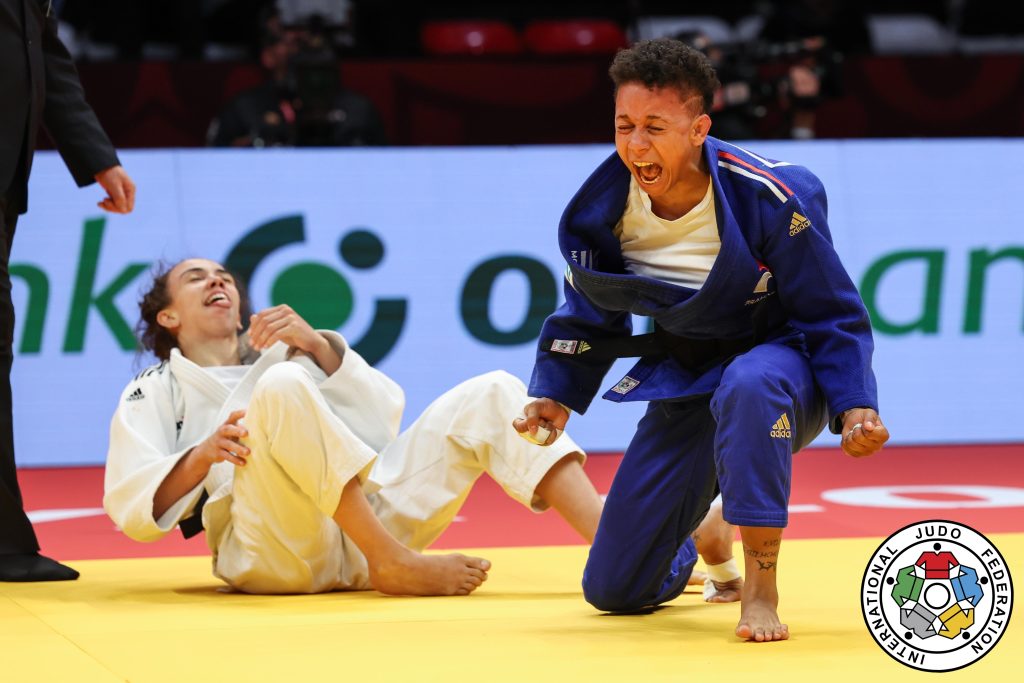 With mere seconds left on the clock between Buchard and Giles, many uchi mata, kata guruma and ne waza attempts passed, it was Buchard who executed her perfectly-timed kata guruma and celebrated her emotional win. Incredibly, this was France's third gold already with a final hope in the -66kg category. 
BATTOGTOKH Erkhembayar (MGL), the slayer of number one seed, Denis VIERU (MDA) persevered in his quest for kansetsu waza against the Moldovan favourite today and made his way right through to the final against yet another French rising star, Maxime GOBERT. It wasn't the final he was hoping for as the Mongolian was disqualified, but they were preliminaries of dreams.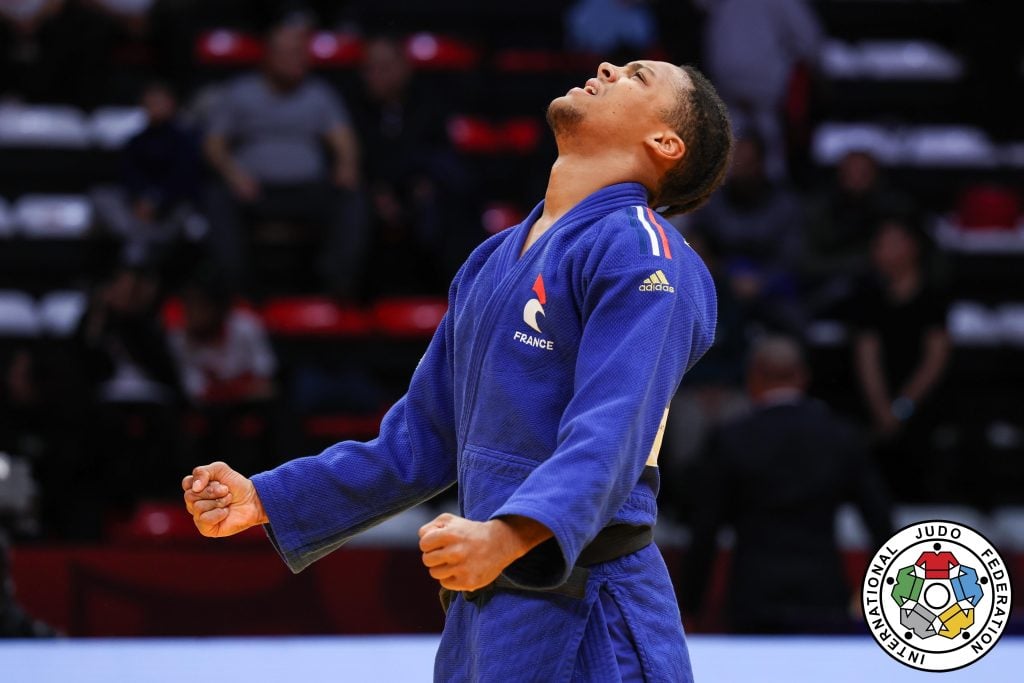 Already through to the third round, he was faced with YONDONPERENLEI Bashkuu (MGL), one many would have predicted as a finalist of the category, but the U23 European champion Gobert took him in to golden score and he was eliminated by accumulation of shidos. Next up was last years silver medallist Willian LIMA (BRA), another golden score battle he endured and overcame. The semi final was Baruch SHMAILOV (ISR), the winner of the IJF Masters in Jerusalem, and even he couldn't match up Gobert today, putting in a half-hearted seoi nage which was countered. 
Already his best result, the 21 year-old went in to the final and walked away with his first title, he is still playing catch up however with the likes of Walide KHYAR. 
Finally, although a non-European final, it was still about to be a great head to head for former and current world champions; Christa DEGUCHI (CAN) and Rafaela SILVA (BRA). Earlier in the day, Silva had some tough competition in the form of Daria BILODID (UKR) which turned in to a golden score war. Before the contest, the stats were in favour of the Canadian-Japanese athlete with four wins to one, however Silva managed to take the gold and stunned the crowd.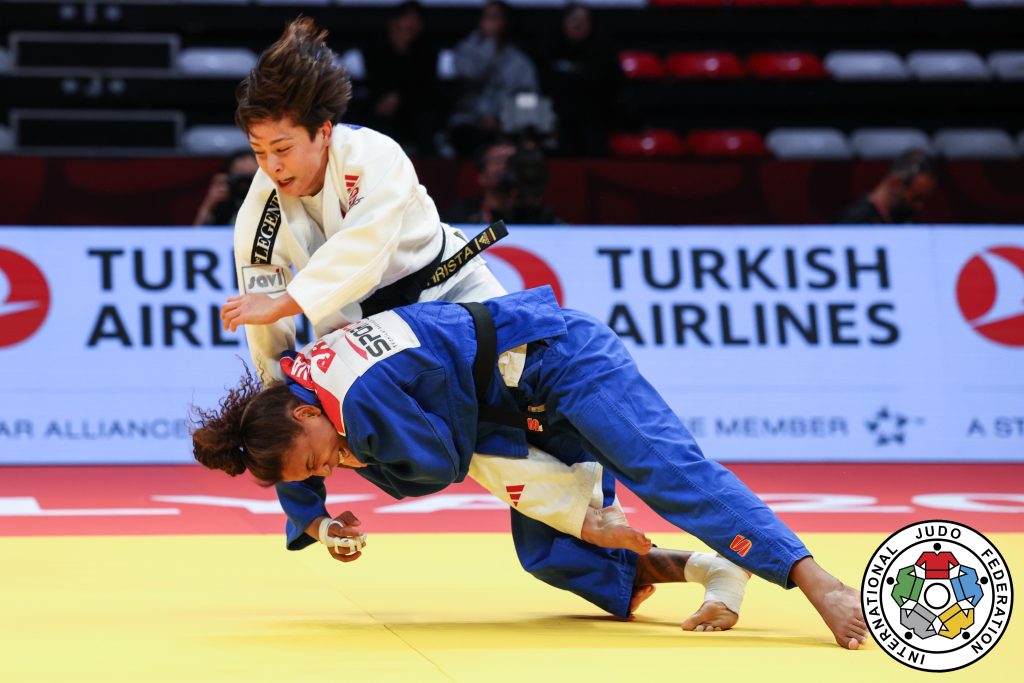 One athlete who drew great attention from the European team was Anastasija SOKIRJANSKA of Latvia. The young entry won in the Riga Senior European Cup not long ago but has her heart set on the future and it setting lofty goals with Paris in mind. With only 95 world ranking points and sitting at 156 in the ranking list, many would have written off the 20 year-old, however she took Silva well in to golden score in the third round. Though she lost out in the end, these points could be crucial in receiving an invitation to the World Championships in Doha. 
Day one brought great success for the team of France and taking 80% of the golden glory, they inevitably took top place on the medal table.
Judoka
Author: Thea Cowen
---