An unbelievable day was had by the European athletes as they cleaned house and took all eight of the World Championships medals in the -63kg and -81kg categories.
Both weight categories had much to celebrate, some only just having moved up from the junior circuit to stake their claim as elite seniors, and for six of the medallists it was their first medal at a senior world championships. For the two returning to seek out further world success, Clarisse AGBEGNENOU (FRA) and Matthias CASSE (BEL), there was a lot of pressure as both came in as the #1 seed.
The Frenchwoman wasn't simply after another medal, this was her chance at a fifth world title, and she took it. It certainly wasn't with ease as her opponents gave her quite a hard time but in the end, Agbegnenou reigned supreme.
She stepped in to the final against a Slovenian, but not her usual rival Tina TRSTENJAK, this time it was the formidable Andreja LESKI who had us questioning what they are doing in Slovenia to build such a strong force in this category.
Leski made her way through to the semi final, happy with her preparation and throwing with a multitude of techniques, a real threat to her opponents. So difficult that she surprised her final opponent, an array of attacks putting Agbegnenou under real pressure, forcing her to take control of the contest and find her footing fast. Eventually it was a tremendous performance from the women's final.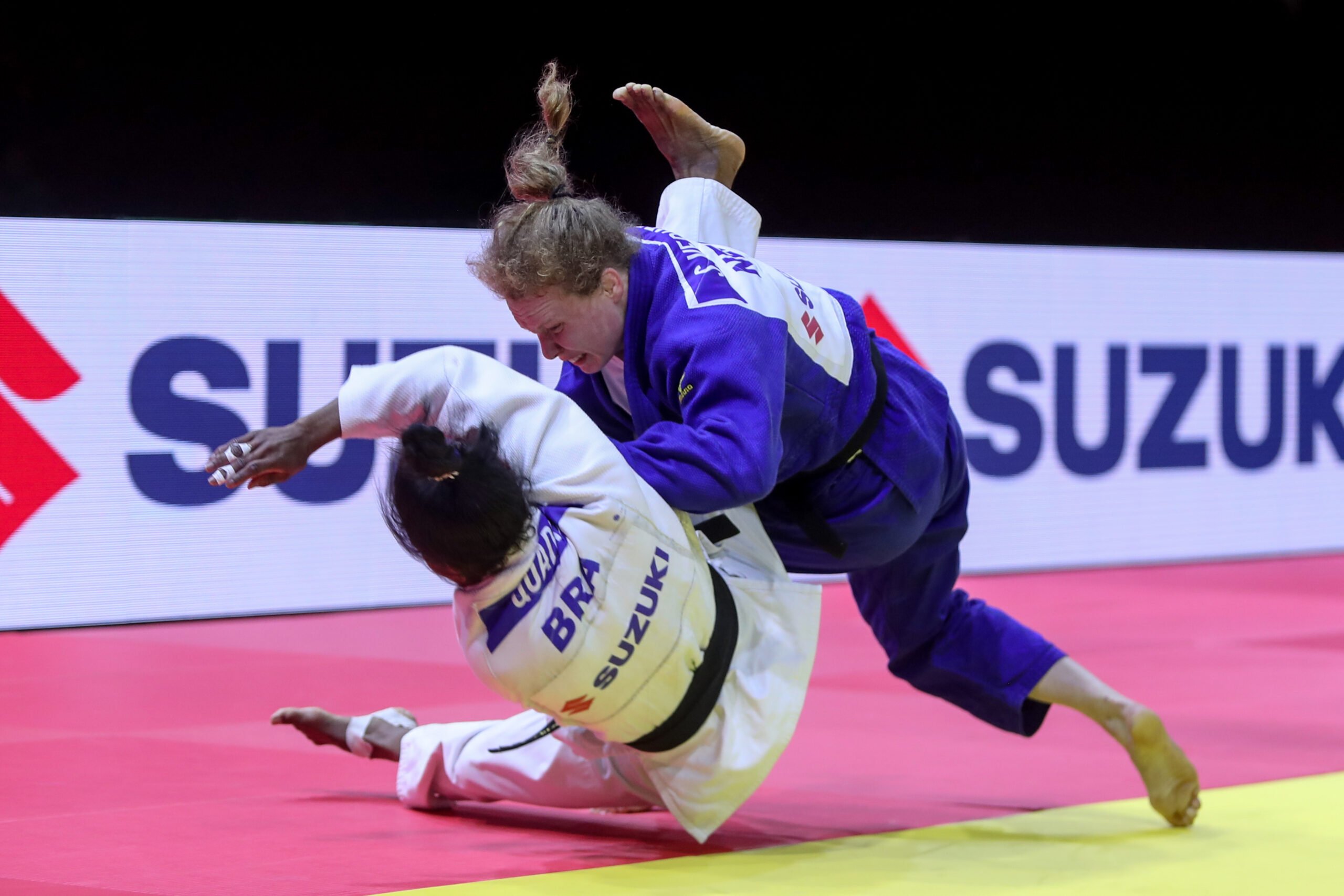 Determination from Sanne VERMEER (NED) gives the Dutch the first bronze medal of the day.
The bronze medals went to Sanne VERMEER (NED) and Anja OBRADOVIC (SRB). The latter was stealing the show in the preliminaries with huge throwing skills, taking out Martyna TRAJDOS (GER) and Katharina HAECKER (AUS) on her way to the quarter final where she met the other eventual bronze medallist, Vermeer. The Dutch had a strong performance, winning her quarter final and losing out only to Agbegnenou in the semi final, and after seeing Obradovic take the first bronze, she told herself she couldn't lose, not today.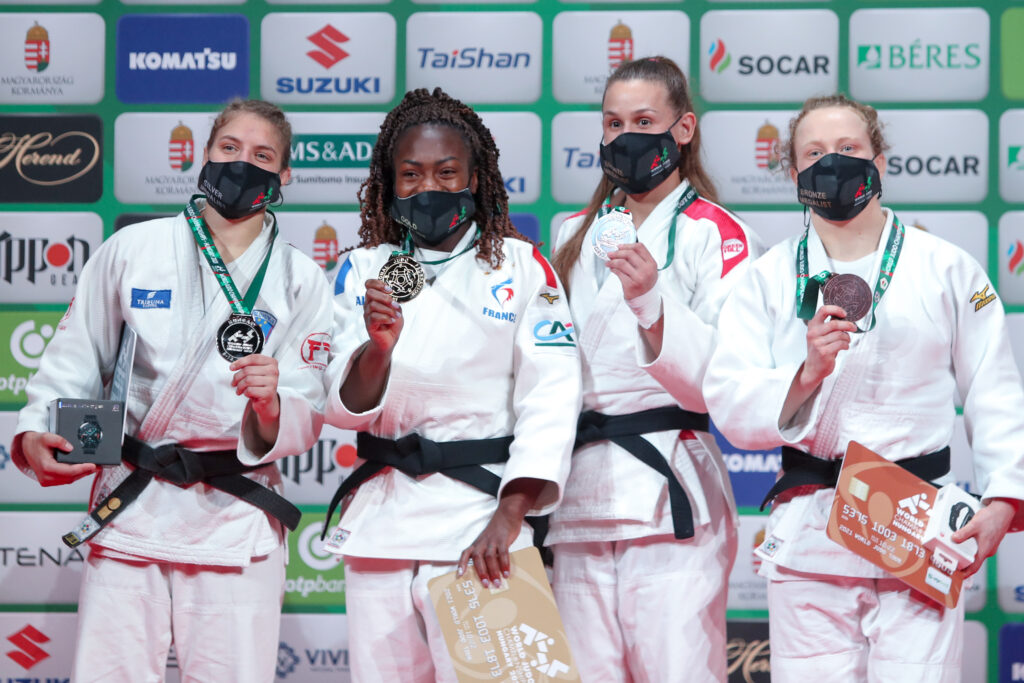 Casse came here today for one thing, the gold medal. After suffering a defeat in the 2019 World Championships in Tokyo to Sagi MUKI (ISR), he felt the next step would only be to become champion himself.
His conditioning, as always was impeccable, taking most of his contests in to golden score and continuing to perform with ease as his opponents weakened. It can be said he is not an impulsive competitor, his contests are methodical, he is patient and strikes only when the moment is perfect, a tactic that has brought him the world title.
The first world title ever for Belgium.
In the -81kg category final the styles were completely opposing, Casse known for his patience, Tato GRIGALASHVILI (GEO) known for his exciting and relentless attack from the first exchange, which was delivered throughout the competition. His personality shines through in his performance, from walking to the tatami right through to his celebration, but the celebration was taken from him in the end, his devastation replaced it.
Aside from his clear disappointment, he had been a phenomenal competitor all day, gearing up the crowd and putting on a world class display of judo. Losing out to Grigalashvili in the semi final was 2015 junior world champion, Frank DE WIT (NED) who was in great form today and had potential to make that junior success, senior, but a blinding ippon from the Georgian in the opening exchange put an end to his road to gold, instead putting him in to the bronze medal contest against FUJIWARA Sotaro (JPN). The last time the pair met in competition was in 2015, battling it out for the junior world title where the Dutchman came out golden, and it was the same today, De Wit's style was uncomfortable for the Japanese athlete and was unable to contend.
Anri EGUTIDZE (POR) earns a brilliant major championships bronze medal.
Pure happiness celebrating with coach Pedro SOARES.
It's a bronze medal win and second win for the Dutch team thanks to Frank DE WIT.
Lifting coach Benito MAIJ to glory.
The second bronze medal went to a deserving Anri EGUTIDZE (POR) who only a couple of months ago narrowly missed out on a bronze medal in the European Championships in Lisbon after beating both the current Olympic champion and the 2019 world champion. Though he was disappointed, it proved he was ready to be at the top. Once again, he did just that. His 'go big or go home' attitude is exciting to watch and he showed us why he is a fan favourite. The bronze contest was against a difficult and strong Uzbekistan representative, Sharofiddin BOLTABOEV. The pair hadn't fought before but Egutidze felt the moment and knew he could score. It was an emotional win, his first major medal.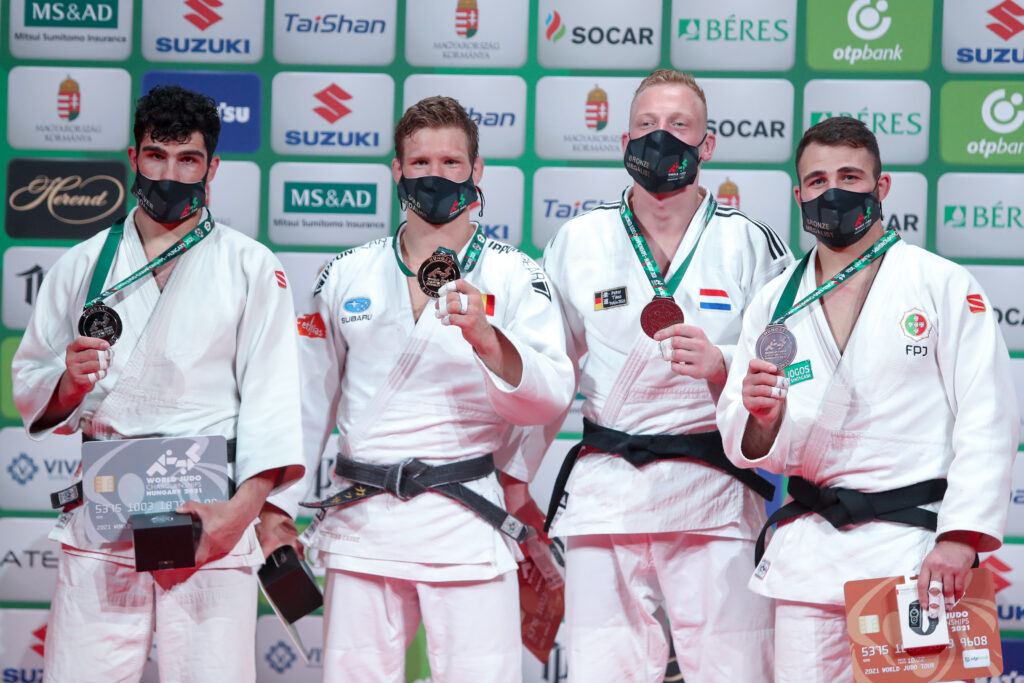 Judoka
Author: Thea Cowen
---