Sally CONWAY (GBR) -70kg
Great Britain's sole Olympic medallist from Rio De Janeiro came up trumps today, her well-rehearsed ne waza against the French player, Maria Eva GAHIE in the semi-final secured her a place to battle it out for gold. CONWAY's final was extremely strong, neither judoka receiving penalties, displaying positive and progressive judo skills. The GBR athlete seized the moment and countered World Champion ARAI Chizuru (JPN), following through in to ne waza, holding her opponent whilst watching the clock run down as the gold medal neared her grasp.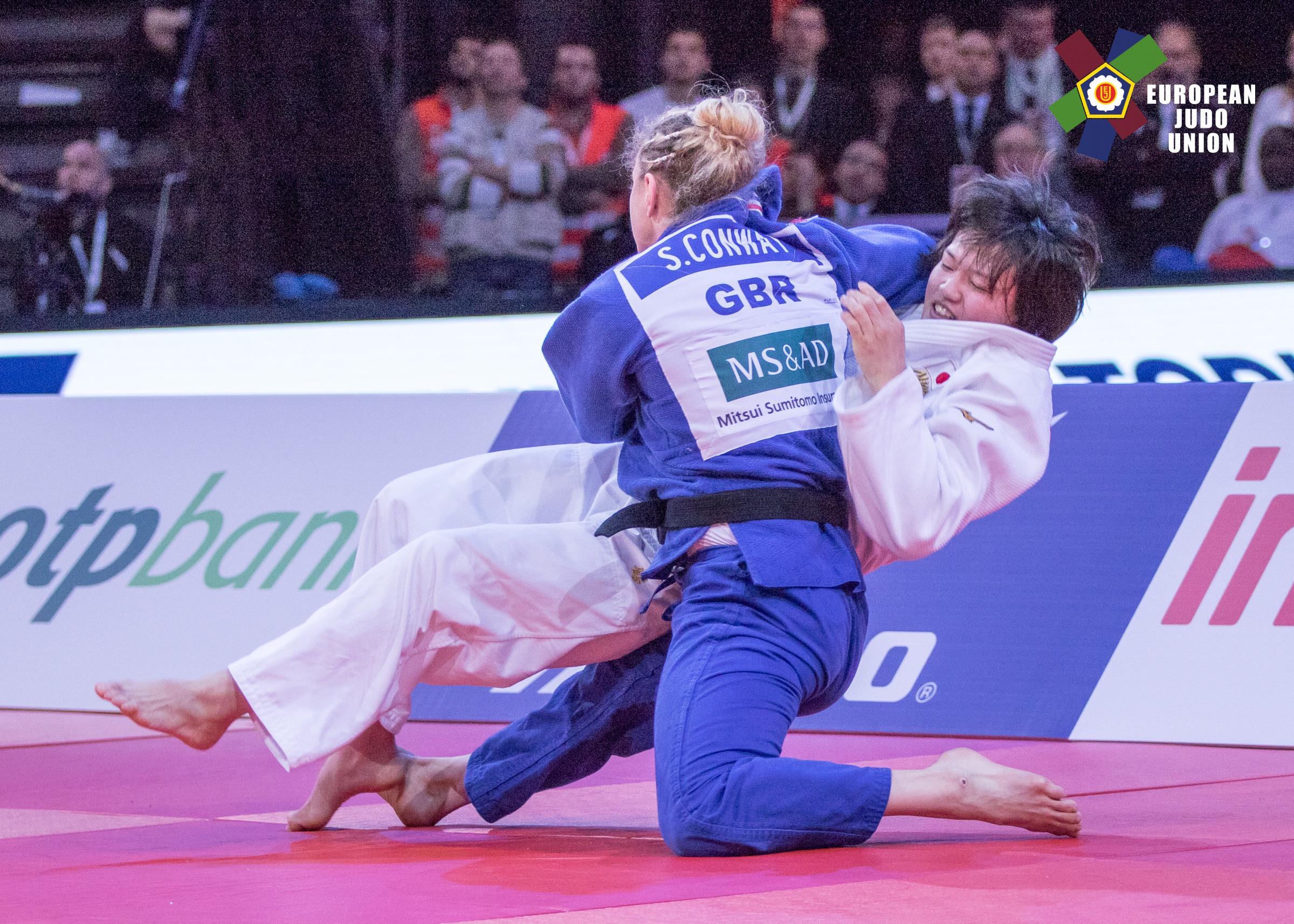 Sally is the first British athlete to secure a gold in Paris since 2003, holding that record was Craig FALLON. When asking how she felt,
"I'm speechless, I had the best crowd behind me and it was the best feeling though I haven't quite processed it, it's hard to put it in to words."
The judoka was gushing from her achievement today, "when it sinks in later it'll be amazing, was great to share this with my family; my parents and step parents are in the crowd today" – her timing was impeccable.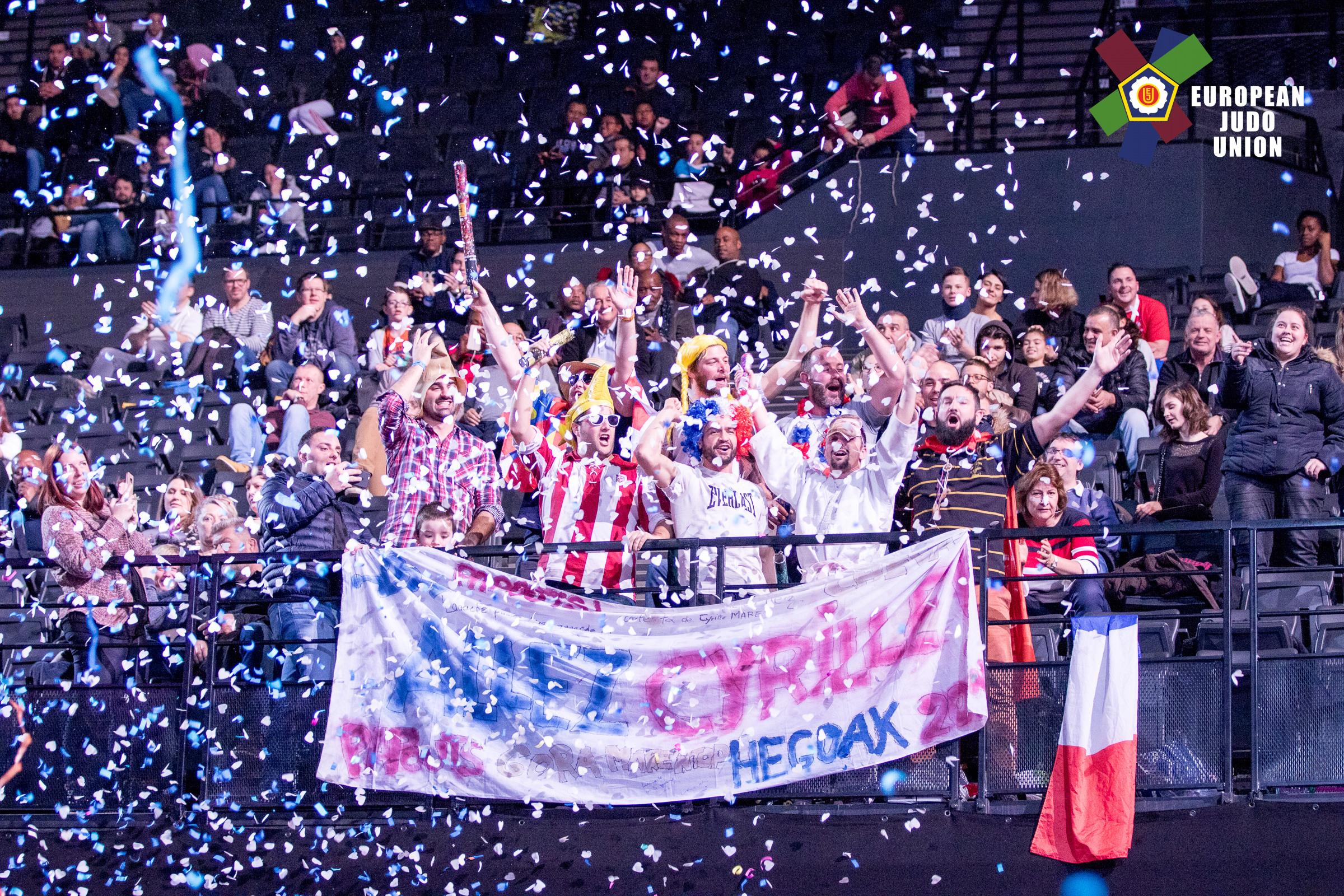 Fighting the current World Champion makes you think differently about a fight as CONWAY explains,
"this was massive for me, ARAI's form has been brilliant, I planned to take one exchange at a time and this worked for me."
ARAI took gold in the Paris Grand Slam 2017, as well as the Dusseldorf Grand Slam in the same year.
"I'd say this was the biggest win of my career, I intend to stick to my programme and come back for the Dusseldorf Grand Slam,"
with this injection of confidence she will be ready to take it in her stride and hopefully take another title from ARAI.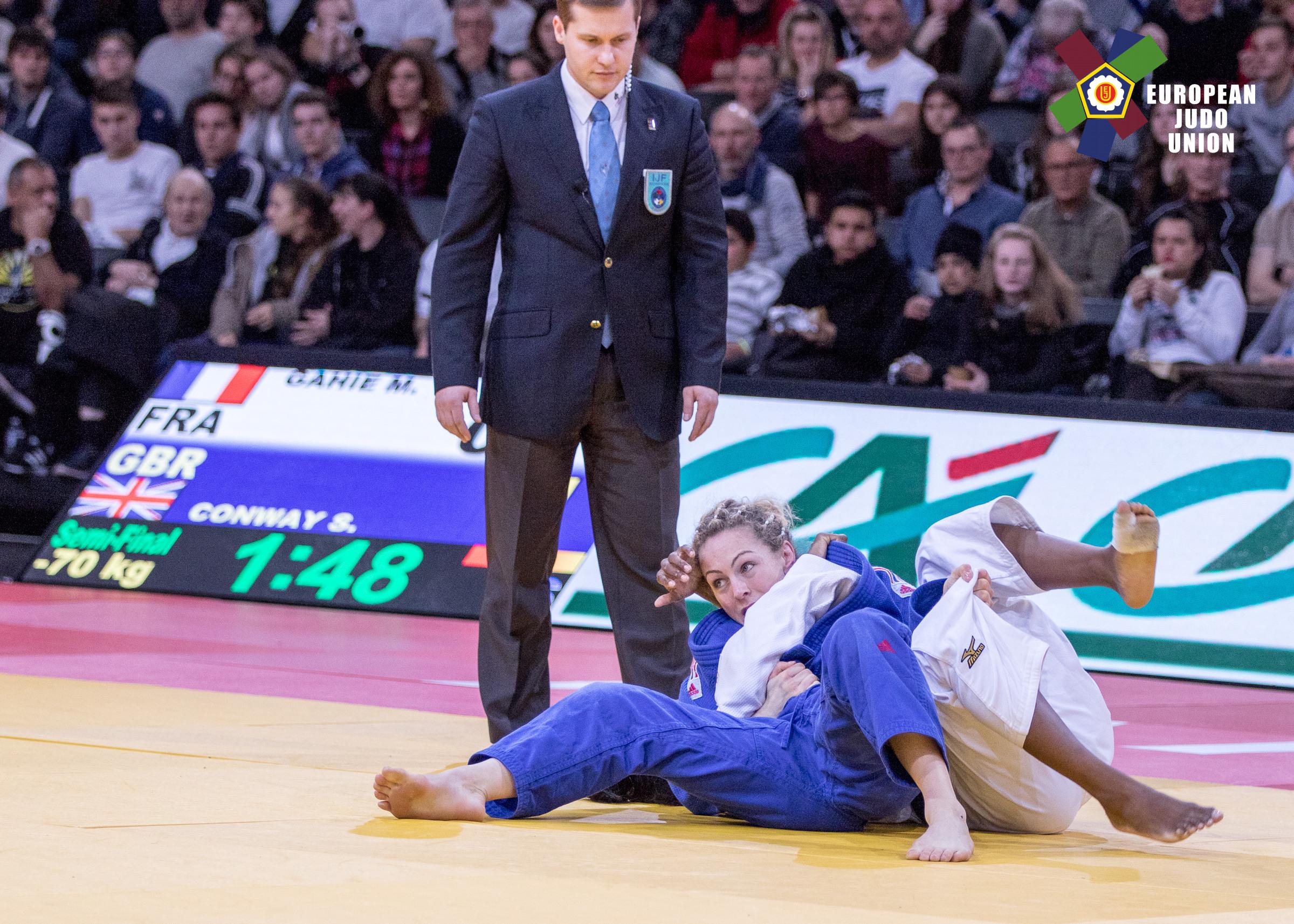 As previously mentioned, her ne waza skills enabled her to conquer the division, with that final smooth and effortless move we asked if this is a main part of training and repertoire,
"it was simply second nature, it is such an important part of my training and I was ready to do that dance."
Despite having a more relaxed 2017 with some well-deserved time off after her tremendous Olympic cycle, CONWAY appears to be taking 2018 by the horns and delivering on her ability to perform on the tatami.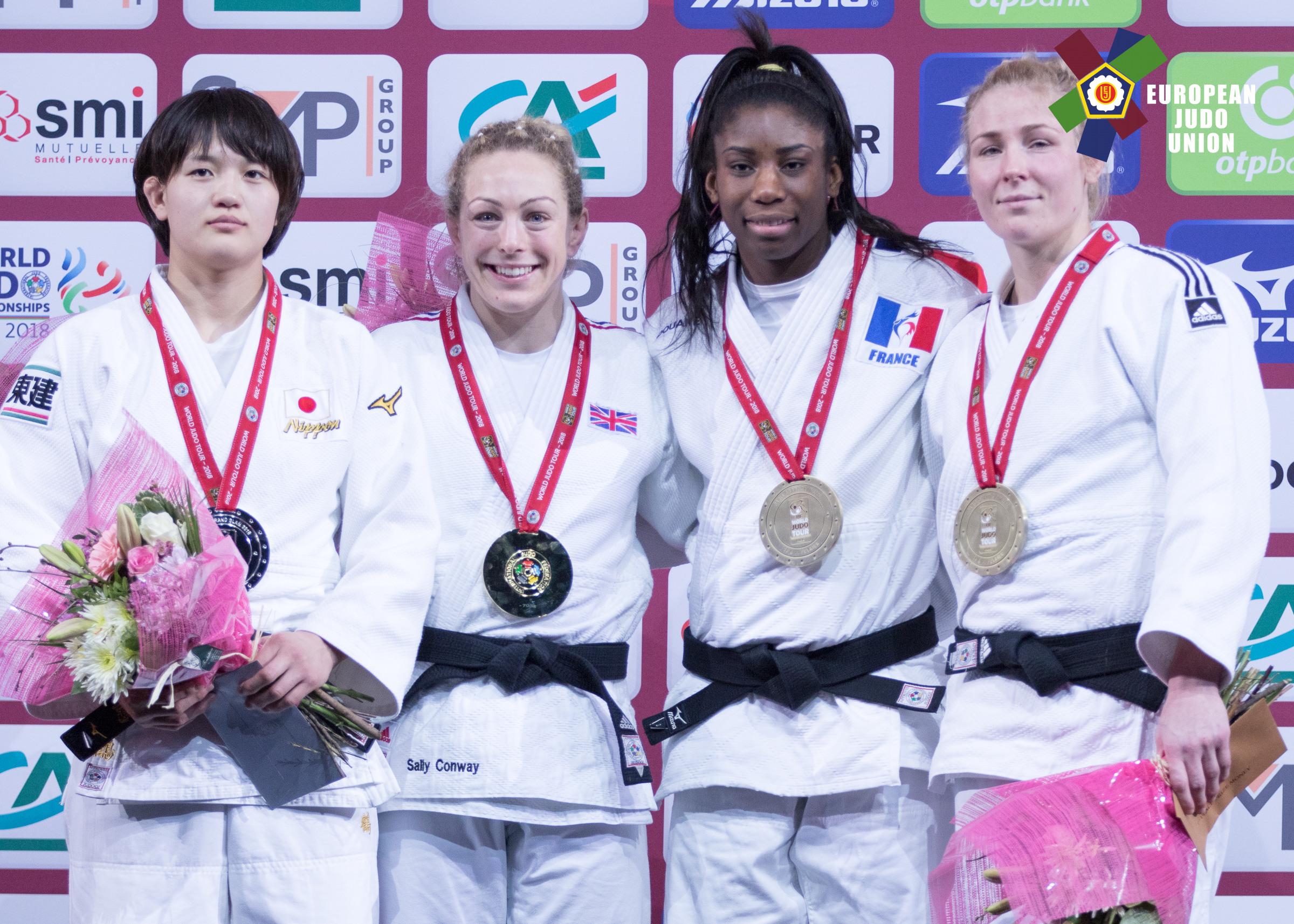 Podium -70kg 1. CONWAY, Sally (GBR) 2. ARAI, Chizuru (JPN) 3. GAHIE, Marie Eve (FRA) 3. POLLING, Kim (NED) 5. VAN DIJKE, Sanne (NED) 5. NIANG, Assmaa (MAR) 7. POSVITE, Fanny Estelle (FRA) 7. PEREZ, Maria (PUR) – Rafal Burza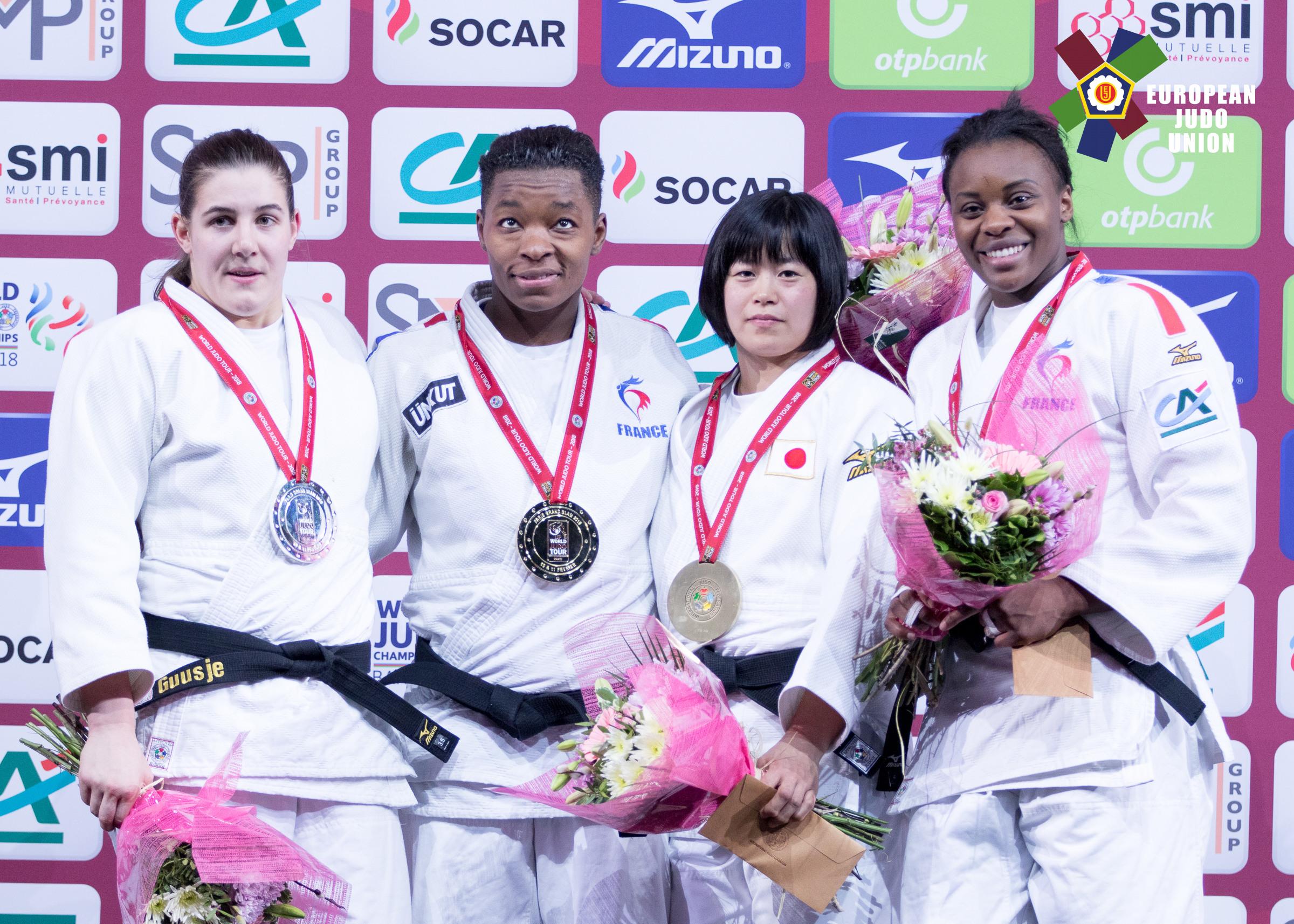 Podium -78kg 1. TCHEUMEO, Audrey (FRA) 2. STEENHUIS, Guusje (NED) 3. HAMADA, Shori (JPN) 3. MALONGA, Madeleine (FRA) 5. UMEKI, Mami (JPN) 5. STEVENSON, Karen (NED) 7. TURCHYN, Anastasiya (UKR) 7. POWELL, Natalie (GBR) – Rafal Burza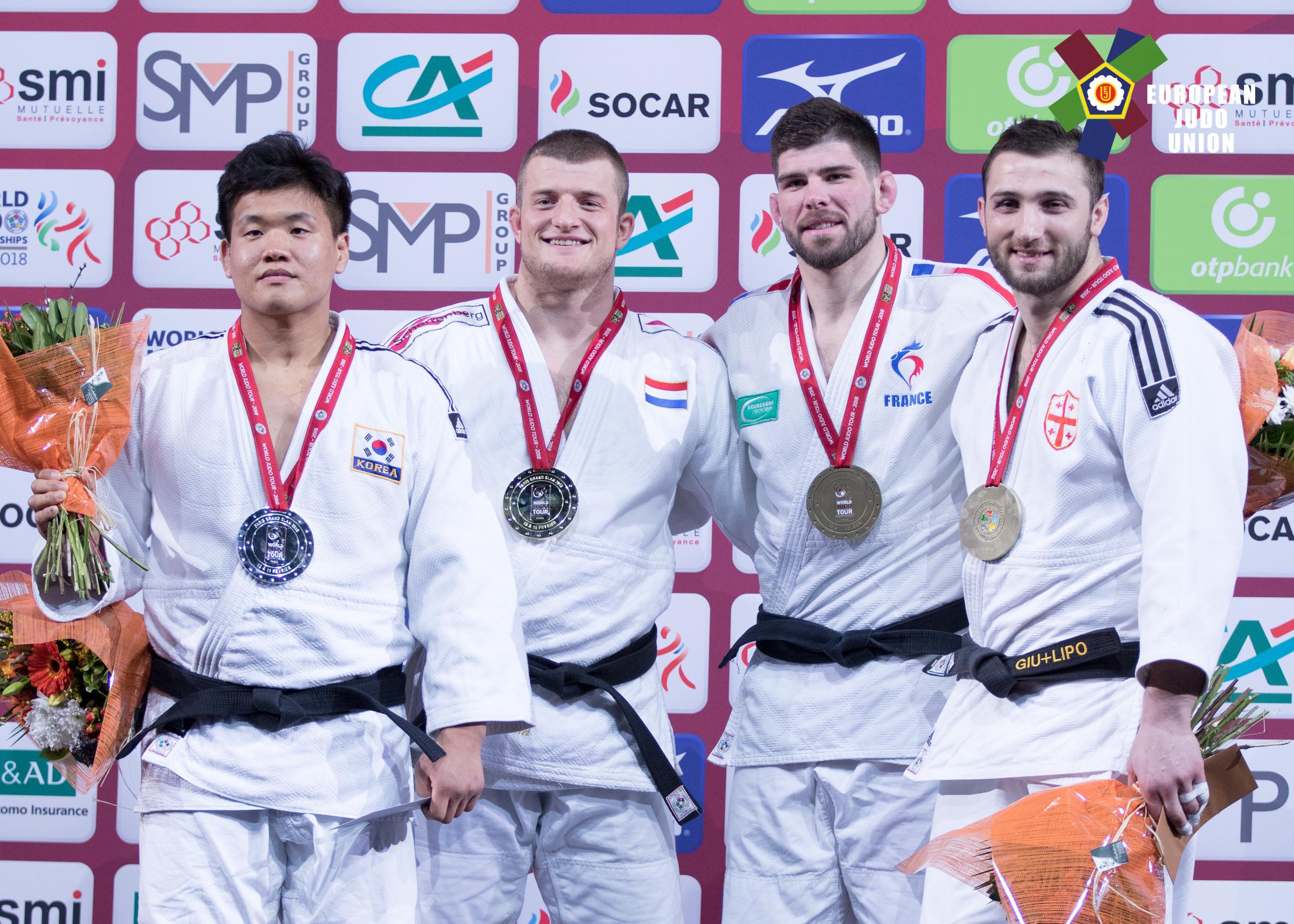 Podium -100kg 1. KORREL, Michael (NED) 2. CHO, Guham (KOR) 3. LIPARTELIANI, Varlam (GEO) 3. MARET, Cyrille (FRA) 5. KUMRIC, Zlatko (CRO) 5. PALTCHIK, Peter (ISR) 7. PACEK, Martin (SWE) 7. SVIRYD, Mikita (BLR) – Rafal Burza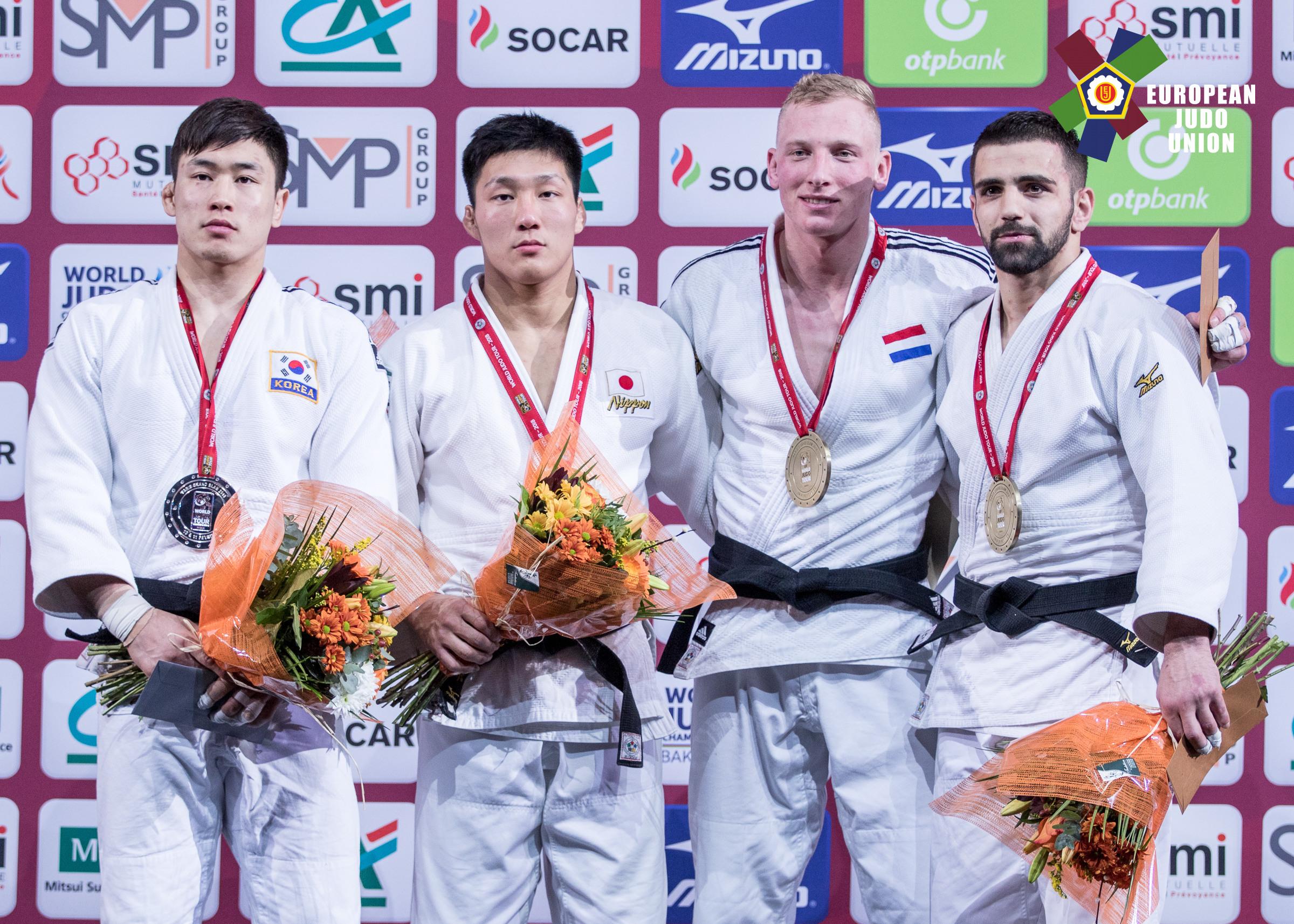 Podium -81kg 1. FUJIWARA, Sotaro (JPN) 2. LEE, Seungsu (KOR) 3. DE WIT, Frank (NED) 3. TATALASHVILI, Nugzari (GEO) 5. MUSIL, Jaromir (CZE) 5. VALOIS-FORTIER, Antoine (CAN) 7. PENALBER, Victor (BRA) 7. IVANOV, Ivaylo (BUL) – Rafal Burza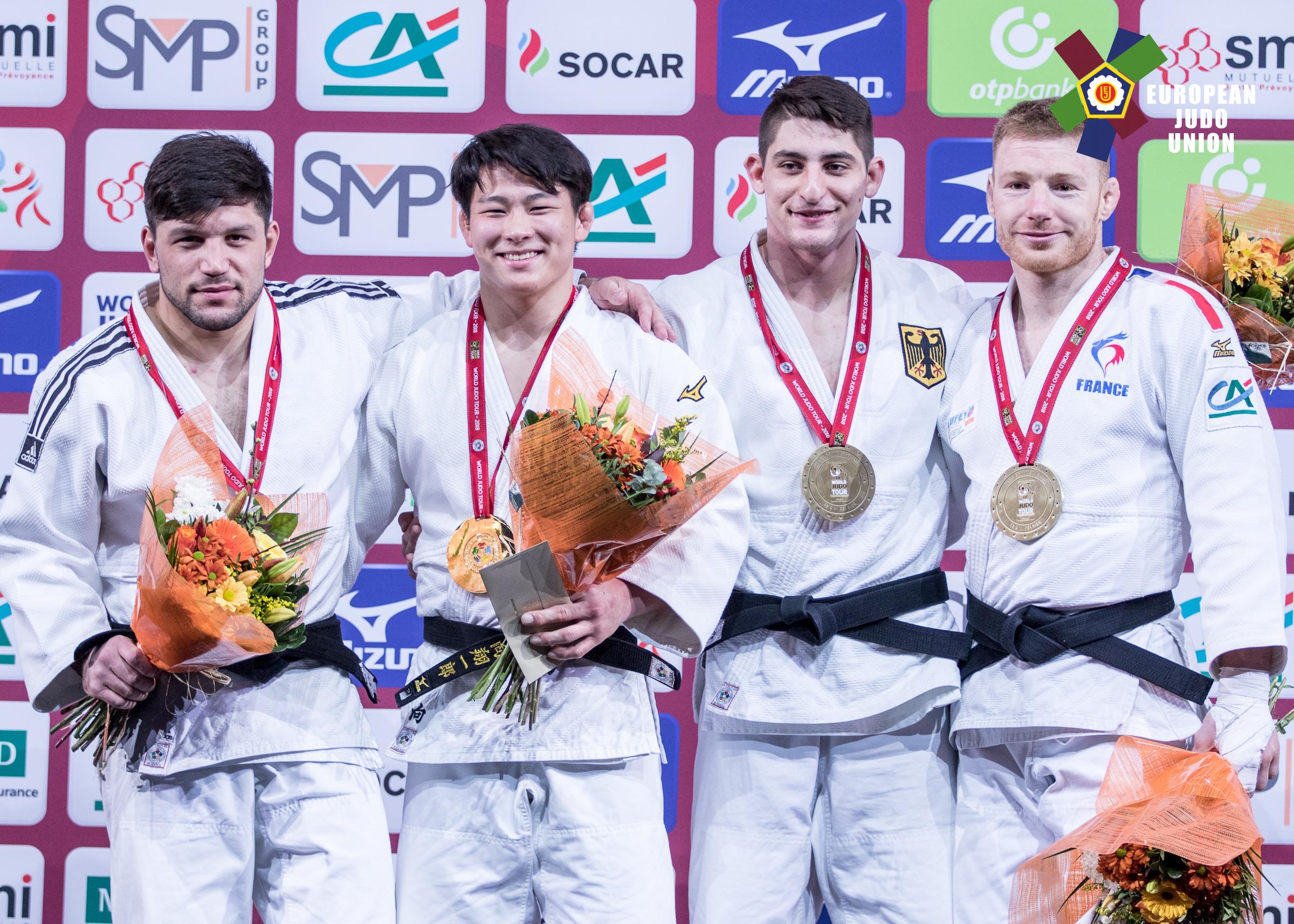 Podium -90kg 1. MUKAI, Shoichiro (JPN) 2. GVINIASHVILI, Beka (GEO) 3. TRIPPEL, Eduard (GER) 3. CLERGET, Axel (FRA) 5. GWAK, Donghan (KOR) 5. NAGASAWA, Kenta (JPN) 7. KEITA, Ibrahim (FRA) 7. SHERAZADISHVILI, Nikoloz (ESP) – Rafal Burza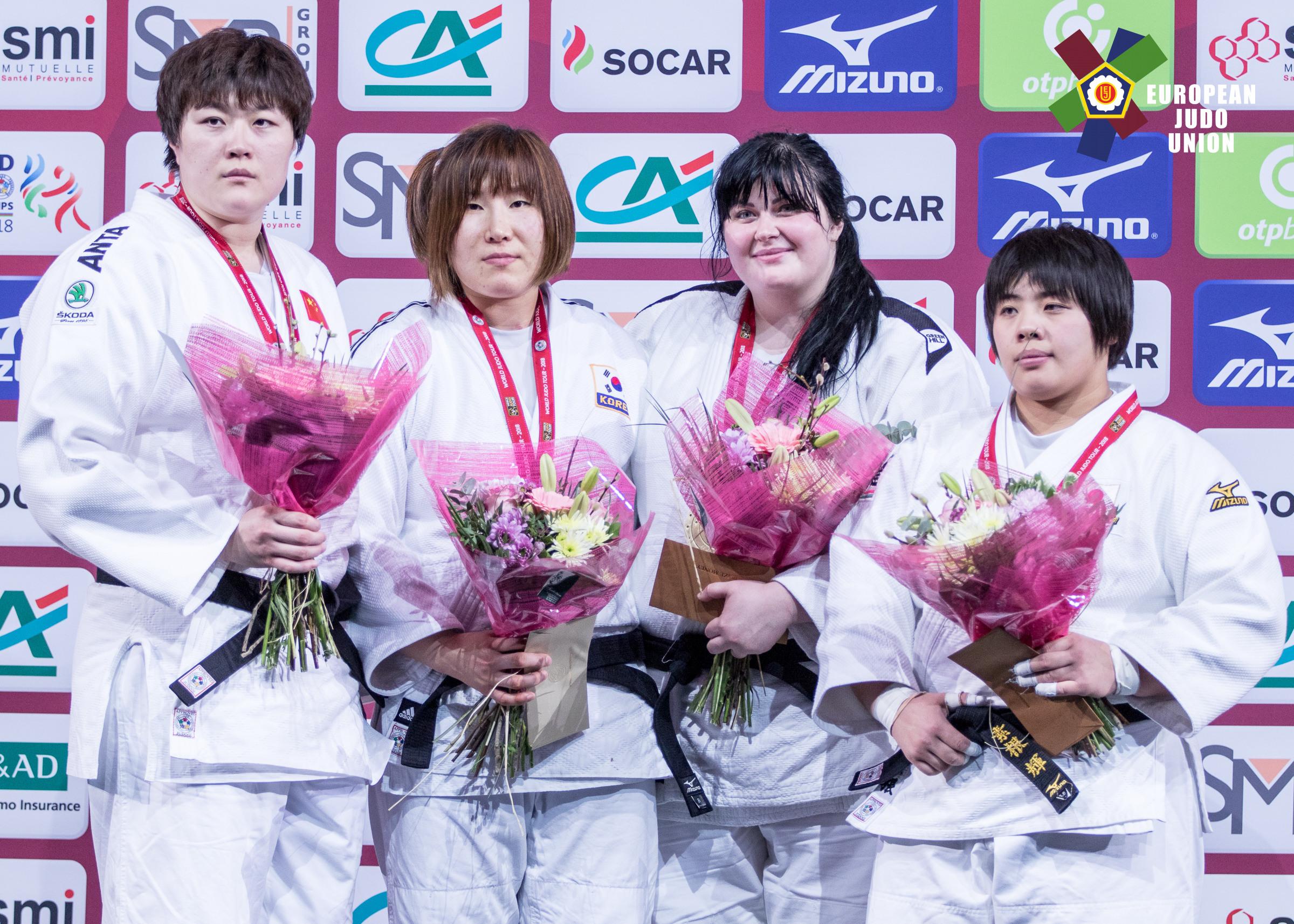 Podium +78kg 1. KIM, Minjeong (KOR) 2. WANG, Yan (CHN) 3. KINDZERSKA, Iryna (AZE) 3. SONE, Akira (JPN) 5. BISSENI, Eva (FRA) 5. KUELBS, Jasmin (GER) 7. SLUTSKAYA, Maryna (BLR) 7. WEISS, Carolin (GER) – Rafal Burza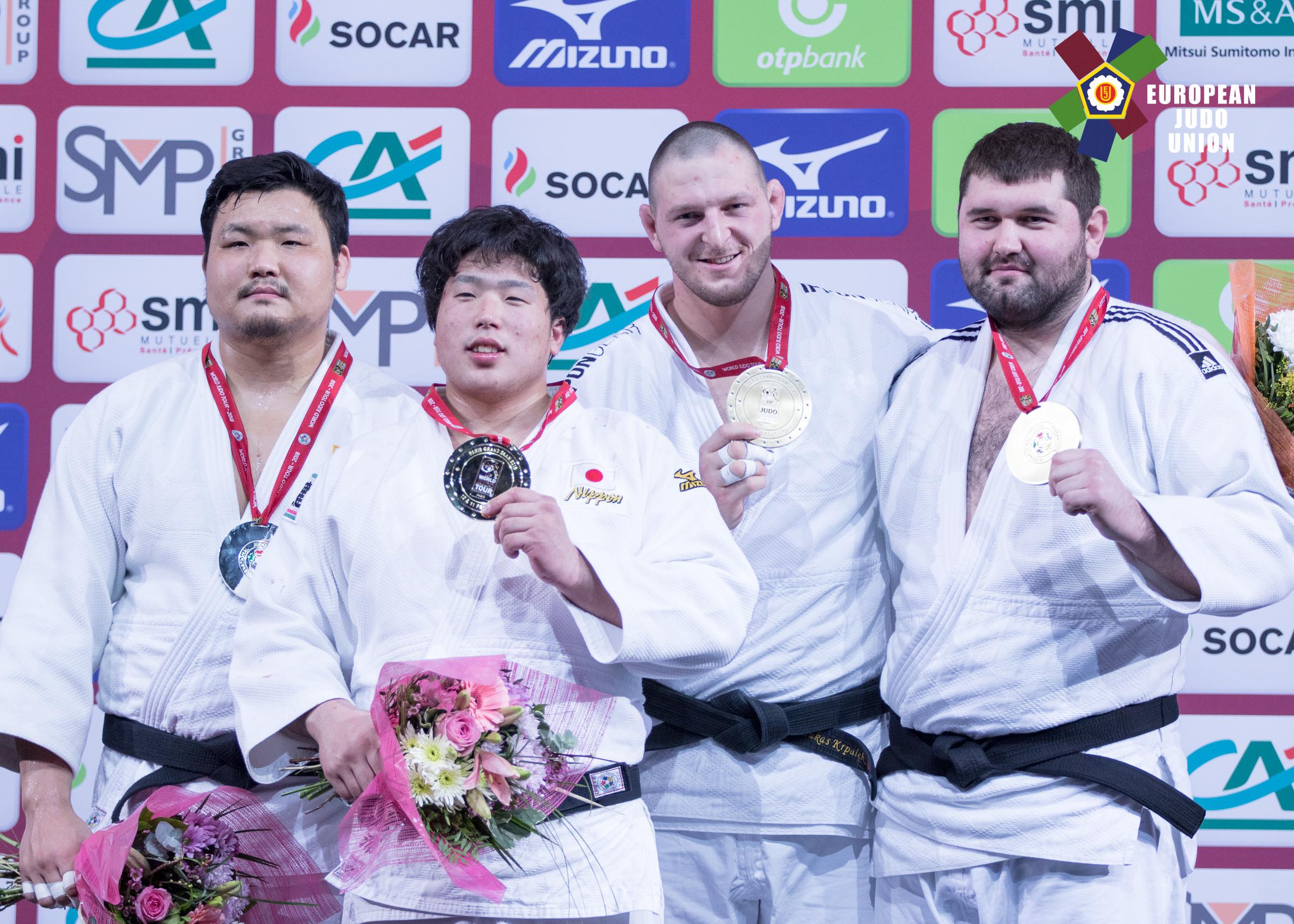 Podium +100kg 1. KAGEURA, Kokoro (JPN) 2. KIM, Sungmin (KOR) 3. KRPALEK, Lukas (CZE) 3. VAKHAVIAK, Aliaksandr (BLR) 5. MEYER, Roy (NED) 5. TUSHISHVILI, Guram (GEO) 7. SARNACKI, Maciej (POL) 7. TAYEB, Mohammed Amine (ALG) – Rafal Burza
With a collection of nine medals, France had two leading ladies this weekend, the latter being Audrey TCHEUMEO in the -78kg category. With consistently strong bouts throughout the day, she earned herself a place in the final and delighted the crowd with a golden score finish against Guusje STEENHUIS (NED). This gold will be her fourth at the Paris Grand Slam, a favourite tournament of TCHEUMEOs.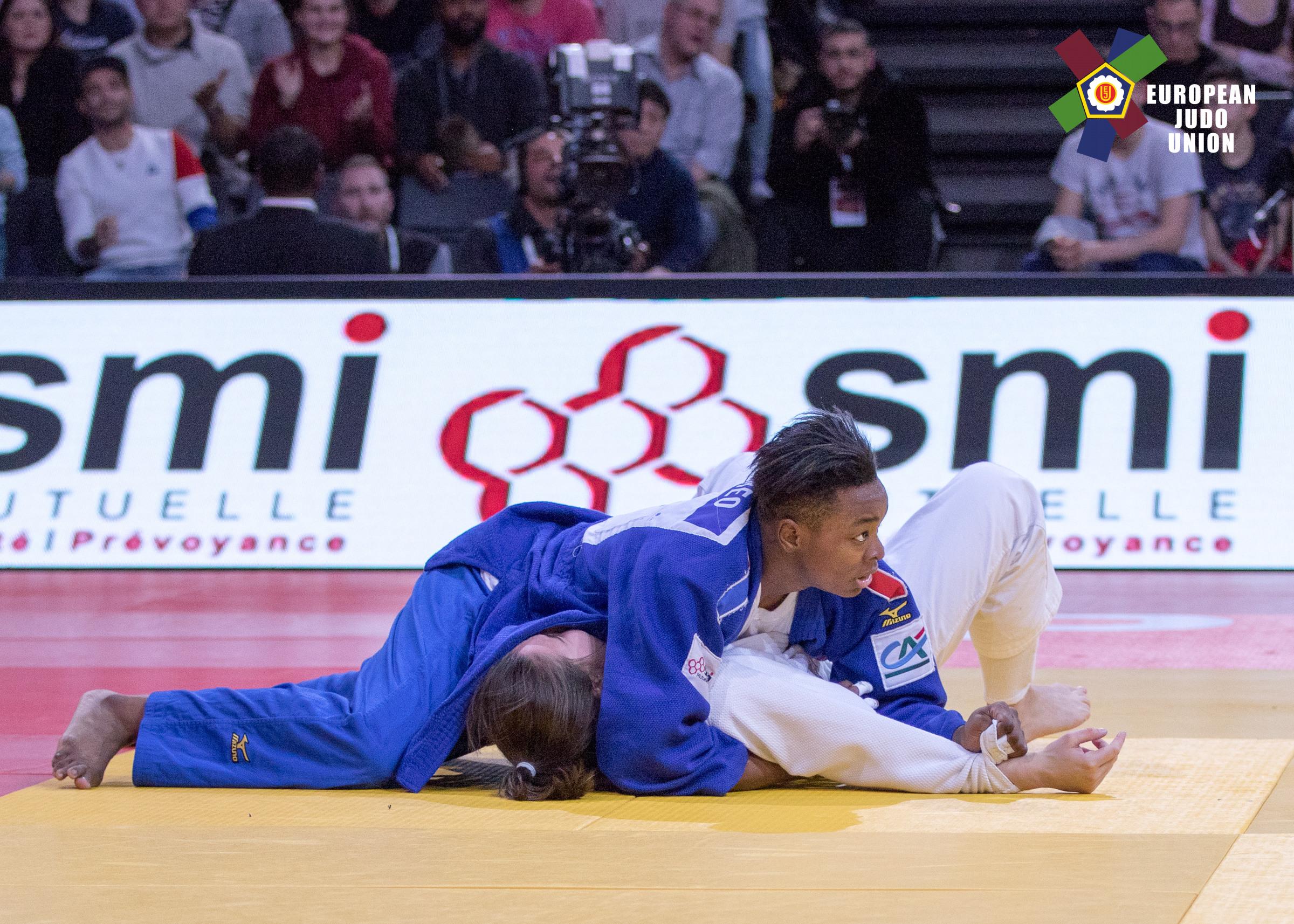 The European Champion and Olympic silver medallist will be looking to improve her World Championship record after placing seventh last year in Budapest. After her performance today, she looks strong as ever and there is no doubt she will carry on making her mark throughout 2018 and the World Championships in Baku, Azerbaijan. ALLEZ AUDREY!
Michael KORREL (NED) -100kg

Rafal Burza

France wasn't the only country gracing the podium throughout the weight categories, the Netherlands team were also out in full force today. Out of the seven potential medals for the Netherlands on day 2, four were attained, but the only gold came from the -100kg Michael KORREL. In his past two tournaments KORREL has been forced to settle for second place but he made it clear that 2018 will not follow in the same pattern. His strength, confidence and talent brought him the gold medal in the Paris Grand Slam 2018. With two Dutch bronze medals and one silver already in the bag for the team it was meant to be that KORREL completed the collection.

The 23-year-old will be looking to hold on to his World ranking first place position, so will be aiming to conquer the tournaments to come.

Judoka

---