The 12th edition of the Zagreb tournament gathered 793 athletes from 36 different countries. Crowded venue "Sutinska vrela" in Zagreb was visited by the mayor City of Zagreb, Milan Bandić, who was able to enjoy all judo action which was held on five mats.
"I'm very glad to see again big number of athletes in Zagreb from four continents. When this "small" tournament started, we had barely 120 athletes and today when the number goes more than 790 athletes for third time it really says by itself about the quality of tournament in Zagreb. I'm sure that some of you (athletes) will be seen already on 2020 Tokyo podium" – said Milan Bandić during the Opening Ceremony.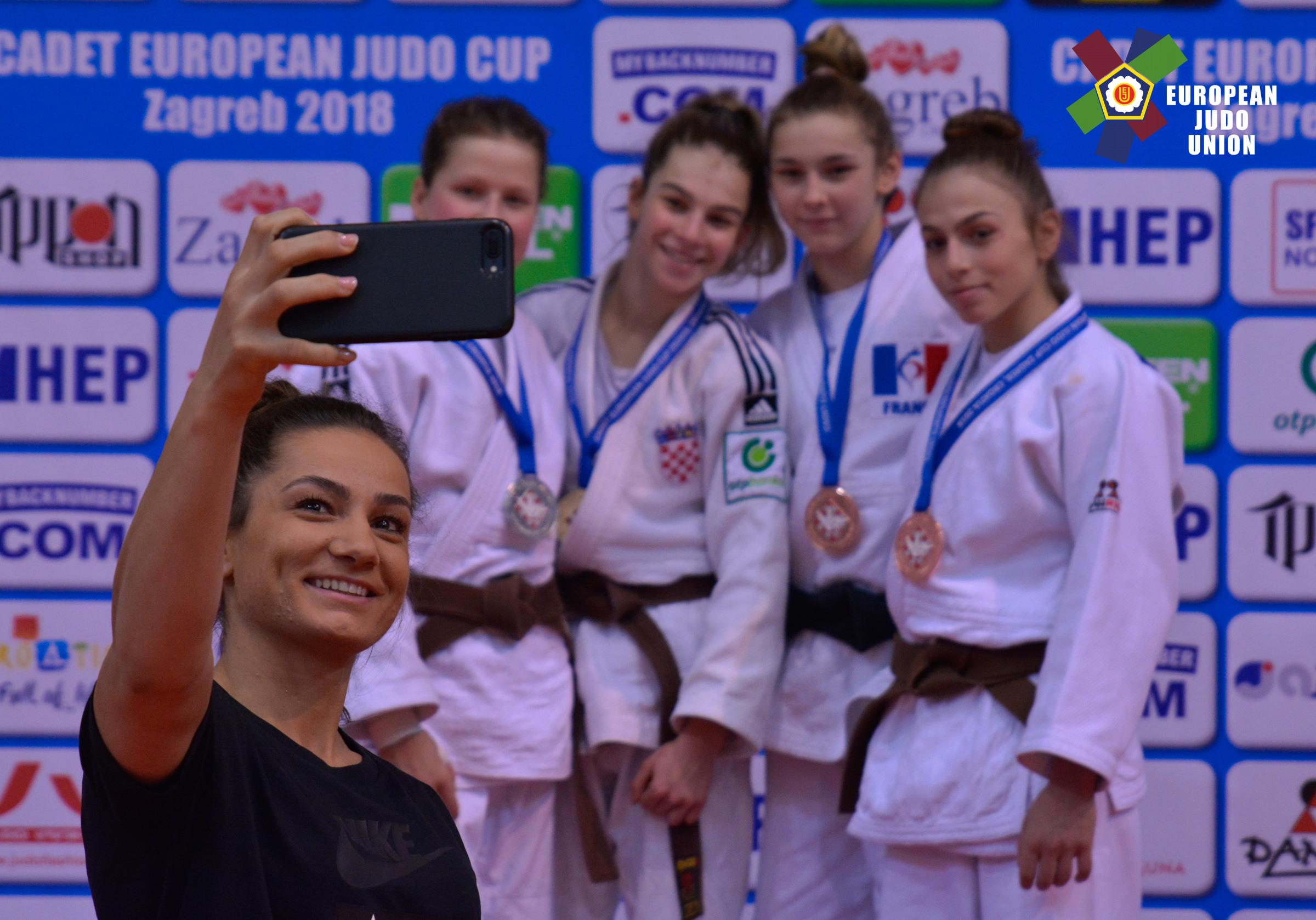 Ana Viktorija Puljiz (-44 kg) confirmed the status of being number one seed and won the gold medal at the European Cadet Cup in Zagreb. In all four fights, she showed why she was one of the World's best cadet judoka. In the first appearance, a waza-ari score was enough to beat Vasko (HUN) as well as Harmath (HUN) with quick jump into the semi-finals, where Puljiz proved to be better against Muminoviq (KOS) within the first minute of the contest. In the final, current European Champion, Puljiz, overcome Goebel (GER) to claim victory. As well as being won on the domestic pitch, this gold will be special for Puljiz, as it was received from the hands of current Olympic Champion Majlinda Kelmendi (KOS).
"That feeling of winning the gold in front of your home crowd it's just something special, not to mention when you can receive that gold from Olympic Champion who is actually the real motivation to do more and more." – with smile on her face Puljiz said.
After the gold of Anna Victoria Puljiz on Saturday, the audience at the Sutinska vrela hall was able to enjoy the Croatian anthem during the medal ceremony on Sunday as both, Lara Cvjetko and Katarina Krišto grabbed the gold.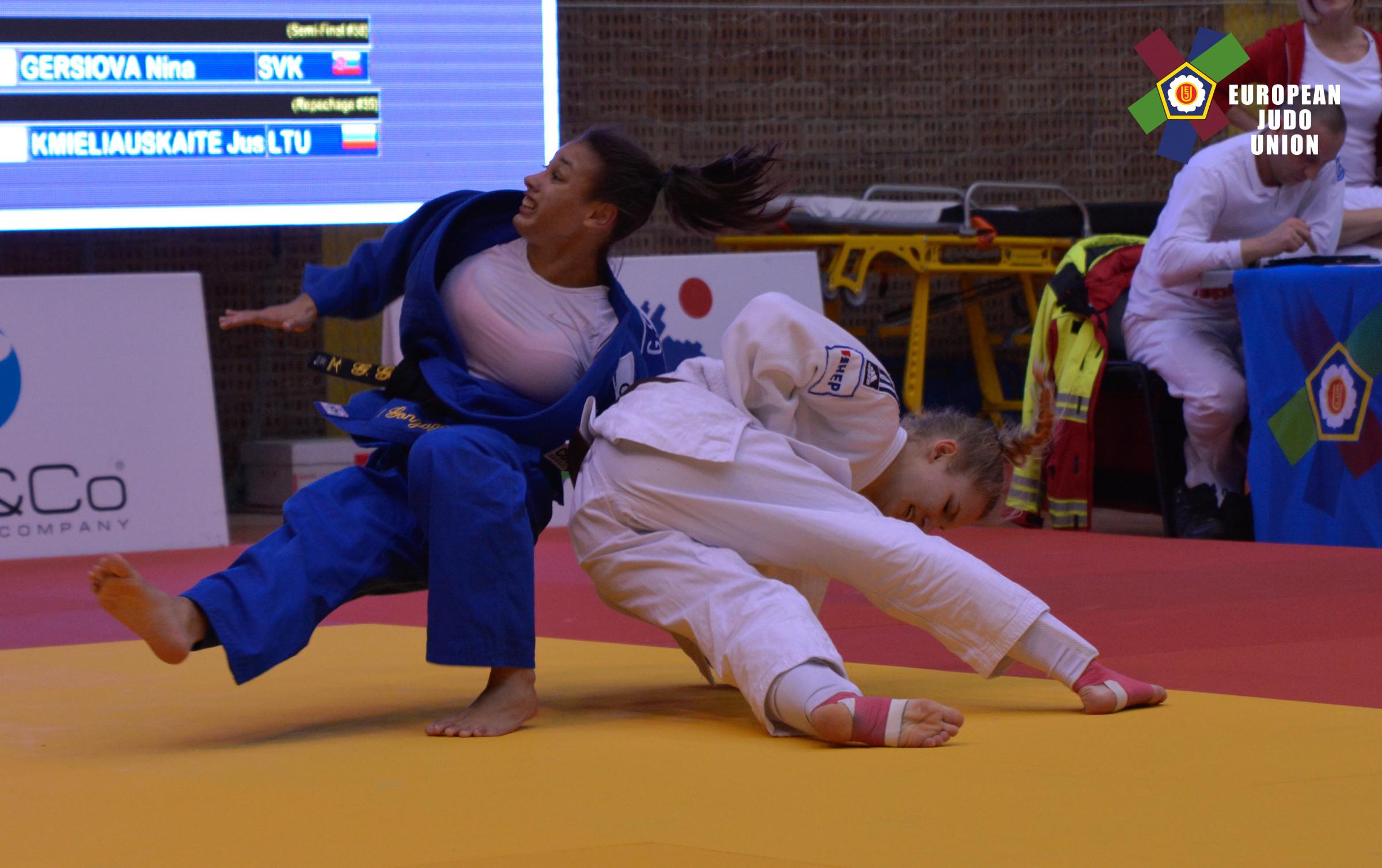 The current Cadet European Champion (-57kg), Lara Cvjetko has been celebrating in all five fights for the gold medal. First, she overcome Lisić (SRB), followed by Monaco (ITA). Afterwards she continued by defeating Logos (POL) to enter the semi-finals, where scoring Wazari against Gonzaga (BRA) secured her place in the final. Ozbas (HUN) tried to challenge the Croatian judoka, however, Cvjetko was the better of the two.
"Well of course I was hoping to get gold, but it's was present that positive pressure, as current European Champion, everybody expects gold from you. I'm very happy to won gold medal in my home town in front of my town. I hope so that all team will do even better at the upcoming European Championships." – U57kg gold winner Lara Cvjetko said.
New name, Katarina Krišto had very similar way to the finals as her teammates, which, in the first appearance, overcame Haberstock (FRA) and Game (GBR). In the quarter-finals, she defeated Ciano (ITA) whilst during the semi-finals she won against Bereza (BRA). In the final contest, Krišto outclasses Tašić (SRB) by Ippon to win the gold.
Judoka
---