Zalgirio Areena welcomed all participant during the first day of the Cadet European Judo Championships 2017. The eight lowest weight divisions were on show and by the end of day one, seven different national anthems played celebrating golden moments. Turkey, Georgia, Hungary, Croatia, Azerbaijan, Germany all took a victory each, whilst Russia doubled the joy by two winning performances.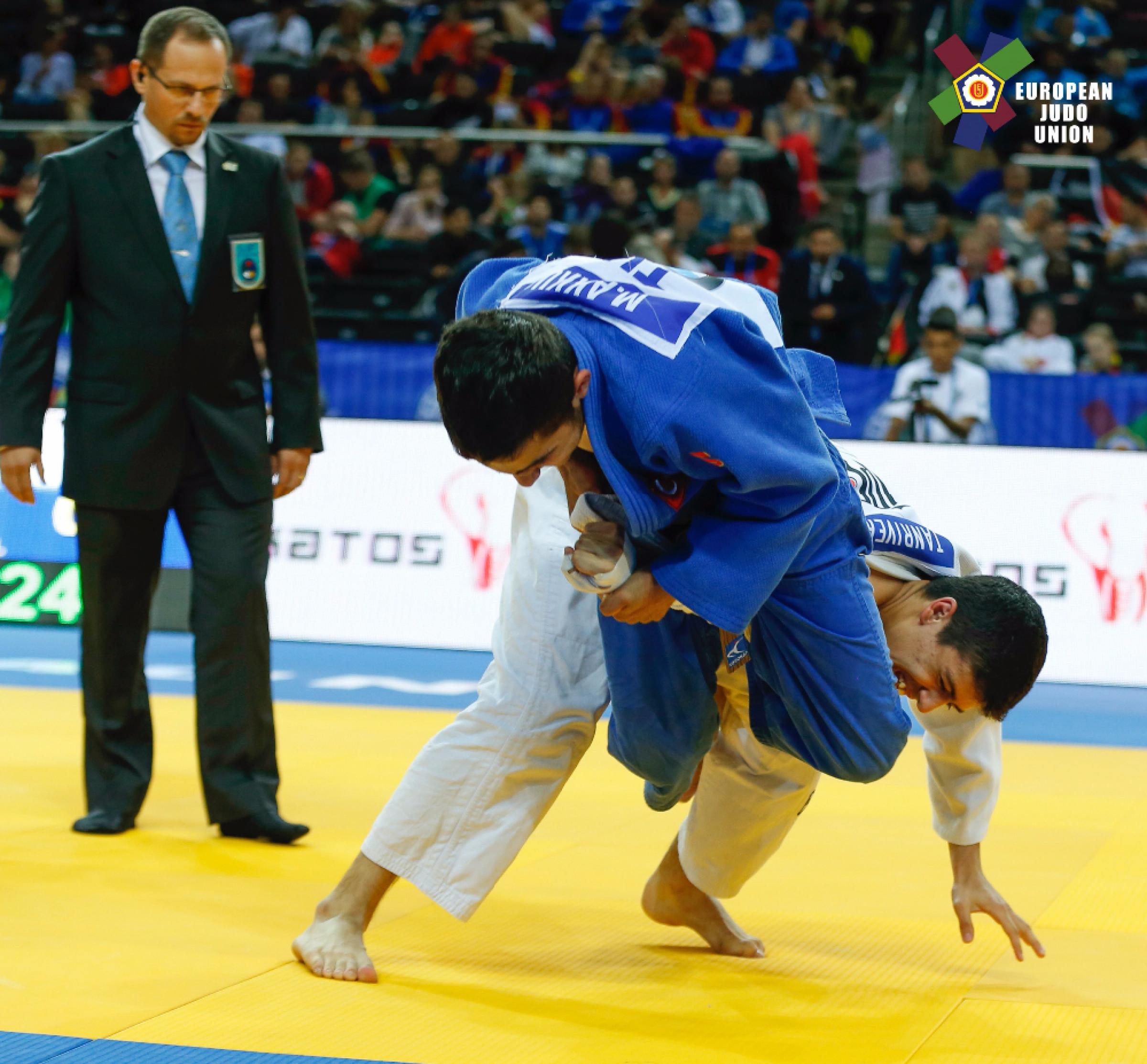 Mihrac AKKUS (TUR) displayed a significant performance in the -55kg category which resulted him not only claiming a Cadet European Judo Championships title, but becoming EJU player of the day. The 17-year-old judoka began his day by eliminating Emil HENRIKSSON (SWE) and Kyprianos ANDREOU (CYP). The quarter-final saw Luka KAPANADZE (GEO) falling of an ouchi gari from Akkus and shortly after Matan SHANI (ISR) tumbled of the excellent skills of the Turkish judoka.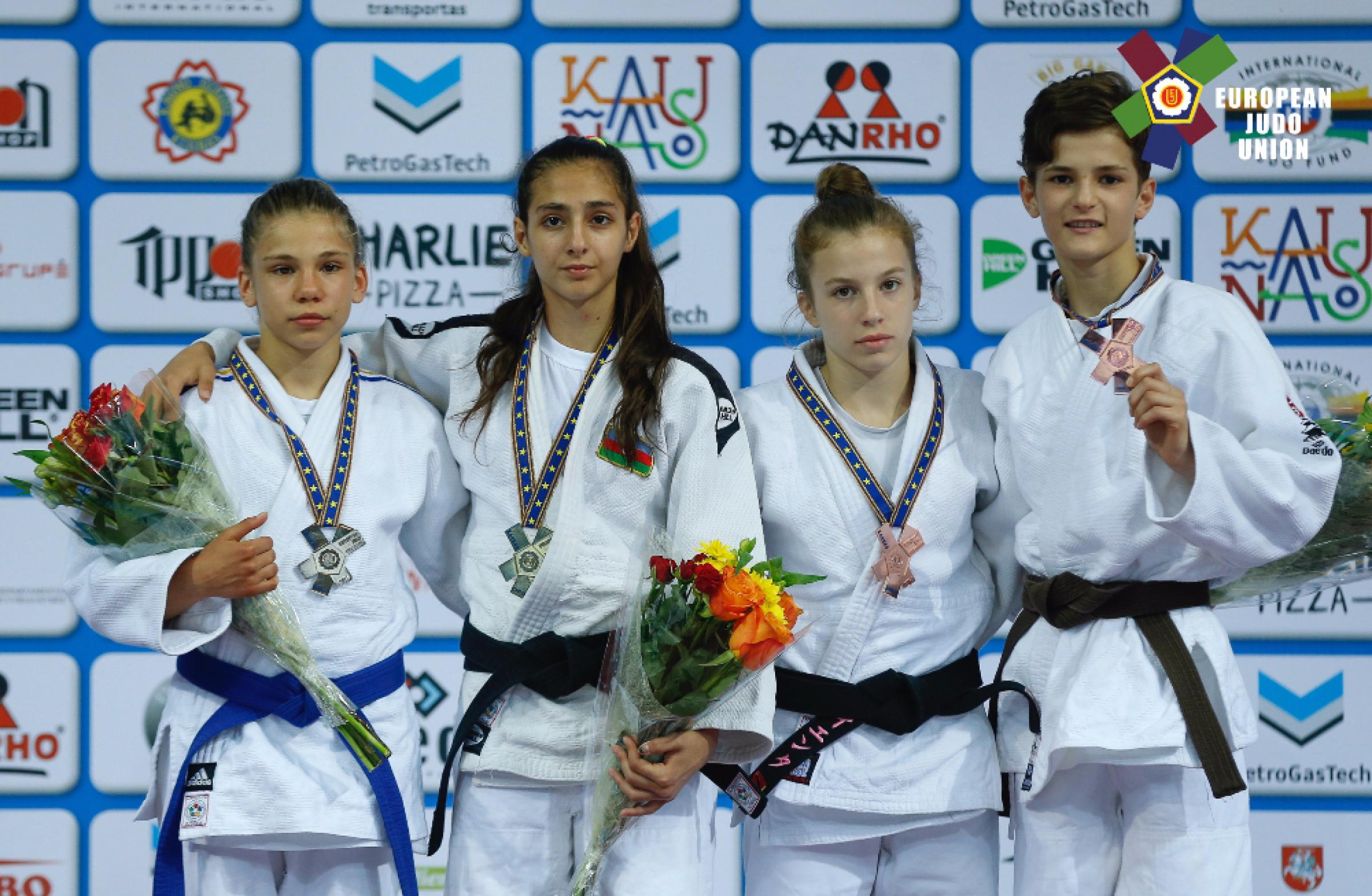 -40 kg 1. KARIMOVA, Vusala AZE 2. BALABAN, Anastasiia UKR 3. VERSTRAETEN, Jente BEL 3. NIKOLIC, Ivana MNE – Carlos Ferreira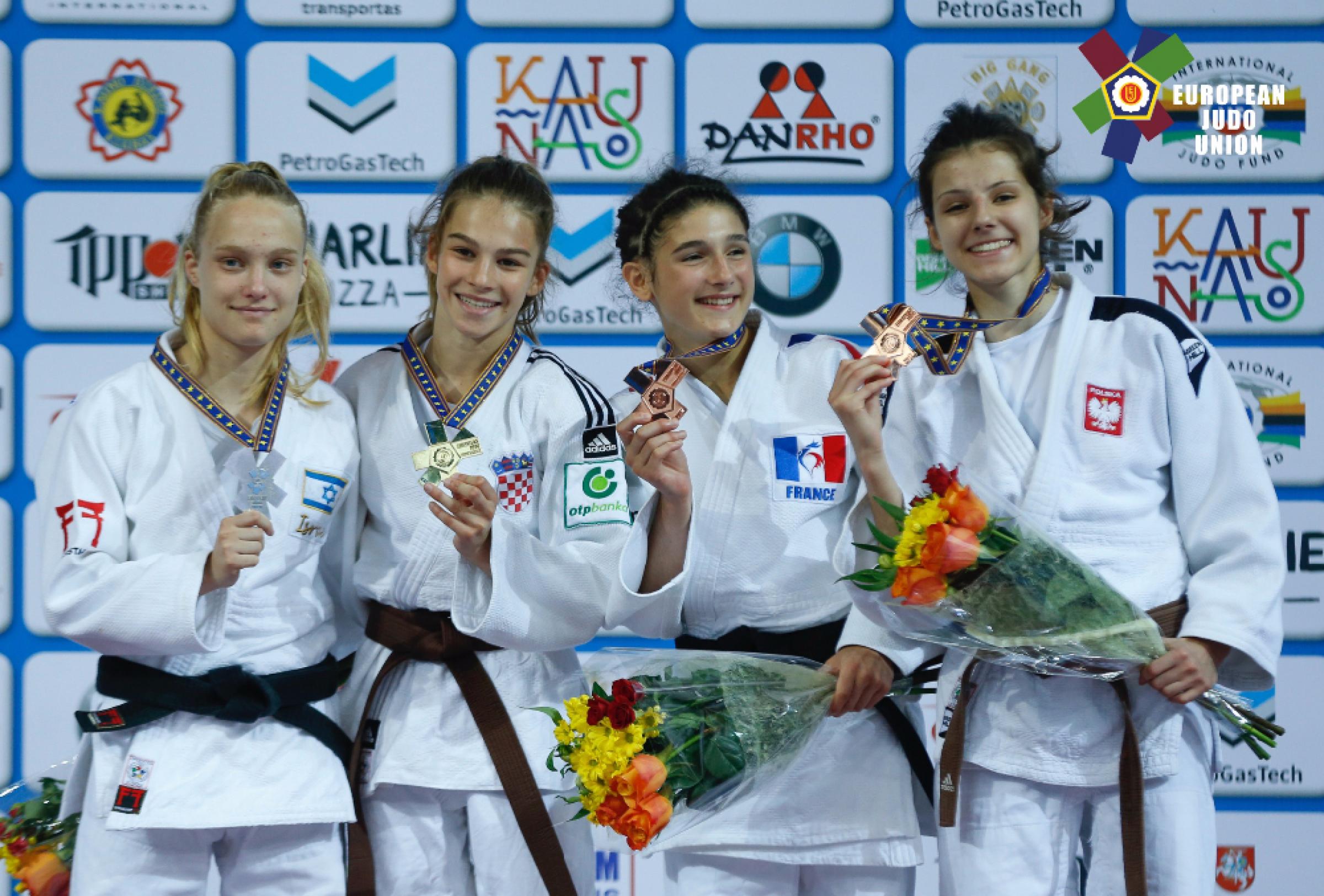 -44 kg 1. PULJIZ, Ana Viktorija CRO 2. MALCA, Tamar ISR 3. GATEAU, Liza FRA 3. SZLACHTA, Nikola POL – Carlos Ferreira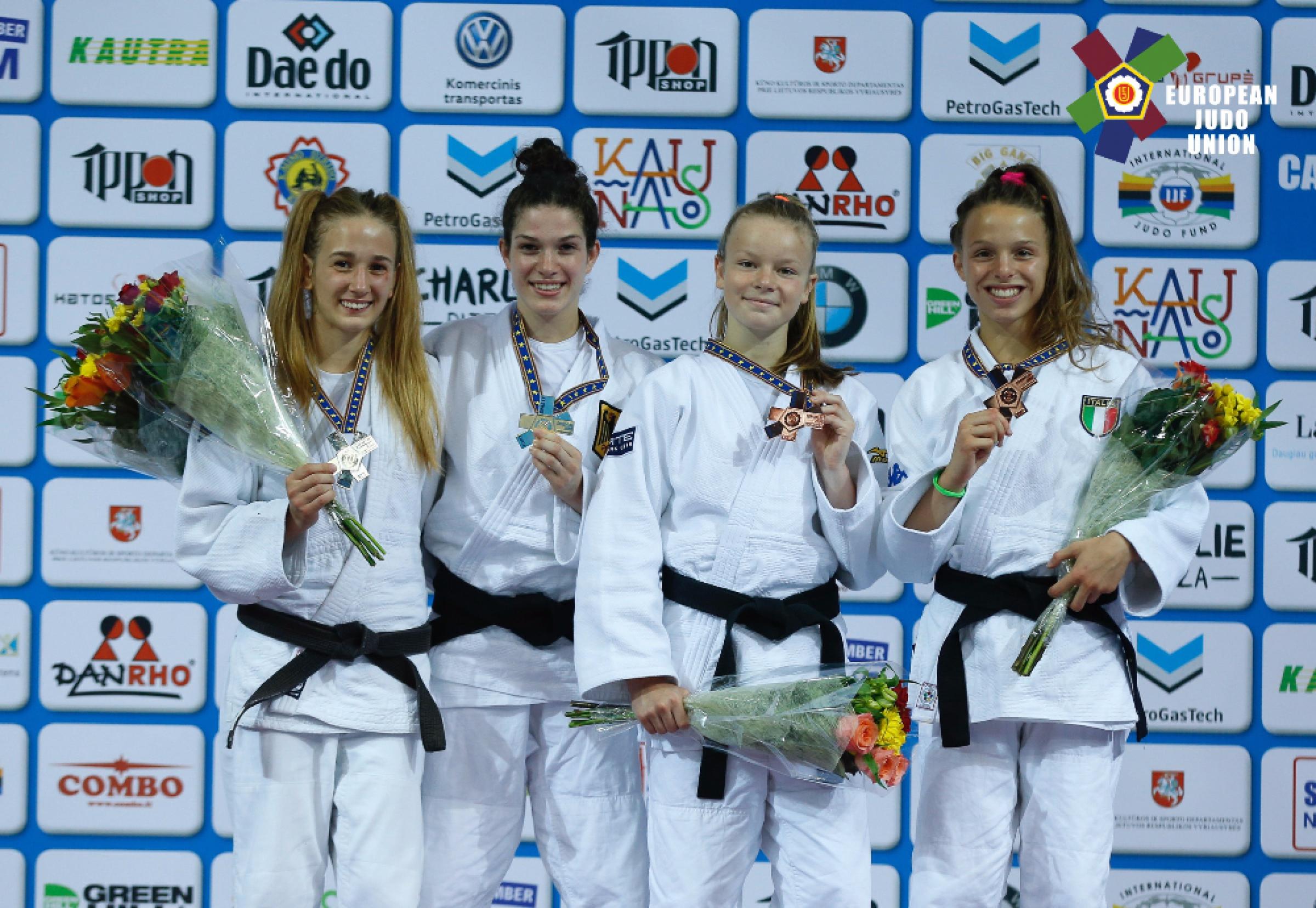 -48 kg 1. BALLHAUS, Mascha GER 2. STOJADINOV, Andrea SRB 3. GUSSENBERG, Jana GER 3. PALANCA, Chiara ITA – Carlos Ferreira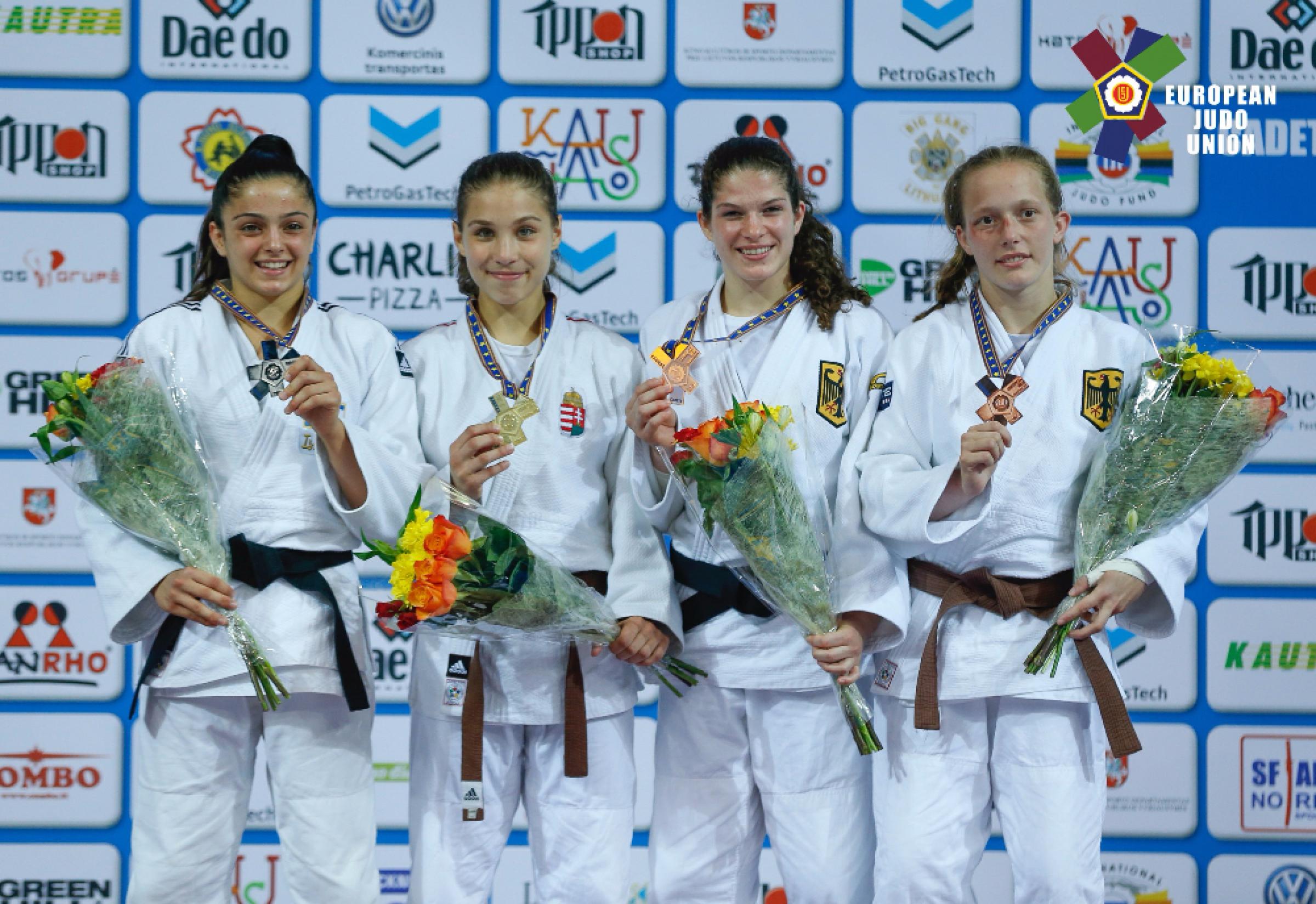 -52 kg 1. OZBAS, Szofi HUN 2. PRIMO, Gefen ISR 3. BALLHAUS, Seija GER 3. WUERFEL, Annika GER – Carlos Ferreira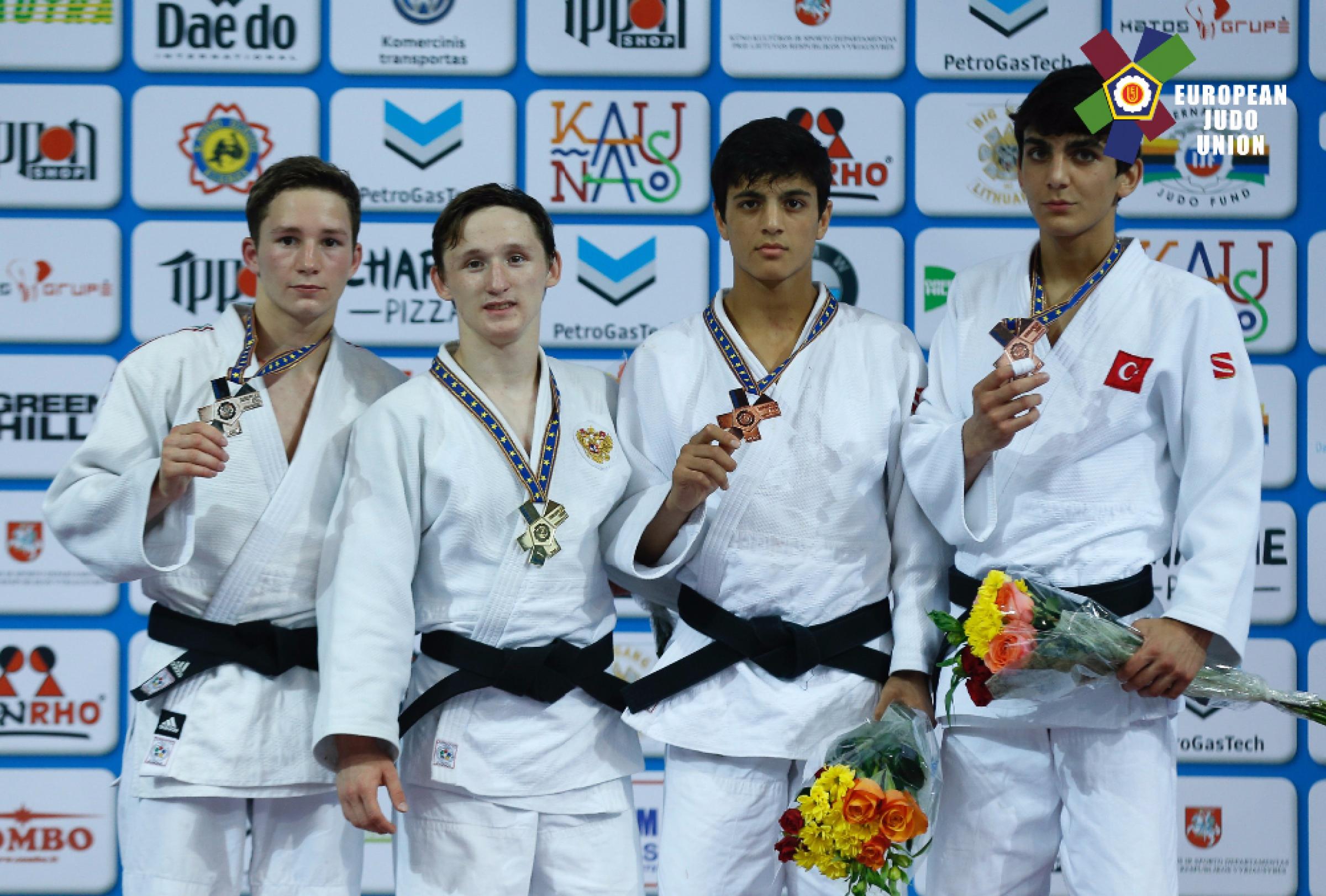 -50 kg 1. TRETIAKOV, Georgii RUS 2. FECZKO, Csanad HUN 3. KARA, Abdulaziz TUR 3. TOKAY, Ejder TUR – Carlos Ferreira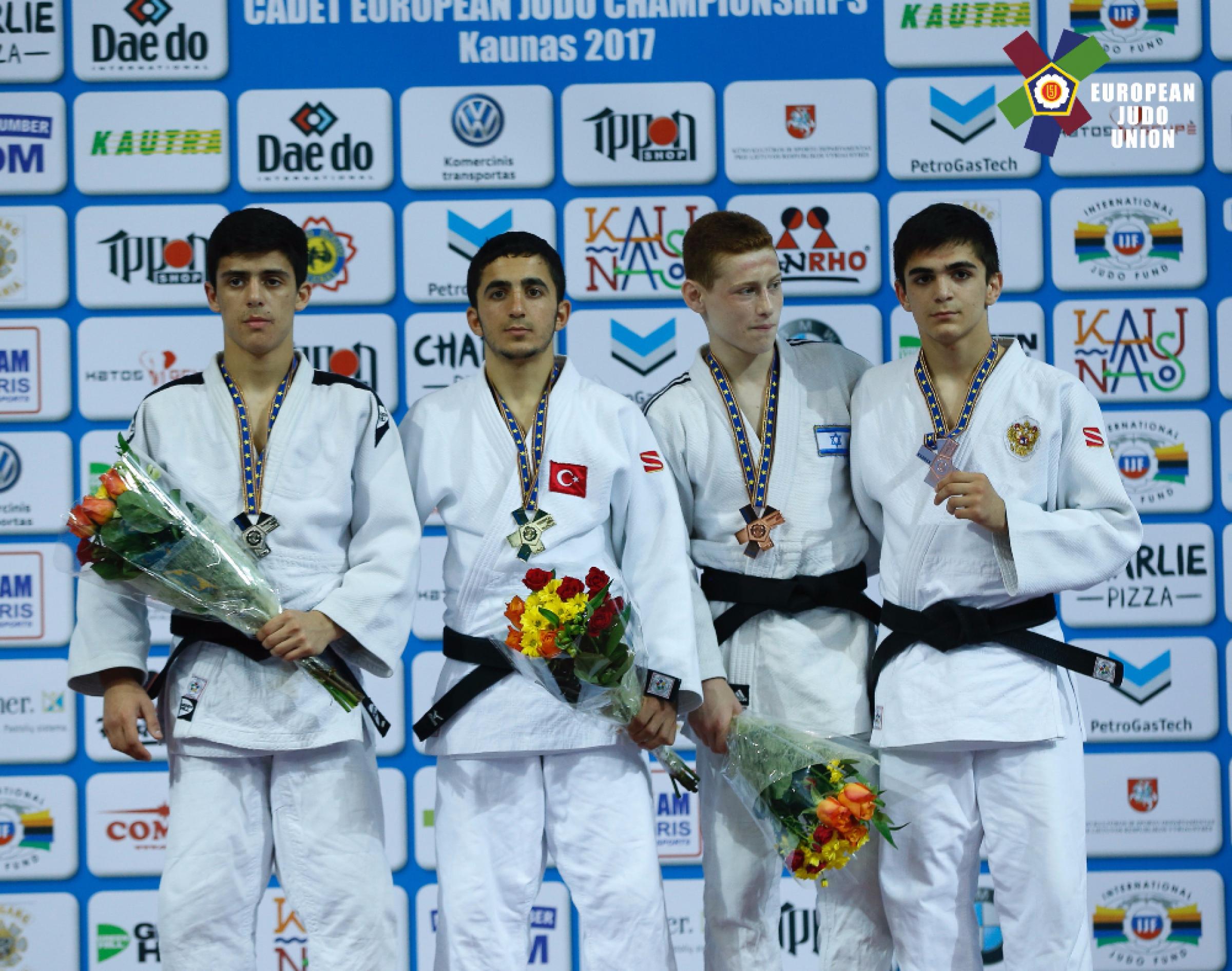 -55 kg 1. AKKUS, Mihrac TUR 2. TANRIVERDIYEV, Aykhan AZE 3. SHANI, Matan ISR 3. NAGUCHEV, Abrek RUS – Carlos Ferreira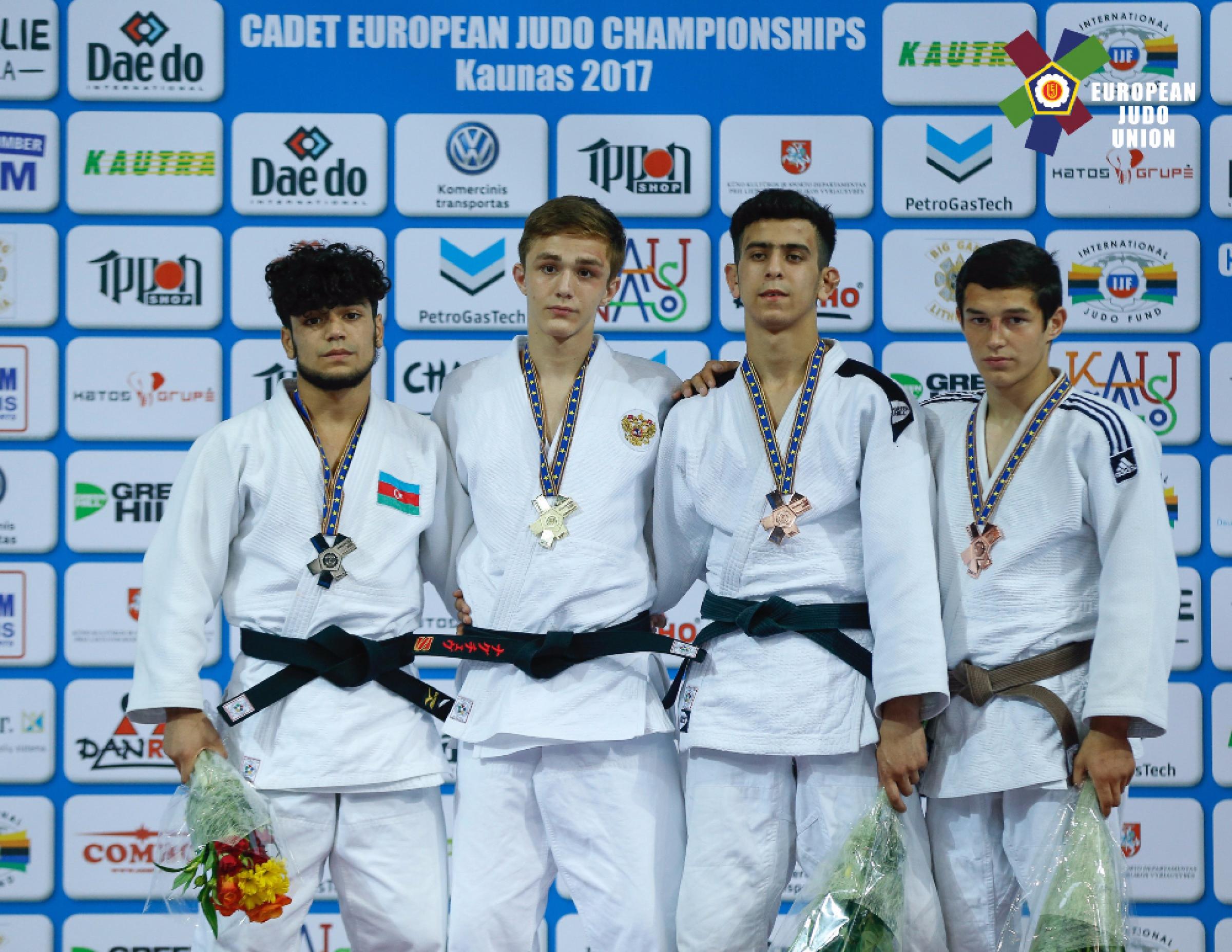 -60 kg 1. NAGUCHEV, Kazbek RUS 2. IBRAHIMOV, Vusal AZE 3. ABASLI, Davud AZE 3. CHERNOV, Vadym UKR – Carlos Ferreira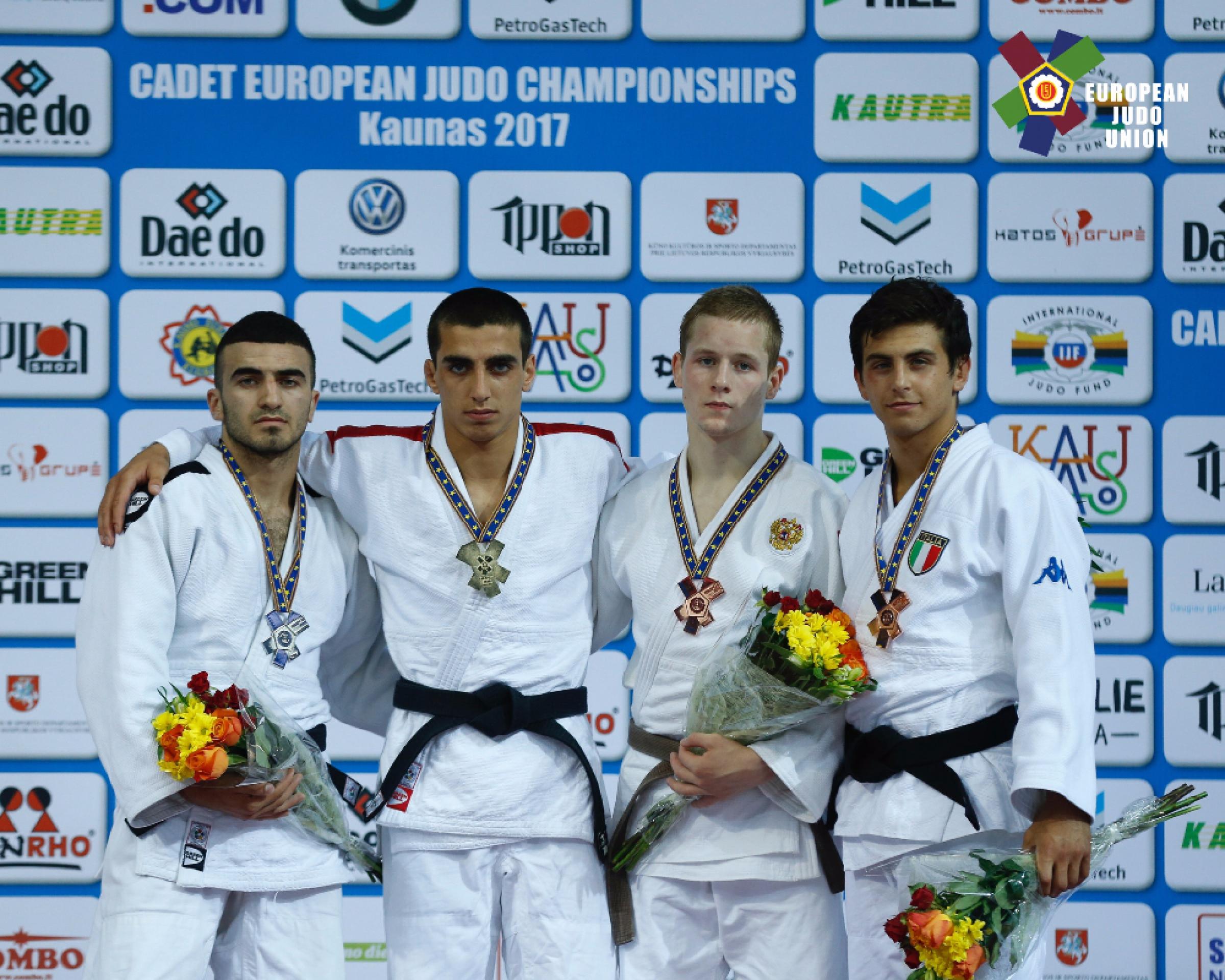 -66 kg 1. BAKHBAKHASHVILI, Mikheili GEO 2. MAHMUDLU, Gnyaz AZE 3. PRIDIRA, Dmitrii RUS 3. ZARACA, Giovanni ITA – Carlos Ferreira
Meanwhile, on the upper half of the draw, top seed Abrek NUGACHEV (RUS) suffered a defeat during the semi-final against number four seed, Aykhan TANRIVERDIYEV (AZE). This resulted a Tanriverdiyev vs Akkus final in the -55kg category, where the young Turkish athlete continued his consistency, yet, this time, he excelled in newaza when succeeding for gold by an armlock. Akkus expressed his delightfulness after the medal ceremony;
"I worked a lot and I trained so hard and plus I had to lose weight, but now all the hard times paid off which I am really happy about. I worked hard for gold and I got it today. My hardest contest was today against the Georgian opponent, because he is left sided and I struggle against lefts sided opponents, but, to my coach advice, I managed to block the grip and keep being the one who is more active."
In regards to winning all his contest by Ippon, Akkus commented;
"I am always aiming for Ippon to save energy for the next contest."
What is next?
"Now the next task is to do well at the European Youth Olympic Festival (EYOF)."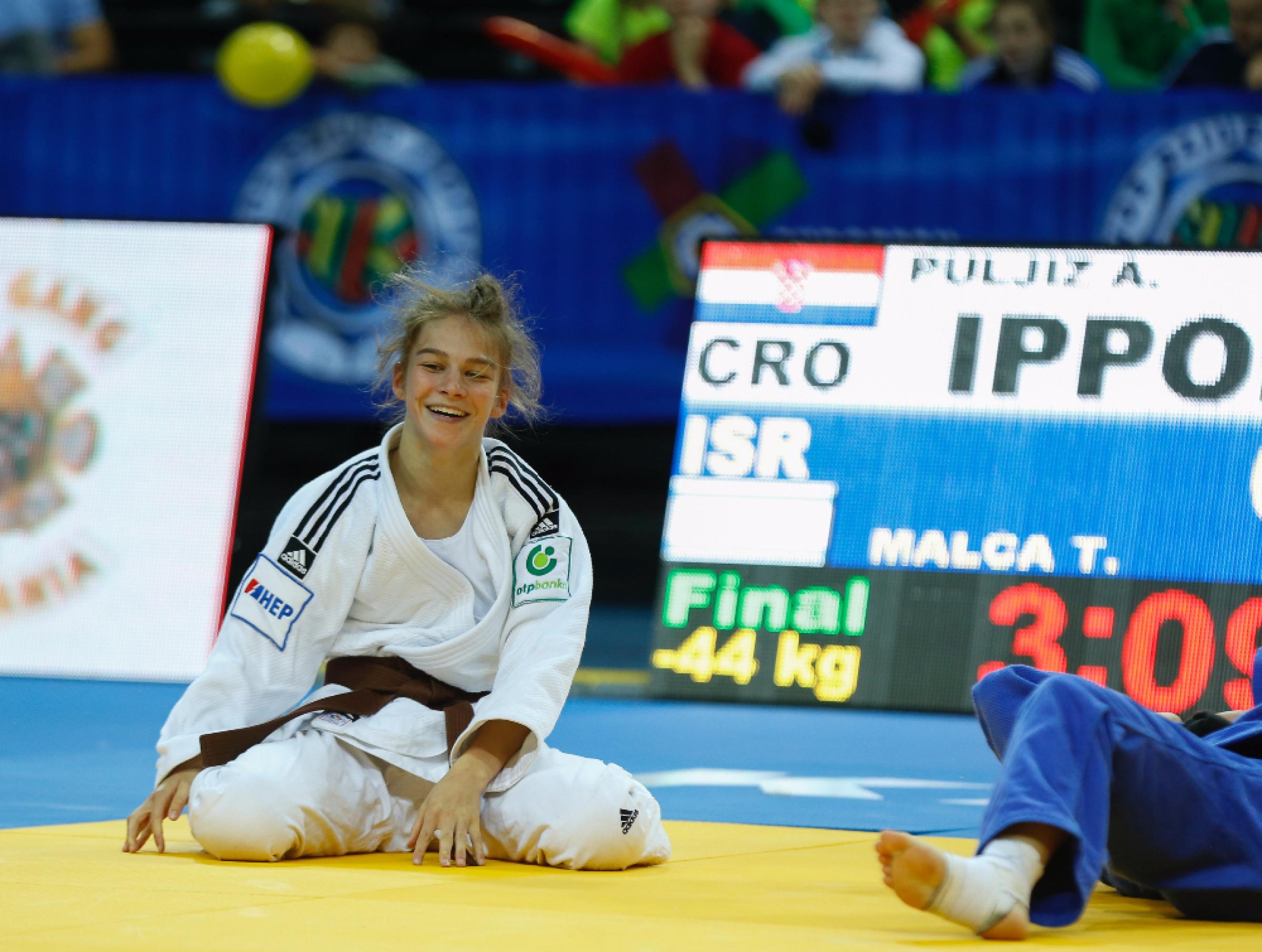 Ana Victorija PULJIZ (CRO) excelled by exceeding expectations and marched for glory in the -44kg category. Puljiz began her day as an unseeded player and hours later she was singing the national anthem of Croatia.
"I feel amazing. I was preparing for this all year and I didn't win any gold medal at all during the Cadet European Cups so this is amazing. I knew I could do this and I am very happy that I did. I was hoping to be in the top eight seed before this competition but I couldn't make it because I missed a competition due to a plane delay. It was not until after the second fight when I began to think about actually winning here today, but in all honesty, my goal was to do my best here, and I fought so great that I managed to win today. My next aim is to do well at the Cadet World Championships later on this year."
Judoka
---