For anyone who has attended the Dusseldorf Grand Slam, or even watched online, the drums are part and parcel of the event and create an incredible atmosphere for the home athletes. This was absolutely the case on the second day of the U23 European Championships 2023 and Germany can now boast two finalists and three opportunities to take bronze medals.
-81kg
In the lightest of the men's categories today, the number one seed and favourite of the day, Mihail LATISEV (MDA) didn't manage to make it out of his quarter, suffering defeat from Bernd FASCHING (AUT), who then went on to lose the quarter to eventual finalist, Jarne DUYCK (BEL). The Belgian athlete dominated his half of the draw, defeating Eetu IHANAMAKI (FIN) in the semi final, a second waza ari scored with sumi gaeshi to put him in with the chance for gold. Rivalling Duyck for the U23 title today will be Zaur DVALASHVILI (GEO) who managed to defeat Magerram IMAMVERDIEV (AZE) with a driving o uchi gari. Dvalashvili has shown promise this year with a Grand Prix bronze in Upper Austria, whereas Duck hasn't been privy to an IJF World Tour opportunity yet, though secured a European Open gold in Sarajevo.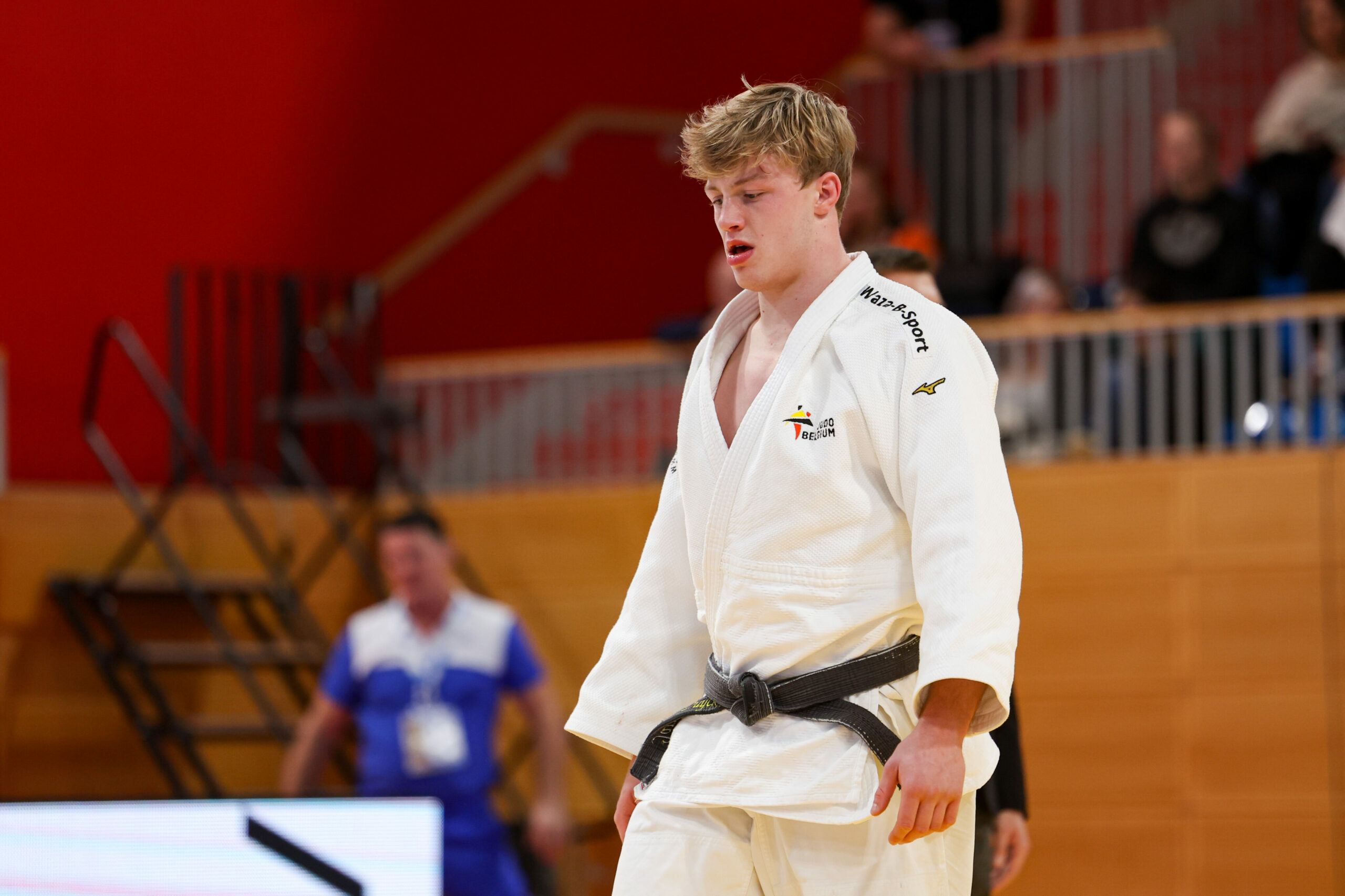 -70kg
Germany have defending U23 European Champion, Samira BOCK competing to take a second gold today and she has shown great promise, especially in her semi final against Tais PINA (POR), defeating her opponent in only 20 seconds with a well-timed o soto gari. Looking to steal the title for Ukraine is Anna OLIINYK-KORNIIKO, who was equally as effective with her ashi waza skills in her semi final with Poland's Aleksandra KOWALEWSKA, an o uchi – ko uchi gari combination securing the win. The Ukrainian athlete is still young, and was successful in her continental championships so far in 2023, winning a Cadet European bronze and EYOF silver already.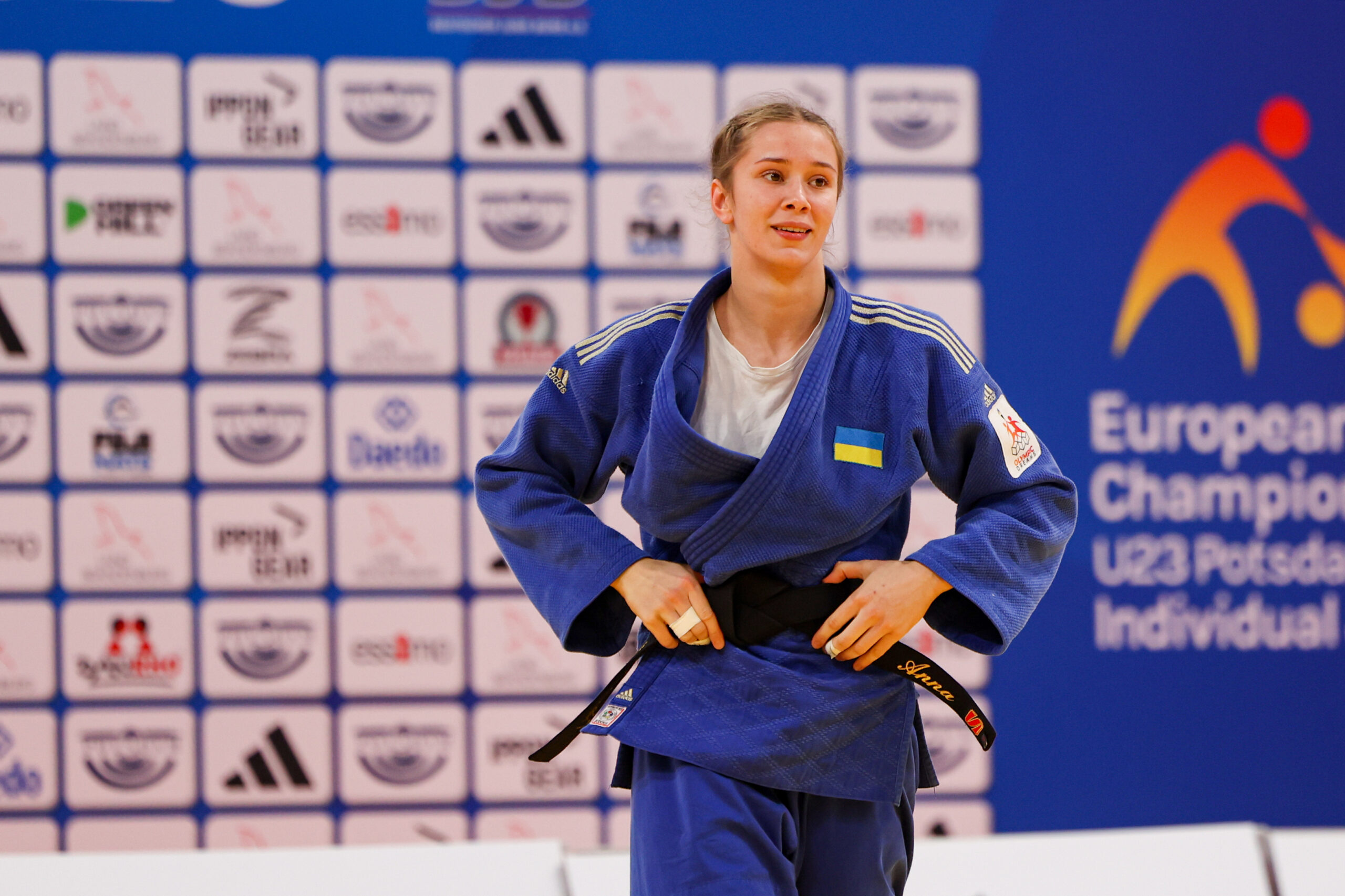 -90kg
Ukraine continue the great success from yesterday with the current Cadet European Champion Nikita YUDANOV (UKR) who took on the number one seed, Alex CRET (ROU) in the first of the -90kg semi finals. It wasn't an easy contest, leading in to golden score, but a strong uchi mata from Yudanov took him to the final against the 2021 Junior World Champion and this years Ulaanbaatar Grand Slam bronze medallist, SAFRANY Peter (HUN). The Hungarian athlete took the win against Josip BULIC (CRO) early in the contest, scoring waza ari with o uchi gari, arguably the most popular technique of the day as it seems.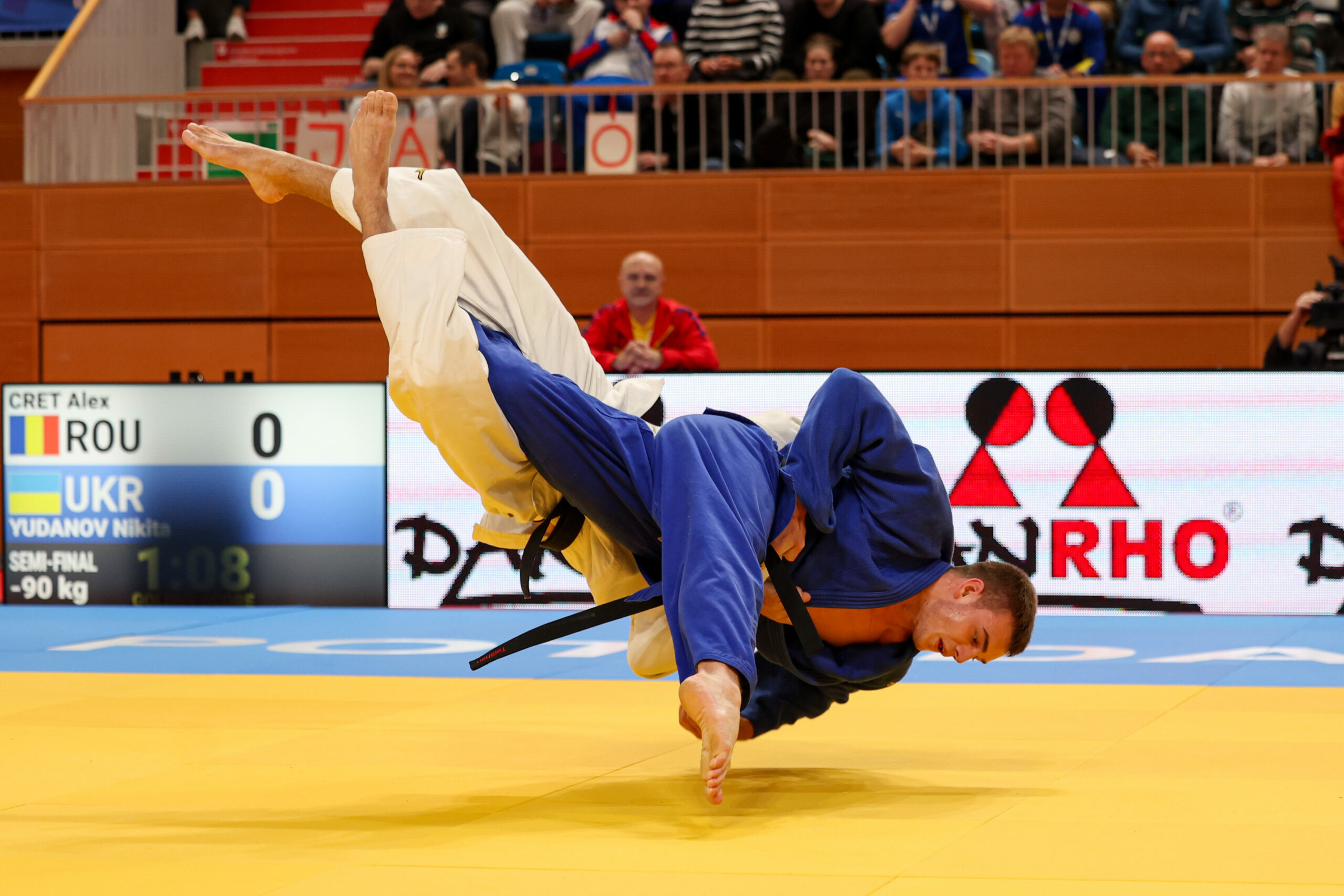 -78kg
Yael VAN HEEMST (NED) has been making a strong comeback following an extended break from competition due to injury with a Grand Prix fifth place and European Open bronze, but her will did not match that of local Potsdam opponent, Rafaella IGL (GER). The Dutch athlete scored first, early in the contest with – you might have guessed it – o uchi gari, but this only fuelled the crowd and Igl more who levelled the playing field with a huge seoi nage, transitioning in to ne waza for a huge win.
The competition will be very strong in her final against Grand Slam and Grand Prix medallist, Yuliia KURCHENKO (UKR). The number one seed defeated Una DOLGILEVICA (LAT) in the semi final with some nice ne waza work and scoring ippon with a submission.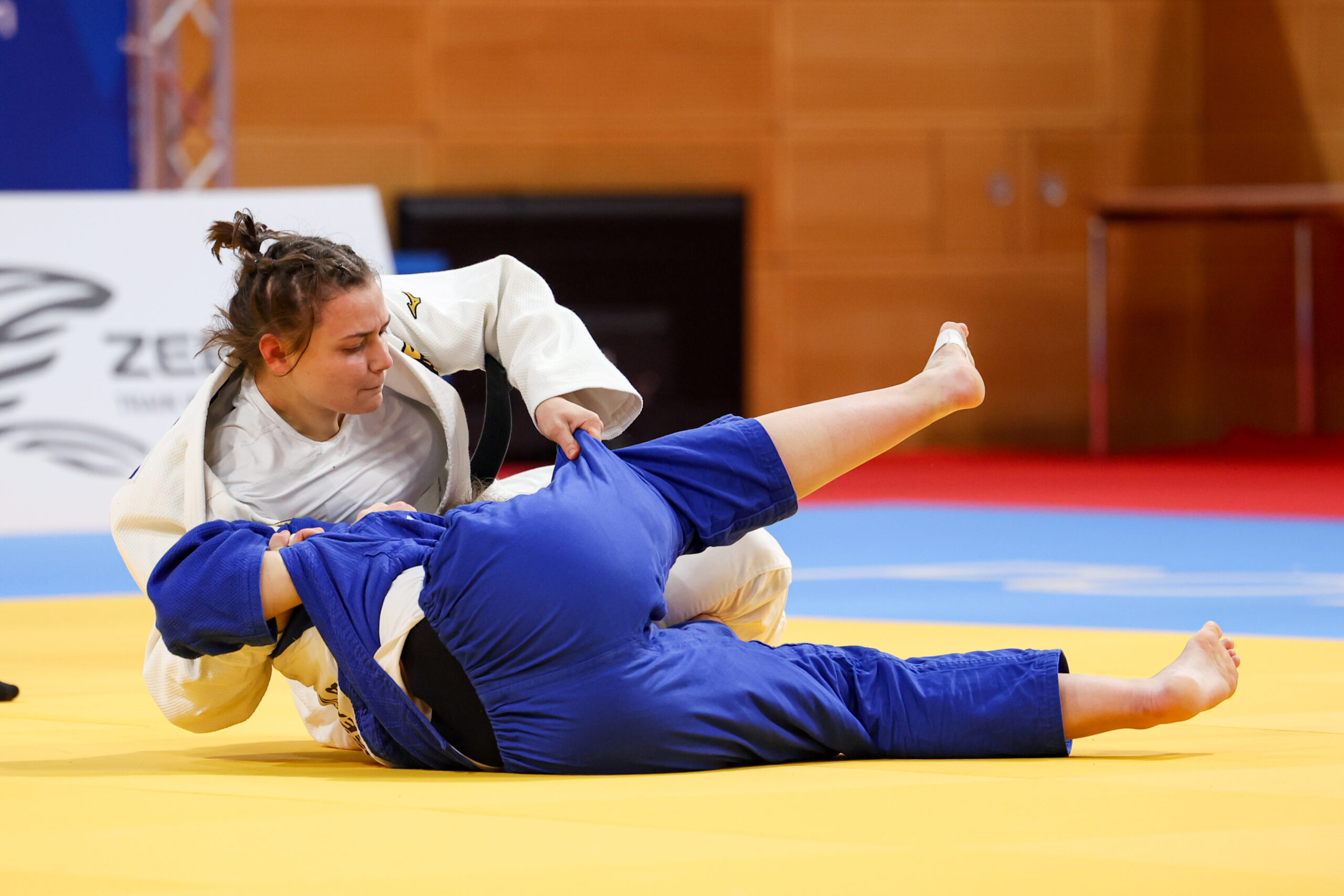 -100kg
Great Britain will take their first medal in the tournament from Oliver BARRATT (GBR) who took the silver medal in the European Open this year along with senior cup achievements. His ne waza skills brought him through his opening rounds, taking him to the semi final against Viktor ADAM (SVK). Barratt managed the contest, and his opponent well, anticipating an uchi mata attack and countering for waza ari, then as the clock ticked down, he cemented his place in the U23 European final with a huge harai maki komi.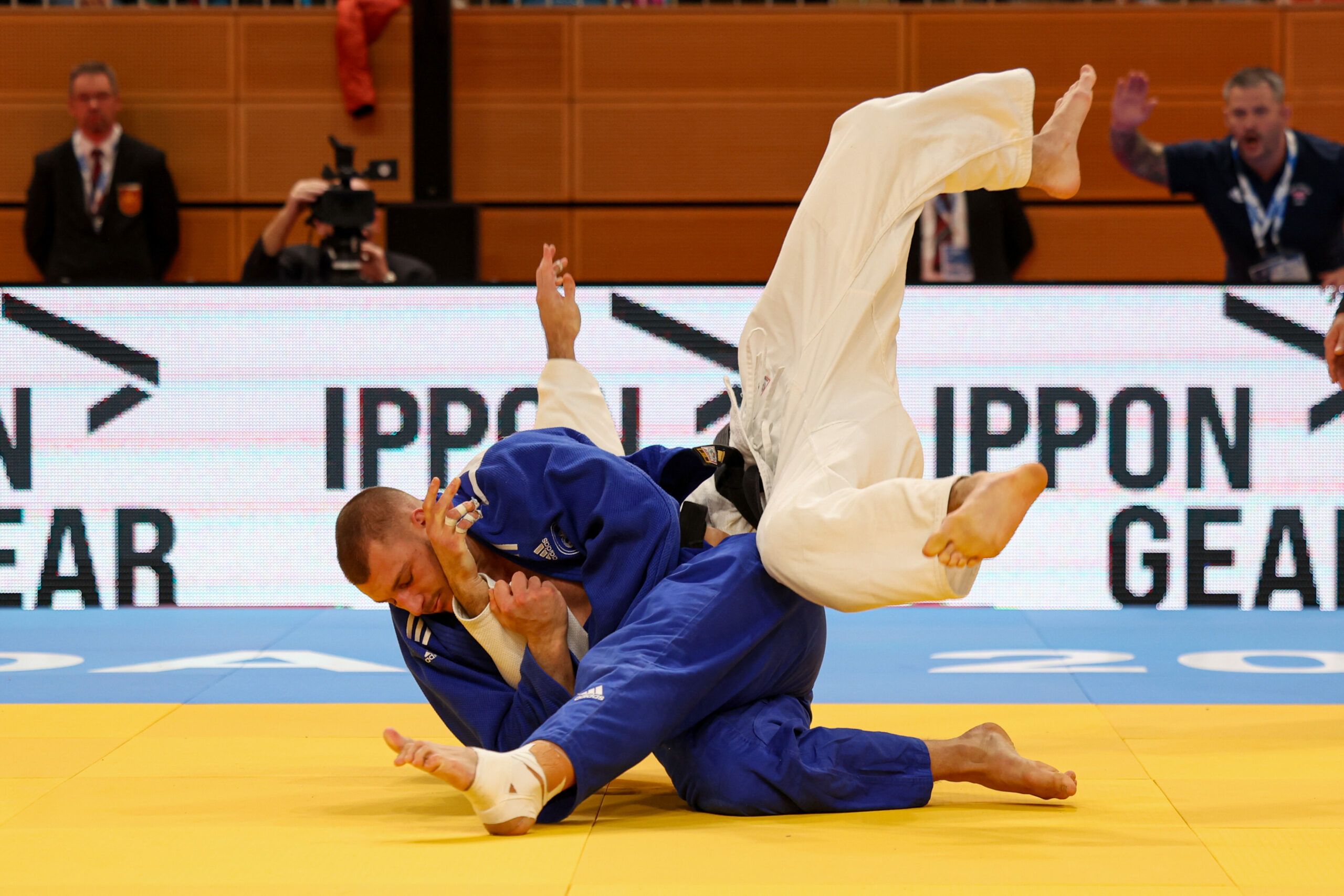 Meeting Barratt there, and hoping to take another continental title is 2022 Junior European Champion, Daniele ACCOGLI (ITA). It was a golden score conclusion for the Italian athlete against Oleksii YERSHOV (UKR) who had run out of steam, allowing Accogli to capitalise and simply move in to a hold down which Yershov was unable to defend.
+78kg
The semi final between Carmen DIJKSTRA (NED) and number one seed, Kinga WOLSZCZAK (POL) was a physical test for the pair and quite a tactical match, with Wolszczak typically leading in the the exchanges. However conditioning lay in favour of the Dutch athlete which won her the contest in the end, racking up yet another final for the Dutch team following their three from day of competition.
Meeting Dijkstra in the final was Erica SIMONETTI (ITA), the 2019 Cadet European Champion who made it to the Abu Grand Slam medal contest, narrowly losing out on the bronze. She had a tough golden score semi final contest against the 2022 U23 silver medallist Ruslana BULAVINA (UKR), eventually securing the win with a strong o soto gari.
+100kg
It will be an all-Georgian final between Saba INANEISHVILI and Irakli DEMETRASHVILI for the +100kg gold medal, both of whom took their semi final wins in ne waza. Inaneishvili is a regular on the senior tour but is yet to take a continental title, as is his team mate, both holding silver medals.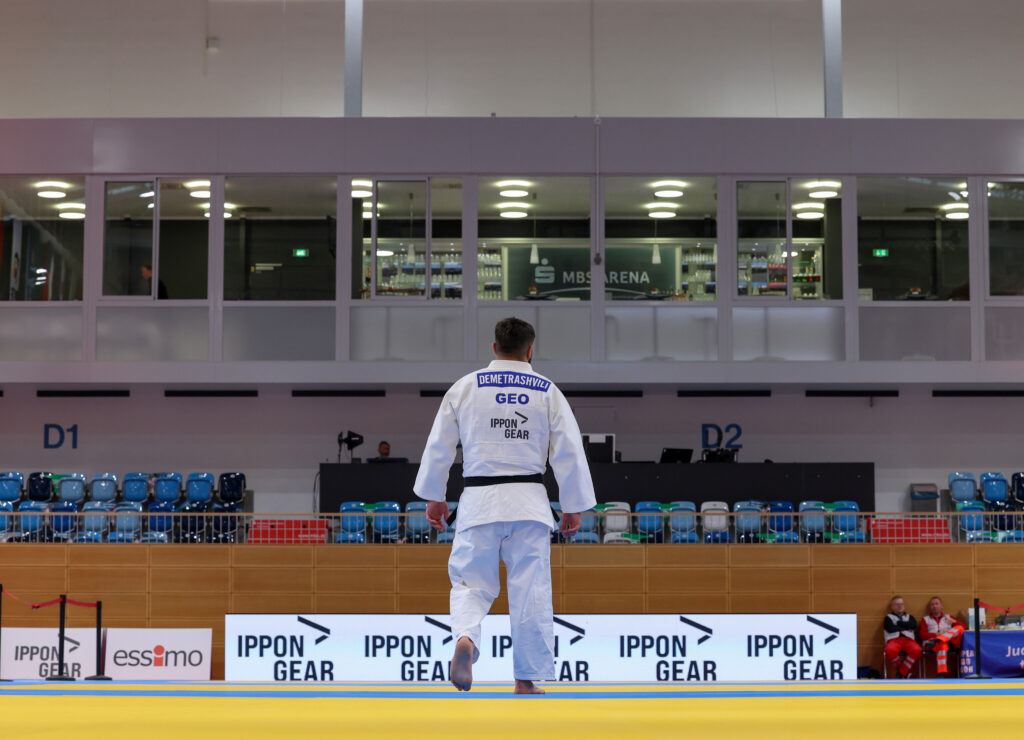 Inaneishvili, the number one seed, defeated Darius GEORGESCU (ROU) with an arm lock, and controlled the contest, forcing the Romanian athlete to pick up two shidos throughout the contest. On the other hand Demetrashvili managed to score waza ari first with uchi mata against Igor VRACAR (SRB) before a transition in the final seconds. This could be a tricky one for the heavyweight men as they know each other so well but anything can happen, the pair have faced each other only once in a Junior European Cup in 2021, which was concluded on shidos.
Judoka
Author: Thea Cowen
---