Day one was a dynamite start for the Dutch team who took away two gold medals, not only the first in judo but for the whole Dutch delegation in the European Youth Olympic Festival.
First up in the final block was the number one seed and expectant gold medallist, Vera WANDEL in the -44kg category. She has simply been on fire this year, not settling for anything less than a gold medal in her previous four tournaments, and she didn't allow it to slip away here either despite a close final against SZELECZKI Szabina (HUN). Only last month Wandel became Cadet European Champion in Poreč, Croatia, and now holds the EYOF title.
I feel amazing, I'm really happy with my result. It has been a great year for me but you can never expect the gold, you have to fight for it. Going in to the final I had a plan, I wanted to make sure she didn't grab my neck, this was important for me and I had to hold it off. After that it was a case of just 'playing'!

The team spirit is really nice and the experience has been great so far and I still have a whole week to go. I think the support is amazing and I'm happy I could be the first gold medal for the Dutch team. My day couldn't have been better and I didn't feel so much pressure, just wanted to enjoy it and go step by step.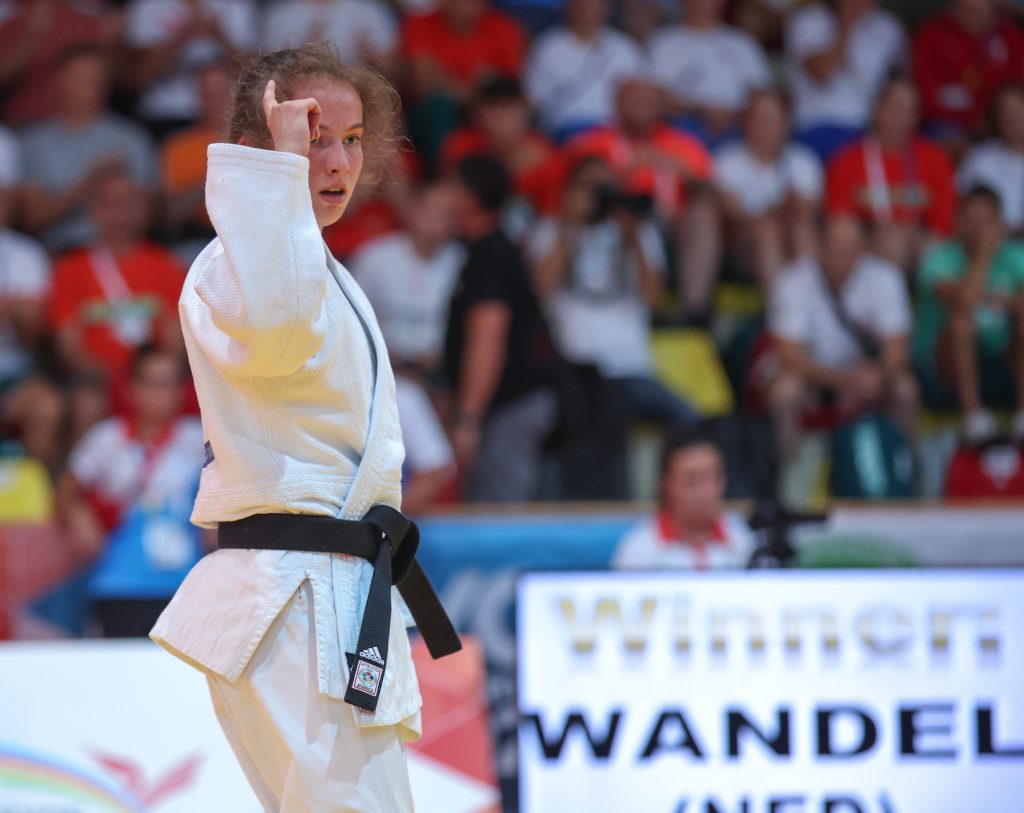 The ultimate final of the day was also up for grabs for the Dutchman, Jochem VAN HARTEN who was up against Nurlan KARIMLI (AZE) for the -60kg gold. Both athletes had had tough days, burdened by golden scores, and in the end the similar styles won out in their respective halves of the weight category leading them to a terrific head to head.
I feel really good, it wasn't that expected so a nice surprise. Before this I haven't won a lot of great competitions and this is the first major title for me. It was a really hard day, my first fights so hard but I kept going just thinking I need this to go my way.
I like this style of being really close and I waited, I knew once I was on his back then I just had to go all in and see what happens and hopefully not regret it later! Myself and my team mate (Wandel) both had a great day but when she won the gold medal it was a real boost for me and I'm so happy for her too. I'm happy that we are leading the medal table and have taken the first gold medals for the Netherlands in EYOF!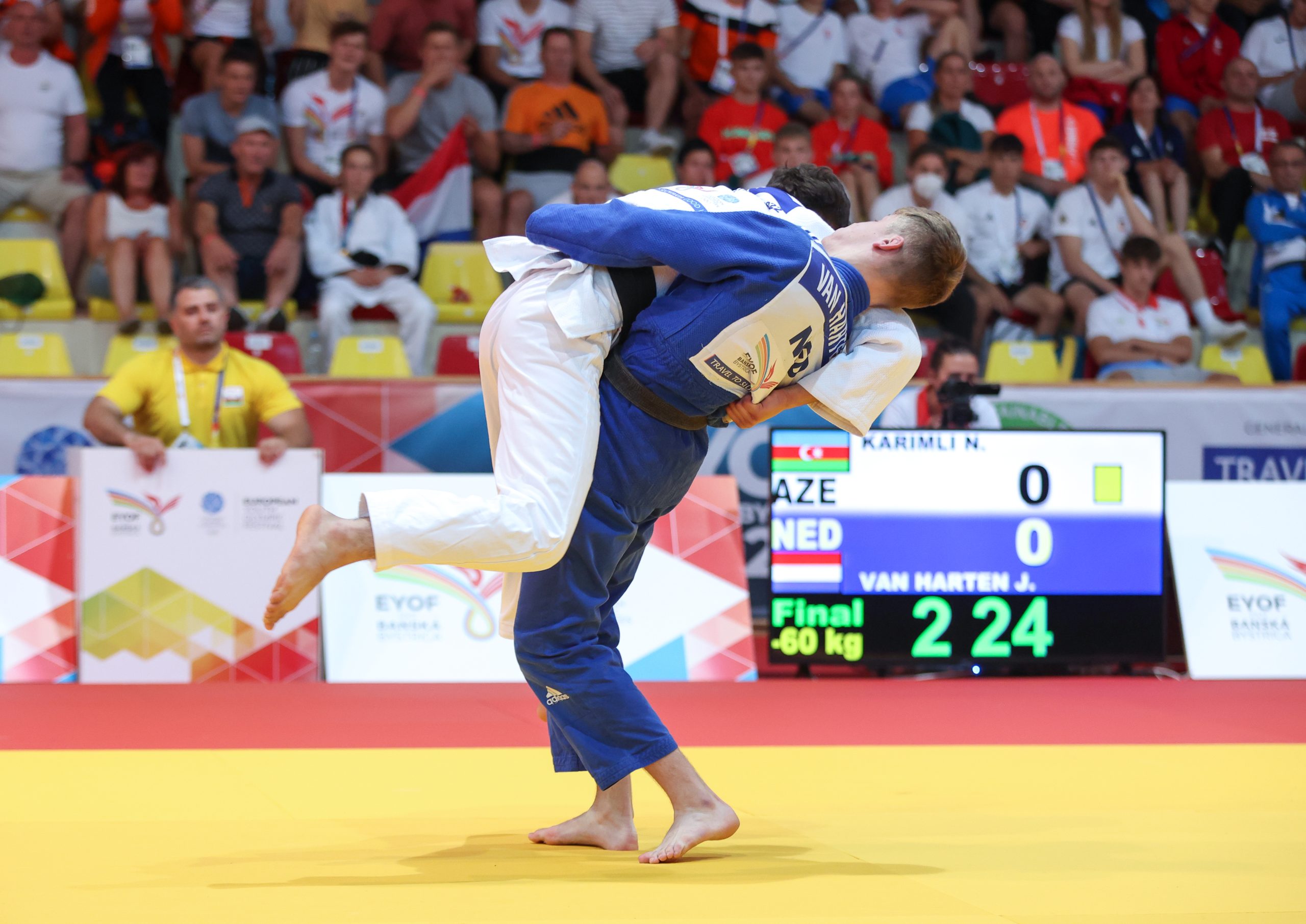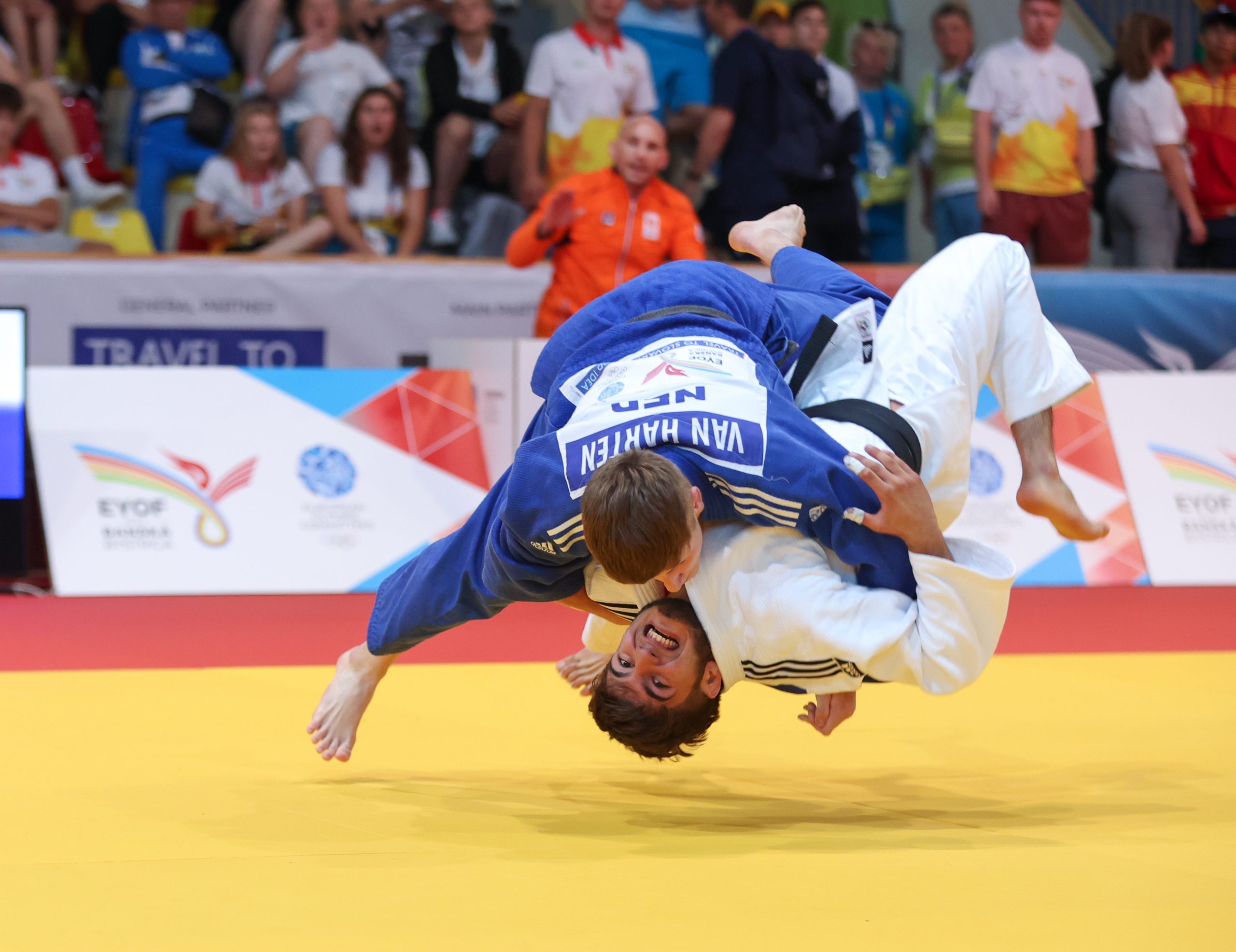 …and down. Gold for Jochem VAN HARTEM (NED).
It was a swift final for Van Harten who scored with uchi mata, lifting his opponent on to his thigh with no hope of escape before turning and bringing him to the ground, scoring ippon and becoming the EYOF champion.
Judoka
Author: Thea Cowen
---