The European Club Championships (ECC) took place today at the New Sports Palace in the heart of Tbilisi, Georgia. The venue was blended with enthusiastic spectators as their welcomed the total number of 19 teams which were on show today.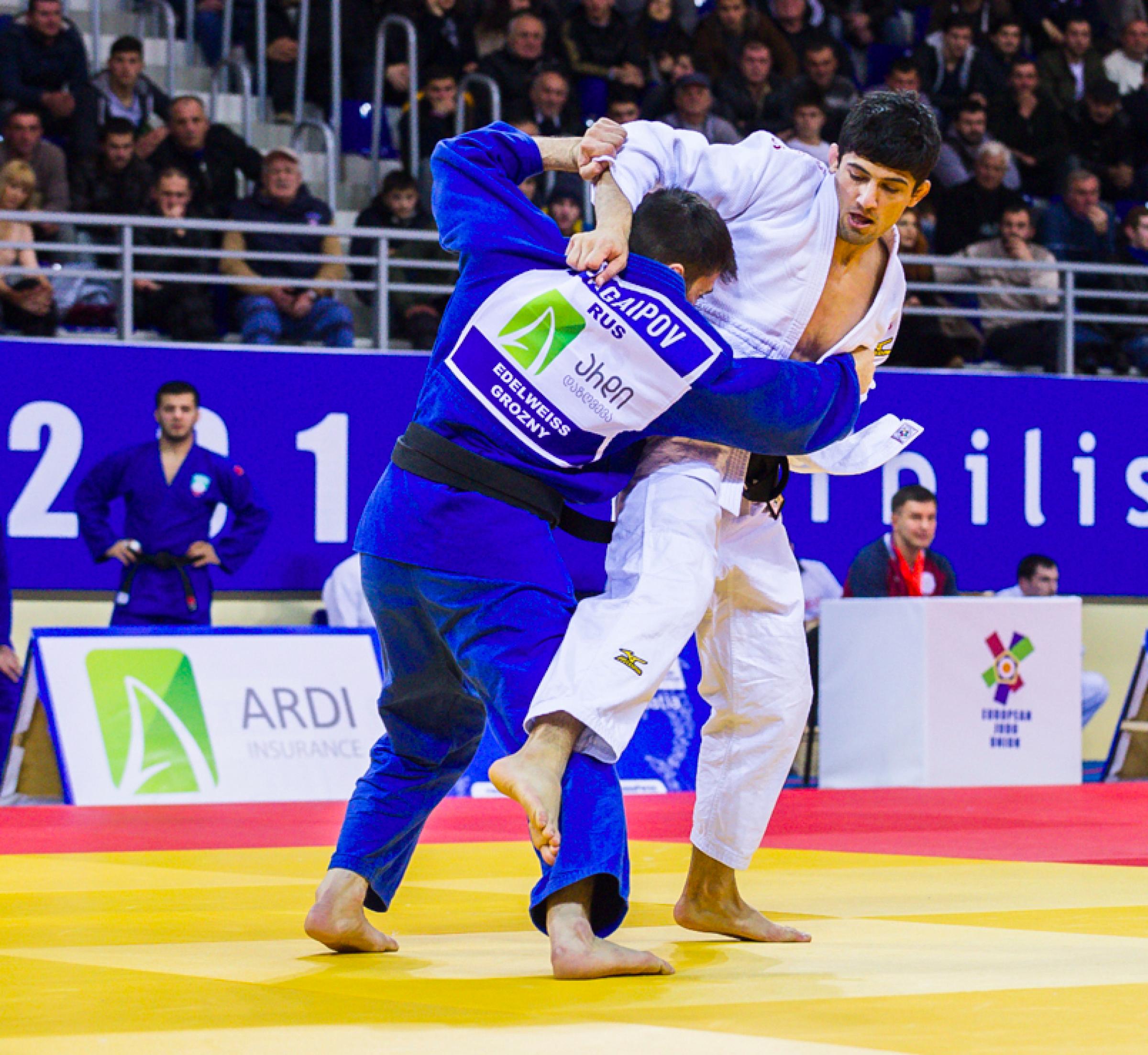 The seeding for the men teams involved one Georgian and three Russian teams with no doubt that all three of them were hungry to take down home favourite, SAGAREDJO FF SUPERSTARS. However, the seeding proved itself and after a disappointing fifth place at last year's ECC, Georgia, on their own door step, proved themselves to be the best. The Superstars started off with a buy in the first round before facing non seeded, fourth Russian team, SPORT JUDO CLUB EDELWEISS GROZNY (EDELWEISS GROZNY), where after a slow start they picked up a fast pace and defeated their opponent with a 4:1 win. There it was the semi-final which put most of those who watched right onto the edge of their seats. This was caused by number four seeded Russian team, RATIBORETS EKATERINBURG (RATIBORETS) who by than defeated two other teams and was ready to furnish a tough time to the Georgians. Each and every contest were going head to head and the decision making point was down to Levani MATIASHVILI, who stunned his opponent for Ippon to allow his team to keep the golden opportunity.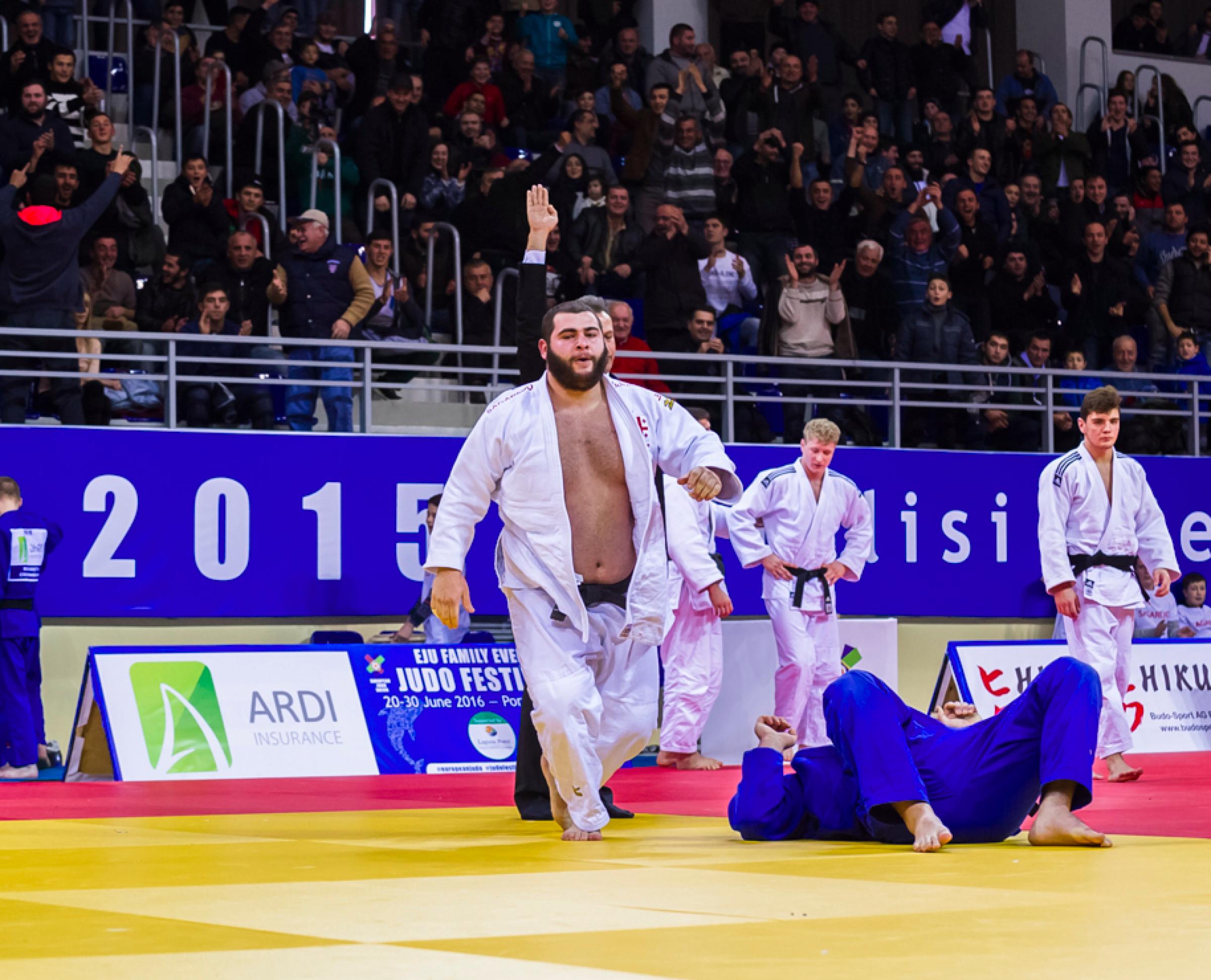 Meanwhile, number three seeded Russian team, GREEN HILL KBR NALCHIK (KBR NALCHIK) also began the day with a free round before facing one of the three French teams, LE CLUB OLYMPIQUE DE SARTROUVILLE (CO SARTROUVILLE). It was a clean sweep for the Russians as they pursue onto the next round to face number two seed home rivals, NEW STREAM TYUMEN. Both teams, in skills as well as in spirits were in parallel, yet with a 3:2 winning achievement GREEN HILL KBR NALCHIK (KBR NALCHIK) has been given the opportunity to catch the big fish in the final. Which they almost did so. Until up to the fourth contest the Russian team was leading by 2:1 when 2015 IJF World Masters winner, Beka GVINIASHVILI pulled out a stunning right sided koshi guruma to save the team from falling. "There was definitely some level of pressure but I knew that here we fight us a team including with our spectators so I knew I had to win", explained Gviniashvili after the final. Next and last up there it was MATIASHVILI once again to lift up SAGAREDJO FF SUPERSTARS. The second minutes into the contest the Georgian heavy weight executed an astonishing ashi waza to sweep his opponents away whilst sweeping the audience off their feet. "Fighting last is always a pressure and the same like for Beka, I knew we are not only here as team of judo players but our supporters and the whole country was watching. I was confident I can win the contest and I am really happy I did so", explained Matiashvili.
The hosting nation had another team on board. Namely, SHEVARDENI 2005 TBILISI (SHEVARDENI 2005), which was made of an even younger generation. A firmly earned bronze winning routine was on offer from the youngsters to celebrate besides the final victory. The president of the Georgian Judo Federation, David KEVKHISHVILI expressed his thoughts after the finals: "I knew we had a chance to win the finals especially because of our fantastic fans but it was a really difficult fight and I am really happy that both teams could win medals. It is absolutely great that we could get this title on live on the local tv and so the whole country is celebrating. It is very important for us and as we know now we will have three teams next year in the Golden League. If the other team was to win in Vienna today than I can truly call it a Georgian day."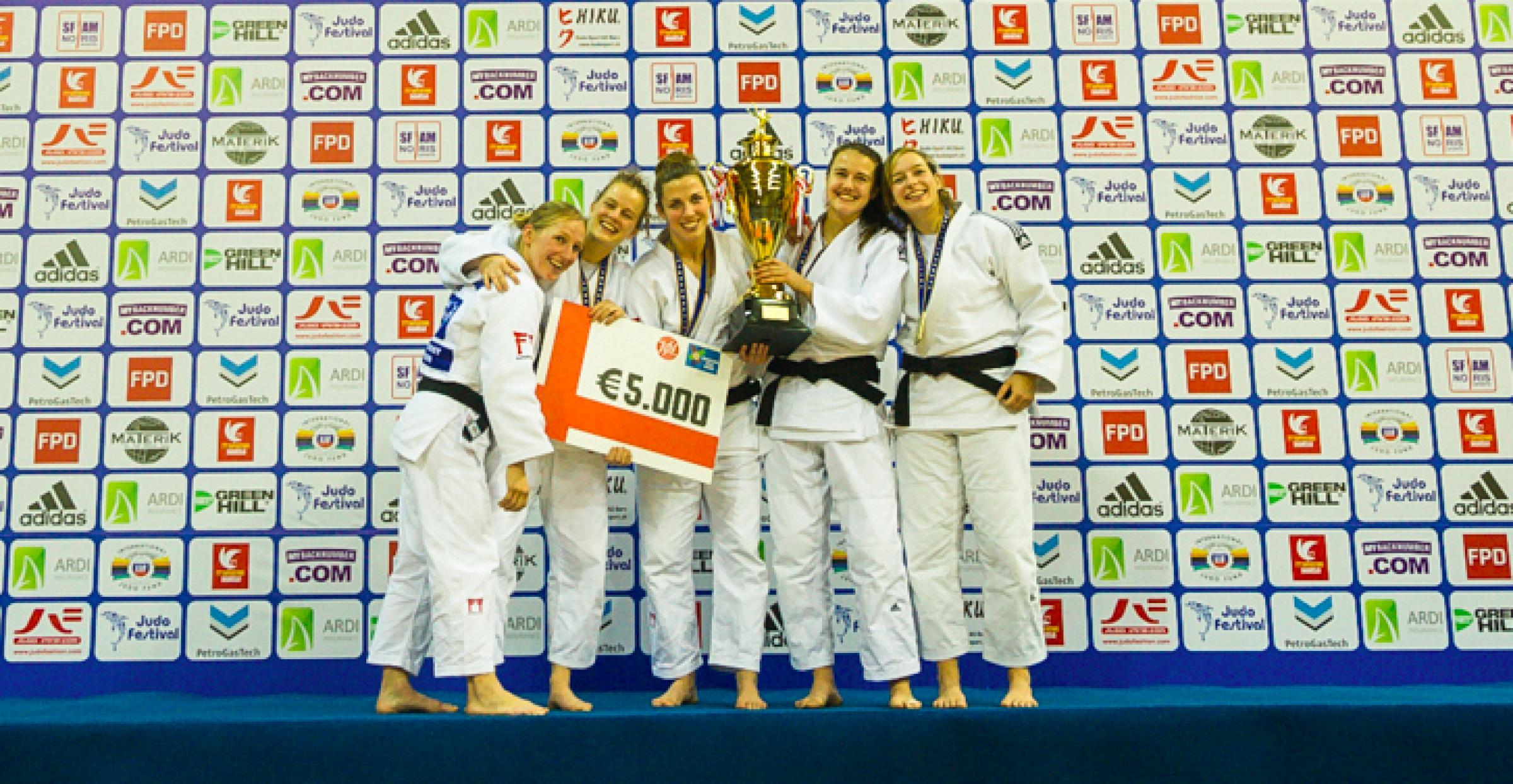 The women team contest brought six competitive teams together which of JUDO TOPSPORT NOORD-OOST HEERENVEEN (JTS NOORD-OOST) took the lead and defeated TRABZONSPOR KULÜBÜ DERNEGI (TRABZONSPOR KD) in the first round. Following that, they took down LA COURONNE GRAND ANGOULEME (LA COURONNE) with a close 3:2 contest proceeding them into the final, which brought number three seed SK SHABOLOVKA MOSCOW (SK SHABOLOVKA) as the opponent of the final. What expected to be a strong match up ended up being a walkover for the Dutch team as they marked a memorable 5:0 winning performance to take the final victory. Edwin Steringa, head coach of the judo club expressed his feelings after the final: "We didn't know what we could expect as we had a young team and we didn't know how strong the other teams could be. At the beginning we had a difficult start but than it all worked out well with a 5:0 win in the final. It was a perfect final for us. We are looking forward to step up to the Golden League next year."
Judoka
---