Lithuania's most successful judoka to date is Marius Paskevicius, who booked himself a spot at both, Sydney 2000, and London 2012 Olympic Games. Furthermore, he won two European bronze medals (2012, 2014) but the real contributing fact to be able to be above the rest, was winning the world bronze medal in Rotterdam in 2009. The next two judoka on the list are also male athletes, namely, Algimantas Merkevicious and Karolis Bauza. The pair of them similarly share a handful of continental medals.
As per the ladies, Sandra Jablonskyte would ring a bell for all, and although she hasn't yet managed to gain continental or world decorations, she does have a selection of IJF World Tour medals. Whilst Jablonskyte is still active, now there is a young girl. Her name is Migle and today, she is the highest ranked Lithuanian judoka, competing in the -78 kg category. She trains at Asahi Judo Club in Kaunas. There is a lady next to her, they look alike. Who is she? Her mother or her coach? Or both? Remarkably, it was her mother and coach, Lolita Dudeniene, who in fact was the first ever female to gain a judo teaching degree in the country.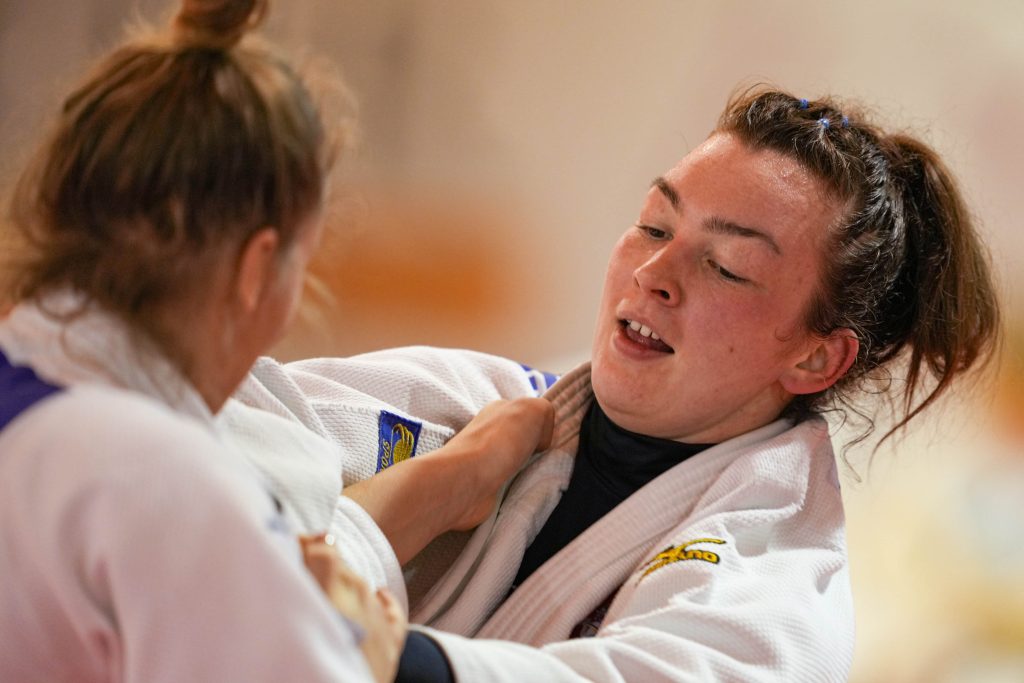 Judo for women in Lithuania started around 1985 and at that time I, personally, was practicing handball as a goalkeeper. I remember the Judo coach came to me and said, you look like you are built for judo come and try. This was literally after I just finished a hand ball game, we trained in the same building, so I walked up to the dojo and started judo. Just like this, one day the first women judo team was selected from handball and other different sports as they had an invitation to go for to the first tournament in the former Soviet Union. We had two months to learn some judo, took part in the nationals and the winners formed the team to go to the Soviet Union championships.
The attraction of judo…
Actually, I did a lot of sport until I finally decided to do judo only. For two years following the introduction of judo I did both, judo and handball. I also played basketball, fencing and swimming. At all the other sports, if you win everything was great but when you lose fingers started pointing at all directions. Judo was refreshing because when you lose, you analyse and learn every day. When we started, we haven't had a lot of information about judo, all we knew that it was a Japanese sport. We understood philosophy and history much later which added to the attraction. Back in the days we had no gradings. You started as a white belt and if you won the championships, you got the black belt. Overall, it was the philosophy that captivated me.

Fun fact; I even started my university coaching course in handball before shifting my studies to judo, ending up being the first female in Lithuania to complete an official judo coaching course. Evidently, I was also the first female coach in my country.
Dudeniene was the General Secretary of the Lithuanian Judo Federation for a decade, however, due to the current administration dilemma in the country, she rather focused on the success of her home club.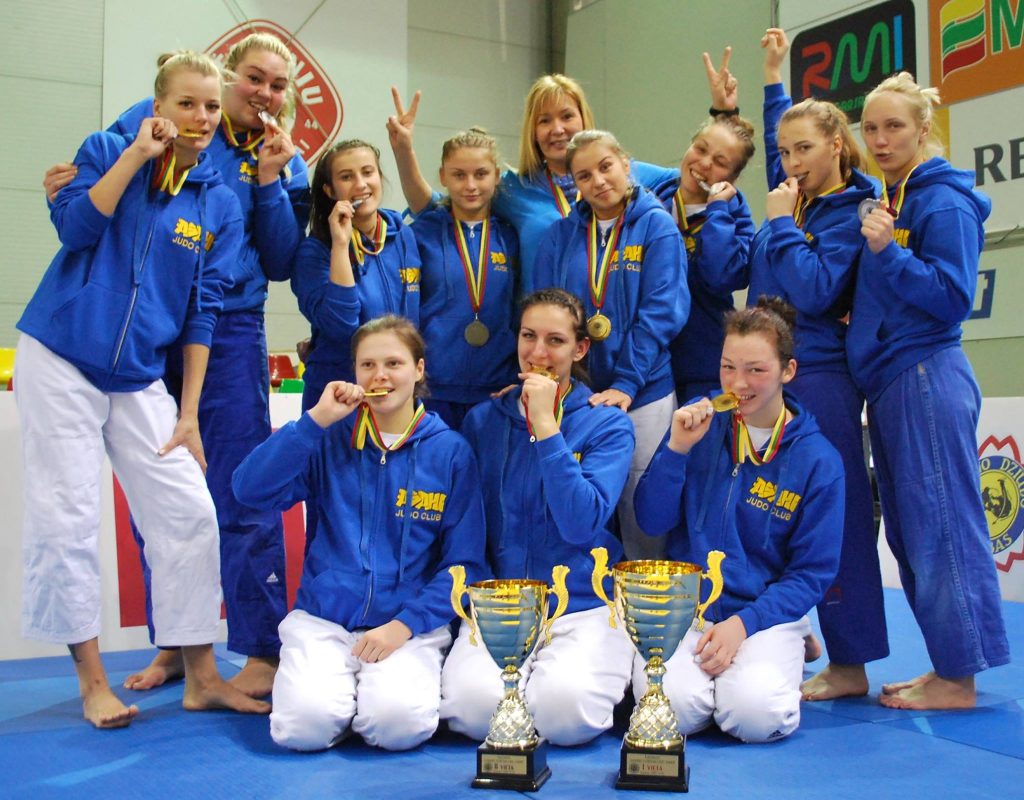 Now, some countries have a better structure then others, often simply because of the popularity of the sport within the country. Those who are less fortunate and without a strong history of judo behind, often having to miss out. With recent changes, there are several new initiatives taking place within the European Judo Union. One of which is equality to attend for example, at OTC training camps.
We always used to go alone everywhere self-funded or with the help of our club. I used to get my salary from work and pay the tournament whilst urging for the next pay check to have enough for the next month to enable for her to attend another tournament.
It is common knowledge that you need to have a good training structure to enable you to deliver amongst elite.
I know tournaments alone are not enough but with the budget we have, training camps are considered as extras as we constantly focused on chasing points towards the Olympic Games. Now, with the support of the EJU, this will change for us, and we are seeking to grow strong, shifting the 5th and 7th places into medals. We are extremely grateful for that.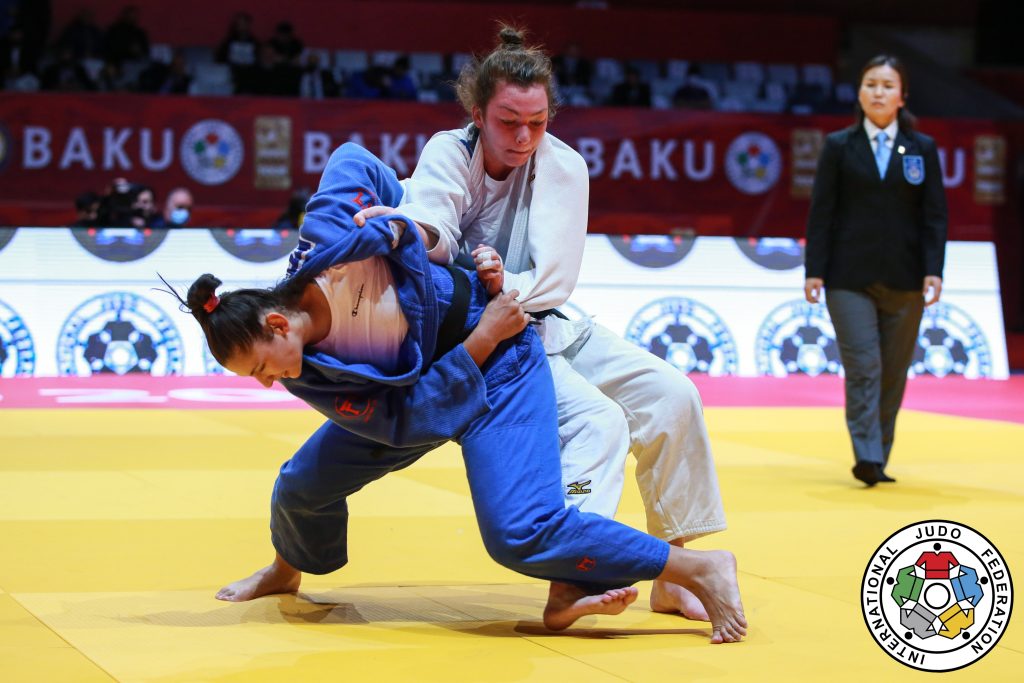 Remember her daughter, Migle. As mentioned, she has had a few 5th and 7th places, from Grand Slams. However, the only time she was able to stand on the podium for Olympic points was last November at the Asian Open.
Asian Open silver is not what I want. I want bigger medals, so Asia perhaps made me hungry for more but surely did not satisfy me at all. Training camps are so important, whenever I had a chance [rarely] to go to a camp I used to just fall all over the place. Now, even within these few days here in Mittersill I feel the growths already and I no longer get thrown around.

This support is really nice because every time my mom and dad need to figure out where to get the money from. It is a big help for us, and we are very thankful.
Is it only the camps that's missing to be on the prestigious podiums? Lolita explains her point of view,
She needs to believe in herself also, and training camps are the main place where she can realise that she can match the top level in her category. So yes, it works hand in hand.
Migle seconds that:
Believing has always been my problem. Especially coming from a small country puts you back mentally already because you know you don't have the same system as for example someone from Germany or France. You are still working hard but somehow your background would influence your belief. Now, I work on that, and I realised there is positive side to it too. For example, sometimes going back home I have random people would messaging me to say they saw me fighting and they are proud of me. This makes me appreciate and ride on the 'littleness'. Also, coming from a small country you have, in my opinion, less pressure, so that can perhaps be viewed as an advantage.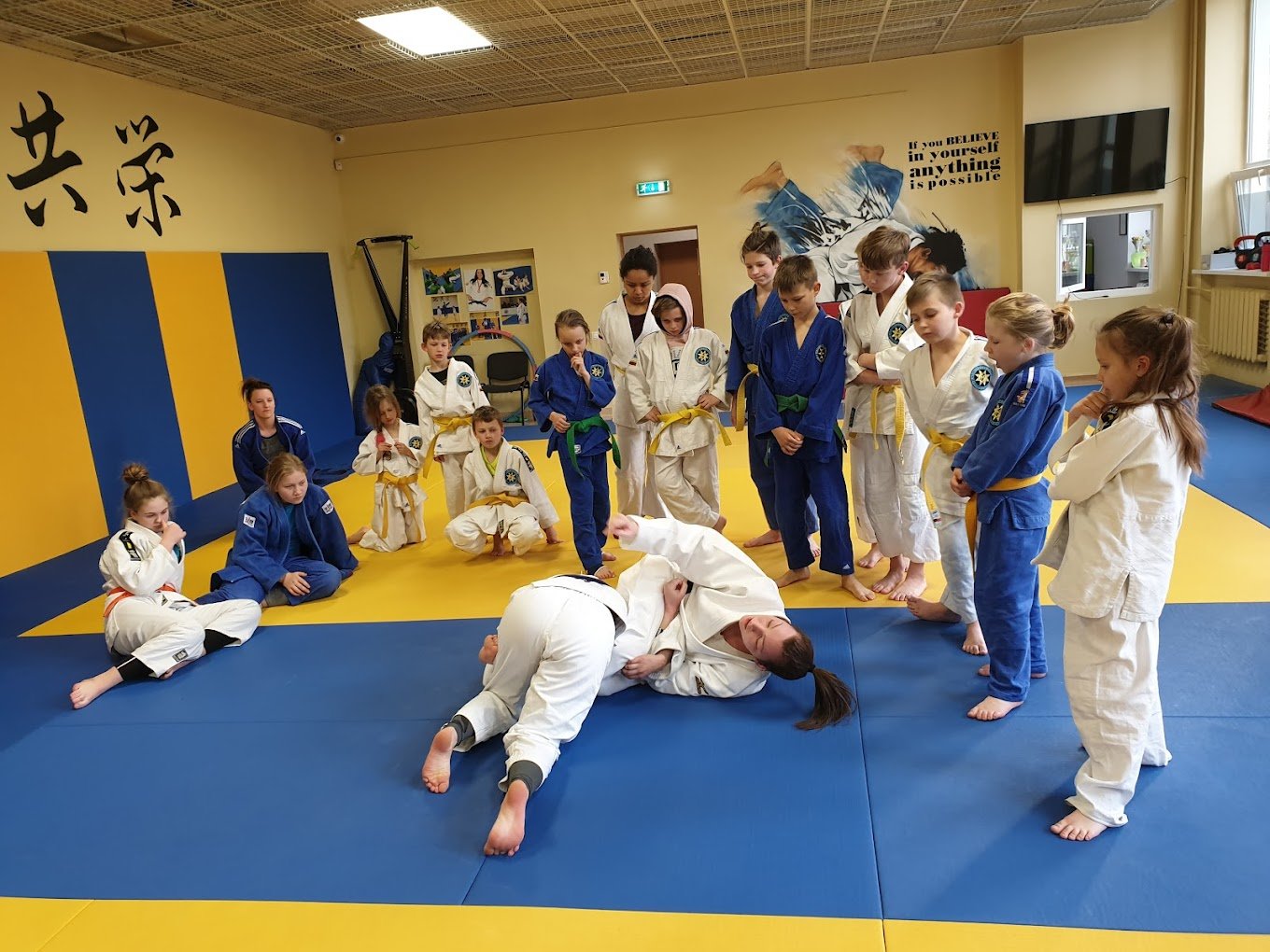 Migle Dudenaite passing her newaza skills on to the next generation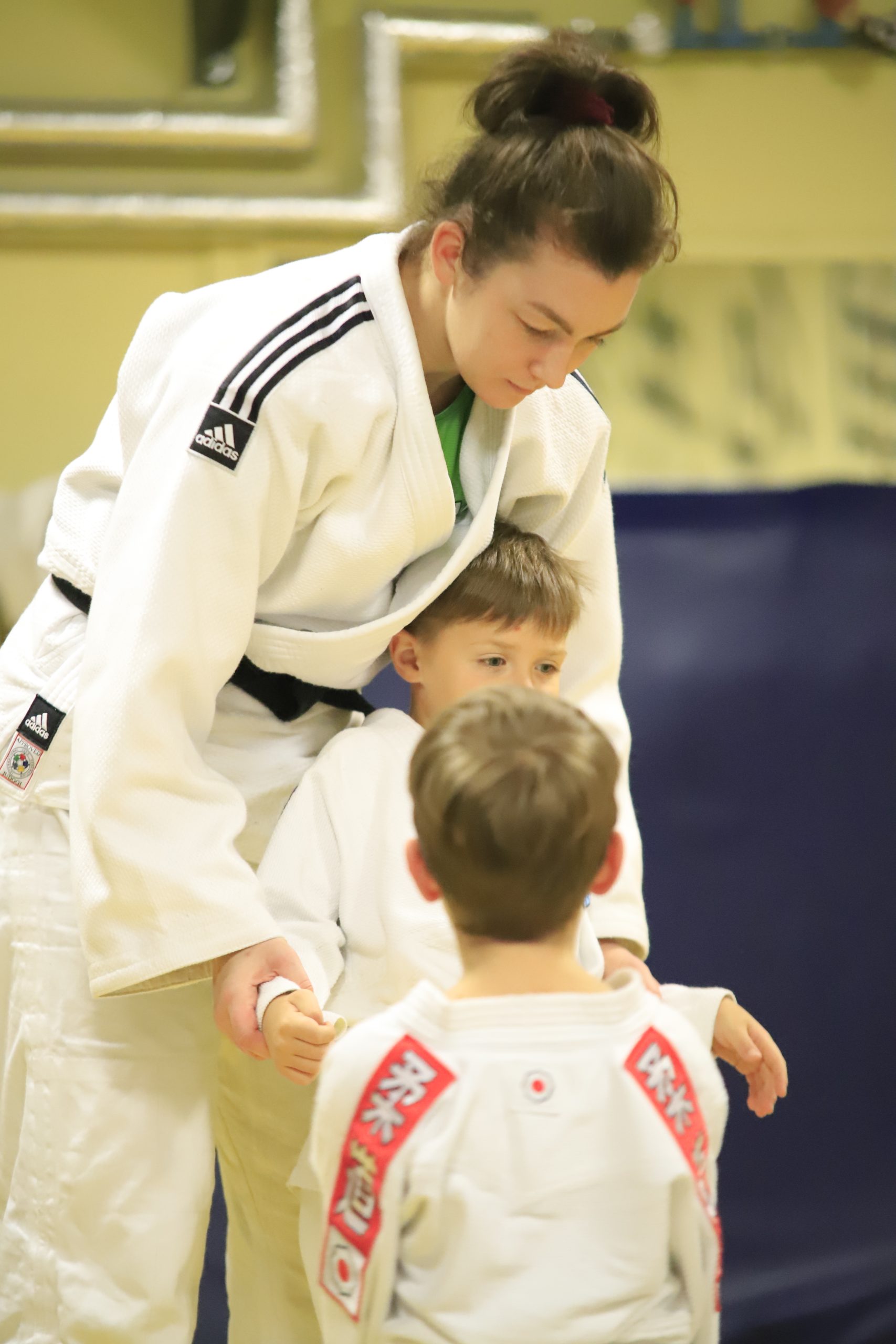 Migle Dudenaite teaching the little ones at her home town
When the pair of them are not on the mat as a coach-athlete duet, they both enjoy teaching judo for the young ones at the sports school Gaja. The institute for which they are rally thankful as their coaching duties further allows them to fulfil their monetary needs towards Paris 2024. Meanwhile, the main goal for the year of 2023 remains to attend more training camps, stay healthy and make it onto the high-status podium. We will next see the pair of them at the Portugal Grand Prix. At last, how does the mother-coach relationship is working out? The daughter comes in first,
It has its advantages and drawbacks. I feel comfortable and a strong personal connection which I would probably not get with another coach. On the other side, when she is upset with me, she can hold grudges longer than a coach would. I think that's when her mom side kicks in.

I don't help the situation also as I want to do well for my coach and my mom at the same time, so I put pressure on myself as well to tick two boxes at once.
Author: Szandra Szogedi
---