Last weekend we saw current junior world and European champion Anna Monta OLEK (GER) win gold in her first senior European open in Warsaw, Poland in the under 78kg category. Anna Monta is currently ranked number 36 in the world and has her eyes set on making a real statement in the senior circuit. In Germany alone she has fierce competition with 2021 World champion and Olympic bronze medalist Anna Maria WAGNER, and then there is multiple IJF medalist Luise MALZAHN, and world ranked #19 Alina BOEHM who recently took a silver medal at the Tel Aviv Grand Slam a few weeks ago.
As a young child she would go to the dojo with her father Detleft KNORREK who competed in the 1992 and 1996 Olympic Games. She was born in raised in Hannover, Germany and has been part of Judo Team Hannover "as long as she can remember." Up until the age of 11, she was swimming and doing judo at the same time.
"I would go swimming upstairs at the training center and then right after I would go to judo practice with wet hair. When I was 11, I decided that my heart was in judo."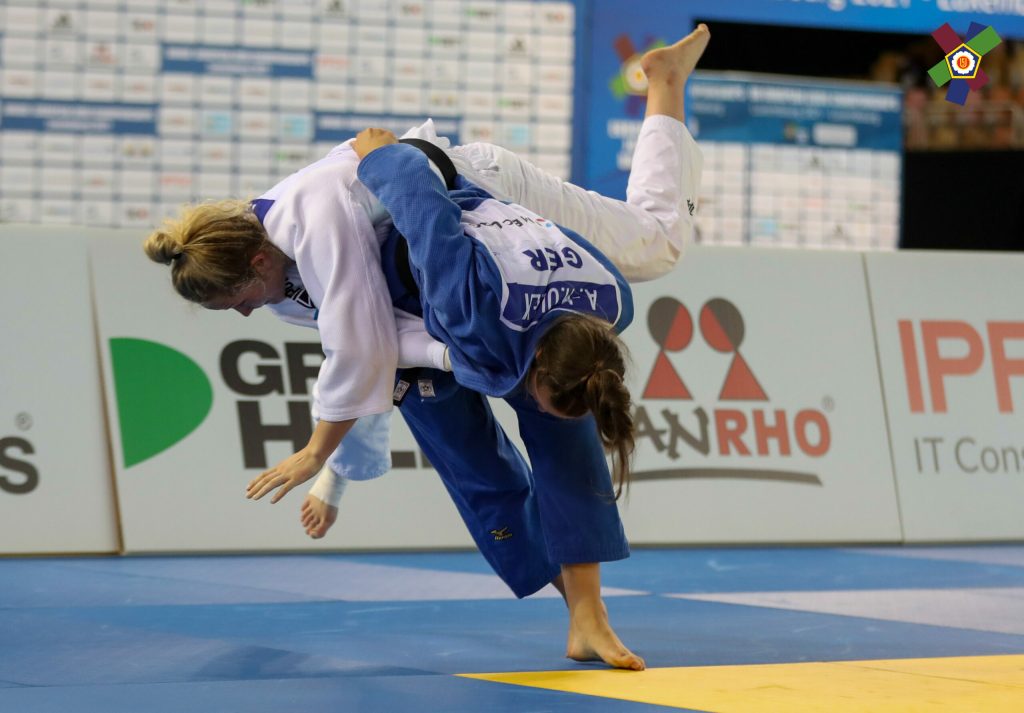 Judo role model in the past and right now?
I don't really have a role model. In the past I looked up to my father. He was in the Olympic Games, and I want to follow in his footsteps. I want to achieve what he has but maybe even a little better. (she smiles)
When was the first time you recognised the Olympic Games?
I always knew about the Olympics because of my father, but I think I really understood the feeling and what the meaning of the Games were when I went to the 2012 London Olympics. I was 10 years old and watched Dimitri PETERS (who was training in Hannover) win a bronze medal in the -100kg category.
When was the moment you recognised that you can be a champion?
There was never an actual moment that I realized this. I never would describe myself as a champion, but after winning the Junior Europeans and Junior Worlds it took me sometime to realize that I have the potential to go far in the sport.
How often do you train per week?
Two times a day, 5 days a week and on Saturday I do active recovery, like running or biking.
What is your current profession?
I am student and I will be graduating this year.
What do you think is your greatest strength and weakness?
My ashi-waza is my biggest strength, I also think I have good condition, I never get tired in a fight. As for my weakness, I am not as strong as I want to be – but I am working on it.
What is your aim: Paris or Los Angeles?
Los Angeles in my main goal but Paris is not far in my horizon.
Do you have another passion (alongside judo)?
I like baking cakes and all kinds of sweets. I can bake a really good carrot cake!
This weekend Anna Monta OLEK will be the number one seed at the Prague European Open and will be on the hunt for a place on top of the podium.
Judoka
Author: Hannah Martin
---