The 17-year-old from Ukraine has astounded the judo world once again with her effortless technique and second nature on the ground, her infamous sangaku bringing home the gold in the Paris Grand Slam 2018.
You've only walked away from one tournament without a medal, what makes you think you're so consistent? With a great focus and clarity, BILODID, like a true contender stated,
"I like to win, I fight to fight".
How do you get past situations when you're down a score?
"I don't like to think about being down or behind, I just want to win the fight"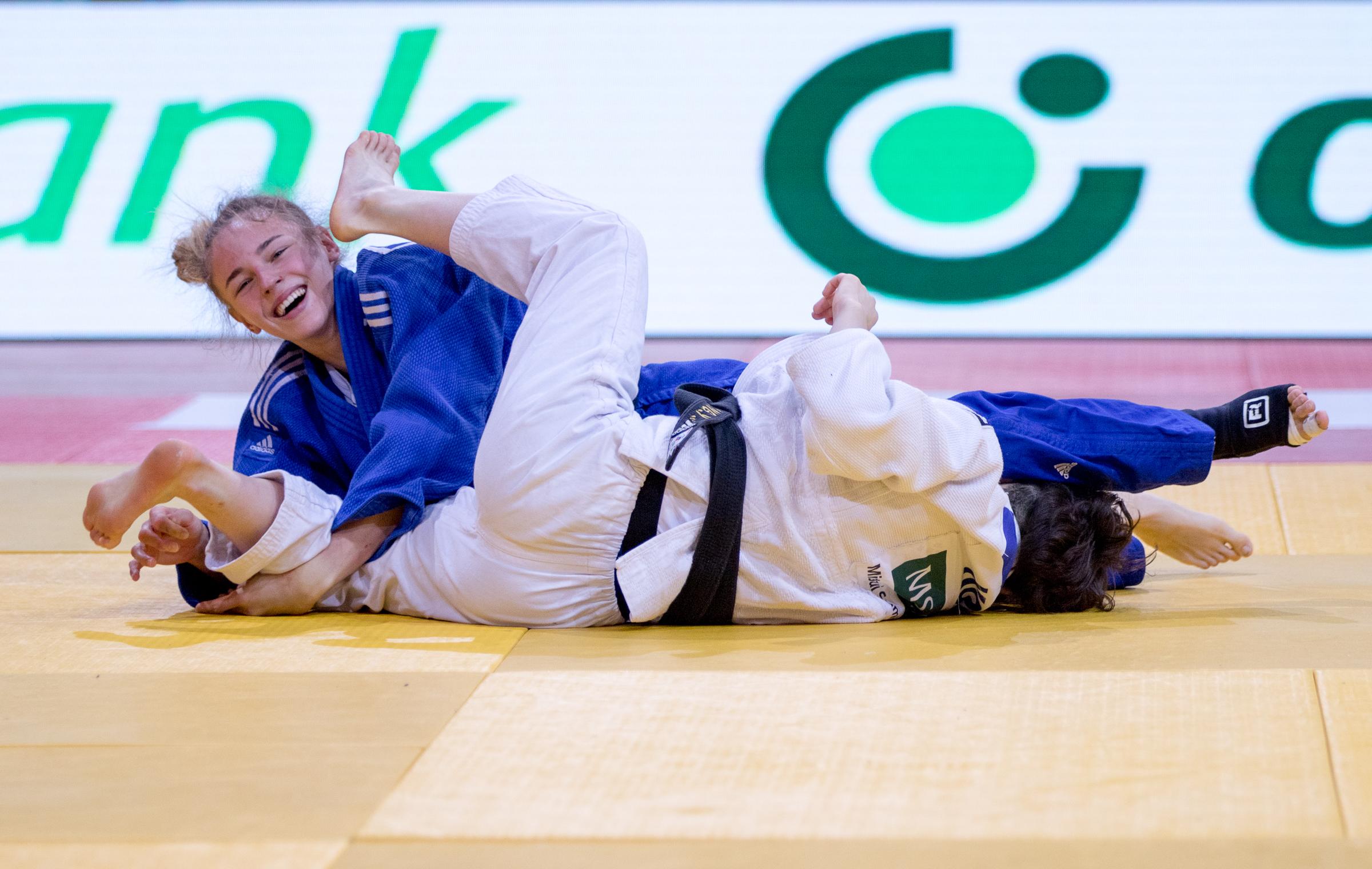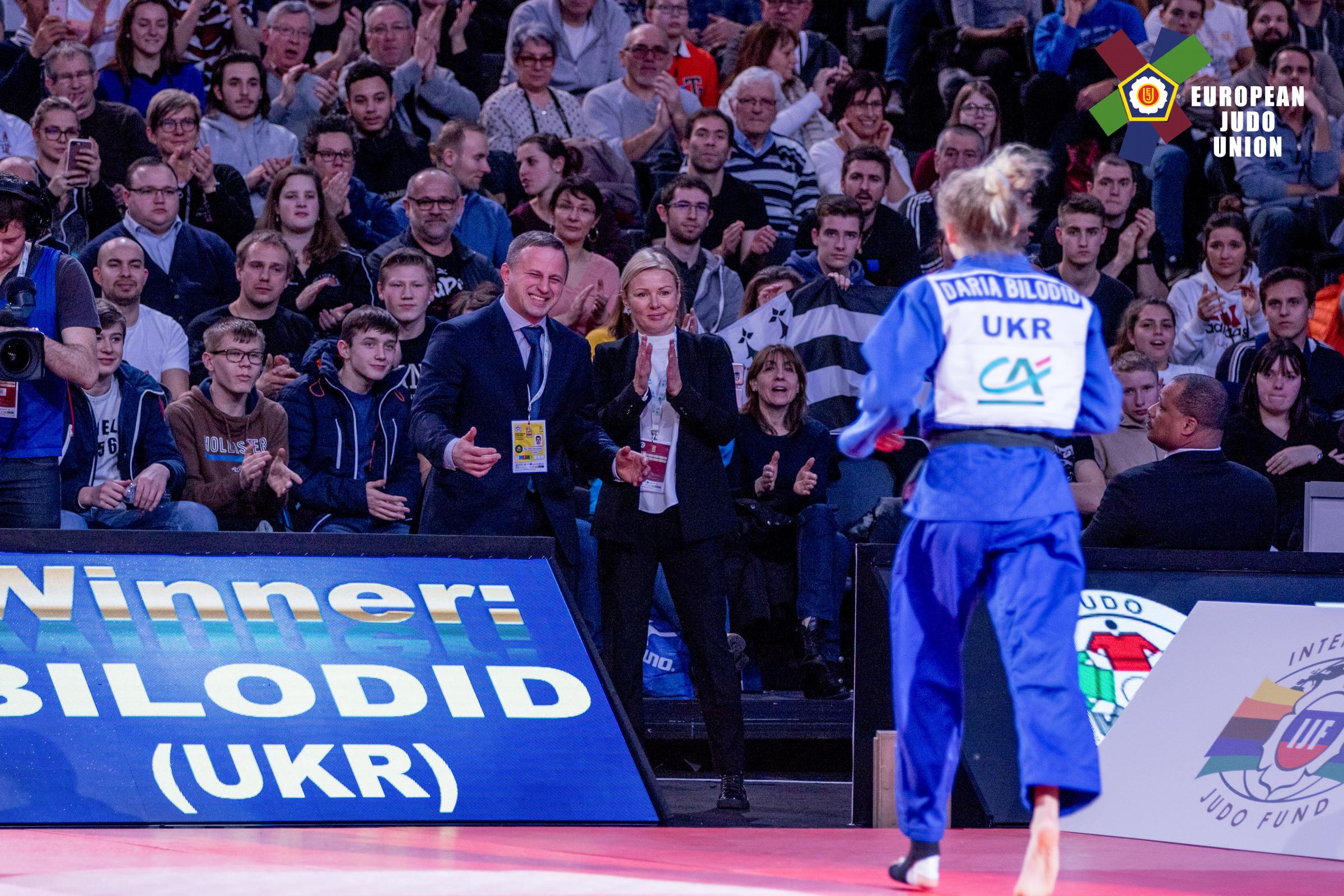 Why do you think you're so good at your groundwork?
"I have done this since childhood, I practice all the time at training, happens naturally now"
This ground work is referring to BILODID's ability to make her sangaku work time after time, as we saw today in the final, she ties up her opponent so perfectly there is simply no escape.
Do you feel that there is a difference between a grand slam and grand prix?
"Of course Paris is different, it is a big tournament, the French people, there are so many, a good atmosphere, feels like it would at a world championships or Olympics."
What are your plans for the future?
"Well next is Dusseldorf Grand Slam, the European Championships, grand slams and grand prixs, all in preparation for the worlds."
With a busy year ahead, we can only assume her hard work and natural ability on the tatami will reap the rewards – golden rewards.
Each time Akil GJAKOVA has heard the national anthem of Kosovo, it has been for his female team mates; his sister Nora GJAKOVA, Distria KRASNIQI and Majlinda KELMENDI, but today, it was for himself.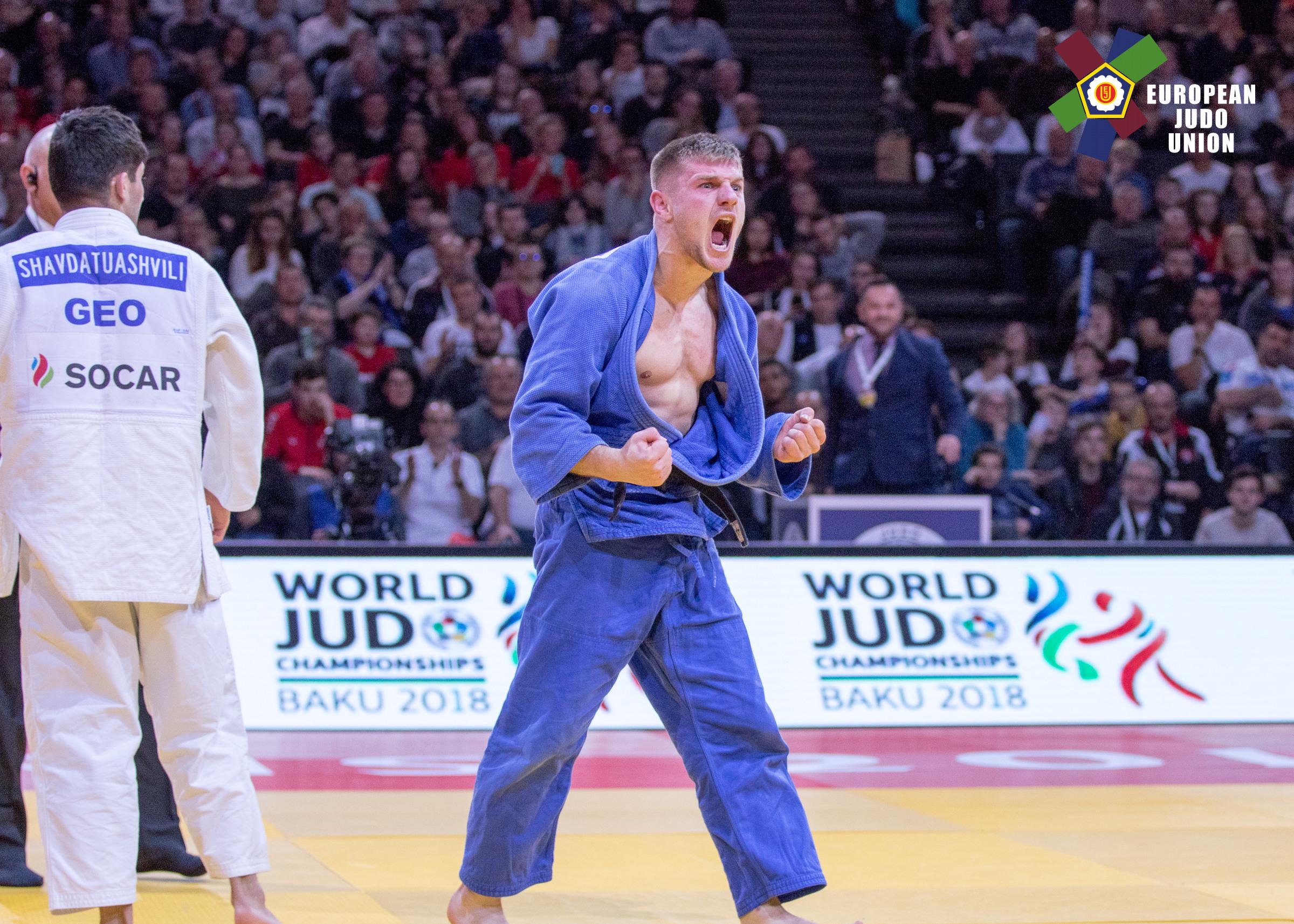 How does it feel to win the Paris Grand Slam?
"The IJF Grand Slam is very good, it is my first grand slam and I have the gold, it is a very good feeling. I had good form, I beat an Olympian, I measure myself more now. I just went in to the fight to win, I had a good feeling and a good moment."
You're the first male judoka for Kosovo with this title, what do you think it'll mean to your country?
"I think for the younger generation it will be important, it will be motivation for them, someone to look up to. It is nice for my coach as well, Driton Kuka, because he has a reputation for producing good female athletes, now he has shown he can do both and that is great for him."
What do you think is the difference between a grand slam and grand prix?
"I think a grand slam is harder, the level is higher, especially here in Paris."
What is next in your future?
"The next up for me is Europeans."
With Majlinda KELMENDI as the female icon for the Kosovo team, it is certain that they now have their male lead and we can only expect great things from him in the future.
There could not have been a better end to the first day at the Paris Grand Slam. With a crowd like no other behind the athlete, AGBEGNENOU could do no wrong today, and in true French fashion, the roar of the crowd carried her off the mat.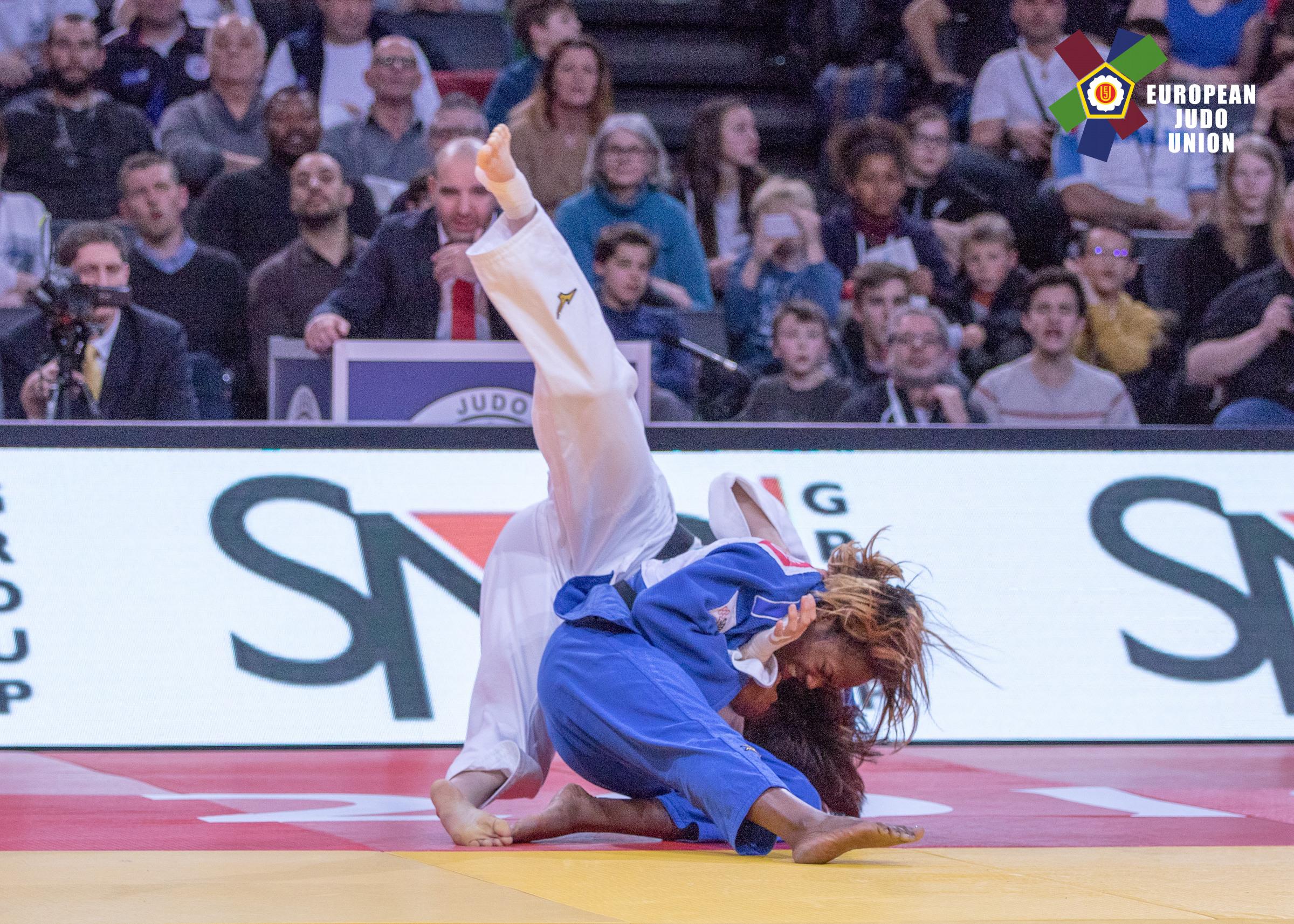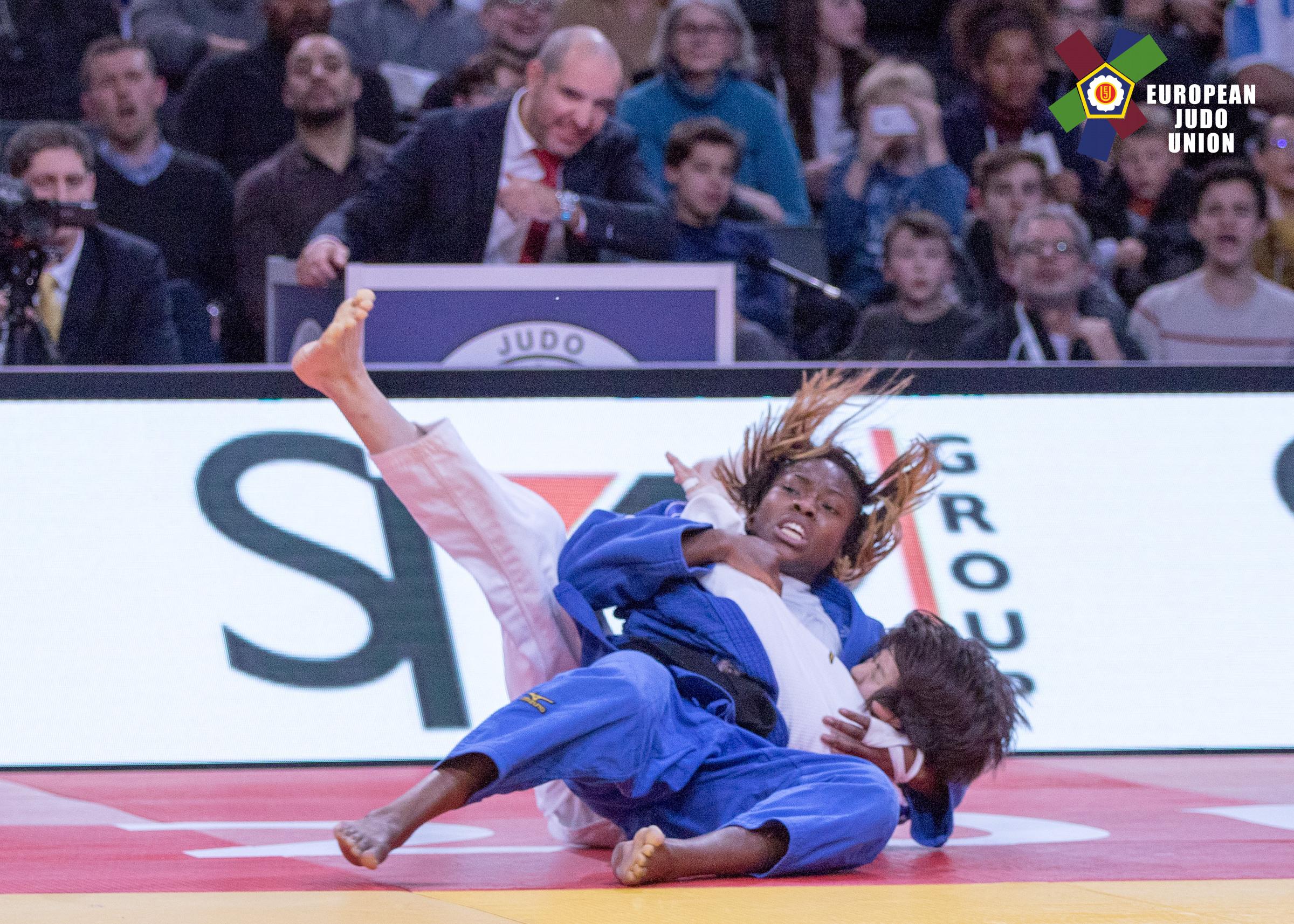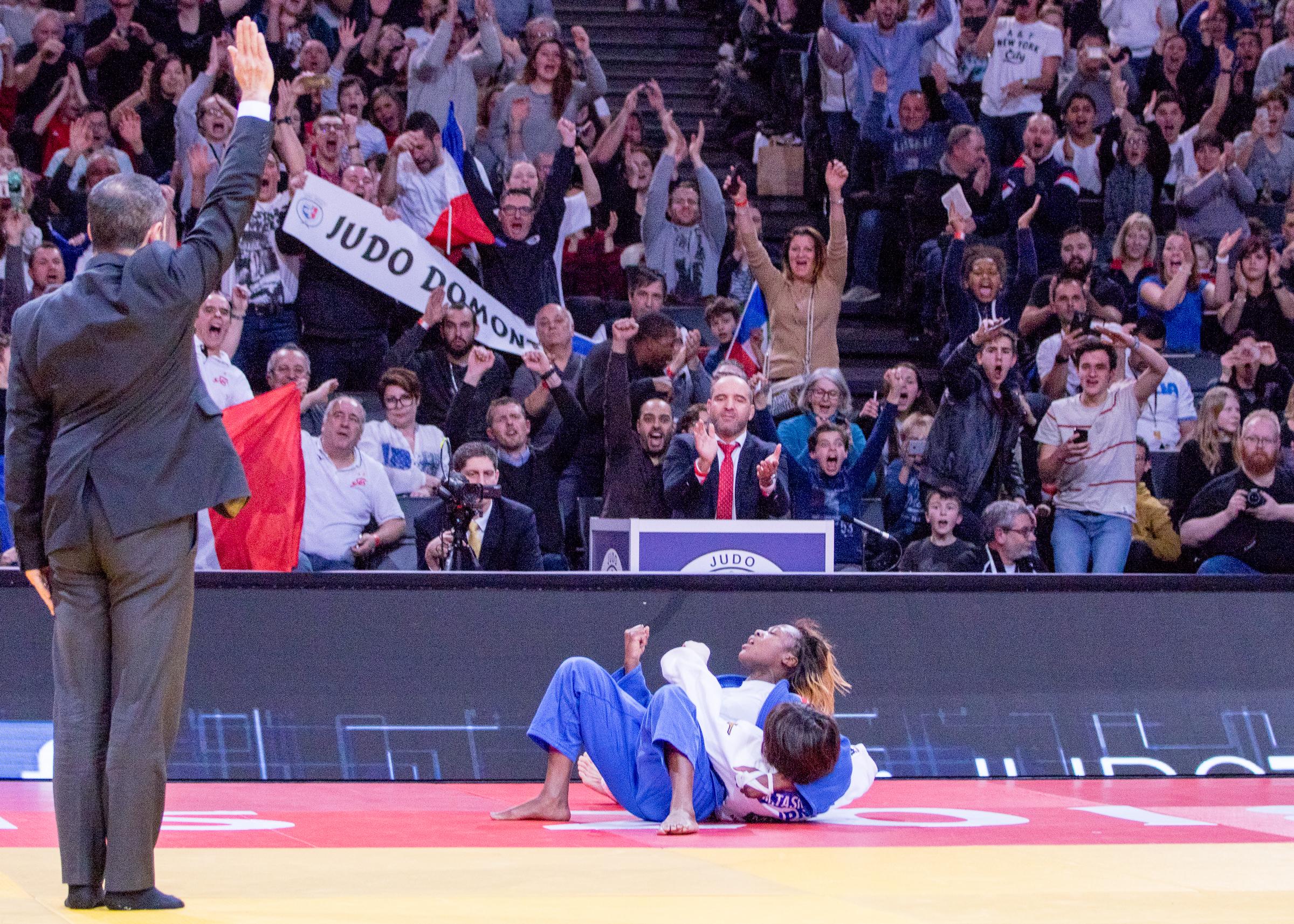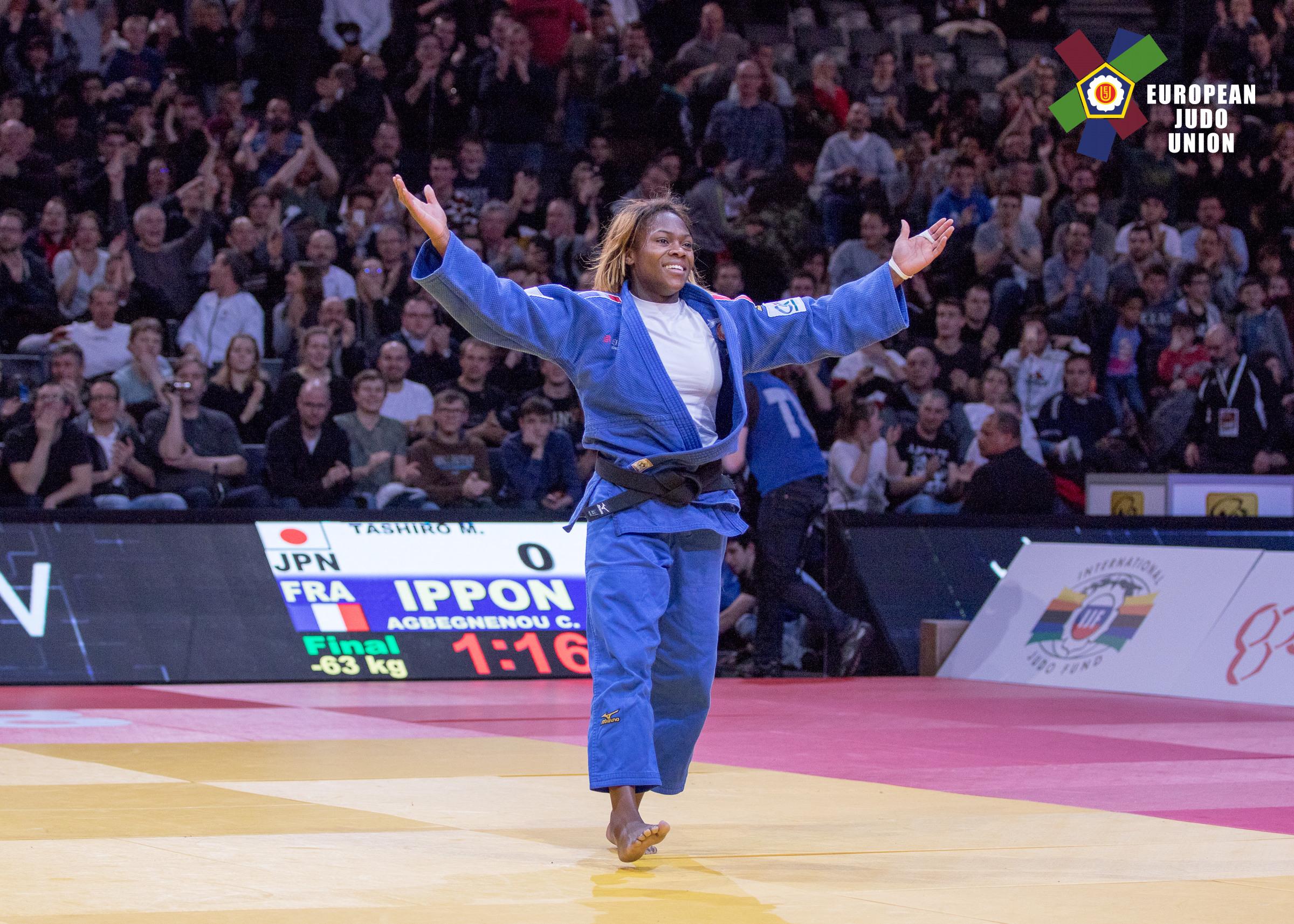 How does it feel winning Paris at home?
"It was great to win it in front of my family and friends, at home it is special."
You've won the Paris Grand Slam four times now
"Yes and I hope to win next year."
You've had seven head to heads with TASHIRO Miku (JPN), only lost to her once, on the last occasion, was this your sweet revenge?
"I was injured with a broken rib in that loss, I wanted to finish powerfully today and I have won this time."
This World Champion gold medallist undoubtedly finished with power and conviction earning her the respect of her countrymen as well as those on the tatami. She will have her sights set high for the upcoming year and of course the Olympic qualifiers. Tres bien!
---
Results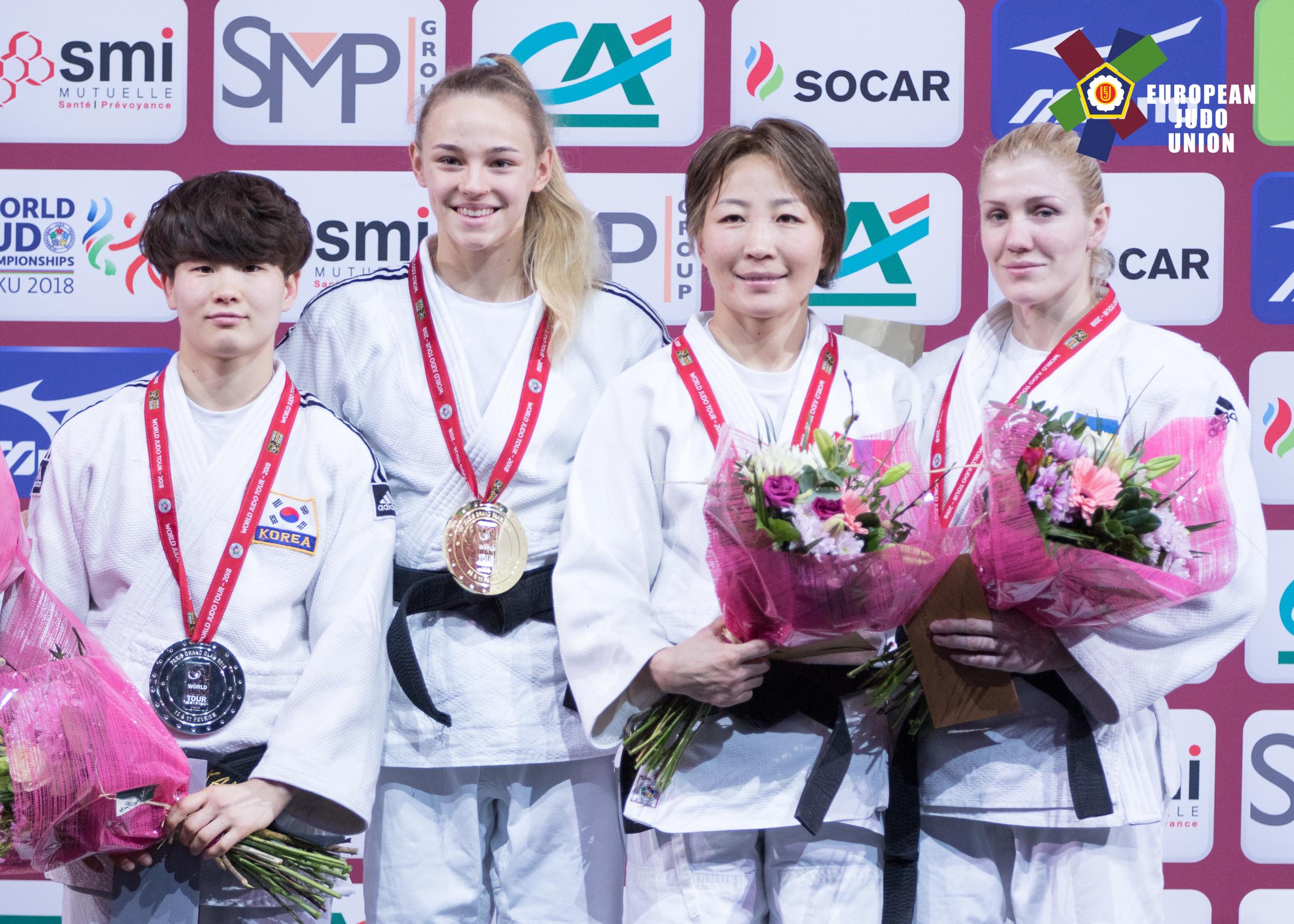 Podium -48KG 1. BILODID, Daria (UKR) 2. KANG, Yujeong (KOR) 3. MUNKHBAT, Urantsetseg (MGL) 3. CHERNIAK, Maryna (UKR) 5. FIGUEROA, Julia (ESP) 5. TONAKI, Funa (JPN) 7. MENZ, Katharina (GER) 7. RISHONY, Shira (ISR) – Rafal Burza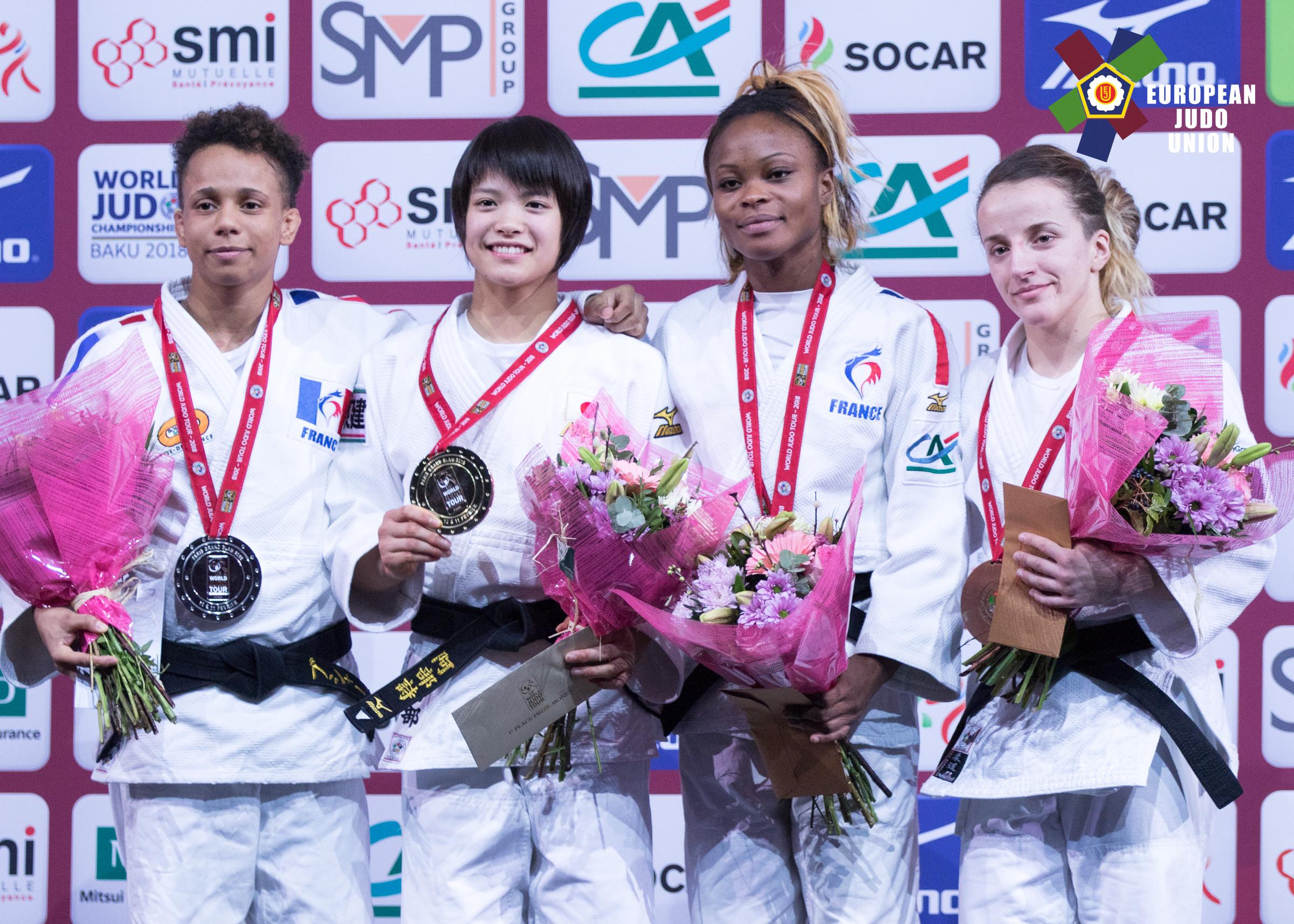 Podium -52kg: 1. ABE, Uta (JPN) 2. BUCHARD, Amandine (FRA) 3. GNETO, Astride (FRA) 3. KRASNIQI, Distria (KOS) 5. TSUNODA, Natsumi (JPN) 5. VAN SNICK, Charline (BEL) 7. DELGADO, Angelica (USA) 7. ESTEVES, Mariana (POR) – Rafal Burza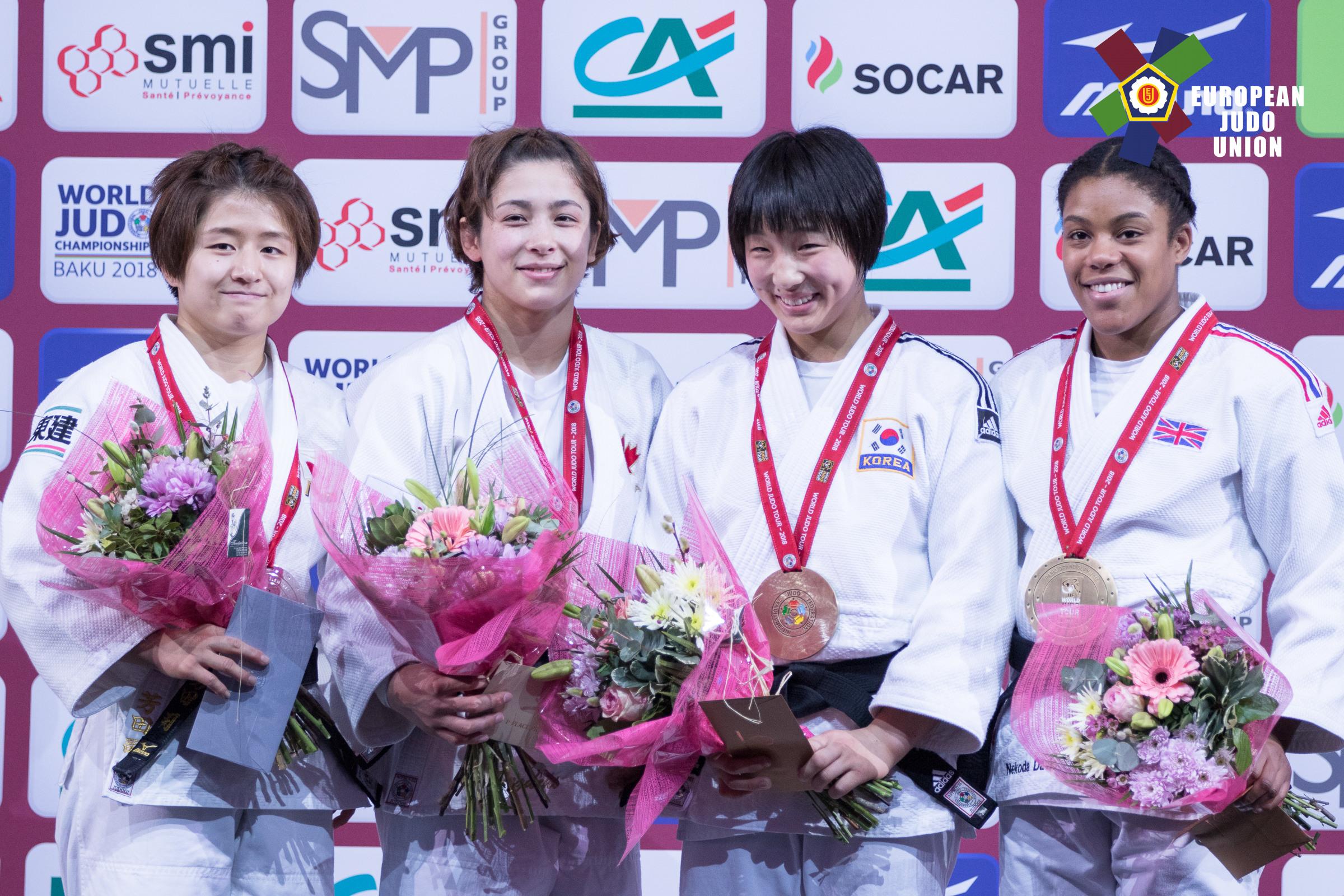 Podium -57kg: 1. DEGUCHI, Christa (CAN) 2. YOSHIDA, Tsukasa (JPN) 3. KIM, Jisu (KOR) 3. SMYTHE-DAVIS, Nekoda (GBR) 5. NELSON LEVY, Timna (ISR) 5. RECEVEAUX, Helene (FRA) 7. BERGSTRA, Margriet (NED) 7. MONTEIRO, Telma (POR) – Rafal Burza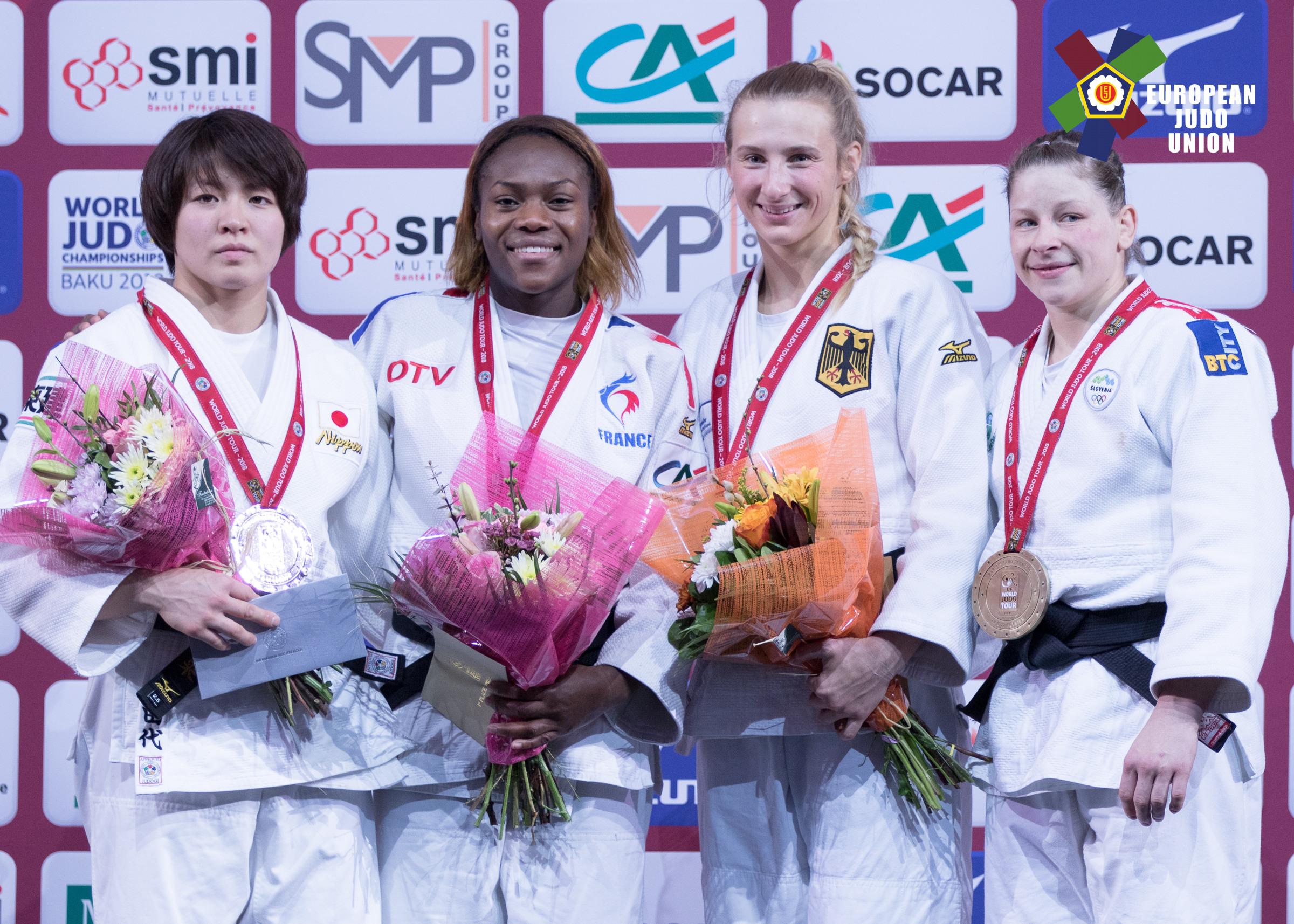 Podium -63kg: 1. AGBEGNENOU, Clarisse (FRA) 2. TASHIRO, Miku (JPN) 3. TRAJDOS, Martyna (GER) 3. TRSTENJAK, Tina (SLO) 5. NABEKURA, Nami (JPN) 5. RENSHALL, Lucy (GBR) 7. BALDORJ, Mungunchimeg (MGL) 7. FRANSSEN, Juul (NED) – Rafal Burza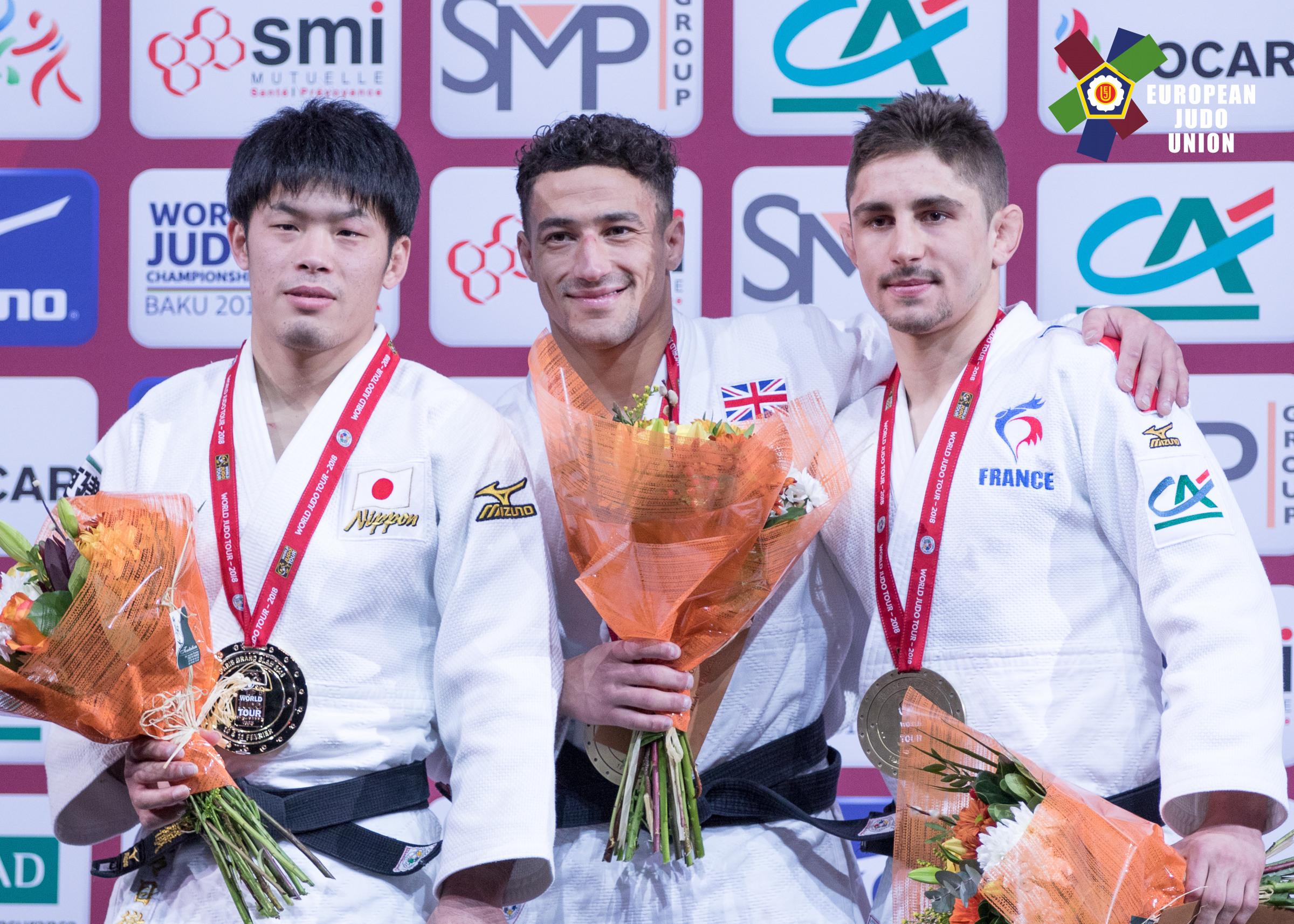 Podium -60kg: 1. SHISHIME, Toru (JPN) 2. LUTFILLAEV, Sharafuddin (UZB) 3. MCKENZIE, Ashley (GBR) 3. REVOL, Cedric (FRA) 5. PAPINASHVILI, Amiran (GEO) 5. PELIM, Phelipe (BRA) 7. CHKHVIMIANI, Lukhumi (GEO) 7. VERGNES, Richard (FRA) – Rafal Burza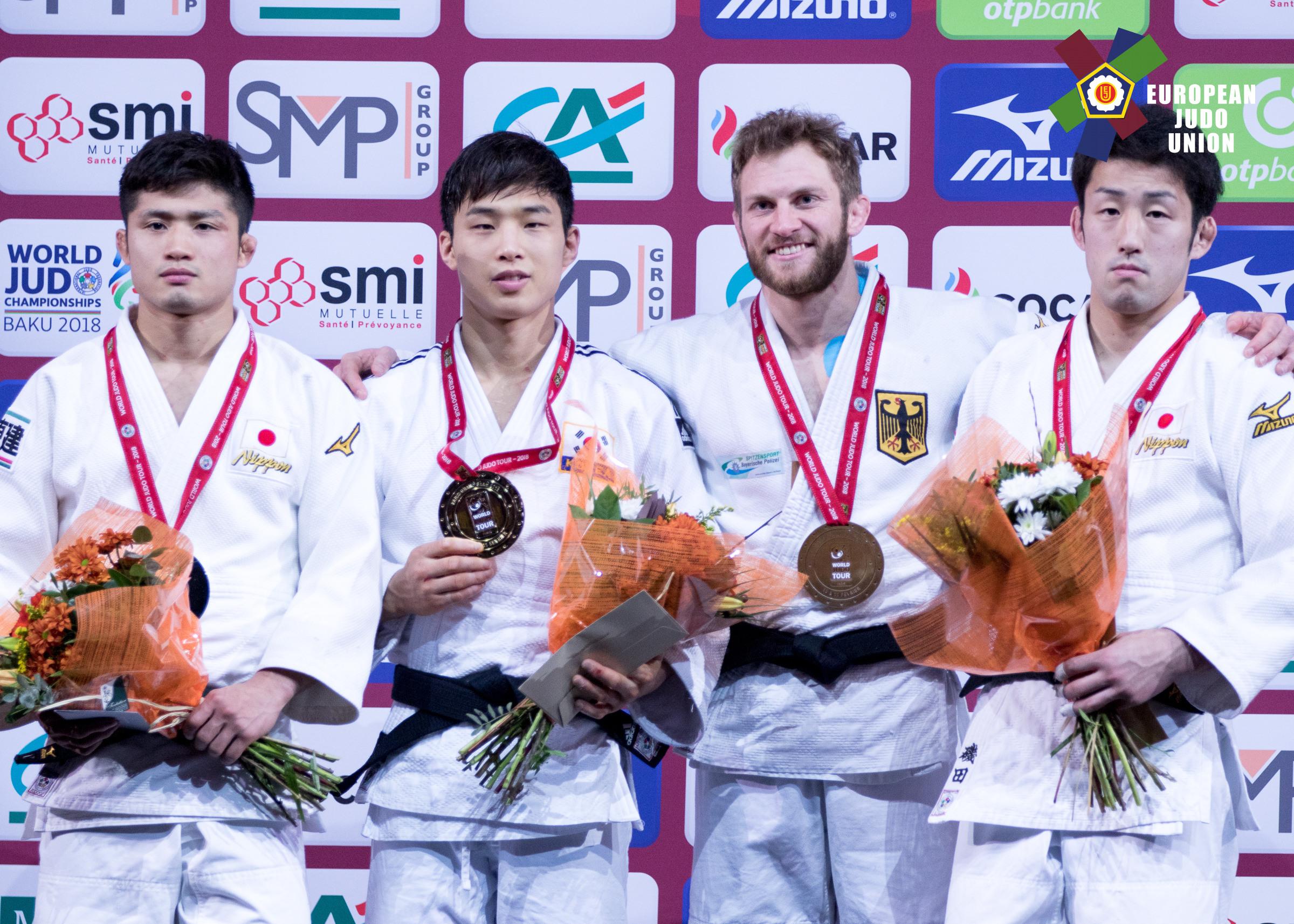 Podium -66kg: 1. AN, Baul (KOR) 2. MARUYAMA, Joshiro (JPN) 3. SEIDL, Sebastian (GER) 3. ISODA, Norihito (JPN) 5. LE BLOUCH, Kilian (FRA) 5. ZOURDANI, Houd (ALG) 7. CRISOSTOMO, Joao (POR) 7. WU, Zhiqiang (CHN) – Rafal Burza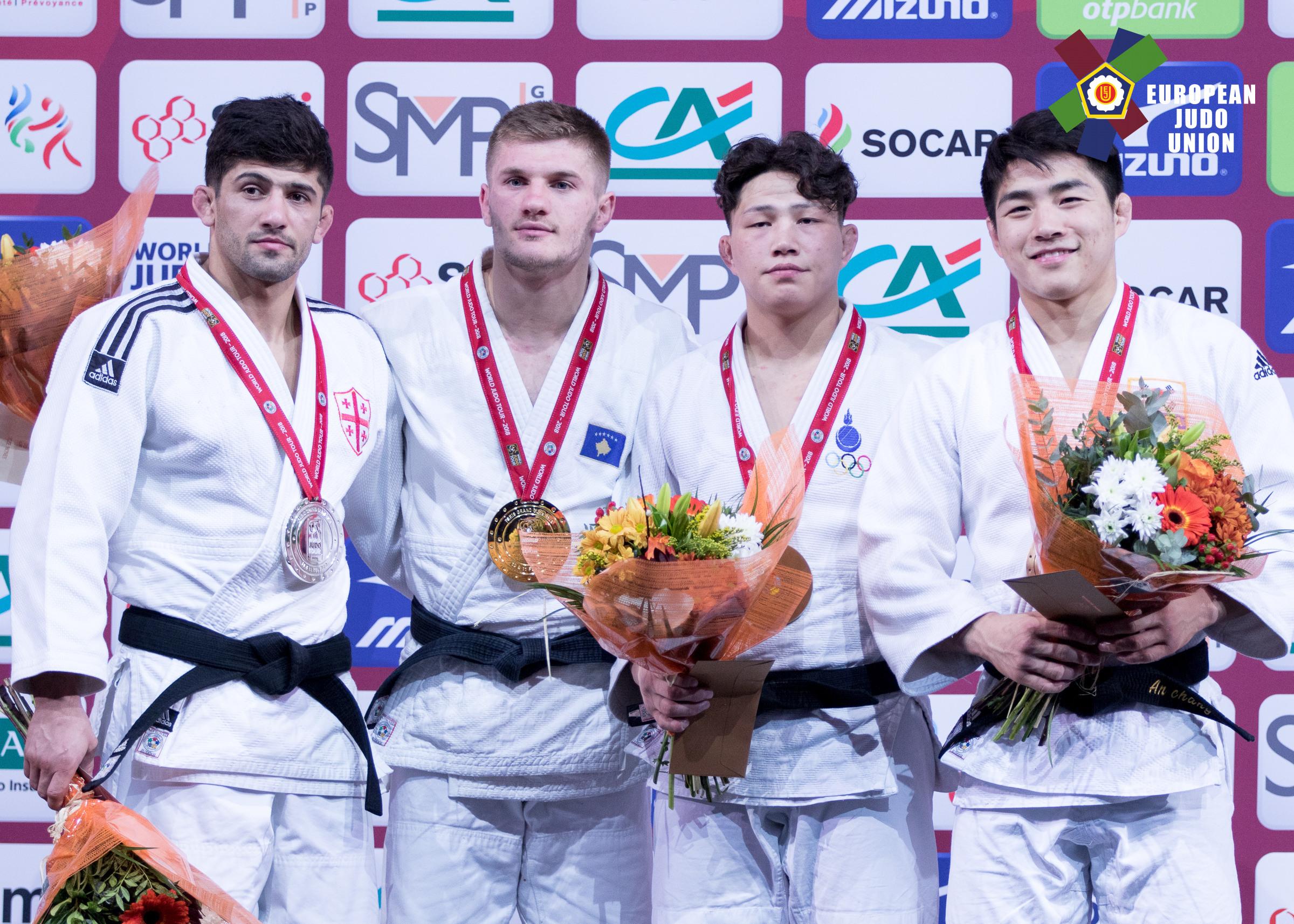 Podium -73kg: 1. GJAKOVA, Akil (KOS) 2. SHAVDATUASHVILI, Lasha (GEO) 3. TSEND-OCHIR, Tsogtbaatar (MGL) 3. AN, Changrim (KOR) 5. MARGELIDON, Arthur (CAN) 5. WANDTKE, Igor (GER) 7. BUTBUL, Tohar (ISR) 7. MACIAS, Tommy (SWE) – Rafal Burza
---
PROGRAMME
Sunday 11 February
Preliminary rounds – 10:00
Final Block – 17:00
Judoka
---