Already, day one of the World Judo Championships Doha 2023 was going to deliver a more prolific amount of medals compared to that of the haul in Tashkent last year. The -60kg was completely dominated by Asia, whereas the -48kg managed to strike silver and gold with Katharina MENZ (GER) and Assunta SCUTTO (ITA).
Scutto has remained consistent and fought, again for a senior world bronze medal. Off to a blinding start, the Italian hopeful threw with uchi mata to score waza ari and continued to dominate the contest with Abiba ABUZHAKYNOVA (KAZ). Though her opponent tried to play catch up, it seemed the gap was too great and Scutto went on to take her second consecutive world medal. 
In the other -48kg bronze contest, France's number two, Blandine PONT did not meet her own expectations finishing with fifth place after ceding to KOGA Wakana of Japan. Nevertheless she has had a phenomenal year so far and we are yet to reach the mid point.
The highlight of this category today was Shirine BOUKLI, the other half of the French entry. Before coming to Doha, her best result in a world championships was seventh place but nothing could stop her today and after defeating Koga in her semi final, next up was the current world champion, TSUNODA Natsumi (JPN). Boukli performed some serious magic to escape not once, but twice from Tsunoda's osaekomi, and ensured she didn't cede a waza ari as well. Tsunoda continued to pressure the Frenchwoman, initially throwing with tomoe nage which didn't score due to a delay, but followed up with another 'sacrifice' technique, only this time it scored the winning ippon, defending her title and increasing her world record to three.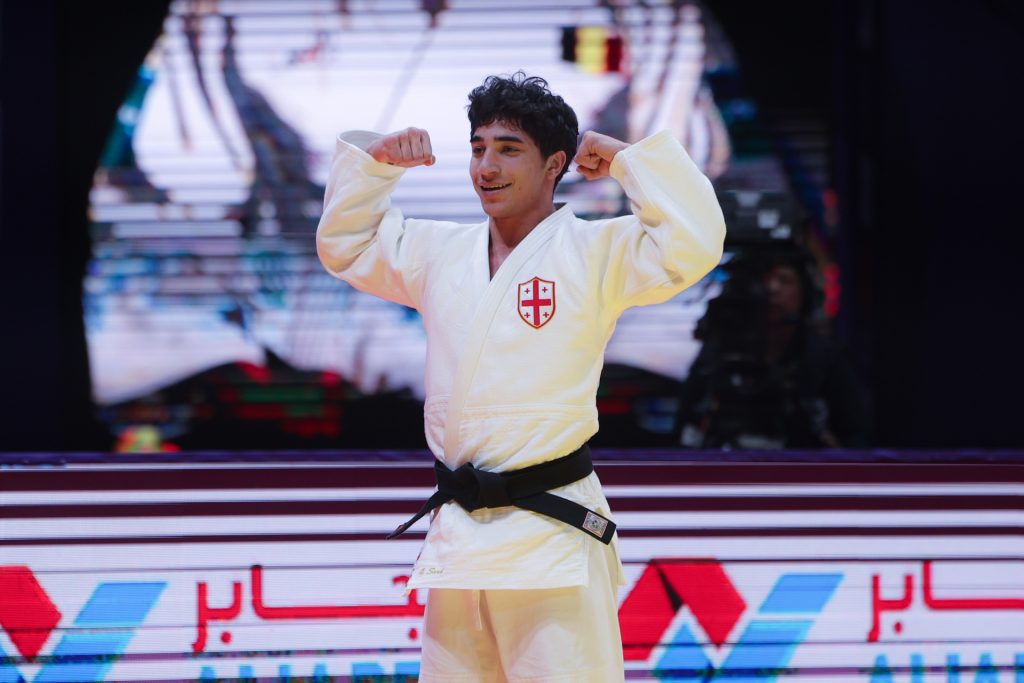 Europe were guaranteed two medals in the -60kg category, the first a bronze, as Jorre VERSTRAETEN (BEL) and Giorgi SARDALASHVILI (GEO) went head to head in the weight category's opening contest. Both athletes were relentless in their attacking and their defensive skills matching up, until the pair went in to golden score. As they ventured past five extra minutes, both picked up two shidos and they were starting to lag, yet the excitement continued to build with near misses from each. Incredibly, it got to a point where the Belgian could barely stand and whenever Sardalashvili attempted an attack, it was a drop to the ground in an attempt to defend. A third shido was issued and the 2021 junior world champion from Georgia made his senior mark at 19 years old.
Francisco GARRIGOS (ESP) is double European champion and world bronze medallist. Nine years ago he stood on top of the world and European podium as a junior and he has been working towards this senior world title ever since, completing his majors collection. His opponent for the 2023 final was Dilshodbek BARATOV (UZB), who in the first half of the contest, couldn't get close the Spaniard. Garrigos managed the contest well and executed very convincing attacks, though none of them landed in the first four minutes of contest, leading to a golden score battle. It was a perfect end to the first day, with Garrigos scoring with a kata guruma variation. Coach, Joaquin 'Quino' Ruiz can now boast two world champions in his club, Garrigos and Nikoloz SHERAZADISHVILI.
Judoka
Author: Thea Cowen
---