In an impressive display on the first day of competition in the Nippon Budokan, Daria BILODID (UKR) defended her -48kg 2018 World title while unseeded, European Games Champion, Lukhumi CHKHVIMIANI (GEO) stole the show in the -60kg weight category.
-48kg
The legend continues. The now 18 year-old Ukrainian athlete is two-time World Champion.
2018 World Champion, BILODID had a tricky start against Catarina Costa (POR), unable to catch the Portuguese athlete. COSTA had a good first round contest showing her wealth of experience but the Dusseldorf Grand Slam bronze medallist was unable to get past the long limbs and towering height of BILODID, unfortunately seeing her out of the tournament. BILODID explains,
The first fight is the most important for me because I am nervous before that, after the first fight I am much better so it was not my best fight and was difficult but I won.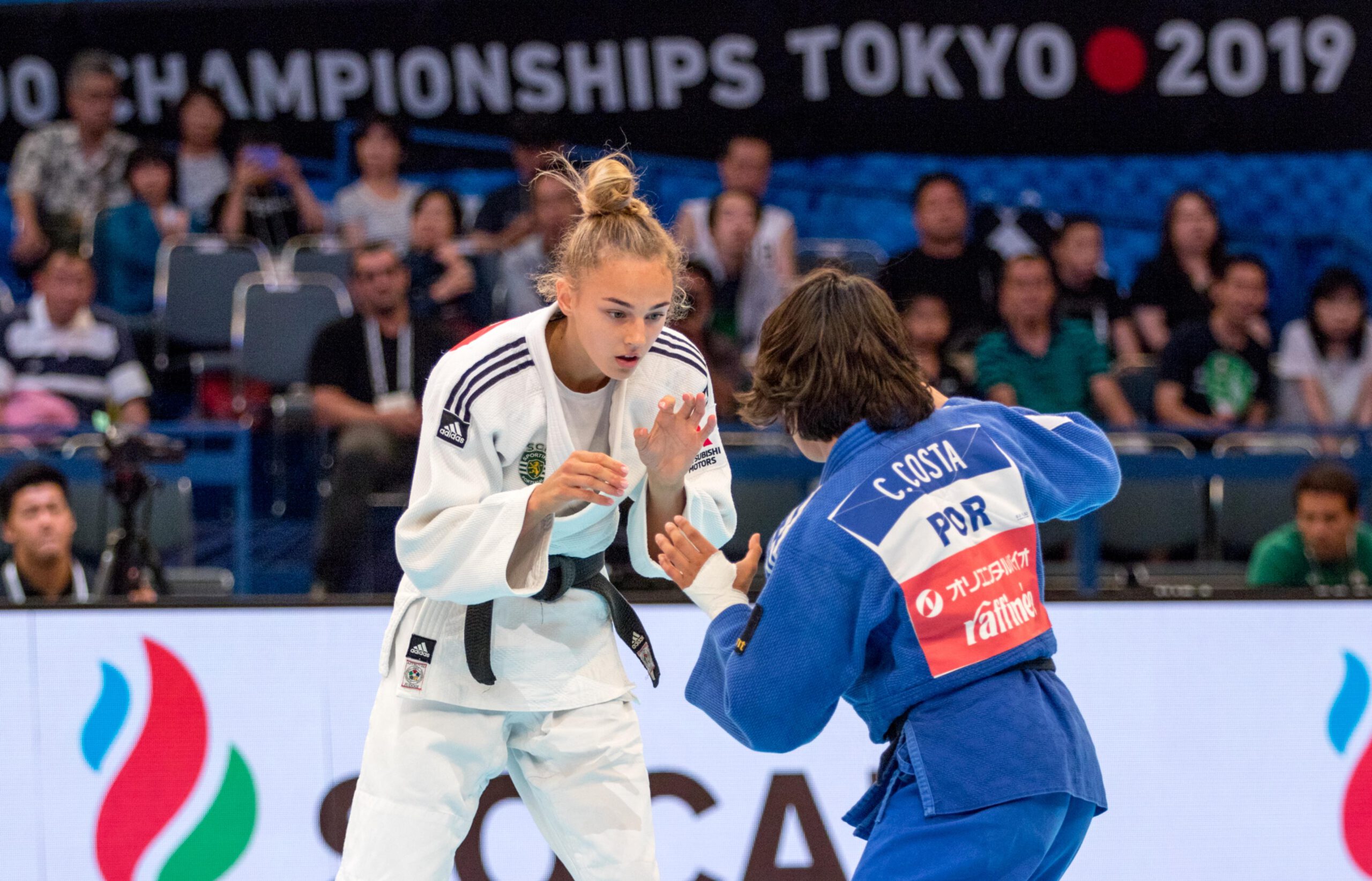 The semi final against MUNKHBAT Urantsetseg (MGL) was her first competitive encounter with the 2013 World Champion. She found it difficult to prepare as they had only met once previously on a training camp and the conditions are very different. BILODID wasted little time in making her way in to the final though, with only two minutes left on the clock, the referee called 'mate' and 'ippon', BILODID executing yet another perfect sangaku hold, walking off the mat to her overjoyed mother and coach.
Though the crowds were not in her favour in the final against TONAKI Funa (JPN), BILODID did not want to end her winning streak against TONAKI. The pair, both full of determination, the Japanese with desperation to win, relived their 2018 World Championship final, only this time, there was a home advantage for the 2017 World Champion. TONAKI had clearly prepared for her Ukrainian opponent, but BILODID waited patiently and scored a waza ari within the last two minutes of the contest. Despite deafening encouragement from the home supporters, willing for a World Champion on day one, BILODID took an extraordinary second World Champion title, her first time fighting in Japan and great preparation for the Tokyo Olympic Games in 2020.
It is a very unusual atmosphere and very unusual for me, to fight in Japan for the first time and then in the final against the Japanese girl, of course there is a big pressure because of all the Japanese fans who support her but I did it and I am happy.
The young athlete talked about her winning techniques and how her opponents are finding ways to slow her down, but she has others up her sleeve and with a long career ahead, will be interesting to see how her repertoire develops and if she can always stay one step ahead.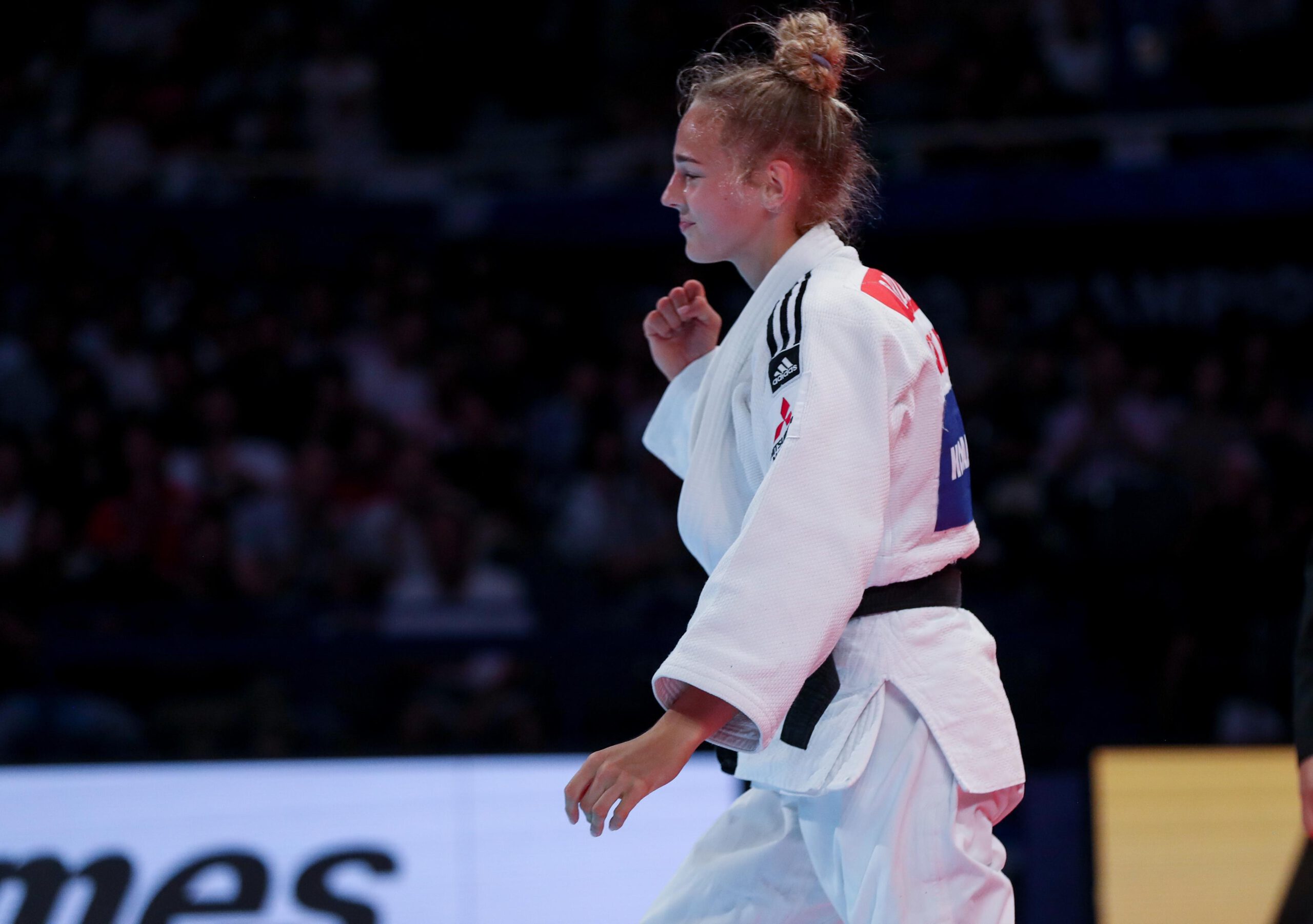 The up and coming superstar Laura MARTINEZ ABELANDA (ESP) had a fantastic day, her fast and powerful techniques caught her opponents off guard and saw her through to the quarter final against BILODID. Unfortunately, MARTINEZ was unable to escape the vine-like legs of the World Champion and found herself in the repechage contest against Otgontsetseg GALBADRACH (KAZ). With her signature seoi nage and impressive drive, the Spanish took her place in the bronze medal fight.
It became an all-European affair in the bronze contest against Distria KRASNIQI (KOS). The Kosovar had to overcome current Olympic Champion, Paula Pareto of Argentina for her medal contest after a semi final loss against TONAKI. Though KRASNIQI's record is strong against, not losing to her in five years, she was overcome with emotion to find herself competing for bronze.
It was the hardest fight for me, of course she is Olympic Champion and I know that every fight with her will be difficult and long, we will be exhausted but still it was good for me.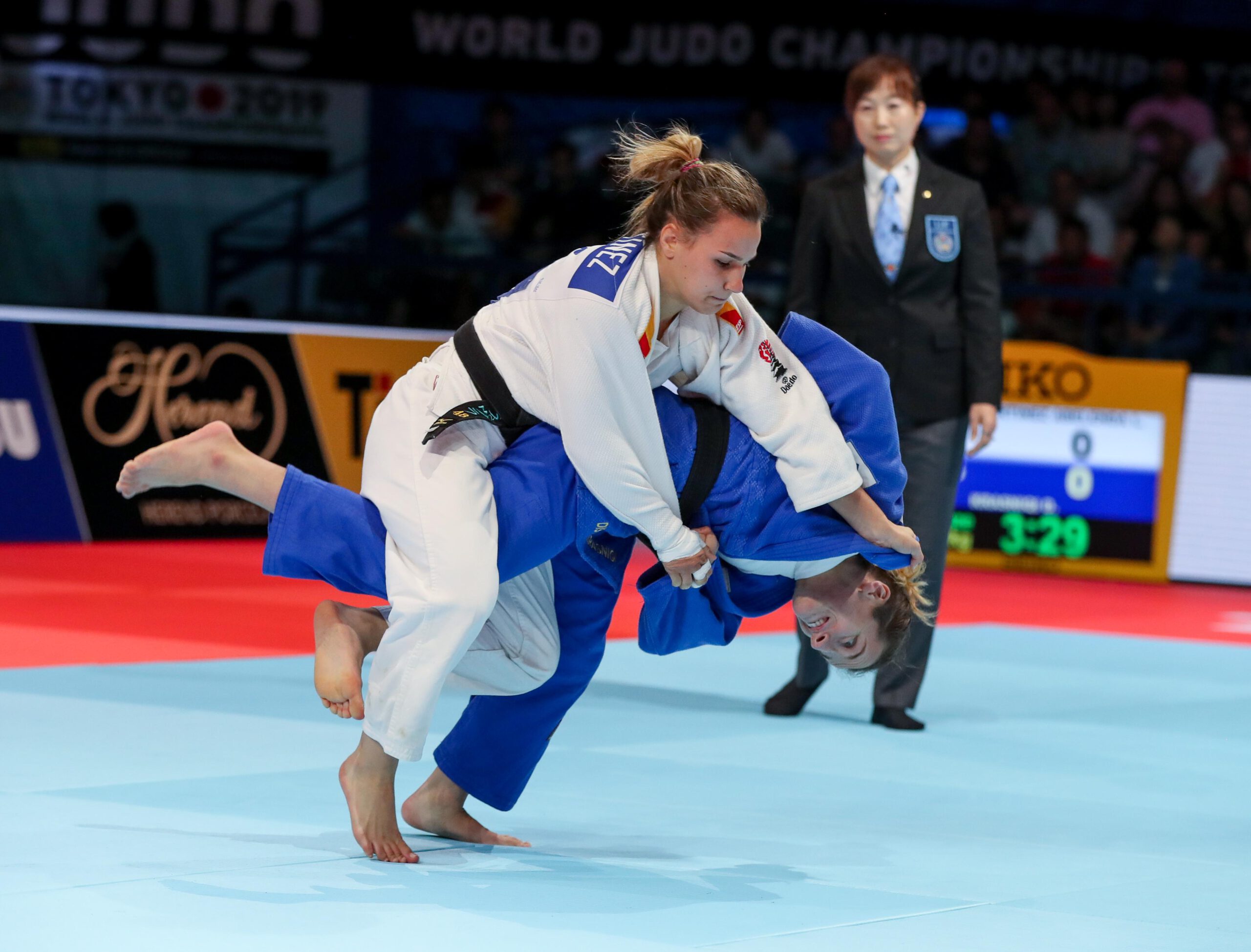 The Baku Grand Slam gold medallist MARTINEZ gave it her all but had to accept a 5th place in the Nippon Budokan as KRASNIQI executed a perfect uchi mata, scoring ippon, taking her first senior World medal.
It feels good but I didn't have my best performance today, but still it is a medal and any World Championship medal is a gold for me and my team.
-60kg
The first day of the Senior World Judo Championships 2019 certainly seemed to be a day for the Asian continent, though disappointment did come for Japan as reigning World Champion, TAKATO Naohisa lost out in the semi final to eventual silver medallist, Sharafuddin LUTFILLAEV (UZB).
However, the European torch was carried high in to the final by Lukhumi CHKHVIMIANI (GEO). It was not an easy road to the final for the Georgian, having to repeat his European Games final against Francisco GARRIGOS (ESP). The contest ended in golden score with a waza ari for CHKHVIMIANI.
Garrigos from Spain is a very hard opponent for me. Before the European Games, I lost to him five times maybe, but in Minsk in the final I beat him so it gave me more power and confidence, I beat Garrigos again today, of course I wanted to beat everyone as much as possible but today was just very special for me, most important was my desire to win in Tokyo.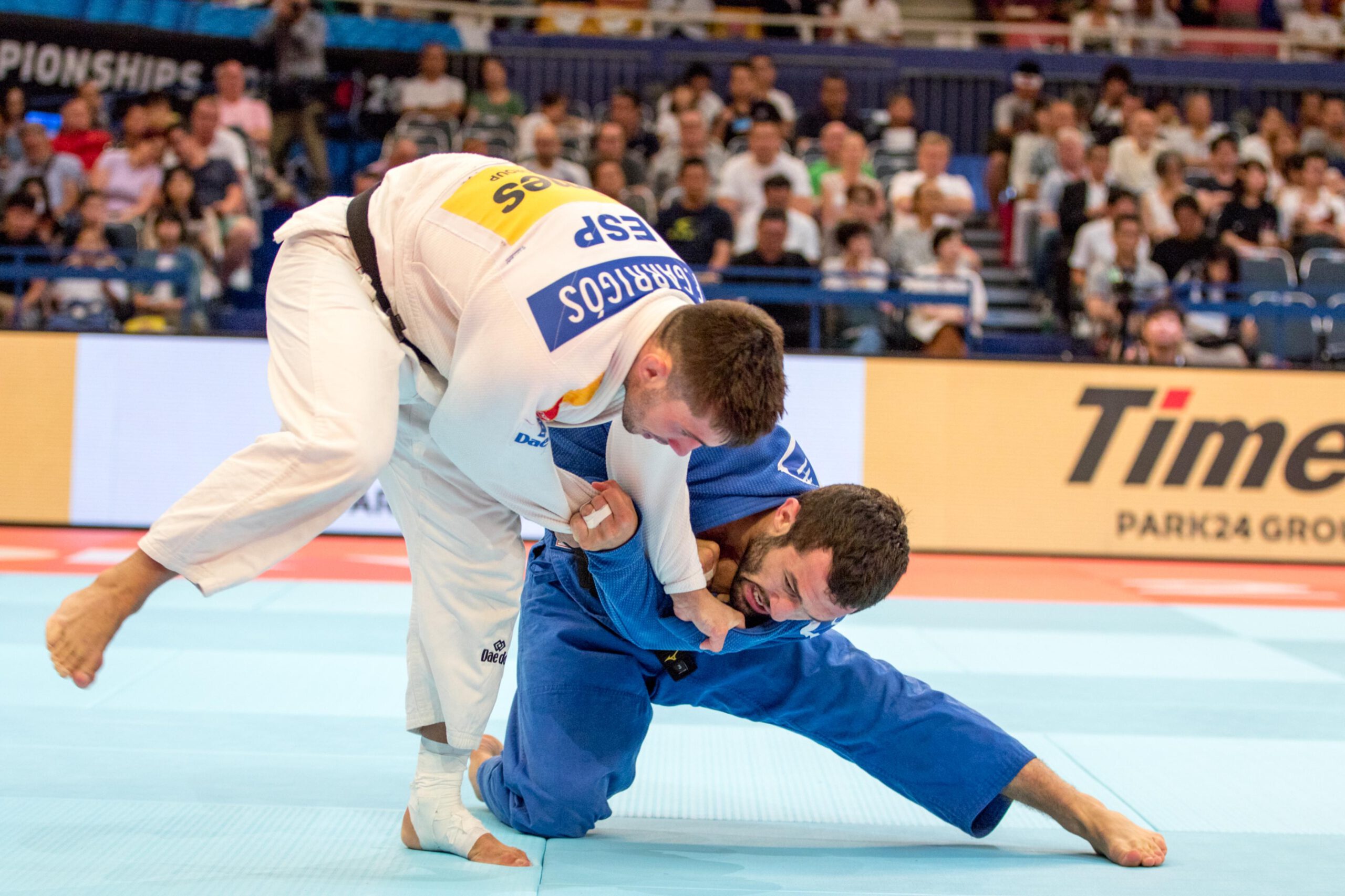 The quarter final also looked to be tough, as opponent Yung Wei YANG (TPE) the 2018 World silver medallist, Robert MSHVIDOBADZE (RUS). The young man took a silver in the Hohhot Grand Prix and bronze in the Budapest Grand Prix this year. Once again the determination of CHKHVIMIANI prevailed and he found himself in the semi final against NAGAYAMA.
The home crowd had already dealt with the defeat of TAKATO, but still believed that they would have a chance to hear their national anthem. CHKHVIMIANI put a stop to this with a waza ari in golden score against NAGAYAMA, a strong te waza movement put him in the final against LUTFILLAEV. With such a passionate home crowd, this semi final contest put extra pressure on the Georgian,
Of course Nagayama is one of the best judo players in this category, one of the best, I can say he is one of the leaders. Before todays contest I lost twice against him but you know this is judo, I had a feeling, I wanted to be World Champion in Tokyo and felt like I could beat every opponent and nobody is unbeatable. This was the day of rematches for me, with Nagayama and Garrigos.
For the majority of the -60kg final, the pair were well matched, and both clearly feeling the effects of a tough day, but it wasn't until the final minute, with two penalties against him did CHKHVIMIANI have a new lease of life and find it in himself to throw LUTFILLAEV, not once but twice. The win was sensational for the Georgian and his team, all celebrating in the athlete tribune and welcoming their team mate off of the mat.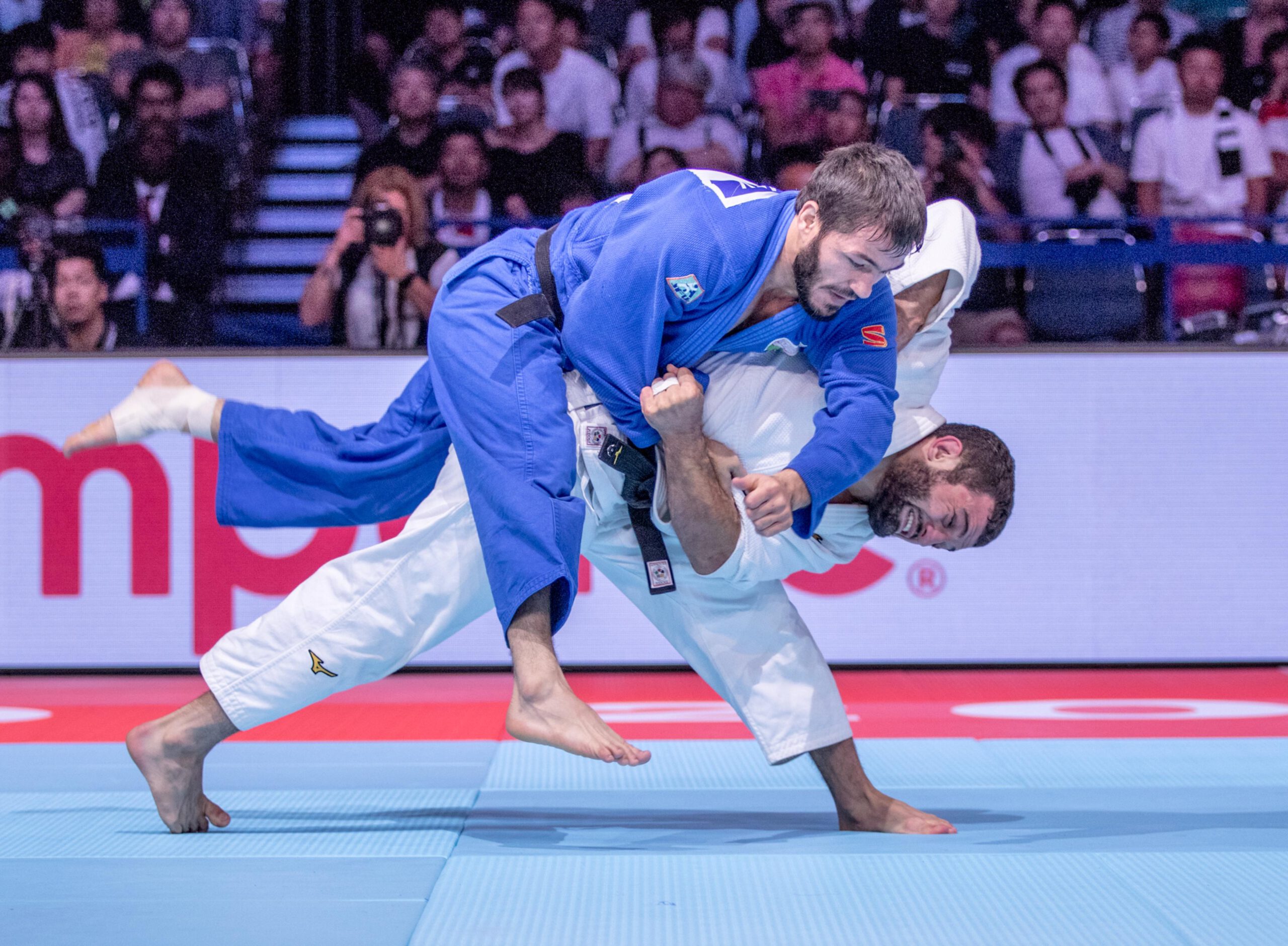 When I came here I felt that any medal would be perfect for me and of course the gold medal is an amazing feeling so thank you to the motherland of judo, Japan.

Anybody can see and everybody recognises that Georgia is one of the best teams in the world because we have results, Olympic, World and European Champions. In every category we have leaders so everyone has the ability to achieve a medal. I wish all the success to my friends and my team mates, yes it is hard to medal in Championships like this but I wish the best.
The excitement continues tomorrow with the -52kg and -66kg categories, the preliminary rounds starting at 10am local time. Watch out for our athlete interviews on our social media platforms and YouTube channel.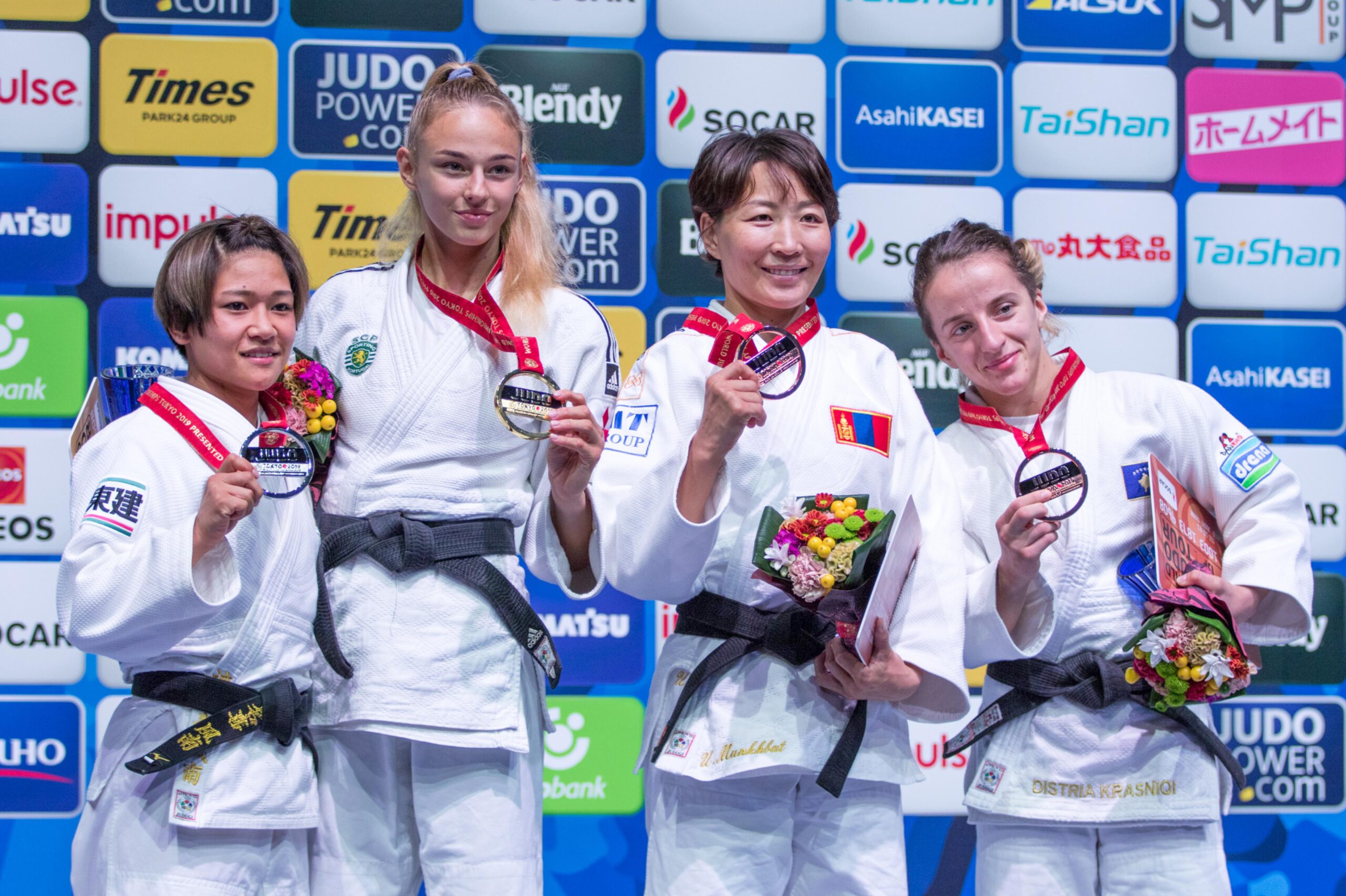 -48kg Medallists 1. BILODID Daria (UKR) 2. TONAKI Funa (JPN) 3. MUNKHBAT Urantsetseg (MGL) 3. KRASNIQI Distria (KOS) – Rafal Burza
-60kg Medallists1. CHKHVIMIANI Lukhumi (GEO)2. LUTFILLAEV Sharafuddin (UZB)3. SMETOV Yeldos (KAZ)3. NAGAYAMA Ryuji (JPN) – Rafal Burza
Judoka
Author: Thea Cowen
---