The Annual European Judo Union Gala Dinner was held during the 2nd European Games in Minsk, Belarus. The slogan 'My Judo. My Life.' was the theme of the evening, with a variety of EJU members presenting the prestigious awards to a whole host of individuals who contribute to our community.
The initial awards were presented to our athletes of the year as well as coaches of individual players.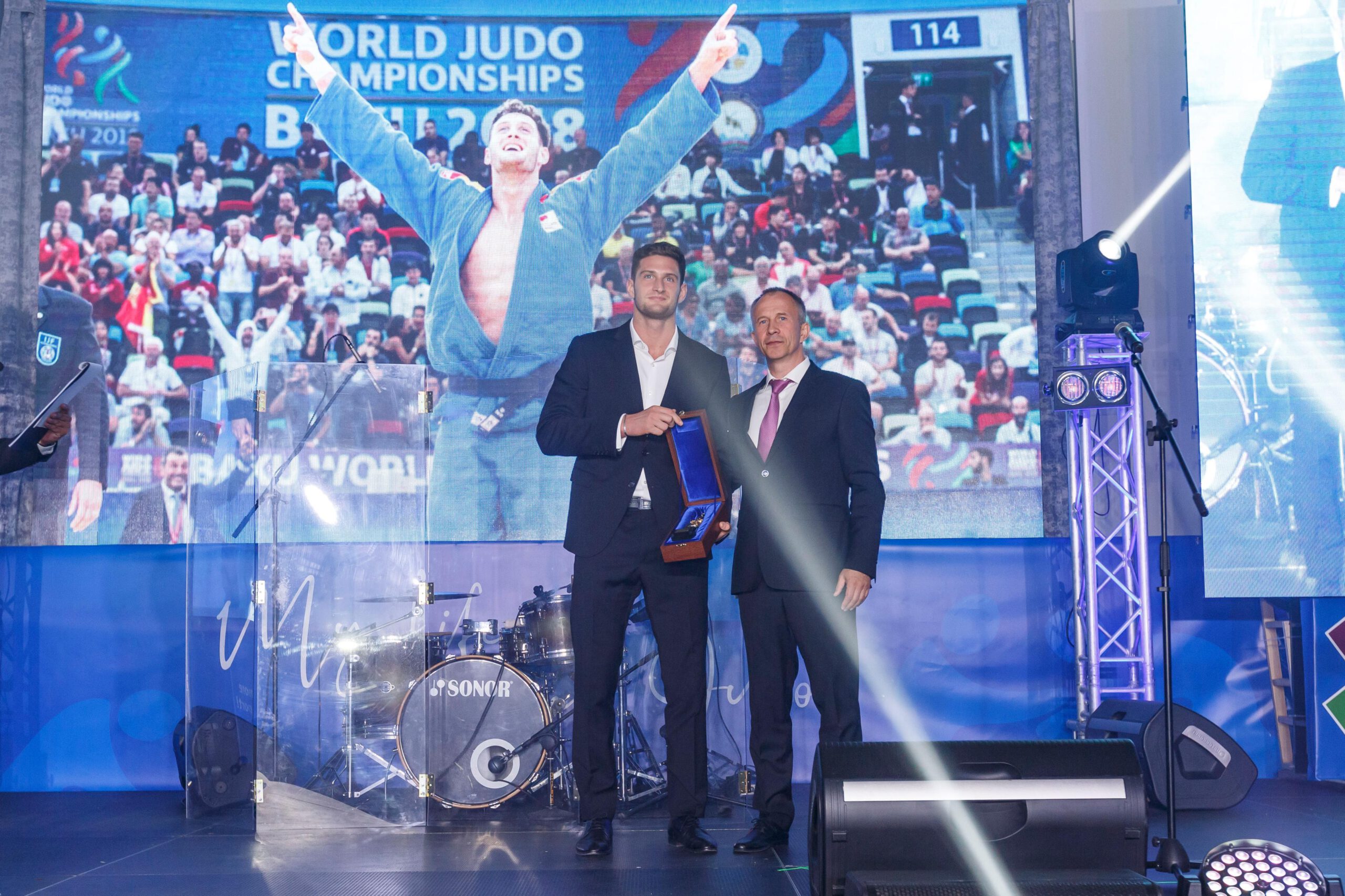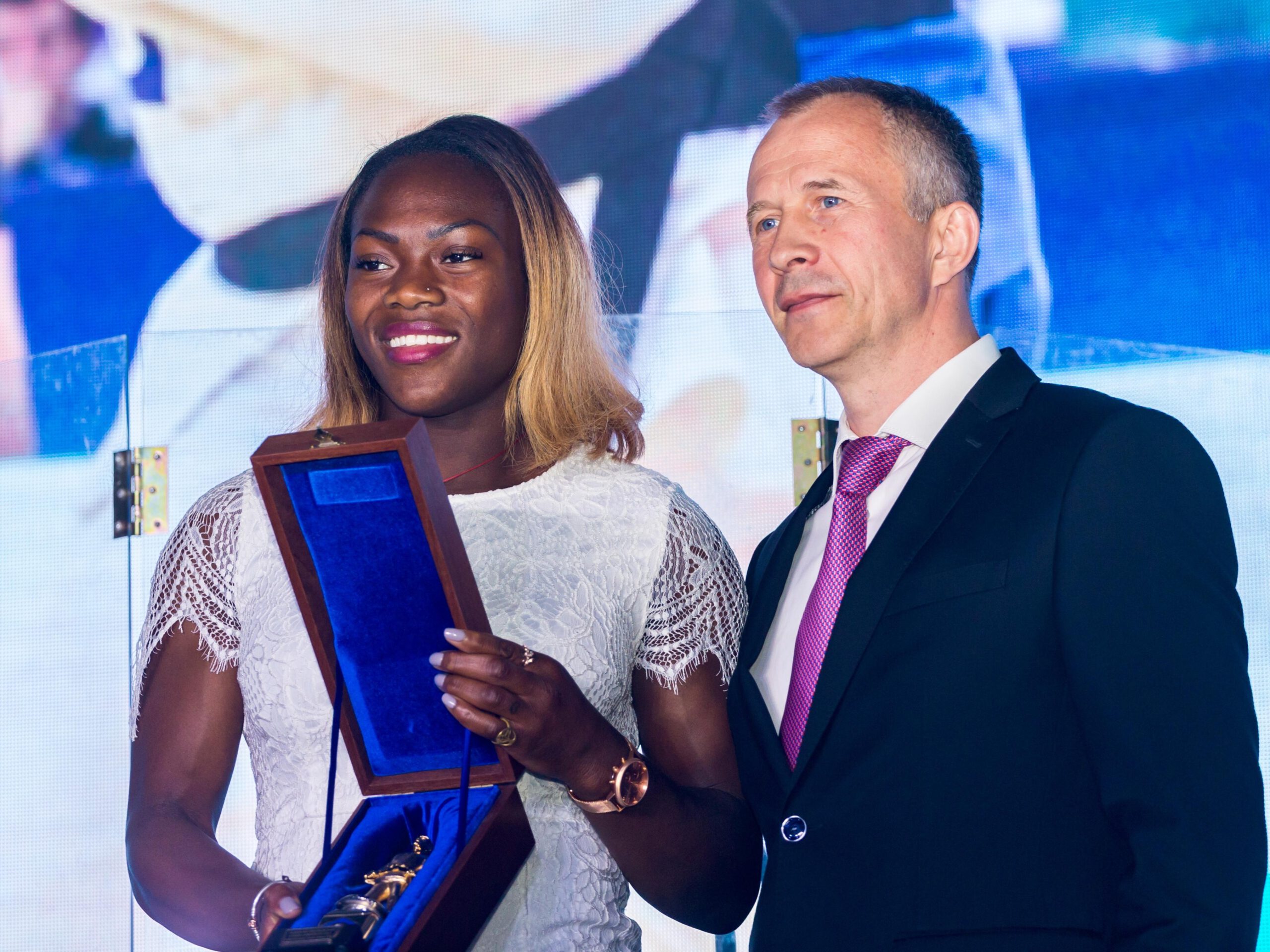 Best European Female Judoka – Clarisse AGBEGNENOU (FRA) with EJU President, Sergey SOLOVEYCHIK – Maltisa Ltd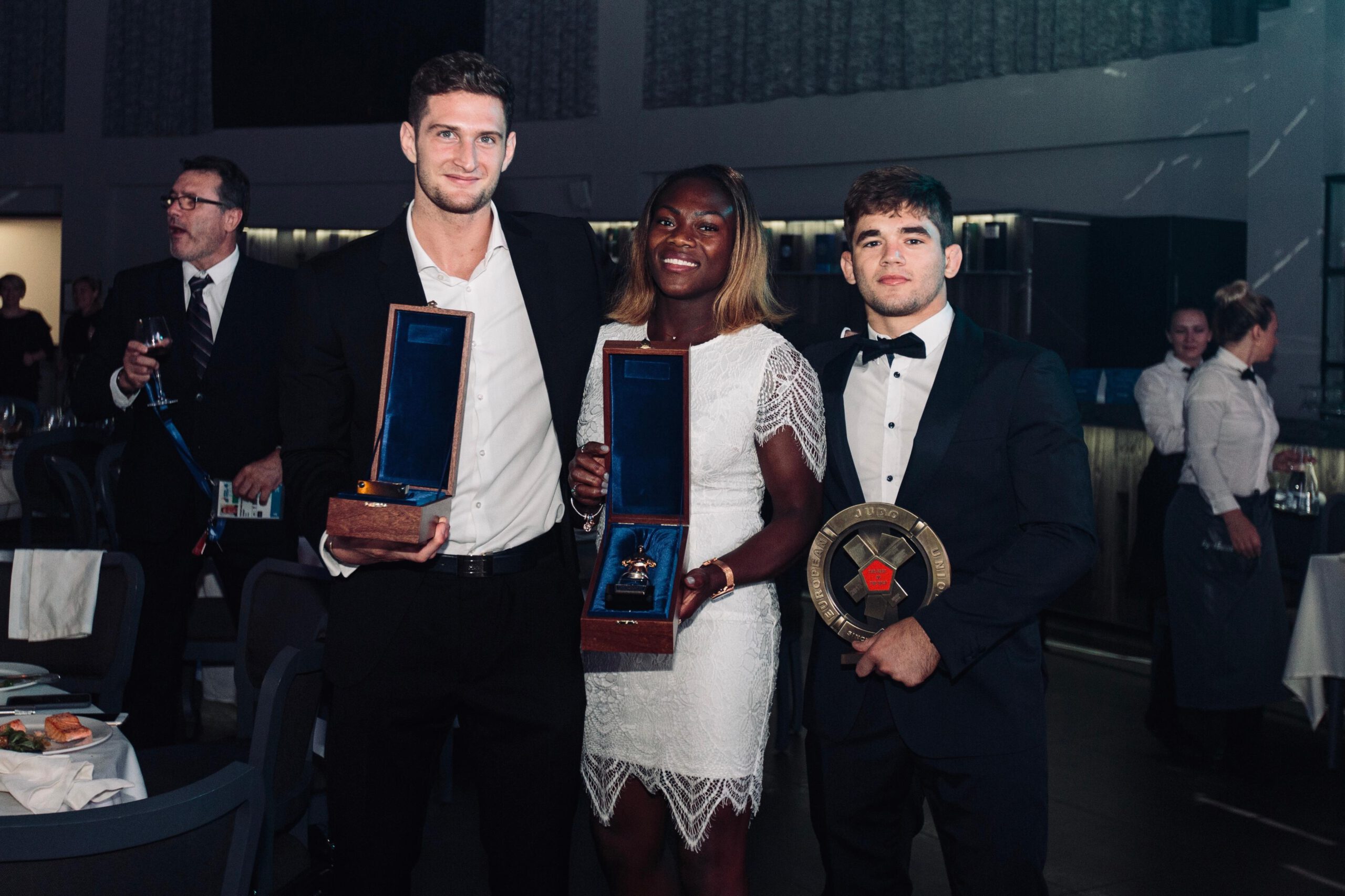 The 'Best European Male and Female Judoka' awards went to the -90kg and -63kg World Champions, Nikoloz SHERAZADISHVILI (ESP) and Clarisse AGBEGNENOU (FRA). Awards were also given to the Best European Junior Male and Female Judokas, this time World Champions in the Junior division, Manuel LOMBARDO (ITA) and Daria BILODID (UKR).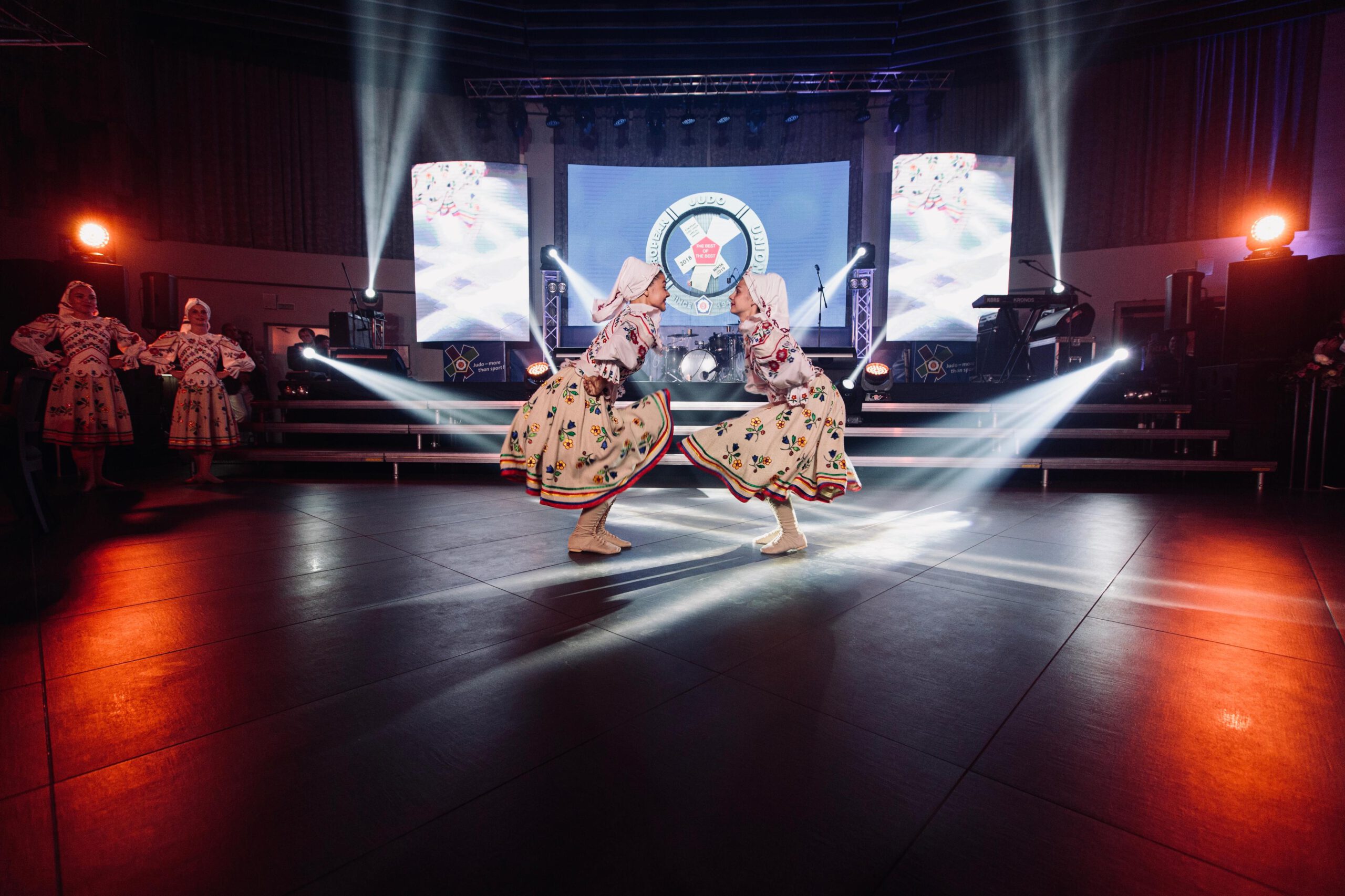 The awards continued throughout the evening, with intermissions and performances by traditional dance companies as well as singers to provide an authentic evening of entertainment and celebration during the Minsk European Games.

The third person on the tatami is always recognised and the 'Most Progressive European Female Referee' award was, for the second time given to Roberta CHYURLIA (ITA). EJU Referee Director, Alexandr JATSKEVITCH, explained that CHYURLIA was "chosen based on ranking lists provided by the EJU and IJF which is purely mathematics, the 62 EJU events per year allow the referees to constantly progress."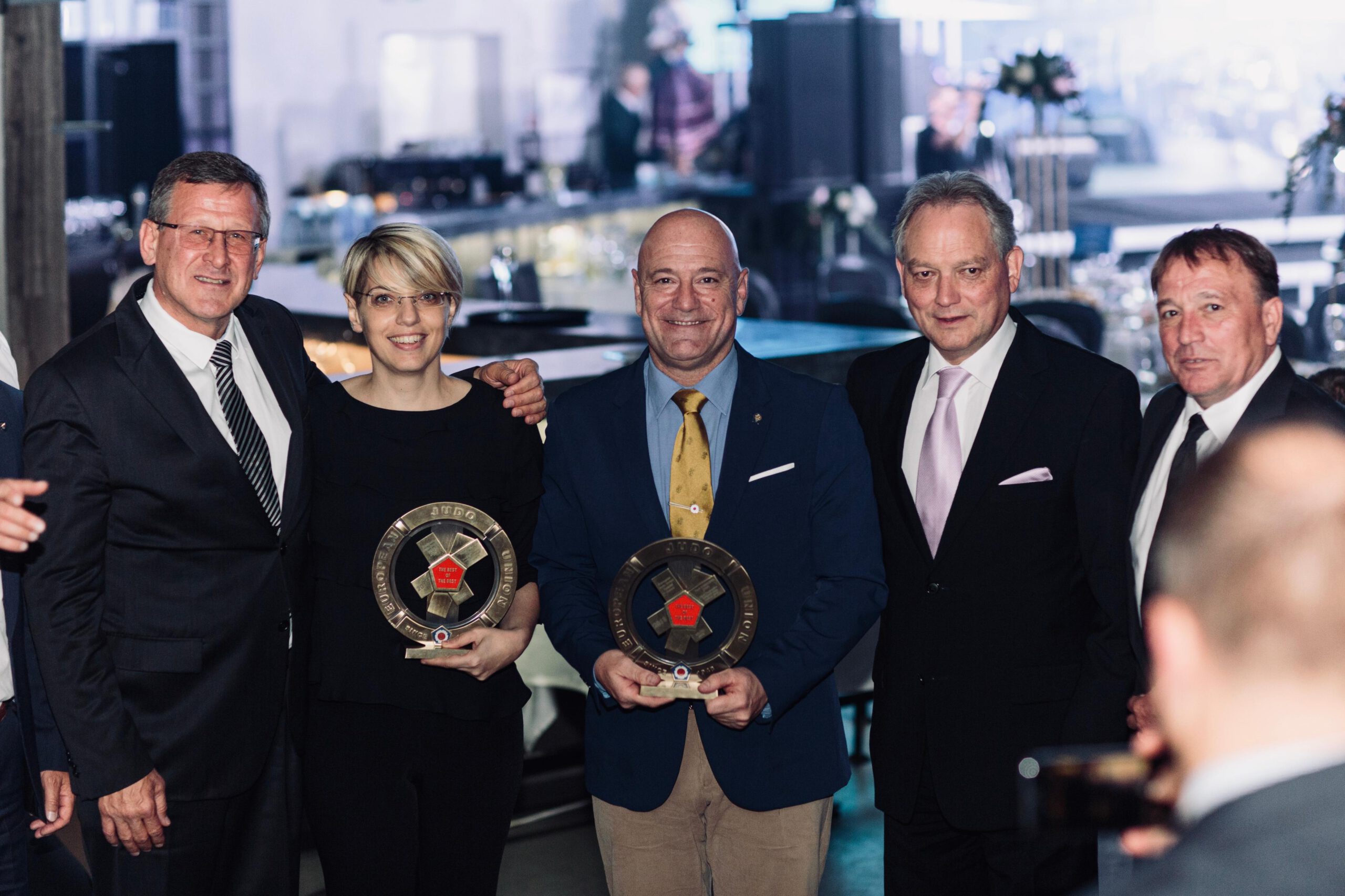 The 6th Judo Festival has concluded in Porec, Croatia, this week, during which the 6th European Judo Science and Research Symposium and the 5th Scientific and Professional Conference – 'Applicable Research in Judo' was held. The ongoing contribution of scientific study to the performance of judo is tremendous and the Scientific Award was deservedly given to the Investigation Group from University of Seville (Oscar del Castillo, Carmen Campos, Luis Toronjo and M Teresa Toronjo) for acceptance and presentation in the Safety 2018 World Congress in Bangkok of the study "Safe Fall, Safe Schools: teaching how to fall. A necessary content in the future Teaching Curricula" and the contribution to the creation and development of the EJU Safe Fall Project.
For the plethora of remaining awards presented to members of the European Judo Union, please find a comprehensive list below and a link to the gallery of the evening.
Awardees 2018
Best European Male Judoka – Nikoloz SHERAZADISHVILI (ESP)
Best European Female Judoka – Clarisse AGBEGNENOU (FRA)
Best European Junior Male Judoka – Manuel LOMBARDO (ITA)
Best European Junior Female Judoka – Daria BILODID (UKR)
Best European Mixed Team – France
Best European Men's Coach – Bato JIKURI (GEO)
Best European Women's Coach – Larbi BENBOUDAOUD (FRA)
Best European Event – European Championships Seniors Tel Aviv (ISR)
Best European Organiser – Russian Judo Federation for milestone EC Mixed Teams Ekaterinburg
Most Progressive European Male Referee – Raul CAMACHO (ESP)
Most Progressive European Female Referee – Roberta CHYURLIA (ITA)
Best Education Event 2018 – Exhibition of Judo Family project during the European Mixed Team Championship in Ekaterinburg
Best Education Seminar 2018 – IYC Seminar organised by Serbian Judo Federation with EJU expert Mr Katanishi
Education Award for Contribution to the Development of Education 2018 – Kodokan Institute
Social Inclusion Award 2018 – Yury KRISHCHUK for the develop of the Judo Family Project in the Judo Festival
Social Inclusion Award 2018 – Sergio OLIVEIRA for the develop of the Judo Family Project in the Judo Festival
Plaque of Appreciation for the Work in the EJU Medical Commission – Dr. Peter Hidas
Judoka
Author: Thea Cowen
---