The 2018 European Judo Championships will be taking place between 26-28 April in Tel Aviv, Israel. It is the first ever time that this tournament will be held in Israel. The event will take place at the Tel Aviv Convention Center. Altogether, almost 400 athletes from 44 different nations have inscribed for the occasion. This will be the last event for our elites before the Olympic Qualification begins for Tokyo 2020.
The President European Judo Union, Mr. Sergey Soloveychik, welcomes all participants and guests.
"Dear Judo Friends,
On behalf of the European Judo Union I am glad to welcome all the participants and guests of the European Judo Championships that will take place in Tel Aviv, Israel!
Israel has a successful history of staging important European events. The European Judo Championships in Tel Aviv is especially important for our athletes, as it is at this level that they can perfect their skills acquired over years of training and self-improvement in the art of Judo.
Israel has a fine record of success at European Championships and can boast such stars as Yael Arad, Ariel Zeevi and, most recently Sagi Muki. Notable too are the performances on the international stage of Oren Smadja, Yarden Gerbi and Or Sasson. Such achievements come on the back of the incredible numbers of young people taking up the sport in Israel. Important too is the recognition of and support provided by the Ministry of Sport and Culture for Israeli judoka preparing for the Tokyo Olympics in 2020. I wish to take this opportunity to thank the current Minister Ms. Miriam Regev for her tremendous efforts to ensure judo's continued growth and development in Israel.
I sincerely hope that these Championships will bring you a lot of positive emotions and bright impressions! I cordially thank the host city of Tel Aviv and the Israeli Judo Federation for the great work done in preparing this event! I wish good luck, strong health and success to all at this joyful event!"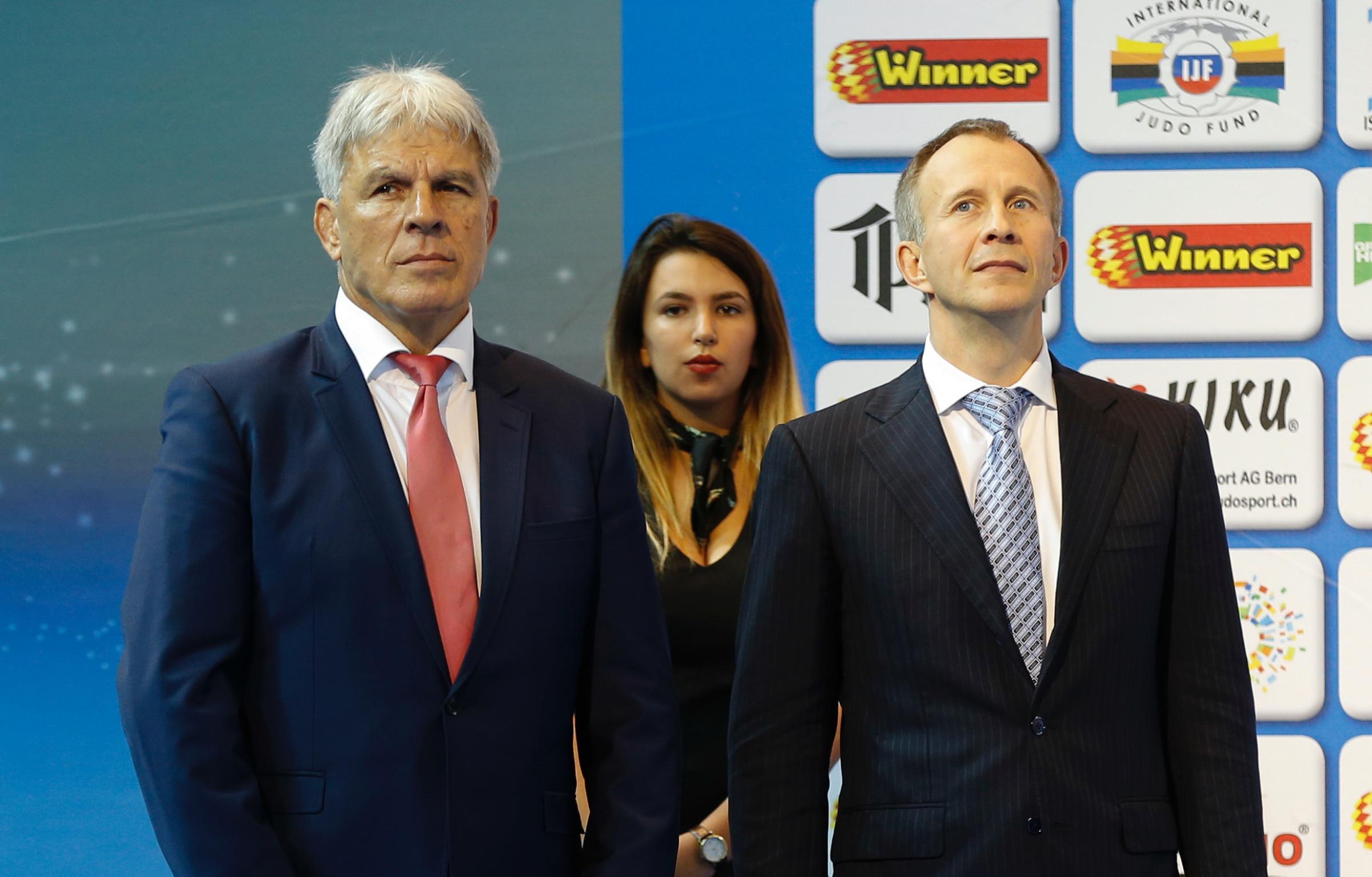 The President Israel Judo Federation, Mr. Ponte Moshe, also expressed his appriciation.
"Dear Judo Friends,
On behalf of the Israeli Judo Federation it is a great honour for me to welcome all of you: officials, athletes, honourable guests and judo friends to the European Judo Championships 2018 in Tel Aviv, Israel. Tel Aviv is a major city in Israel, city that never sleeps, one of the 25 most important financial centres of the world, a city with great opportunities of fun, vacations, food, culture and entertainment. Known as "The City that Never Sleeps", it has a lively nightlife, dynamic atmosphere and a 24- hour life.
We are delighted to have the opportunity to organise these important Championships. After the successful U23 European Judo Championships that we hosted 2 years ago we are excited toward this event. Please let me thank all the people and volunteers that gave all they have to make these Championships an event we will all be proud of.
Judo in Israel is one of the most popular sport. The Medals that Israel won over the years in international tournaments, including European championships, World Championships and Olympic games, surely helped us develop our great sport.
We welcome all the delegations and wish you all a championship you will always remember.
I want also to thank our partners and sponsors that support us.
I am more than sure that you will all be great ambassadors of Israel after the end of this championship."
The first day of the event will stage the five lightest weigh divisions. For women, it will be the -48 kg, -52 kg and -57 kg; and for the men, -60 kg and -66 kg categories. As per the ladies, we will have two of the reigning champions in absence, Daria BILODID and Majlinda KELMENDI. Nevertheless, the show goes on and we shall expect and other ecstatic week of judo in Europe. The event will be live streamed via our website (eju.net). Please see below the schedule of the event and don't forget our official hashtags: #JudoTelAviv2018 #europeanjudo
---
Schedule
Wednesday, April 25th

16:00
Draw Press Conference Meeting of the referees
Tel Aviv Conv. Center

Thursday, April 26th – Women: -48 kg / -52 kg / -57 kg Men: -60 kg / -66 kg

12:00
Elimination rounds
Tel Aviv Conv. Center
16:30
Opening Ceremony
Tel Aviv Conv. Center
17:00
Final Block: Repechage, SF, Medal Contests
Tel Aviv Conv. Center

Friday, April 27th – Women: -63 kg/ -70 kg Men: -73 kg / -81 kg

11:00
Elimination rounds
Tel Aviv Conv. Center
16:00
Final Block: Repechage, SF, Medal Contests
Tel Aviv Conv. Center

Saturday, April 28th – Women: -78 kg/ +78 kg Men: -90 kg/ -100 kg/ +100 kg

12:00
Elimination rounds
Tel Aviv Conv. Center
16:45
Closing Ceremony and Handing over of the Flags
Tel Aviv Conv. Center
17:00
Final Block: Repechage, SF, Medal Contests
Tel Aviv Conv. Center
Tickets and information for fans: www.judoisr2018.com
Judoka
---