The final block on day two of the Rome European Open 2023 concluded an incredible tournament held by Italian Judo. Immediately the crowd were given reason to get out of their chairs with Italian medal potential in the opening contests.
After seeing team mate, Bright MADDALONI NOSA (ITA) take a medal in the -81kg category, Tiziano FALCONE prepared for his final against Georgi GRAMATIKOV (BUL). Already, the Bulgarian had defeated Maddaloni Nosa, Leonardo CASAGLIA (ITA) and was now faced with a third member of the Italian team. He couldn't make it as hat-trick though as Falcone stopped his every attack, forced his opponent to cede shidos and eventually scored ippon, countering Gramatikov's ko soto attempt with o uchi, much to the crowd's delight!
Both bronze medal contests were supported by the Italian crowd, both in with a chance of a home nation win, the first medal went to Maddaloni Nosa and the second to Adam KOPECKY (CZE).
For Giovanna SCOCCIMARRO (GER), today was an important one. Getting in to the final of the -70kg category against NIANG Assmaa (MAR) was a win in itself, her first since she tore her ACL in the Paris Grand Slam and she has had a long road to recovery. Niang is unquestionably a strong and difficult opponent, and the German picked up two shidos despite her endeavours to score. Eventually, ashi waza gave Scoccimarro the score and she finished off the contest, winning the gold medal with osae komi.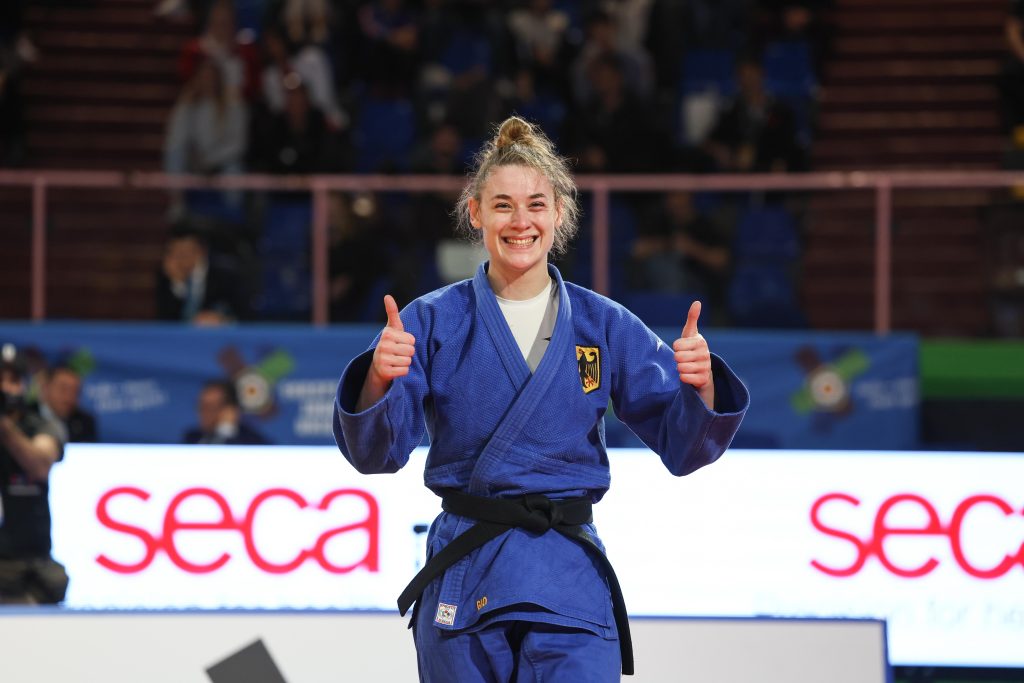 Bronze medals were won by Italy's Irene PEDROTTI and Joana CRISOSTOMO (POR).
The French team were guaranteed two medals in the -90kg category, with Francis DAMIER in the final and a head to head between Paul LIVOLSI and Eniel CAROLY. Livolsi came out on top in the bronze medal contests and then he traded spots with Damier. His final against Marat KRYZHANSKYI (UKR) ran the full time, and then some. The U23 European silver medallist
The bronze medal contests were over very quickly, with Daniel NIETO TRINIDAD (ESP) taking the first and immediately after, Livolsi.
Anna Monta OLEK (GER), again was in a final with a team mate, this her second consecutive European Open where the team are chasing the number one seed all the way to the final. Last time it was Julie HOELTERHOFF and today, Raffaela IGL. Things were actually starting to look a little shaky for Olek as she picked up two shidos and Igl was looking somewhat secure, but then a last-chance harai from Olek gained her a waza ari advantage which she held on transitioning to the ground for an eventual win. This takes Olek's continental open tally to five gold medals, she doesn't seem to be settling for anything else.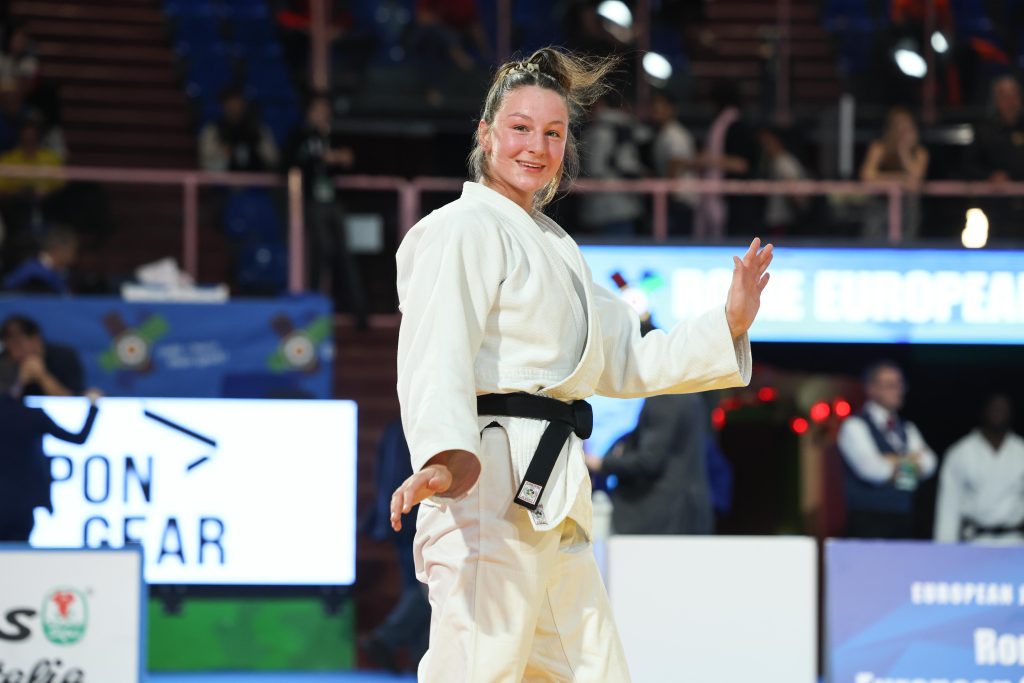 France continued their medal collection with a bronze from Oceane ZATCHI BI and Lieke DERKS (NED) saved her semi final loss with a medal win.
Asley GONZALEZ, formerly the world champion and Olympic silver medallist of Cuba made the move to represent Romania in 2021 and whilst accumulating a Paris Grand Slam silver, we have been fortunate to see him competing on the continental open level as he claims points for the Olympic Games in Paris 2024. Today he continued that quest but it wasn't an easy road for him, especially in his final against Harry LOVELL-HEWITT (GBR). The pair went in to golden score and eventually it was a counter from Gonzalez that saw him leave Rome with the gold medal.
Bronze medals went to Boris GEORGIEV (BUL) and Falk PETERSILKA (GER).
Following the quickest semi finals of the day, the +78kg final went the exact same way. Su Xin (CHN) astounded the crowds once again with a finish in under 30 seconds, a terrific o soto gari against Sydnee ANDREWS (NZL).
In the end, only one medal went to Europe with a bronze medal win form Carmen DIJKSTRA (NED), the second also claimed by the People's Republic of China, the number one seed, XU Shiyan.
Deciding the final medal table positions were Guerman ANDREEV (FRA) and Jonas SCHREIBER (GER). It didn't take long either, Schreiber went in for an ura nage counter but Andreev anticipated it and threw his opponent back.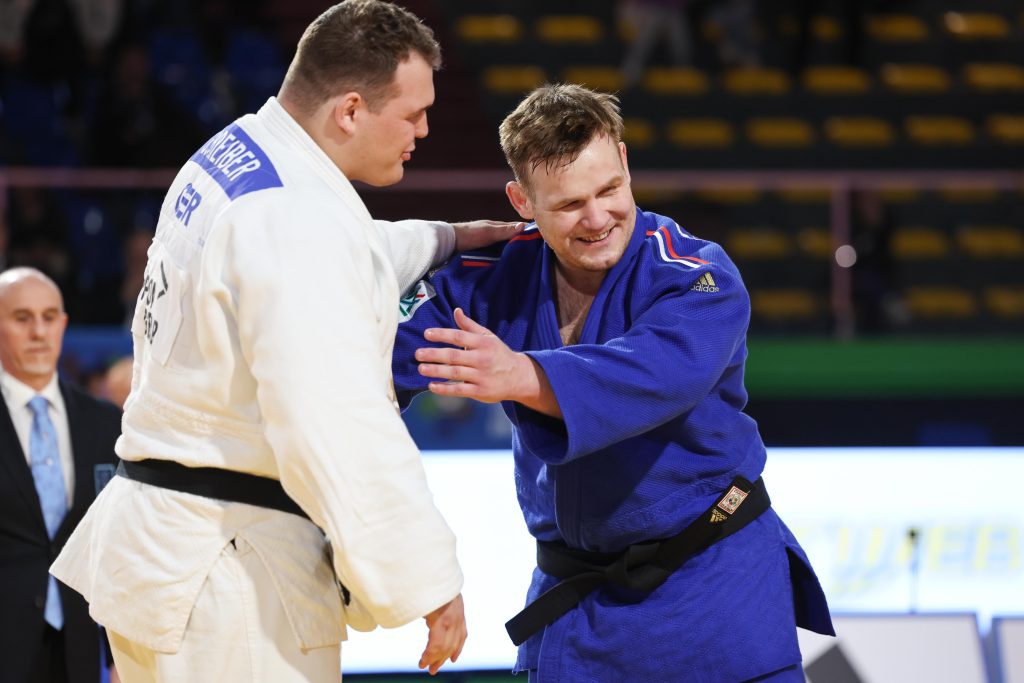 France also took a bronze medal from Clement DELVERT and the second bronze was awarded to Kacper SZCZUROWSKI (POL).
This of course meant that France concluded the tournament in the top position followed by Germany and the People's Republic of China.
Judoka
Author: Thea Cowen
---