Dimitri PETERS (GER) lifted the spirits of the German faithful by taking gold in the -100kg category on the third and final day of competition at the Dusseldorf Grand Prix. Medals for the host nation were hard to come by over the three day tournament. But the gold from Peters presents Germany with a possible selection dilemma as both he and Karl Richard FREY battle for a spot at the Rio Olympics. In Frey's absence (through injury) it was down to Peters to put on a show for the home fans and Peters did not disappoint, winning all five of his contests by ippon.
After a first round bye the first to fall to Peters was Frederik JOERGENSEN (DEN) whose misfortune it was to find Peters not only in the best of form but supported by a partisan and vocal crowd. After only 40 seconds Peters caught Joergensen with right harai goshi for yuko then secured kami shio gatame for ippon. Lasha TAVELURI (GEO) was next to face Peters and the Georgian was in trouble from the start, Peters scoring yuko with a low right sided morote seoi nage inside the first 15 seconds. Peters was relentless in his pursuit of the ippon finish and after several attempts in newaza the German managed to roll Taveluri onto his back back to secure kesa gatame for the win.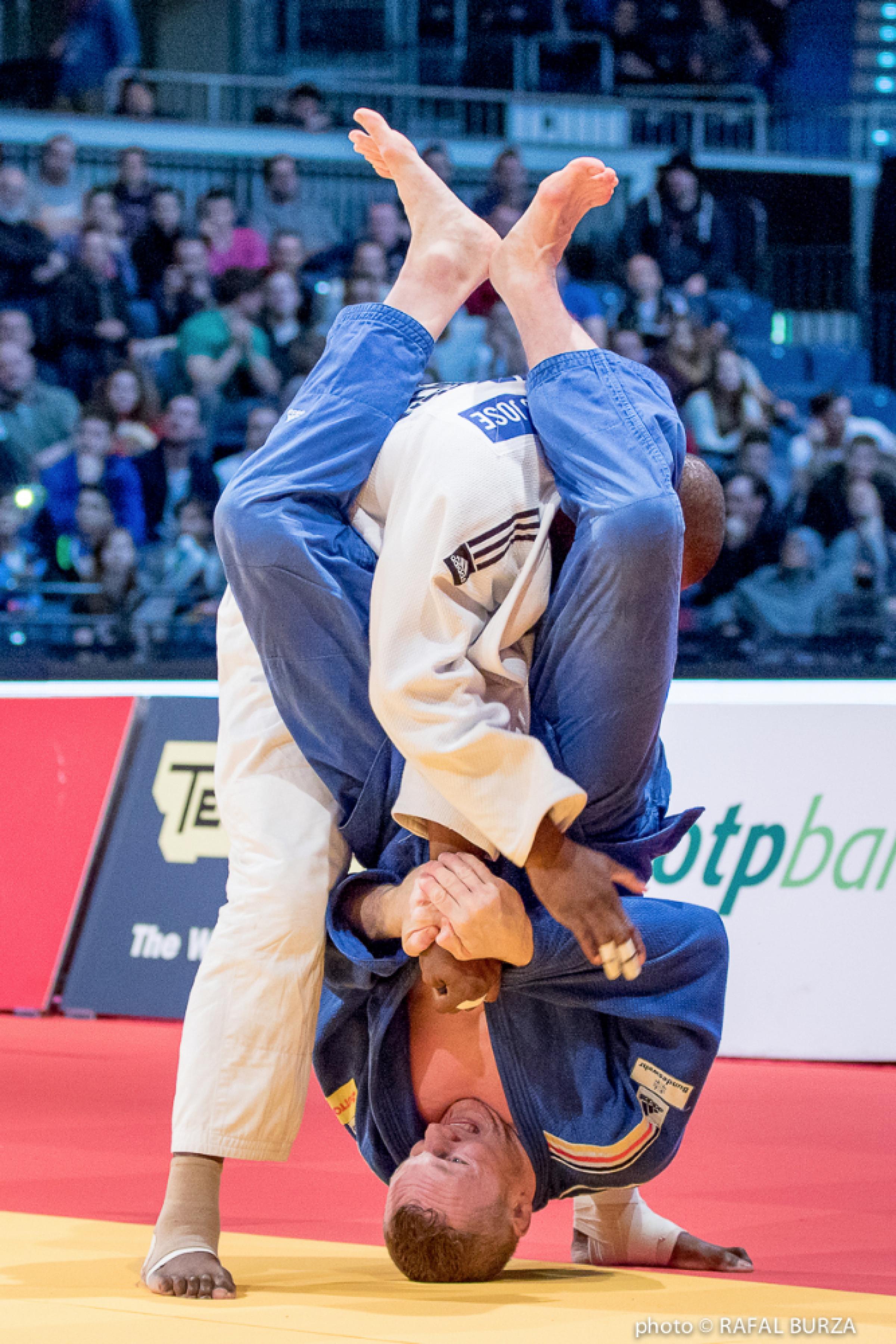 The quarter final saw Peters up against Olympic bronze medallist Henk GROL (NED). But the Dutchman too succumbed in newaza after a weak attempt at tai otoshi by Grol, it was Peters who applied a neat shime waza to consign Grol to the repechage. In the semi final Russia's current number one Adlan BISULTANOV stood in the German's path. But Peters was on a roll and capitalised on a failed o uchi gari by Bisultanov to apply yet another sharply executed shime waza for ippon to take his place in the final. There was an incredible air of expectation from the home fans as Peters made his way into the arena in the final to face Pan-American champion Jose ARMENTEROS (CUB). The pair had not fought previously but the Cuban (ranked number 10 on the IJF world ranking list) had already impressed the Dusseldorf crowd earlier. It was Armenteros who scored first with a low left sided morote seoi nage for yuko. Peters kept changing grips and pressing forward and in his eagerness was caught again with mororte seoi nage for yuko. But Armenteros was untidy in his finish and Peters pounced on the opportunity to engage the Cuban in ne waza where, despite the Cuban's attempts to get to his feet, Peters applied jujigatame forcing Armenteros to submit. Peters was delighted not only to have taken gold in front of the German fans but also to have won in such convincing fashion, a win that prolongs and intensifies that battle for selection between himself and team mate Karl Richard Frey.
Judoka
---