On the second day of the Junior European Judo Championships 2023, two of four of the number one seeds managed to secure their places in their respective finals, but with great difficulty as the level of competition was so great.
Giorgi TERASHVILI (GEO) was an immediate threat in the -73kg category today, already a grand slam gold medallist with wins against IJF World Tour favourites including Manuel LOMBARDO (ITA). His abilities on the senior circuit have not gone unnoticed, but with those expectations it can be difficult to perform with a clear head. Terashvili proved that simply wasn't the case for him and found himself right at home on the tatami. In the semi final he took on Great Britain's Luke DAVIES, who had defeated the defending champion in his previous round. Unfortunately for Davies, his style and high grip was just what Terashvili wanted and in 36 seconds executed an ippon-scoring harai maki komi for his place in the final.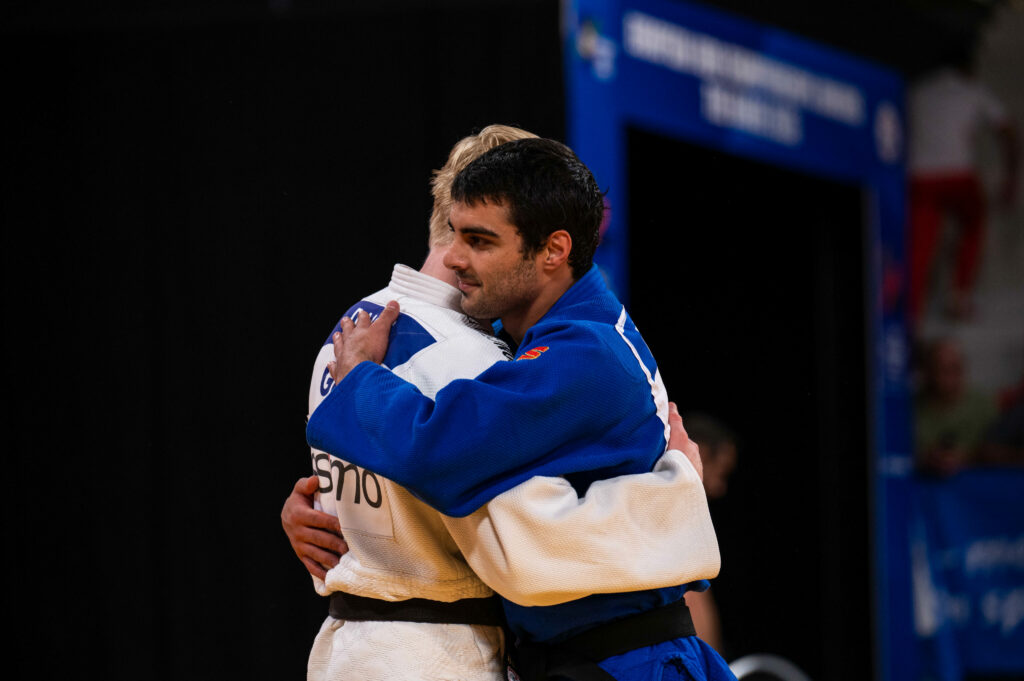 On the opposite side of the draw there was great excitement as unseeded star Otari KVANTIDZE (POR) came through the ranks to place in the semi final against Suleyman ALIYEV (AZE). It was a terrific contest but unfortunately ended with a hansoku make for Aliyev, putting Kvantidze in to the final, only his second final block in his career.
Top seed of the -63kg category, Melkia AUCHECORNE (FRA) was on a mission today to take her first major championships medal, and took no chances, her approach was physical and her opponents struggled to stand against her. In her semi final against Martyna GLUBIAK (POL) she timed a wonderful drop seoi nage, continuing the momentum so much so that Auchecorne went over herself, following her opponent to score ippon.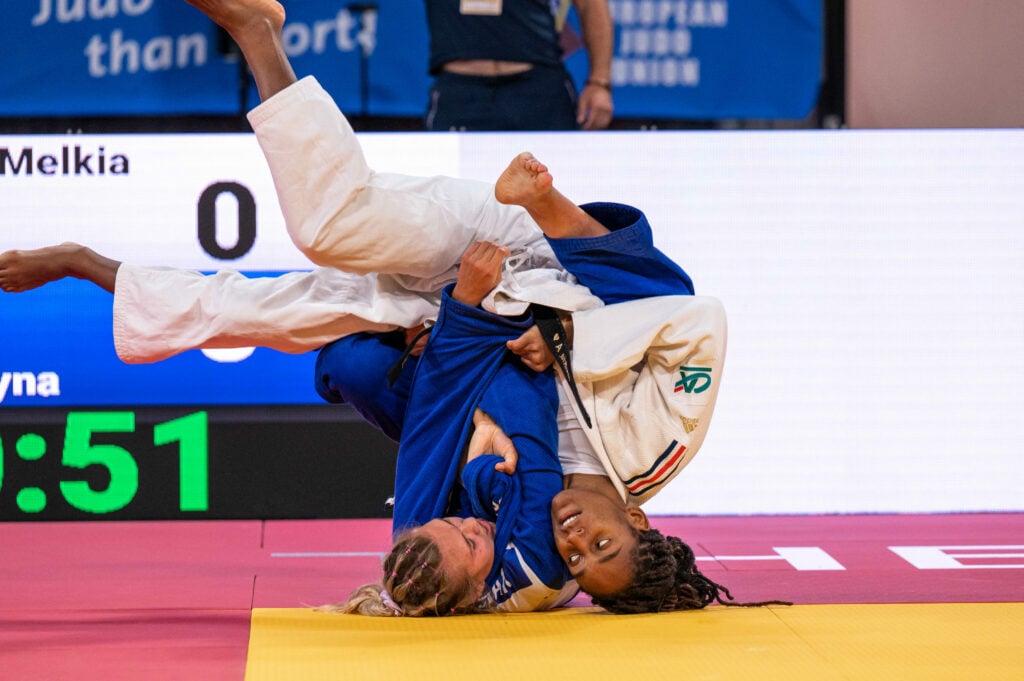 It could very well be a battle of the seoi nages in the final as the number three seed, Savita RUSSO (ITA) also took her place in the final using this popular technique, only she executed this from a standing position, lifting her opponent, Nina SIMIC (CRO) from the ground. Both finalists had very steady journeys to the gold medal contest, but will be prepared for an almight battle for the junior European title.
The -81kg category semi final between Omar RAJABLI (AZE) and Igor TSURKAN (UKR) was nothing short of incredible to witness, in less than forty seconds there were multiple attacks, putting the spectators on the edge of their seats! A decision was made by the referee commission following a lightning speed yoko tomoe nage from Tsurkan and an equally quick reaction from Rajabli, potentially fast enough to have over rotated and escape the score. After careful deliberation, ippon was awarded to the Ukrainian athlete, last years cadet European champion and cadet world bronze medallist.
Meeting Tsurkan in the final is the top seed of the -81kg category, Bright MADDALONI NOSA (ITA). Last year we saw the Italian athlete in the final but he was forced to settle for the silver medal, now he is back to rectify that mistake, but it'll be a tall order against this first year junior from Ukraine. Maddaloni Nosa fought admirably in his semi final and after being awarded an ippon score, it was taken away which can be difficult to recover from, but he made it look easy. He continued his onslaught of attacks and control of the contest against Stanislav KORCHEMLIUK (UKR), preventing a national final.
As for the -70kg category, Kaja SCHUSTER (SLO) put a stop to top seed Julie ZARYBNICKA (CZE) heading in to the final. Instead the three-time continental cup winner, Schuster, secured her own spot for a gold medal by sticking to her plan and setting up her opponent twice for drop seoi nage attacks, scoring both times with waza ari.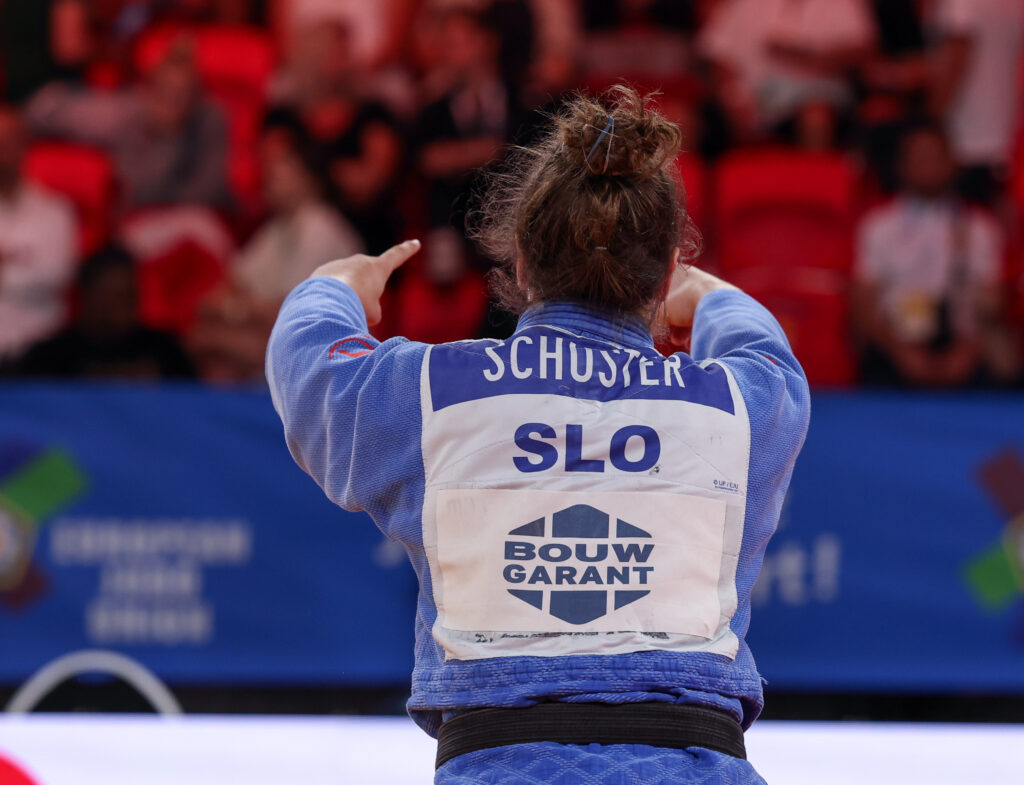 Schuster's final opponent, Adelina NOVITZKI (ISR) is in the same position as Maddaloni Nosa, coming from a silver medal place in 2022. Novitzki paved her way confidently with ippon wins in her first and second round, however, taking on the home hope Nadia SWINKELS (NED) slowed her down a little, though she managed to persevere and dominate the contest. Finally, April Lynn FOHOUO (SUI) put up the best offence but still didn't manage to stop the Israeli athlete, who threw Fohouo for waza ari with o uchi gari, and carried out the full four minutes contest time.
The live streaming of the final block will begin at 16:00 local time at JudoTV.com.
Judoka
Author: Thea Cowen
---