'PLE' is the country abbreviation next to the names of Fares BADAWI and Naji NEGMAH on the second day of the Madrid European Open 2023. Many won't know as it isn't usually on our tatami, but they are representing Palestine, and for the first time here in Madrid. 
Though according to their profiles this is the beginning of their judo career, this isn't the case. For 26 year-old Badawi, he is a former representative of the Refugee Olympic Team, competing in the Tokyo Olympics, Paris and Dusseldorf Grand Slam as well as the World Championships in Budapest and Tashkent. However now, the Palestinian can bear his flag.
Both Badawi and Negmah currently reside in Germany, both refugees who fled Syria eight and ten years ago respectively who have gone on to start companies, families and in the former's case, study for his Masters degree in civil engineering. As the Syrian civil war escalated, many civilians were forced to leave to safety, starting new lives is very tough and both have displayed their inheritance of judo values, carrying it through to the present day. Though regular life continues, more recently they received the call to represent their home country and neither could be prouder to be here. Badawi began, 
Before, I was representing the refugee team until I got the call, I am Palestinian born in Syria, so this is my first time to fight for Palestine, I am really proud to have this opportunity, because it is another feeling to be able to fight for your home country."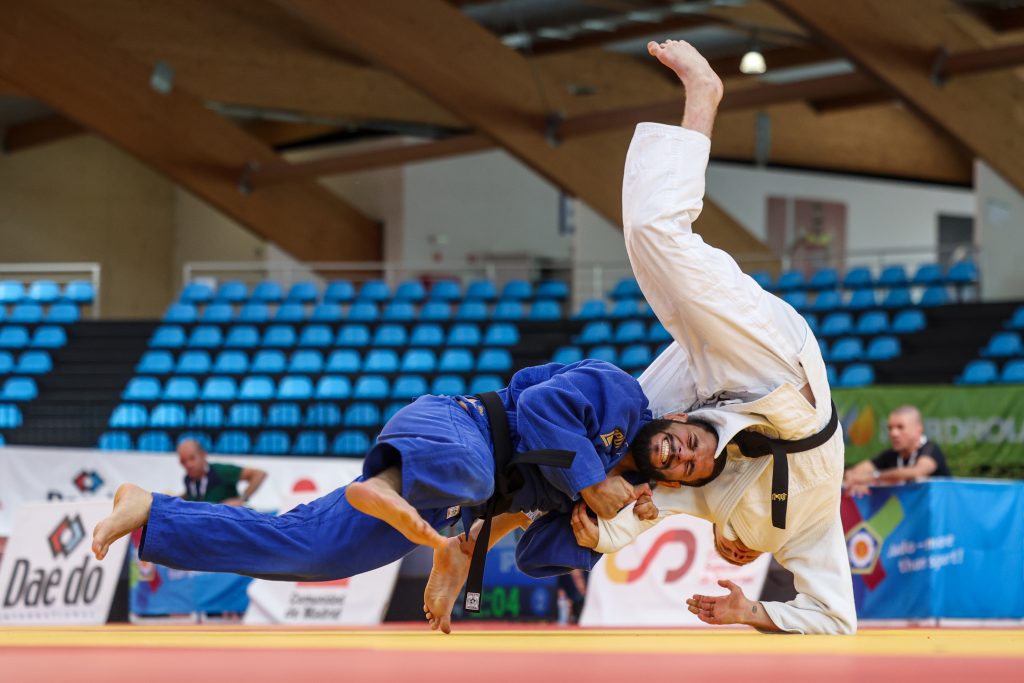 30 year-old Negmah echoed his feelings in this regard,
It is a good feeling that we represent our country, so now what they want to do is collect Palestinians from around the world, not just at home, so we live in Germany and were asked.
Though the pair left Syria at different times, and live separately in Germany; Berlin and Hannover, they have known each other for many years.
B: So we actually went to the same judo club together as kids, the Arabic Palestinian Judo Club.
N: It was such a surprise that I have met him again, it has been more than ten years!
Both athletes can smile fondly, at past memories and seeing how far they've come, only to meet once again on the tatami and in the greatest of circumstances. They had continued with their love for judo when they arrived in Germany and have trained and competed ever since.
B: When I arrived in Germany I found a small club and explained to him where I'd come from and he simply told me 'you don't need to explain anything just show me your judo' and so I did! He was surprised and impressed, so I have had the opportunity to fight in Germany, I fought in the German University Championships and took bronze three times. I can't compete in the National Championships of course without the citizenship but I am a strong opponent for them.
N: I came to Berlin but I went to the Police club for judo and I train with them, I didn't have so much time for competition, I set up work with my brothers and have four children now so I was very busy! I represented my country three times before in Yemen, Lebanon and Iran.
Badawi and Negmah are currently the only two athletes on the team that are outside of Palestine with around five training at home. Next month, both athletes will be competing in an Arab Championships, with the goal to be taking medals in the smaller tournaments such as continental opens and cups. There is due respect for the larger tournaments and the likelihood of succeeding at the higher level but to be able to represent their country and wear the flag is enough. Concluding, Negmah made a point, 
We just want to represent and create a good image for our country in these tournaments.
Coach Jehad ALI was here today with his athletes,
For twenty years we've had two federations, one in Palestine and one in Syria, in Damascus. I was responsible for the refugees in Syria, now for the Palestine Federation in Europe. We would like to thank the IJF and Mr Viser for what they have done for us. In Europe we have around twenty judoka and we take care that we always want to represent our country in tournaments in the best way and we hope to continue.  
Author: Thea Cowen
---