One of the series of the Senior European Judo Cup took place in Bratislava, Slovakia. This is already the fourth edition of the tournament with increasing quality as evidenced by the number of participants of judoka and their ranking, for example, triple European Champion Beslan Mudranov (RUS), double World Championship silver medallist Mikhail Pulyaev (RUS), 2014 Junior World Championship Larisa Florian (ROU) and of course judoka also from Slovakia: Adriana Krišandová, Matej Poliak, Ivana Komlóšiová, Peter Žilka.
The weekend passed by included over 200 judoka from 28 countries. Germany claimed five gold medals throughout the two days which immediately secured them to claim the top spot of the overall medal table. Nevertheless, features came from elsewhere.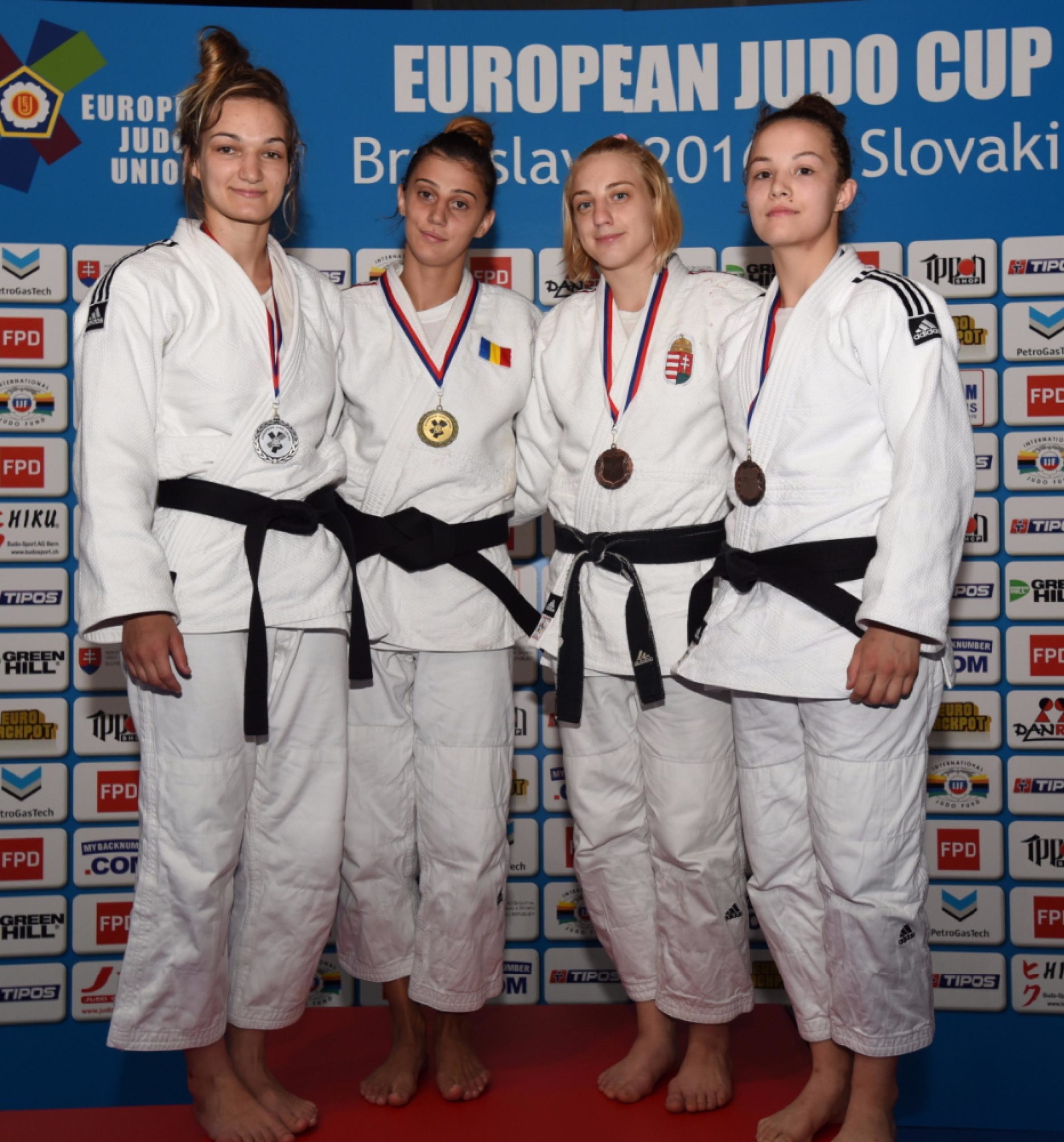 VICTORY OF LARISA FLORIAN ON DAY ONE
Larisa FLORIAN (ROU) convinced about her qualities and rising form. Larisa Florian has already achieved several good results among this year, including 3th at Grand Prix Budapest, and 7th place at European Open Warsaw. Florian won her first contest against Guszak (CRO) very quickly. It was the fastest Ippon of the first day. The second match was very firm too; here Florian's opponent was Silva (SUI). During the semifinal, Larisa was fighting against Wirth (GER) where, again, she gained a winning contest.
In the final, Florian met Krišandová (SVK) who defeated Chertyl (UKR) and Ohl (GER) during earlier rounds. The final contest was fairly balanced. At the beginning Krišandová took advantage, however, the more experienced Florian, gradually gained the upper hand and at the end she won by a yuko and a wazari. After Florian's winning final contest, all Romanian fans erupted in a standing ovation.
Silver medallist, Krišandová said: "I secretly believed that I would not disappoint fans of Slovakian Judo. I placed seventh at the European Championship in Bratislava last year and I secretly dreamed of a victory here. At the start, I felt pressure in front of the home crowd, and at the end, Larisa was a league above me. I congratulate her."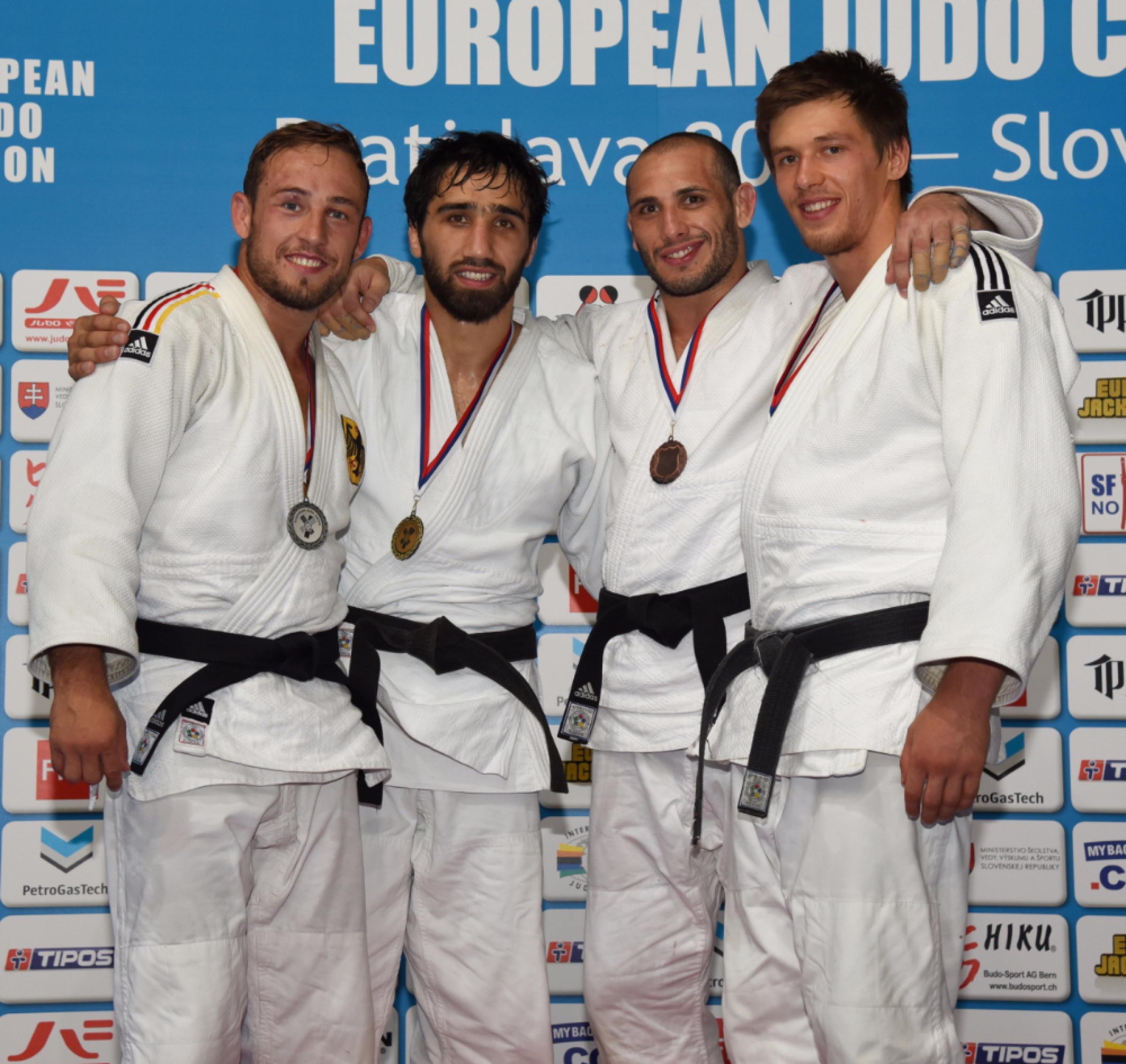 KHALMURZAEV UNTOUCHED EN ROUTE TO GOLD
Russia's Khasan KHALMURZAEV gave an exciting and convincing performance to take gold in the -81kg on the second and final day of competition at the European Judo Cup in Bratislava. Stylish and controlled, Khalmurzaev´s solid defence kept his opponents at bay whilst, at the same time, he was able to set up his array of scoring techniques.
After the first round bye for Khalmurzaev, he faced first Matija HARPF (SLO) whom he first threw for two yuko to than end the contest by Ippon. Khalmurzaev was next up against Niko SADZHAIA (UKR). In a close contest Kharmuzaev´s opponent was under pressure and he made forced errors obtaining several shido and finally hansoku make. Khalmurzaev won his third contest against Yuriy POZHAR (UKR) with a difference of a yuko score. The Russian judo ace was very active and as the result of that, the Ukrainian judoka kept on collecting shidos.
In the semi-final, Khalmurzaev met Damian STEPIEN (POL). The clash was very even, but tactical discipline of the Russian athlete confirmed his victory with a 3:1 on penalties. In the final Benjamin MUENNICH (GER) threatened to test the Russian. Nonetheless, at the end, he also fell in the hand of Khalmurzaev, who won by wazari to win the gold medal.
Konstantin FILOSOFENKO, the head of the Russian delegation said: "The tournament has met our expectations and the goals we have set. Gain two gold medals and two silver is a good result for us. It was a test before the Olympics Games in Rio with different goals; we tried out tactics and techniques."
---