What an incredible way to end this exciting week for the cadet athletes, they delivered top performances on the final day here in Sarajevo, Bosnia and Herzegovina.
Uzbekistan won by a landslide against Tunisia in their quest for the bronze medal, bringing teams Türkiye and Ukraine on for the next head to head.
The opening contest between Diana SEMCHENKO (UKR) and Elif BASKUT (TUR) was decided right on the buzzer by Semchenko, a waza ari giving Ukraine the initial 1-0 lead. The excitement continued in the +81kg category as both Ibrahim TATAROGLU (TUR) and Nikita KVIATKOVSKYI (UKR) both managed to put a score on the board in a close match. Tataroglu decided it with an ashi guruma to bring Türkiye back in the running.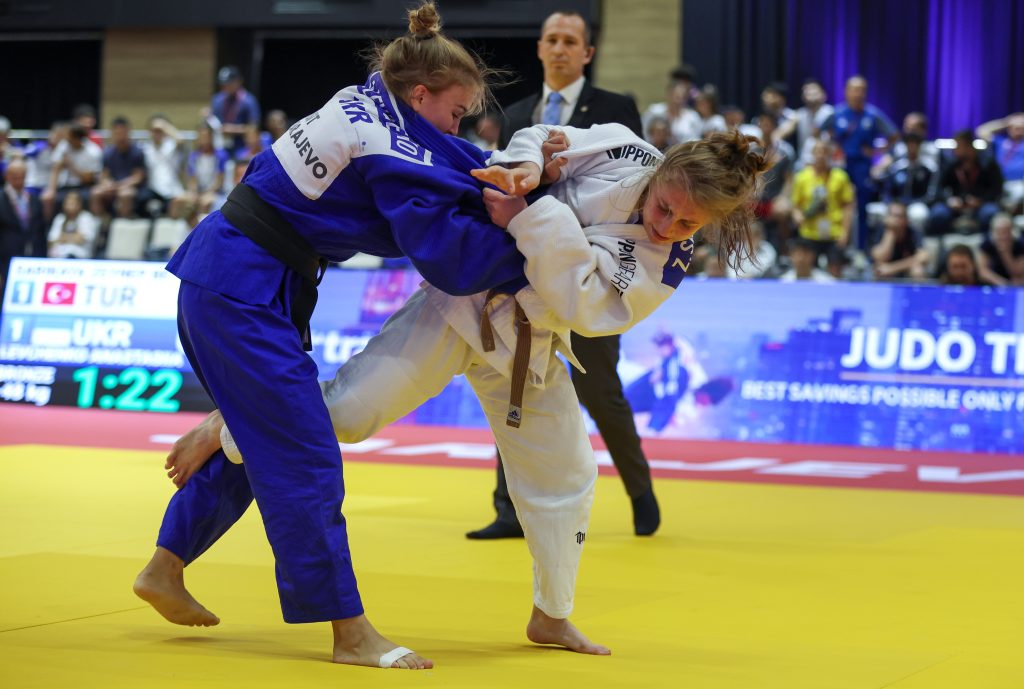 Lightweights Zeynep Betul SARIKAYA (TUR) and Anastasiia LEVCHENKO (UKR) left it all on the tatami with almost four minutes of golden score, the contest decided on shidos in favour of Türkiye. Nazar VISKOV (UKR) evened the score once again with a swift armlock. Making it such a brilliant bronze contest was the constant back and forth, Gulzade KORMAZ (TUR) continued it in the -63kg category and then Igor TSURKAN (UKR) at -81kg, leading to a draw decision. Although the pair had already exhausted themselves, Sarikaya and Levchenko went again for the decider. After only 29 seconds, Türkiye became the bronze medal winners.
France and Azerbaijan prepared themselves and the crowds welcomed in the finalists of the mixed team tournament. Nigar SULEYMANOVA (AZE) defeated the world champion, Grace-Esther MIENANDI LALOU (FRA) in the opening round and Ramazan AHMADOV continued to collect wins for Azerbaijan. Aydan VALIYEVA was up next looking for their third win against Mel LE CAM, and managed successfully, leaving Azerbaijan with only one more contest to win.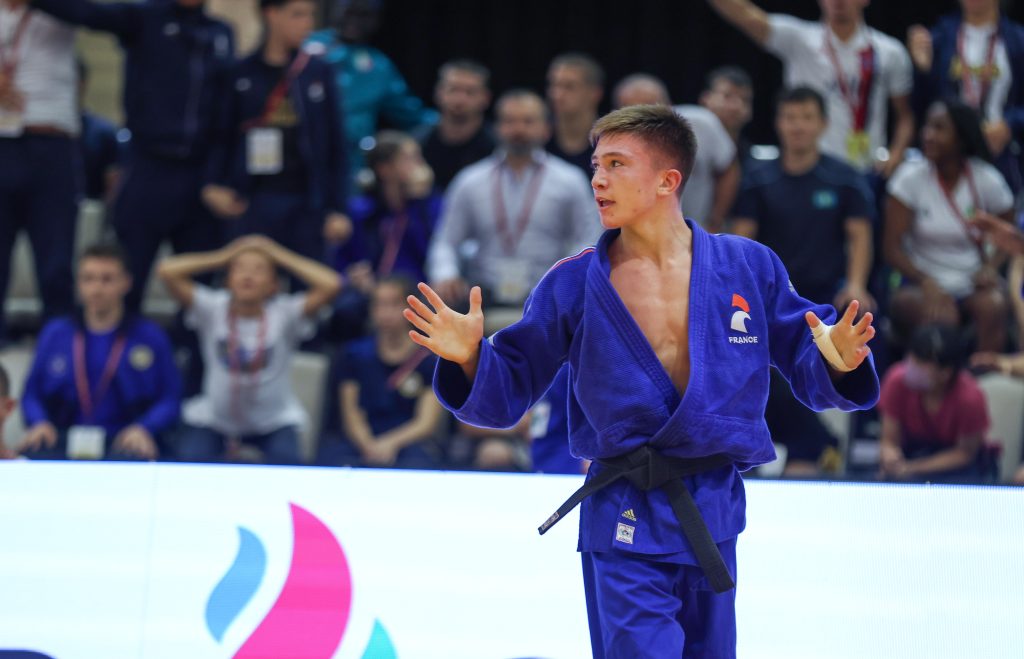 Nizami IMRANOV (AZE) and Kelvin RAY (FRA) were up and the pressure was on for both in this deciding contest. This contest went in to golden score, both having to dig deep to come up with a score, but in the end it was a head dive from Imranov that kept France in the game. They started with a 1-0 lead as there was no -63kg athlete for Azerbaijan and so now, 3-2 in favour of the Azeri's, we had another decider. Incredibly, Thomas PUCHLY of France made it a draw.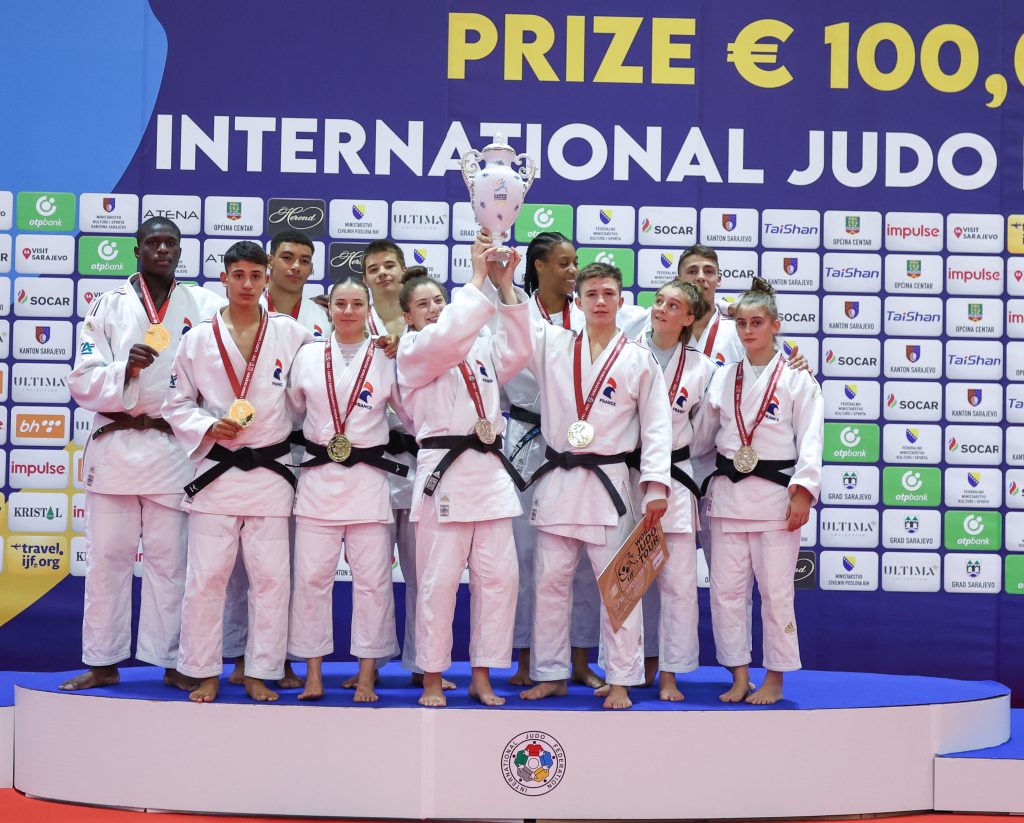 The screen showed the -63kg category which meant an automatic win for France. The team of France not only finished top of the medal table in individual competition but can now call themselves the world champions of the cadet mixed team event.
In the crowd and in the coaching teams we see many famous faces from yesteryear, Olympic and world medallists now influencing the stars of the future and one of these for France is Automne PAVIA. Now national coach of the French cadet team, she is of course delighted for her team and loving her new position.
I enjoy it a lot, especially with the cadets, they really do listen a lot and are always happy to go training so it is a joy to be a part of this. For me watching, it is so hard, I feel as if I can't even speak. I feel so stressed for them and actually prefer the stress of being an athlete [she laughs] because I can't get on the tatami and do it for them, it is out of my control.
As an athlete, Pavia can boast titles herself in team events at both European and world level.
I am so happy for them and actually a little jealous as I only got to be in a mixed team once before and would have loved to be part of this when I was competing.
She may not be on the tatami physically but mentally she is and her team can feel it, and they celebrated with her afterwards, hoisting their trophy.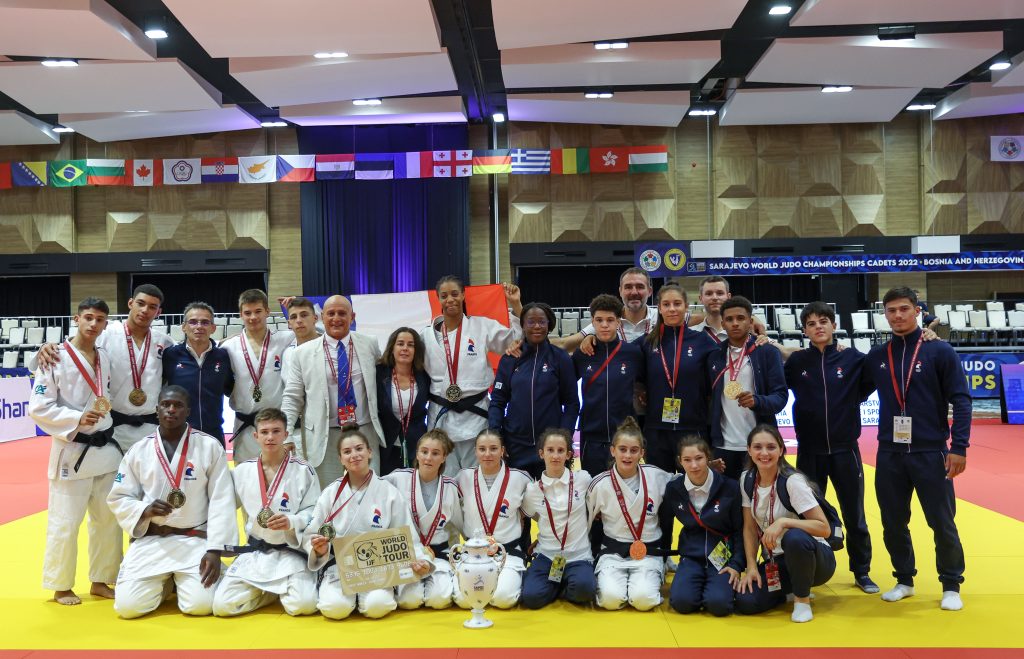 Judoka
Author: Thea Cowen
---