The decade theme has played a part twice during the 2023 Paris Grand Slam, waiting for the next title of Teddy RINER and for the French team to be top of the medal table, today they managed to secure both.
Opening the final block of the second day in the Accor Arena, fondly known as 'the Bercy', current world champion and world ranked number one, Tato GRIGALASHVILI (GEO) continued his golden sweep. 
The Georgian is unstoppable at the moment, seeking glory wherever he goes and today it just so happened to be the Paris Grand Slam. This is the third year in a row that Grigalashvili has found himself in the -81kg final here but in the past his Japanese adversaries have prevented him from taking the title, not today. It was a bit of a surprise to see Timo CAVELIUS (GER) in the final, but this is judo and he had a blinding performance in the preliminaries to get in to his first grand slam final.  That being said, Grigalashvili confirmed his status with a win, using his opponents reaction to switch back to front, looking for the tai o toshi, but Cavelius could not react fast enough and some simple te waza gave the Georgian the sought after Paris gold medal. 
I am so happy, before today I lost two finals, before the final I had a ceremony with the IJF for the best male judoka, everything has been perfect. I didn't actually know I was receiving this today so I am really proud, I always try to do my best, to always be in first place, to push myself. Before I was the 'Rising Star' and now the Male Athlete of the Year. I have had my family with me during a few events now but it is such a big motivation for me, it gives me power.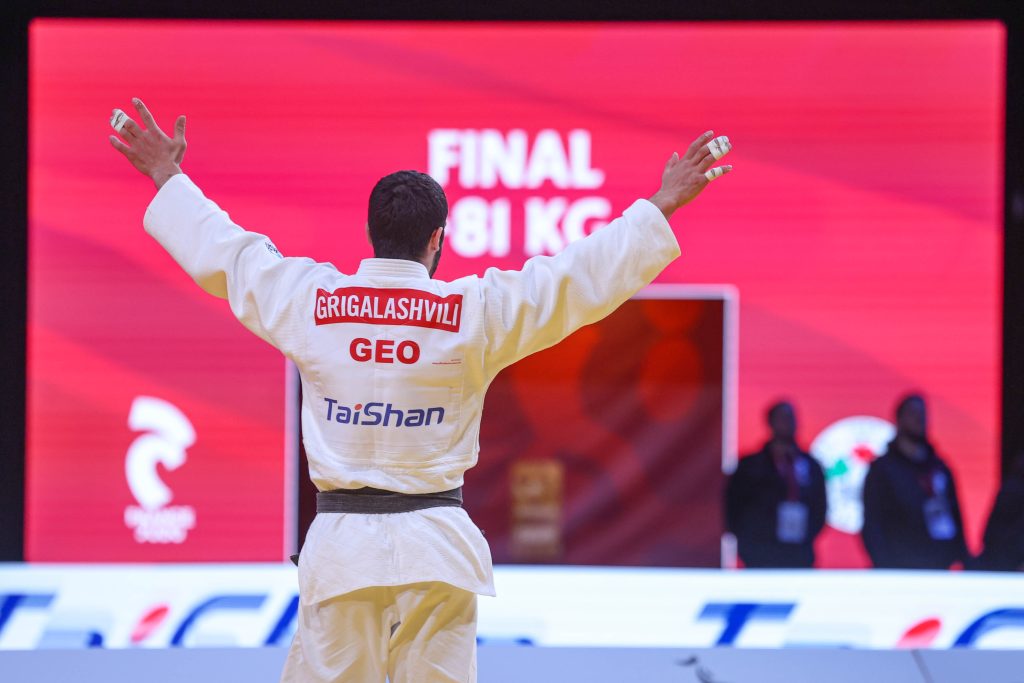 Marie Eve GAHIE (FRA) was the obvious favourite going in to -70kg final, the whole arena behind her, but they also appreciated the judo of her opponent, current junior world and European champion, Ai TSUNODA ROUSTANT (ESP). Tsunoda has worked hard and been successful as a cadet and junior, moving slowly but strongly as she now leaves the junior levels behind. We have in fact already seen her in a grand slam final in Tbilisi and now she demonstrated her consistency by surpassing the double world champion Barbara MATIC (CRO) to become a finalist.
She continued her strategic approach against Gahie, forcing the French athlete to pick up two shidos with one minute left to go and seemingly no way in. With a matter of seconds left, Tsunoda almost scored with a deep seoi nage but at last, Gahie was issued a third and final penalty, awarding the gold medal to 20 year-old Tsunoda.
I am really really really happy, I realised when I was standing on the podium that I had won the Paris Grand Slam. It is such a different competition, it is so big and when everyone starts to applaud, the feeling is amazing. Today I was really focussed and just in my own world, and I just really wanted to fight, I was really happy to. In the semi final I fought Barbara MATIC (CRO) and she has beaten me twice now, and quickly, so I knew it would be tough, so when I threw her for waza ari I realised I could do it.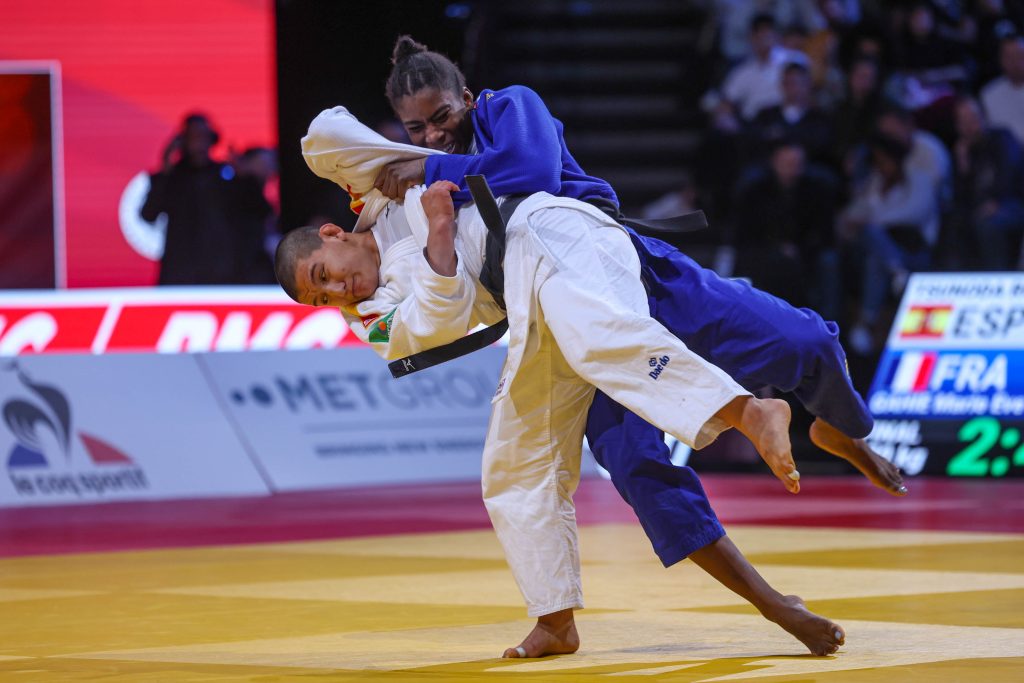 Noel VAN T END (NED) has had a tough few years, after securing a world title in 2019, his luck appeared to have ran out, though he did take the IJF Masters title in 2021, so perhaps it was the major events pushing him to perform at his best. Here we are another two years later with no gold and he shows up in champion form. He found himself against an opponent who really posed difficulties, Murad FATIYEV (AZE). In the end it was a scoring win for the Dutchman and he is back in the race. 
I am very happy, when I came here I didn't really know what to expect but after my first fight I felt good, each match I was getting better. All you have to do is win every match and you will be on the top. I have never fought this athlete from Azerbaijan, he worked hard to stop me doing my style of judo and for a while he did it very well and I took shidos but for me, I just need the grip once. 

The people I have around me have been reminding me that I needed to start scoring, it's been a while since I took gold, so they've given me that push, I'm coming to be the number one.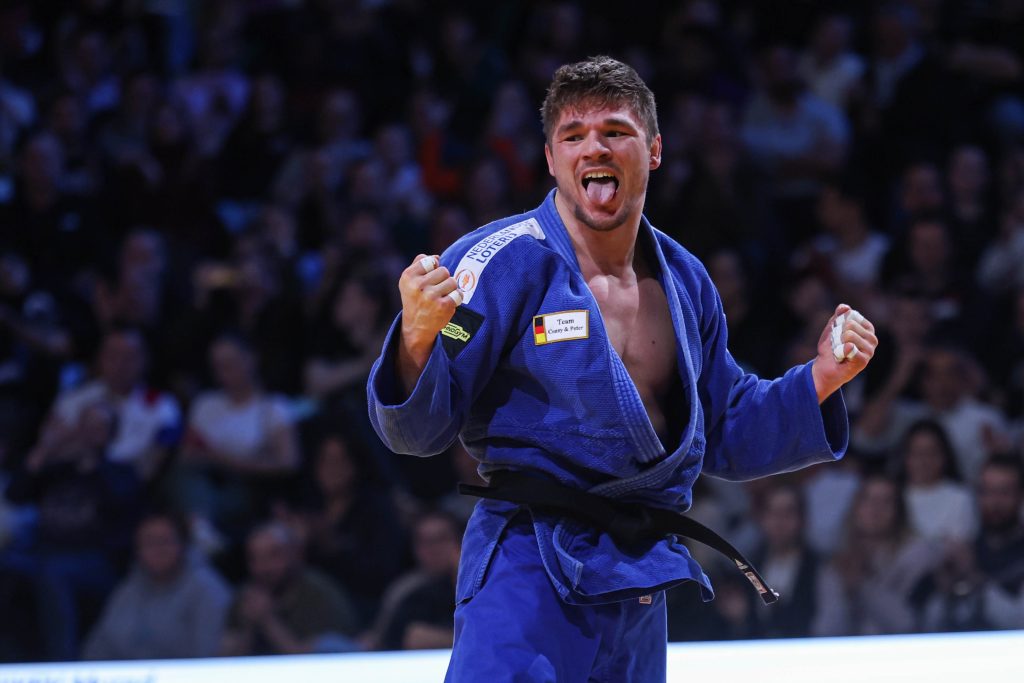 One of the French athletes looking to continue adding to their collection of Paris gold medals was Audrey TCHEUMEO. She is a double Olympic medallist, world champion, four-time continental champion and after todays performance, 6-time winner of the Paris Grand Slam. To say this is an exceptional collection would be an understatement, but Tcheumeo is humble regarding her achievements and after competing through four Olympiads has a very different feeling for judo. Today however she faced young team mate Chloe BUTTIGIEG whose previous results come from continental opens and a grand prix bronze in 2018, but today she really stepped up her game in front of the home crowd. 
I am just here to enjoy it, for me I feel they're all the same, a gold is gold. For me, fighting these new opponents, I am not changing my judo, but my mentality, my first work is in my head. The Olympic Games is very far, but also tomorrow! There are so many strong athletes in my team, Malonga [Madeleine], Posvite [Fanny Estelle] and now you see Chloe, but I am really just taking pleasure in my judo, I've been to two Olympic Games already and I am really enjoying the life without putting the pressure on.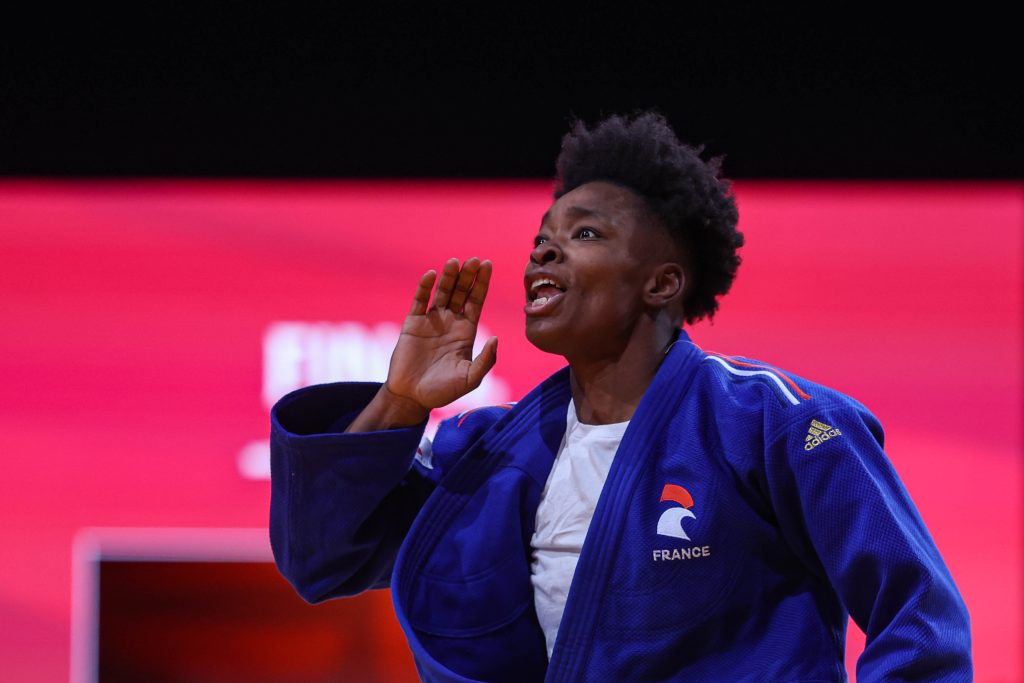 Not so long ago in the IJF Masters tournament, Michael KORREL (NED) left disappointed following a loss in his quarter final to Dzhafar KOSTOEV (UAE) and a subsequent loss to Peter PALTCHIK (ISR). Well it was time to even the score with Kostoev in the -100kg final and it was certainly a tough one for Korrel but most of the top athletes were here and so completely anticipated.
It feels amazing to win in Paris, one of the greatest tournaments of them all. The first time I won it, I actually didn't have to fight in the final, and this one was really hard. I lost to him in Jerusalem so now it is 1-1. We are doing great, we have a really good environment in the Netherlands, a solid plan for the world championships and I think I showed today I'm on good form and still have time to build.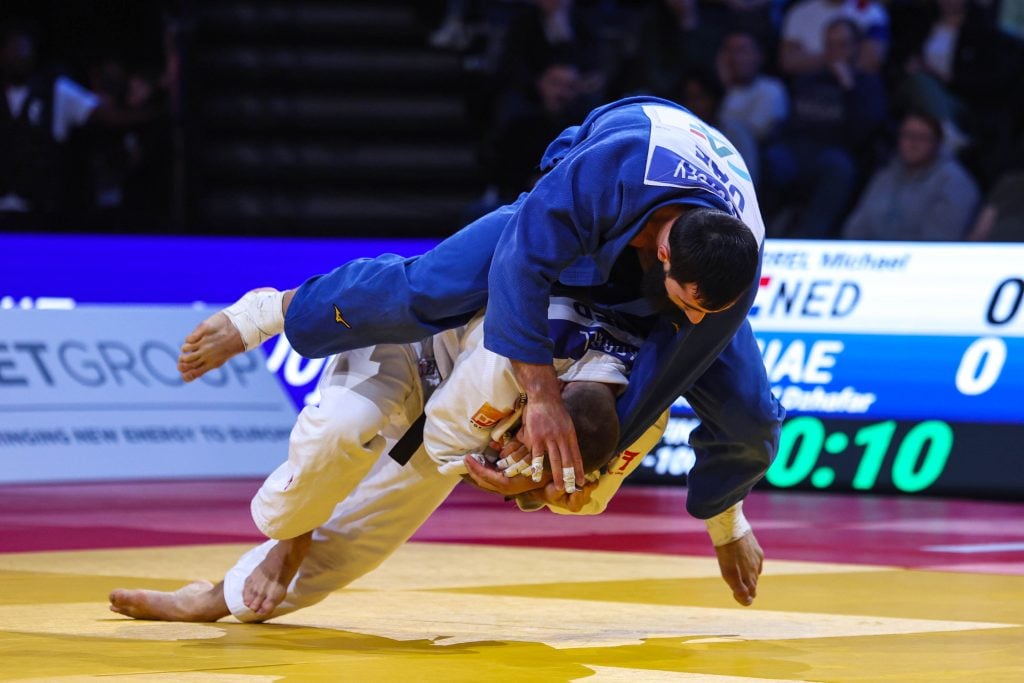 The final everyone was waiting for. Teddy RINER. The French delivered as expected with spine-tingling support, showing us why the Bercy has the reputation it does. It has been ten years since Riner last took the title here, and he has kept his fans waiting, rather impatiently by the sound of the cheers coming from the stands and they were delighted to celebrate him, stating quite clearly that 'The King is Back'. 
I am only at about 70%, with my preparation, with little injures and such but I achieved what I came for, I wanted the gold medal, I wanted to win here in Paris with my family here, my friends and all the supporters. I know that I didn't do my best judo today but I am on my way and at the end, I still achieved my goal.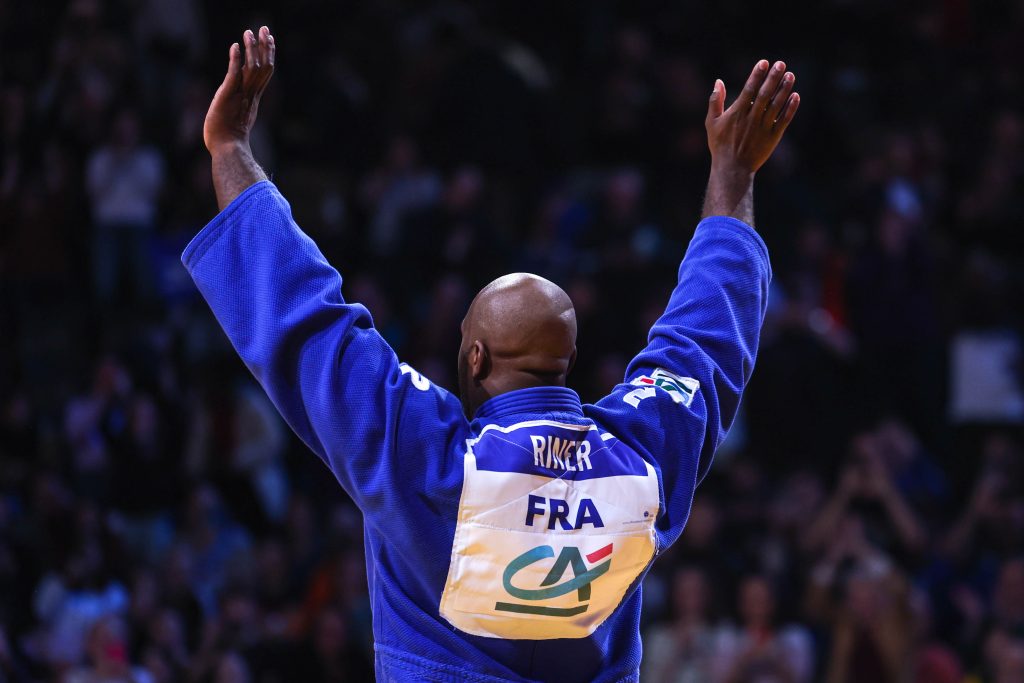 Judoka
Author: Thea Cowen
---