For some time now we have been looking forward to Paris 2024. Aware of the high profile our sport has in France, it will be a memorable Olympic Games not only for the athletes, but for the spectators, staff, volunteers and the country itself, many of whom can say they have been on the tatami at one point or another.
For the beginning of the new sporting season, the French Judo Federation released a short video to promote the different steps of a judoka's life. A video was shot in Cholet within Parc of Maulévrier, the biggest Japanese garden in Europe.
Thierry Marx, a famous chef in France, who is also black belt of judo, shares his experience as a judoka.
Communication Director and director of this 'A Life of Judoka' video, Stéphane David discusses the idea behind it.
The COVID crisis has been difficult for the sport all over the world, in France, we have lost many license holders. It was important for us to start the 2021 sport season with a communication campaign aimed to reconnect with all our licence holders and to encourage them to come back to dojos. This year, the problem is not the same, as many of them had already taken their licensees. We want to attract the beginners and reach a larger audience.

With this in mind, we chose Thierry Marx as a star for the video. Mr Marx is a famous French chef, known all over the world, and he is also a black belt. In our video, he is sharing his story and his experience as judoka.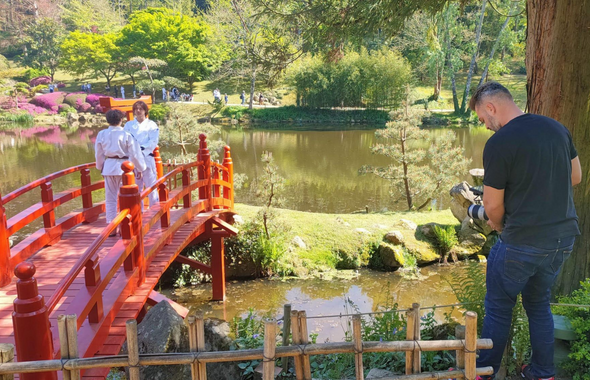 The Parc of Maulévrier, the biggest Japanese garden in Europe, was chosen for the shooting. It was really important for us to stage this film in the decorations identical to those of the judo origin country and to transmit this atmosphere.

We have spent a whole day in the park trying to capture all the nuances of light change with a camera and a drone in this exceptional and beautiful place. The 50 judokas taking part in our video are from the neighbouring clubs, and they gave us their time because of their love of judo, the same as Thierry Marx.

All stages of a judoka's life are presented in this video. From the first steps on the tatami to the grades, from the leisure practice to the teaching.
Entirely shot and produced by the communication department of the French Judo Federation, our allegorical short film invites you to travel and to remember the true values of our discipline.
Author: Thea Cowen
---