It seemed that the arena breaking out in to 'La Marseillaise' prior to the final block commencing was a good omen for the athletes on day one of the Senior European Championships 2023. After nine years, the European Judo Union prime event has returned to Montpellier, France.
The first of the French athletes to shake the stadium was -48kg double European champion, Shirine BOUKLI, looking to defend her 2022 title. It was a great outcome that we relived the 2022 final between Boukli and Catarina COSTA (POR), and the pressure was on for both, Costa seeking to change the record and Boukli desperate to win in front of her Montpellier home crowd. Both managed to score waza ari and head in to golden score, but a sumi gaeshi was the gold medal clincher for Boukli and now she can drop the 'double' title for something a little better.
It's amazing to win here in Montpellier, I am from the South of France, my family were here to watch me and really this was the best title for me to take here. Just wow! When I was younger I never imagined that I would be here.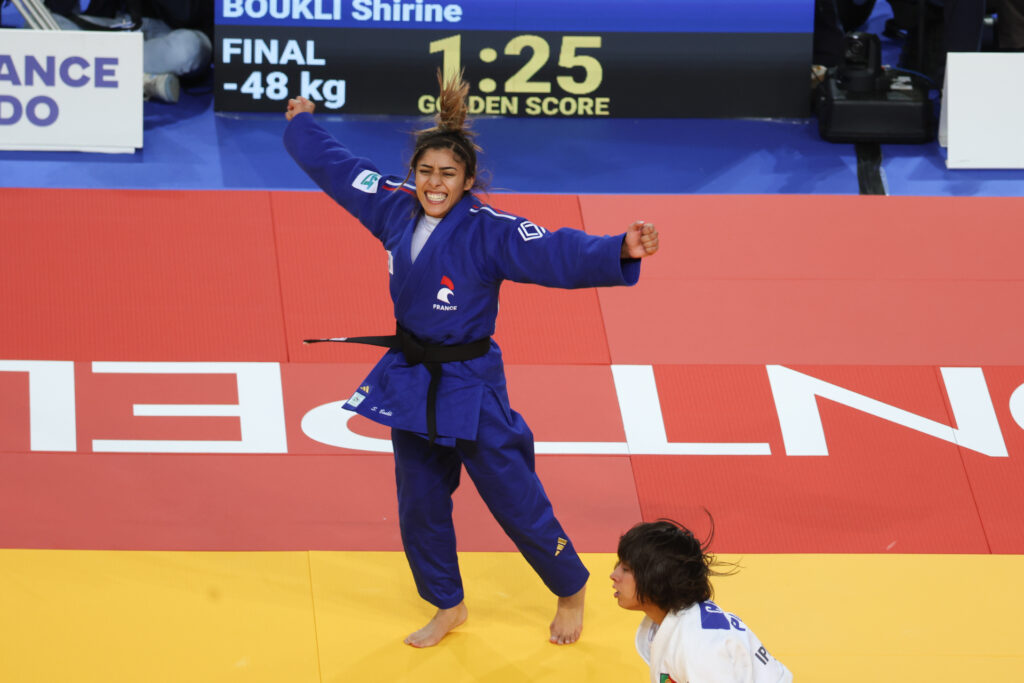 France was looking at another chance for a gold medal in the -60kg category from Olympic medallist and 2022 European silver medallist, Luka MKHEIDZE. After missing out on the gold last year he had extra determination today, but in his way stood Dilshot KHALMATOV (UKR). A 'blink and you missed it' sumi gaeshi gave Mkheidze his initial waza ari score and he kept up the offence, leaving his opponent little room to even the score. As the clock counted down, so did the crowd, "CINQUE, QUATRE, TROIS, DEUX, UN!' A second gold medal to add to the French tally.
I am so proud, so happy that it was at home with my family, friends, club coach, I'm really happy to have won here. I think the men's team will do well this week, we already have three medals and we will take more.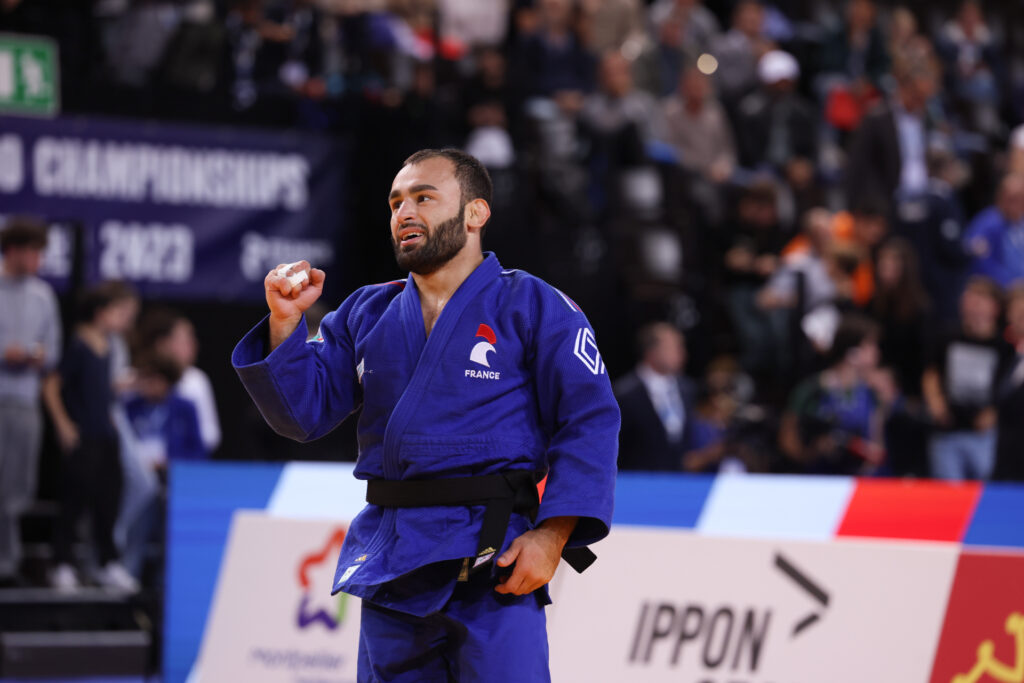 With a potential third gold up for grabs, the crowd did not let up in their incredible support as Amandine BUCHARD stepped on the tatami. Nine years ago, she took the -52kg silver, losing out to CSERNOVICZKI Eva (HUN), but today her opponent was the current -48kg Olympic Champion, Distria KRASNIQI (KOS). The pair have four head to heads already, with Buchard taking the lion's share of the wins. After four minutes, the only thing on the scoreboard was a shido next to Buchard's name, and shortly in to golden score, a second followed. This of course meant that the Frenchwoman was on the attack and cautious about making an error, whilst Krasniqi patiently waited for an opening. Highly motivated for the win, Buchard worked hard in ne waza, tying up Krasniqi and taking her second European title.
For me it was a really hard day, I don't think it was because it was in Montpellier, but it is one leading up to the Olympic Games and I wanted to try some things but I was so full of stress I felt like I couldn't move! Really all the day I was in a fight with myself but in the end, I took the gold.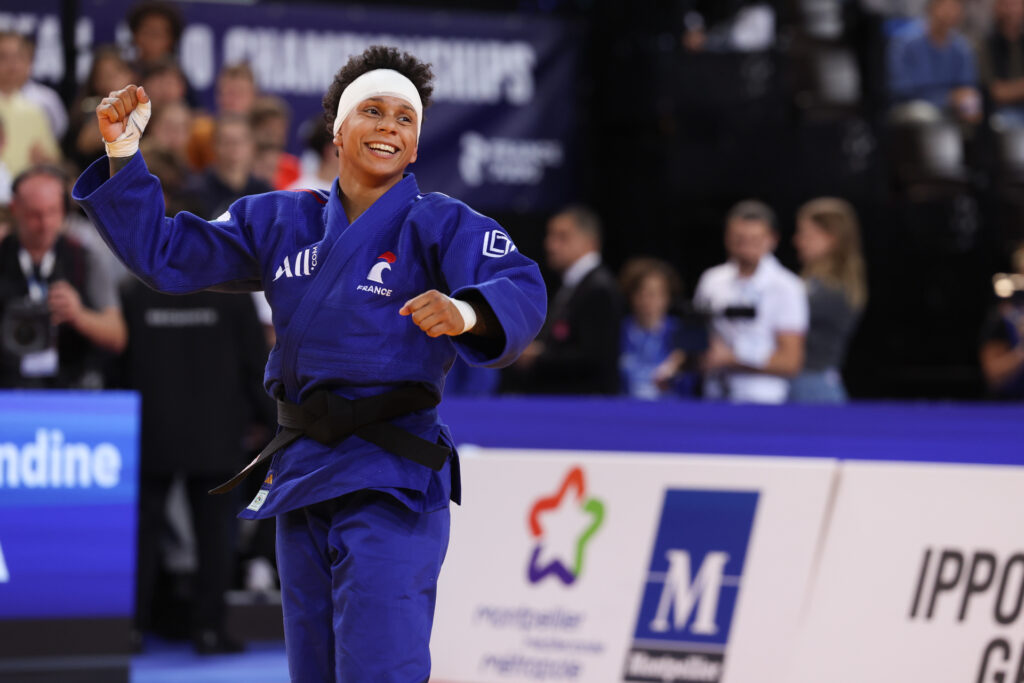 Moving on to the -66kg final, it was hard to predict the outcome between WRL #1, Denis VIERU (MDA) and the Spanish athlete who has been on a roll this year, David GARCIA TORNE. In their previous meet, Garcia sent Vieru to the repechage of the Upper Austria Grand Prix in only five seconds, but today he had no such luck. Instead the pair ceded two shidos each and dived into golden score. It appeared that Garcia was on top, but Vieru nicely countered an over-stretched o uchi gari, for his first European title.
I have been waiting for this medal, I already have two bronze and now I can say I am the champion. In the final, I was looking forward to this because of how the contest went in the Upper Austria Grand Prix, I like this kind of revenge, but we are good friends so was a really good contest.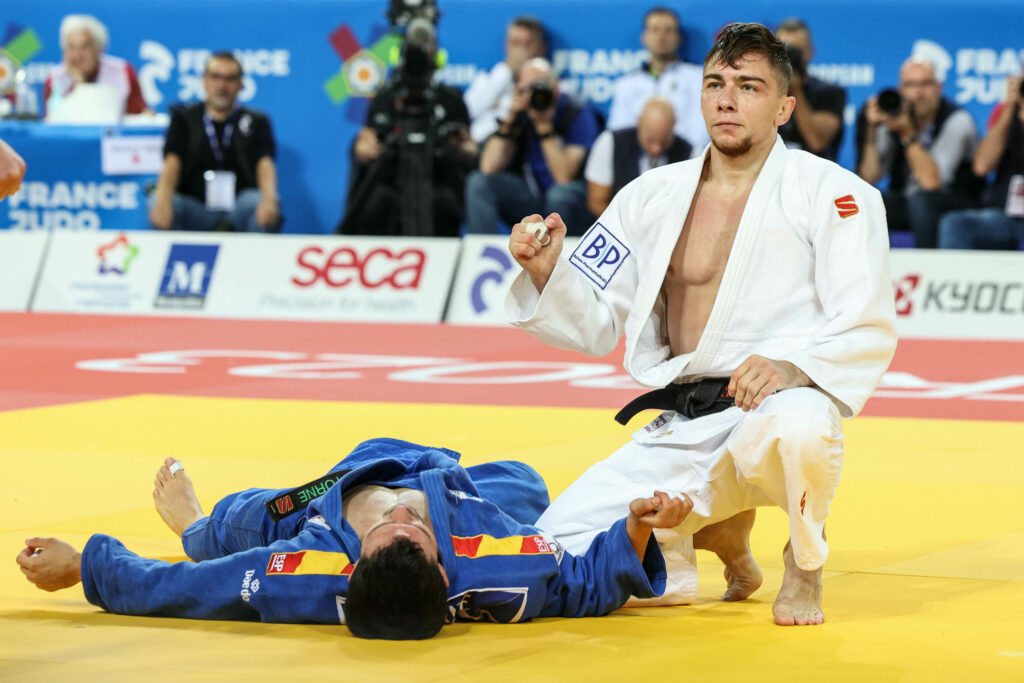 Concluding the first day of the Senior European Championships were the -57kg women, a somewhat unlikely final between Marica PERISIC (SRB) who has gone from strength to strength this year, all the way to the European final, and Daria KURBONMAMADOVA (AIN), the 2019 European Games Champion. Perisic persisted with her seoi nage attempts but after a few, Kurbonmamadova had it sussed, pulled her back up off the ground and countered, scoring ippon and taking her second European gold medal.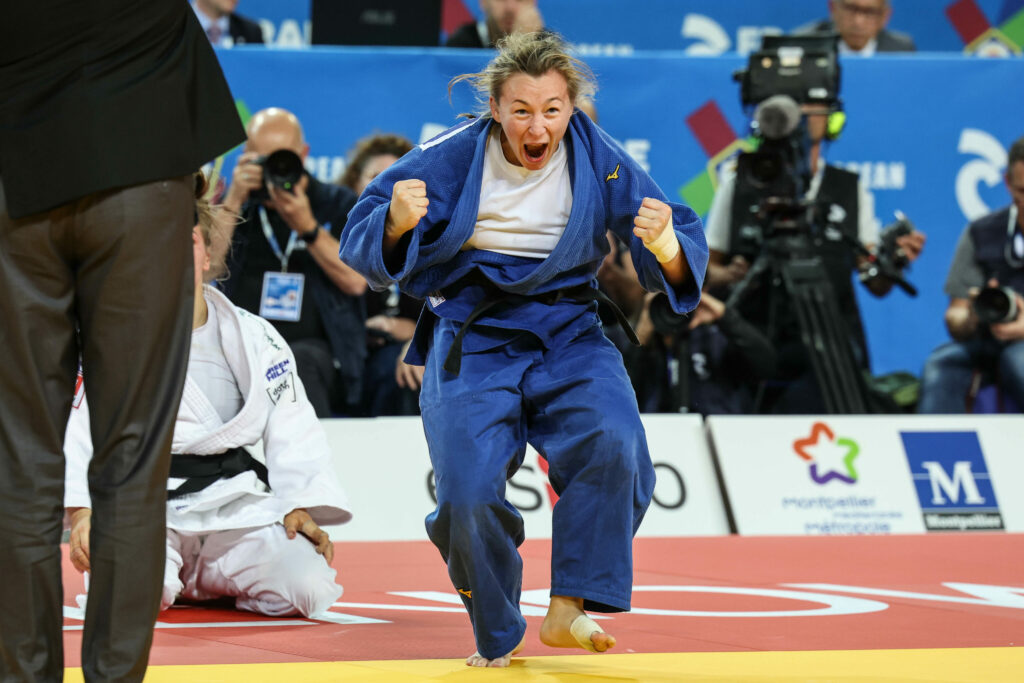 Judoka
Author: Thea Cowen
---