Tournament favourites, Japan and France put on a very convincing performance and fulfilled the prophecy by meeting each other in the final day of the World Judo Championships 2018.
Each team for the final contained World medallists from this past week, including Marie Eve GAHIE and Axel CLERGET of France as well as YOSHIDA Tsukasa, ONO Yoko, ASAHINA Sarah and HARASAWA Hisatoshi of Japan.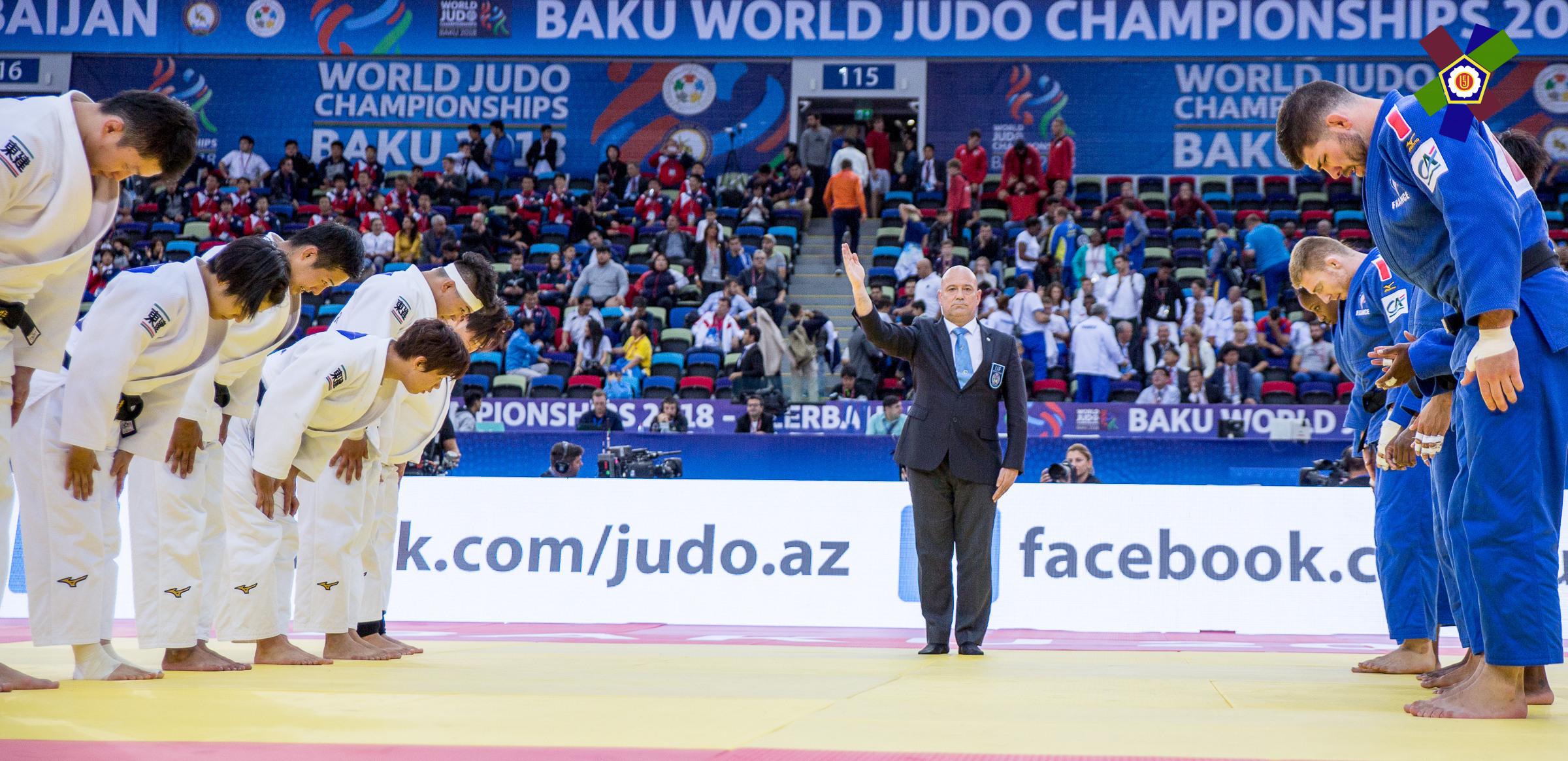 First contest was the +90kg Cyrille MARET (FRA) and HARASAWA Hisayoshi (JPN). MARET was the lighter of the two, HAGASAWA taking the bronze in the +100kg category in yesterdays individual tournament. The pair went in to golden score, both giving their all but MARET was just caught by uchi mata.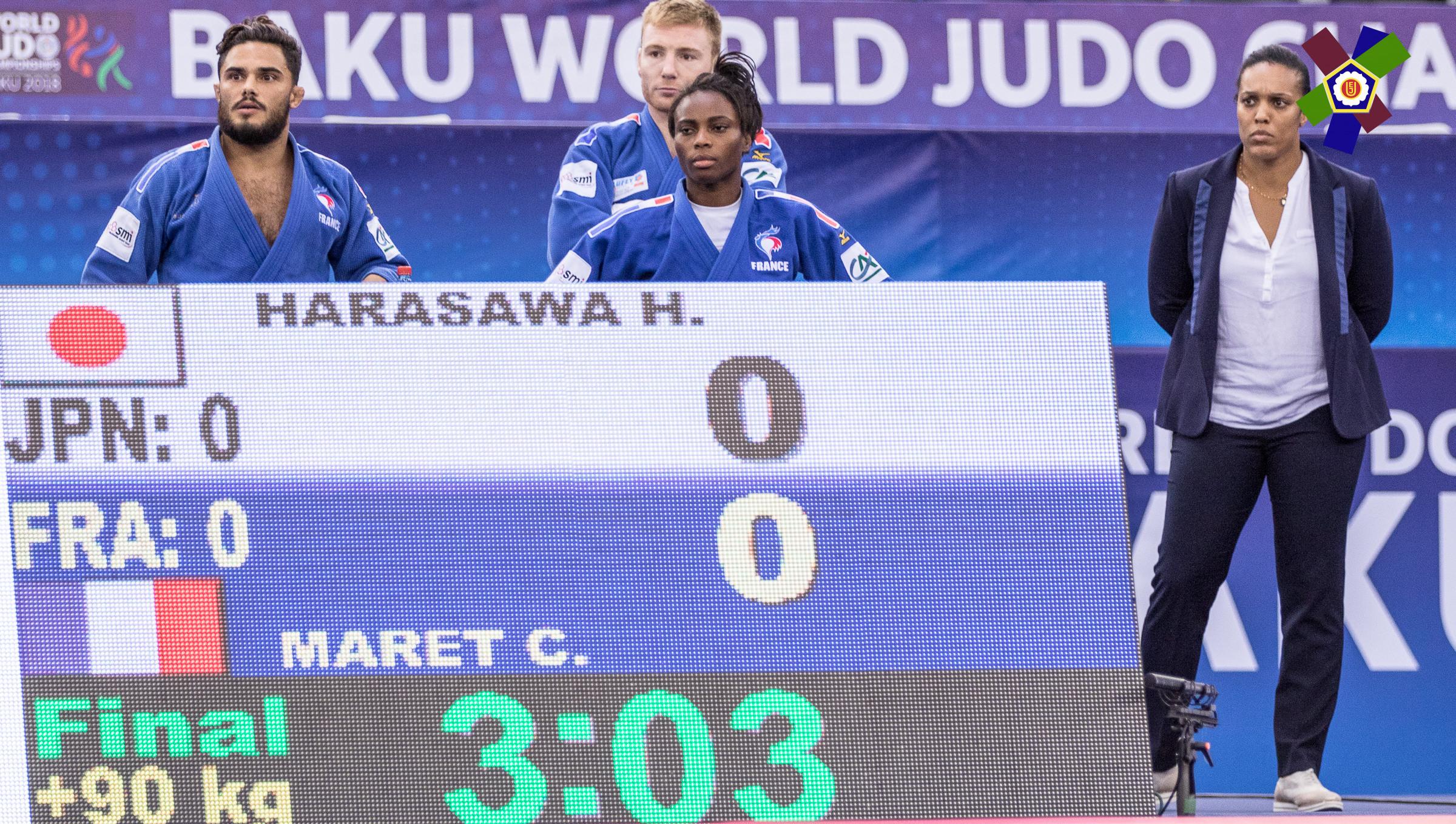 Next up in the -57kg category was World Champion YOSHIDA Tsukasa (JPN) and Priscilla GNETO (FRA). YOSHIDA threw with only eight seconds left on the clock with uchi mata o guruma straight in to ne waza, holding GNETO for the full ippon score. Guillaume CHAINE (FRA) came up against TATSUKAWA Arata (JPN) in the -73kg category, the French losing by an accumluation of penalties .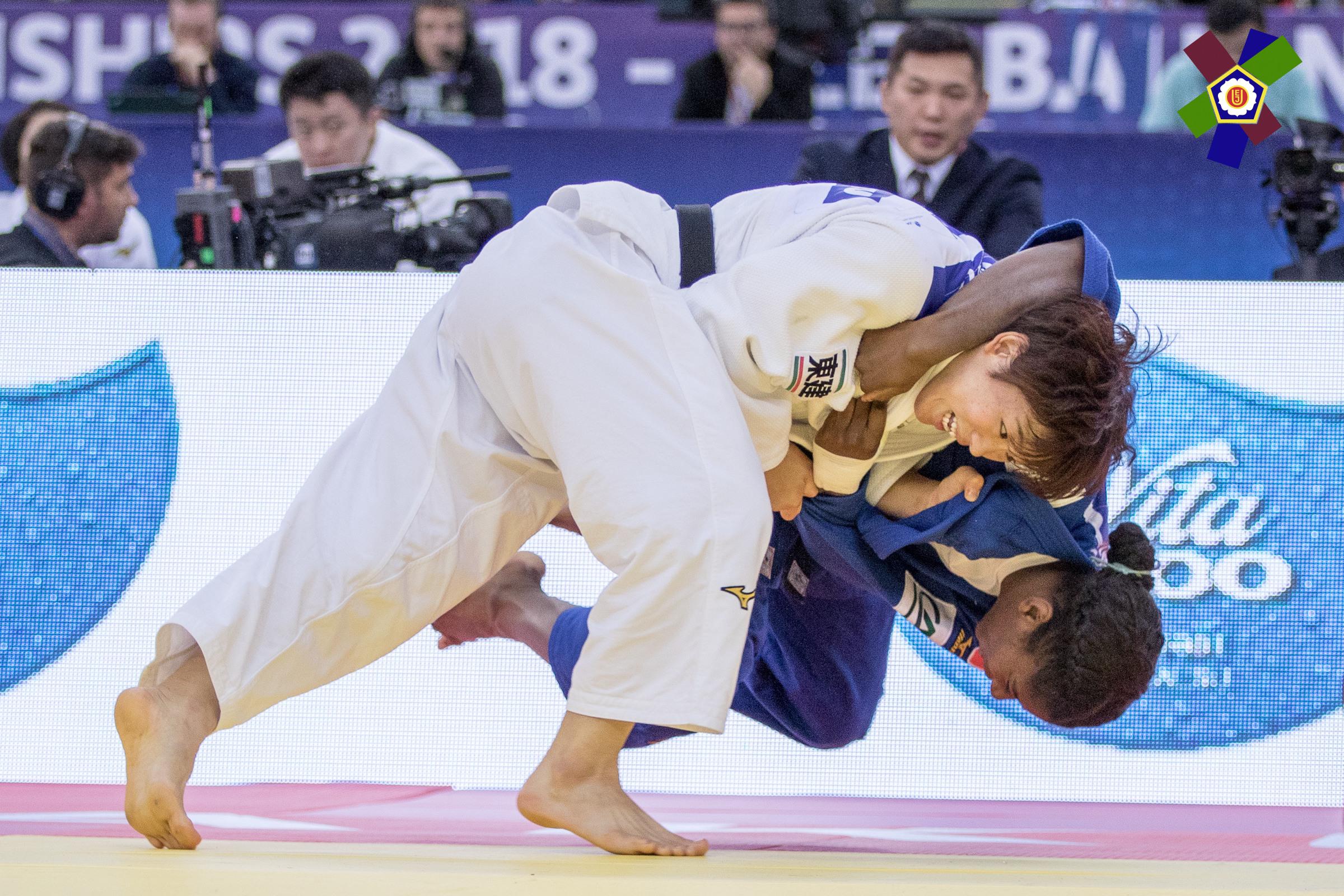 Only one more win was required by ONO Yoko, but Marie Eve GAHIE refused to let them keep a clean board today, the Japanese team having not surrendered a single contest throughout the day. GAHIE put in a forward throwing attack and changed direction with an o uchi to take ONO backwards. GAHIE told us show she felt after the tournament,
"We fought as a team, if I can win a point and give them belief then I am happy, also I won my last fight with my team.
The team medal was very important because there was a lot of strong people in the French team that lost, so I think this will make them happy and for their next competition, more confident than without a medal."
Next up was Axel CLERGET (FRA) against MUKAI Shoichiro (JPN). Alas, it was a silver medal for the French team after a tremendous day of competition, CLERGET caught off guard by a perilous ko soto gake.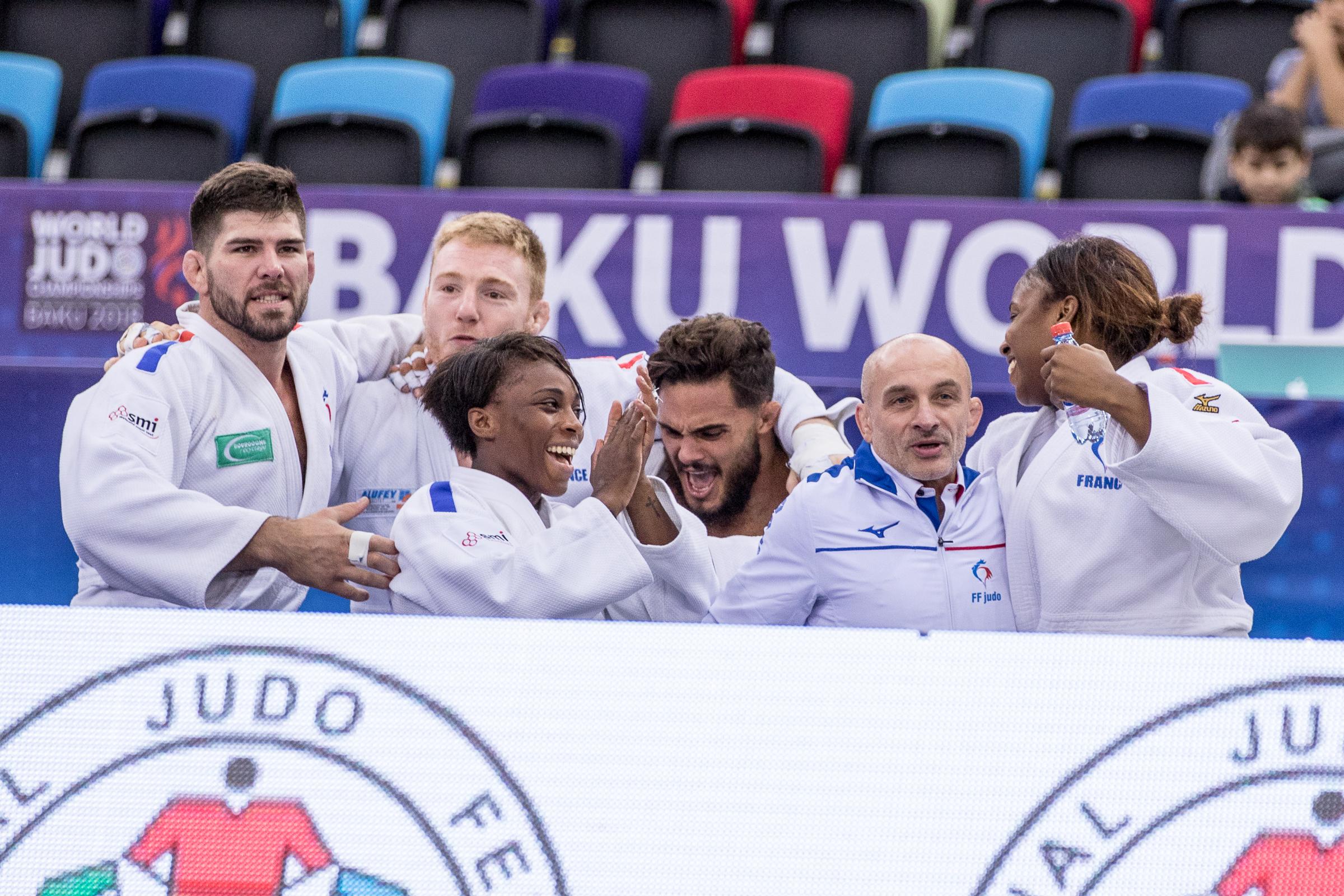 French head coach Stefan TRAINEAU tells us,
"The medals here are very important, since six months ago was the beginning of some special work and today is the first step to criticise the work and use it to predict the results in Tokyo.
The team medal is not compensation for the missed individuals though, just one more medal. In the individual competition we missed the middle and heavy weight medals from Madeleine MALONGA, Audrey TCHEUMEO and Cyrille MARET, and missed a strong part of our team, Teddy. We can maybe make this better.
Obviously the score is clear, it is 4-1, but that doesn't reflect other facts like Axel (CLERGET) and Chaine (GUILLAUME) going in to golden score against these players. We can see that for the moment, Japan are better at the kumi kata but we know what we have to do."
---
The first bronze medal was issued to Russia, unfortunately for the home crowd, this meant saying goodbye to a medal for Azerbaijan. Though the Russian team picked up only three medals in this championships, they rallied together to prove that they are in fact World class, doing so in front their President, Vladimir Putin.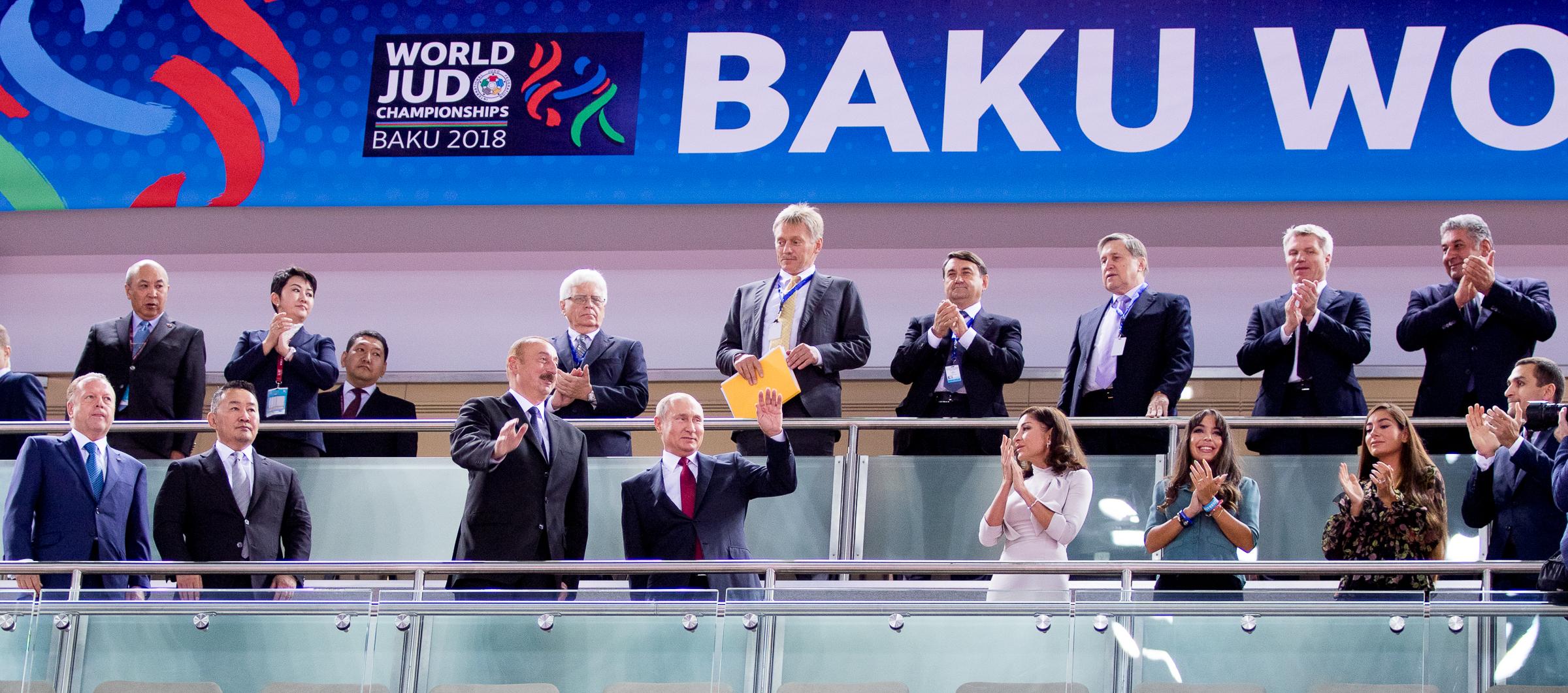 One of the Russians to win their contest in the bronze medal round was Mikhail IGOLNIKOV,
"We are very happy with this bronze medal. I was so motivated to fight here. I spoke to my coach and told him that I am ready to fight and to win a medal with the team.
Normally you are alone on the mat but in the team event you fight together with the team and for your nation. This is a special feeling.
The meeting with the president (Putin) was a big motivation for all of us and I think we made him happy today."
The Azeri team managed to acquire a single win in the -73kg contest by World bronze medallist, Hidayat HEYDAROV. Strong performances were given by Anastasiian KONKINA, Alena PROKOPENKO, Mikhail IGOLNIKOV and Inal TASOEV to take the win and the bronze medal.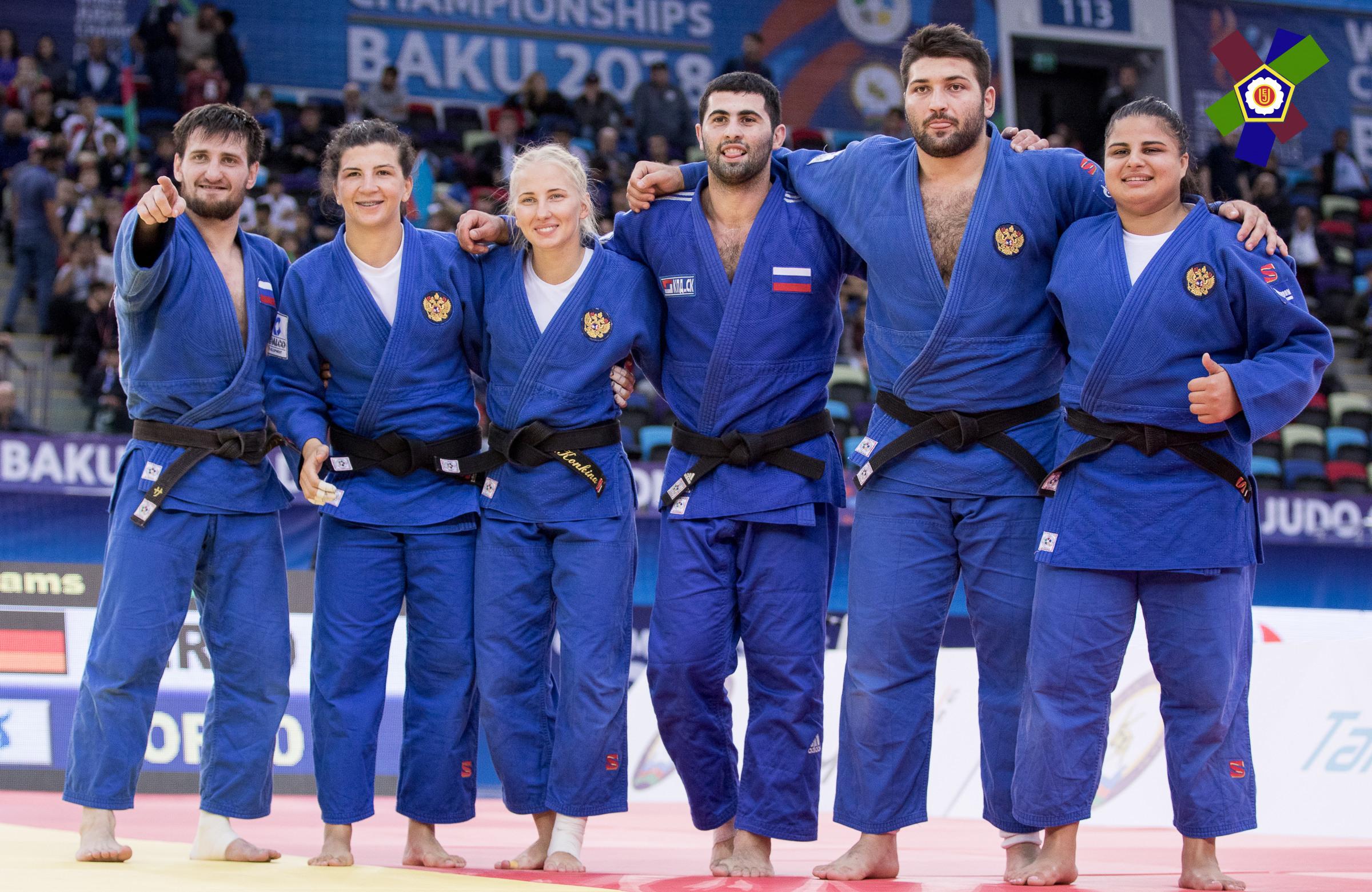 Russian coach, Vitaliy MAKAROV spoke after the medal contests,
"We had a meeting before with our president Vladimir Putin and he said,
'I saw how you fight and I also saw that your opponents team is also very strong. But I am sure that you have the potential with this team to win this bronze medal fight. I believe and trust in you,'
I think we have not disappointed him today. It is a first step for us regarding to the Olympic Games in two years and I hope to win also a team medal in Tokyo.
This victory was really important and I am absolutely happy with this medal. I am proud of the team and how they fought today. They gave more than 100% and I hope that all of them have now recognised that they can beat everybody. Doesn't matter what name or title they have. They came, fought, and deservedly won the bronze medal."
The second bronze medal round was between Germany and Korea. The Korean team is in fact made up of players from the Republic of Korea and the Democratic People's Republic of Korea, creating a historically monumental occasion for the athletes and spectators on the final day. The back patch reading as 'COR', Korea got off to a strong start against the German team, this round started with the +90kg category, systematically moving on to the -57kg round. The newly formed Korean team were simply too strong, winning the first four contests and ending the bronze medal round. World Champion, AN Changrim was a part of this team, fighting in the third fight. Following AN was KWON Sun Yong, who took on Laura VARGAS KOCH, though hard fought, KWON came out with a waza ari score, all that the Korean team needed for a podium place.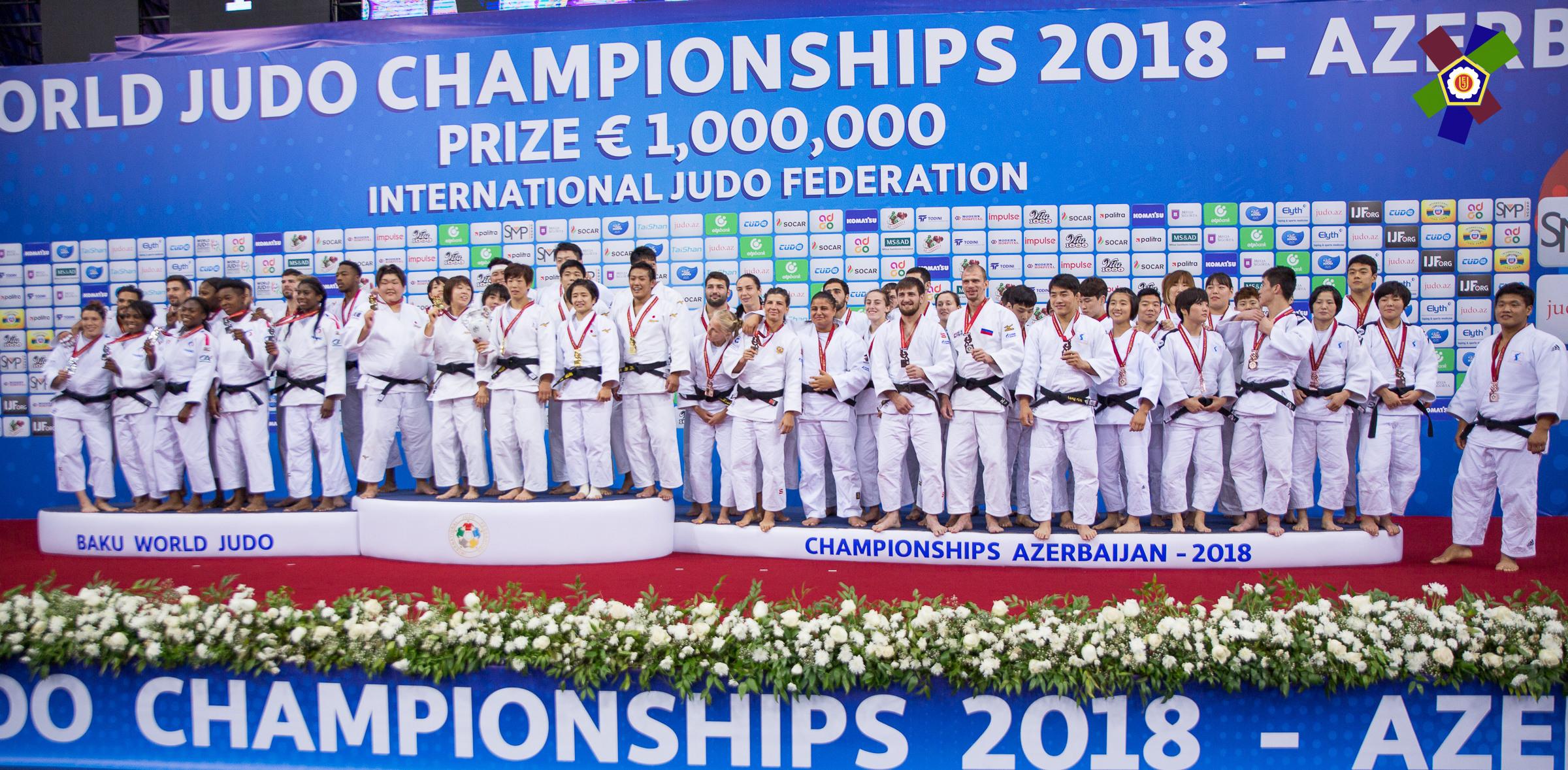 ---
Japan have taken sixteen medals this week during the individual tournament, only missing out on a medal in the -100kg category. They sealed their successful week with the gold medal in the World Judo Championships Teams 2018, closing the whole World Championship event and ready to host the same event in Tokyo 2019.
Judoka
---