Day one of the Women's European Open in Odivelas was off to a strong start, the initial contests won by fantastic ippon scores, with an excitable crowd here for their home favourites and international competitors alike. 
Unfortunately it wasn't to be for U23 European bronze medallist, Wilsa GOMES and Grand Prix medallist Joana DIOGO of Portugal as they were defeated by their Spanish opponents in the first round. However that didn't dampen the spirits of the home nation, as many of their team mates continued on through the preliminary rounds.
It was a great opportunity for the less experienced competitors to fight against talent from four continents, a strong force from both Brazil and Japan in attendance.
A French-Spanish final between Manon DEKETER and Cristina CABANA PEREZ in the -63kg category was highly anticipated in the final block, the latter having to defeat her team mate, Laura VAZQUEZ FERNANDEZ (ESP) in the semi final.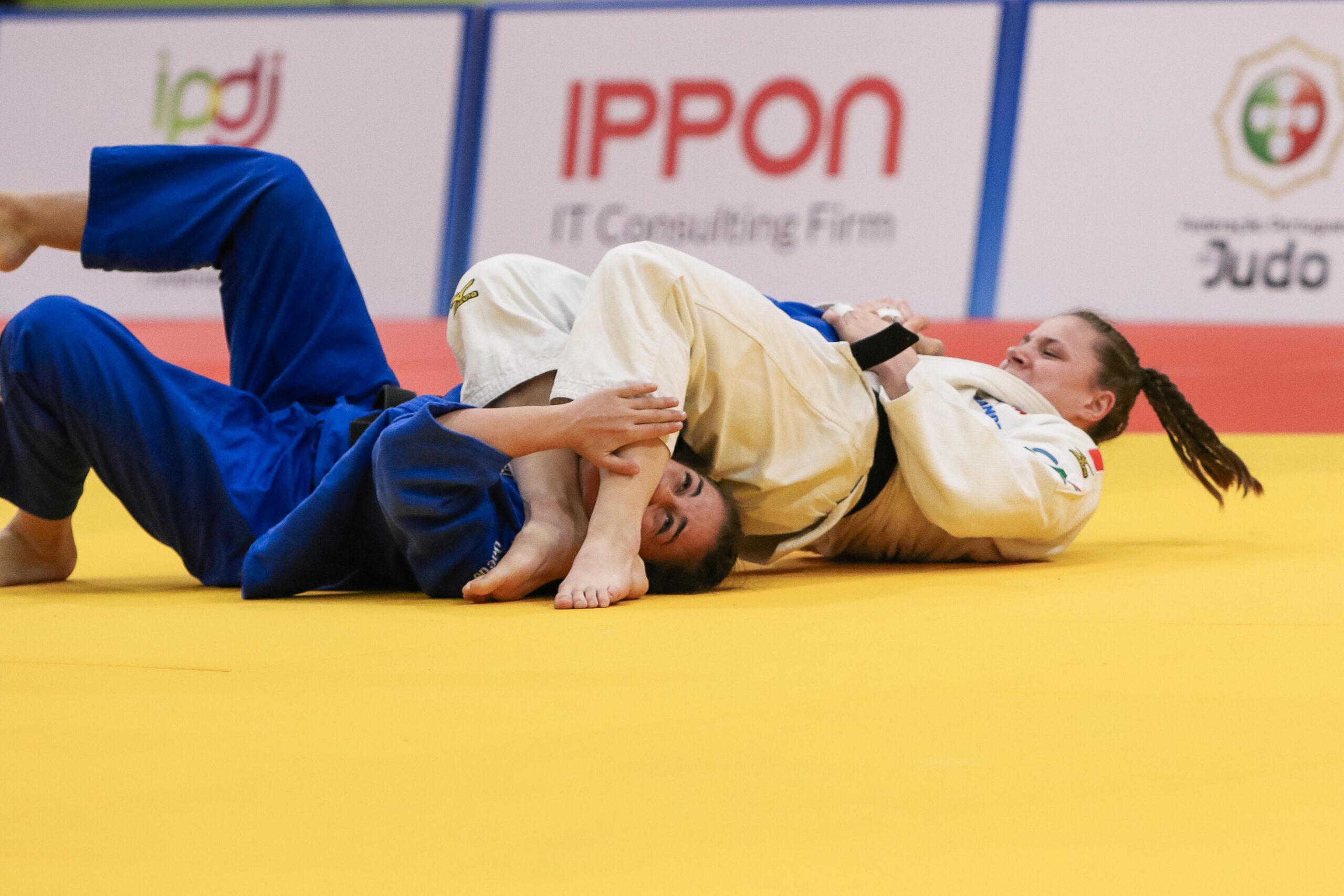 DEKETER (FRA) put on an impressive performance throughout the day and eventually beat Japan's gold medal hopeful, Tokyo and Paris Grand Slam gold medallist, YAMAMOTO Anzu for her place in the final. The waza ari score was difficult to defend, with the French athlete having already accumulated two shido penalties but she managed to see out the end of the contest.
This was my most difficult contest but I knew what I had to do to take the win.
Though CABANA PEREZ came out in the final with a series of attacks, DEKETER managed to position herself well to transition in to groundwork. She may have missed out on her first opportunity but sealed her first senior gold medal with a swift application of shime waza.
It is my style of judo, so it came naturally to me, I stayed relaxed during the match and it fell in to place, it worked for me.
DEKETER was not the only French athlete to take position on the podium on the first day, with France taking five medals in total, the remaining four in the lightweight category.
-48kg
The French -48kg entry proved exceedingly strong, taking all four of the semi final places and in doing so, ensured two of the four podium places. Eventually, Blandine PONT and Marine LHENRY took the final places and battled it out for the gold medal. LHENRY held the lead on contests, beating PONT in Luxembourg only last September, however, the latter was clearly seeking to even the score.
PONT couldn't quite keep up the pace of her opponent and was beaten on the ground in a fast transition making it a 2-0 lead for LHENRY.
-52kg
The -52kg category saw the Japanese, Brazilian and Dutch nations compete against their team mates for the medals, an all-Japan final resulted in Grand Slam medallist, TATSUKAWA Rina taking the gold, UCHIO Mako the silver. Sarah MENEZES (BRA) faced her team mate, and number one seed Larissa PIMENTA for the second bronze, the latter coming out on top to take the win.
The only medal for Europe in this weight was won by Naomi VAN KREVEL (NED). The pair have fought against each other only once in competition, in the Dutch Championships last year with VAN KREVEL taking the gold medal and once again proved to have the edge today with her bronze medal achievement.
-57kg
The first semi final between Lola BENNAROCHE (FRA) and Acelya TOPRAK (GBR) was an even contest, the strong left versus right proved an issue as both athletes were searching for an opening but in an unfortunate turn of events, an injury ended the journey for BENNAROCHE. Despite a determined attempt from the number 2 seed, Corina STEFAN (ROU), she was unable to take a place in the final, losing out to eventual winner, Japanese entry, TSURUOKA Koyuki. Both STEFAN and BENNAROCHE were unable to compete in their bronze fights due to injuries and so the winners of the repechage rounds, SHIBATA Riho (JPN) and Shannon VAN DE MEEBERG (NED) both took the medals.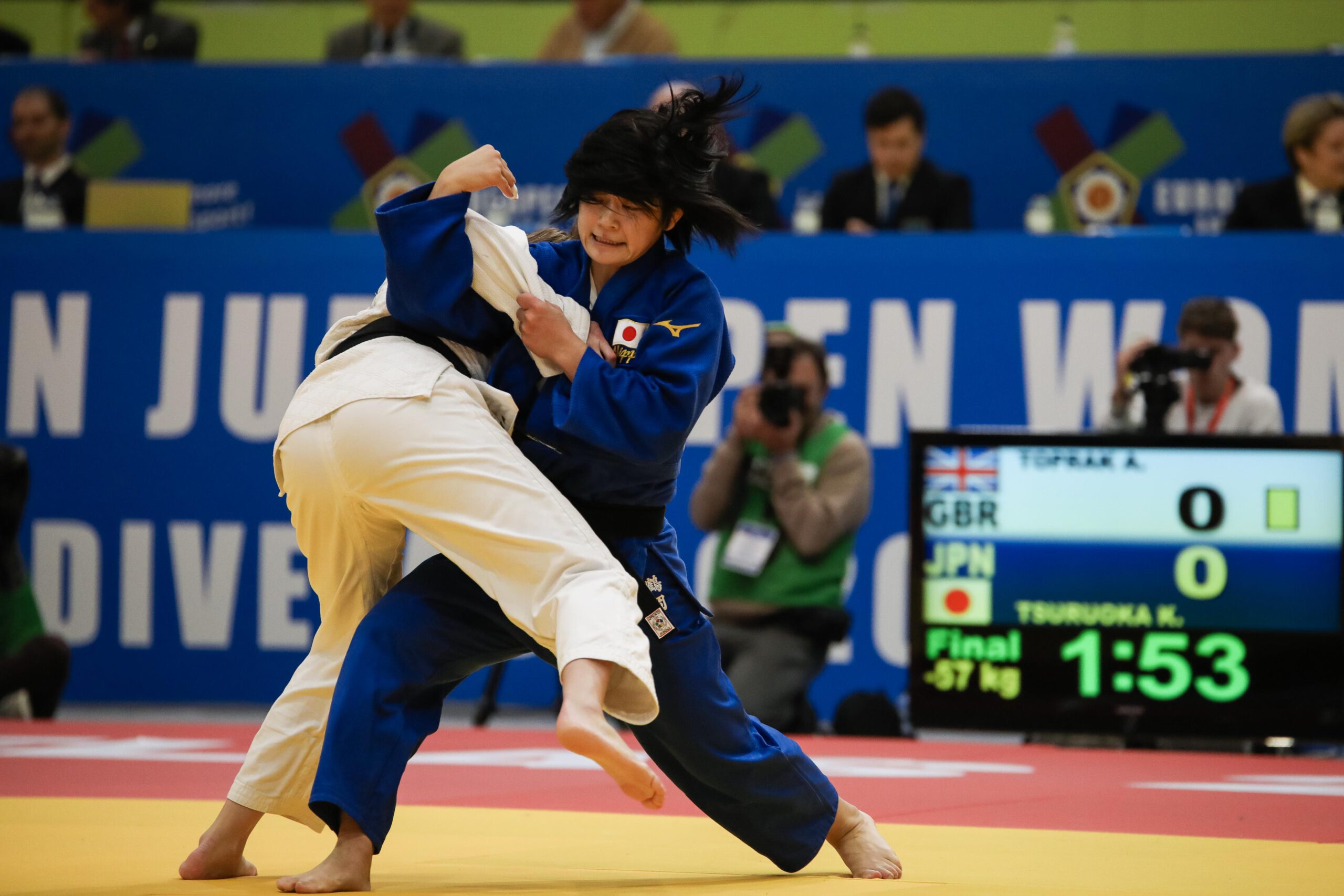 The final between TOPRAK and TSURUOKA went in to golden score, both picking up shido penalties but the Japanese finally put a score on the board to add another gold medal to Japans takings.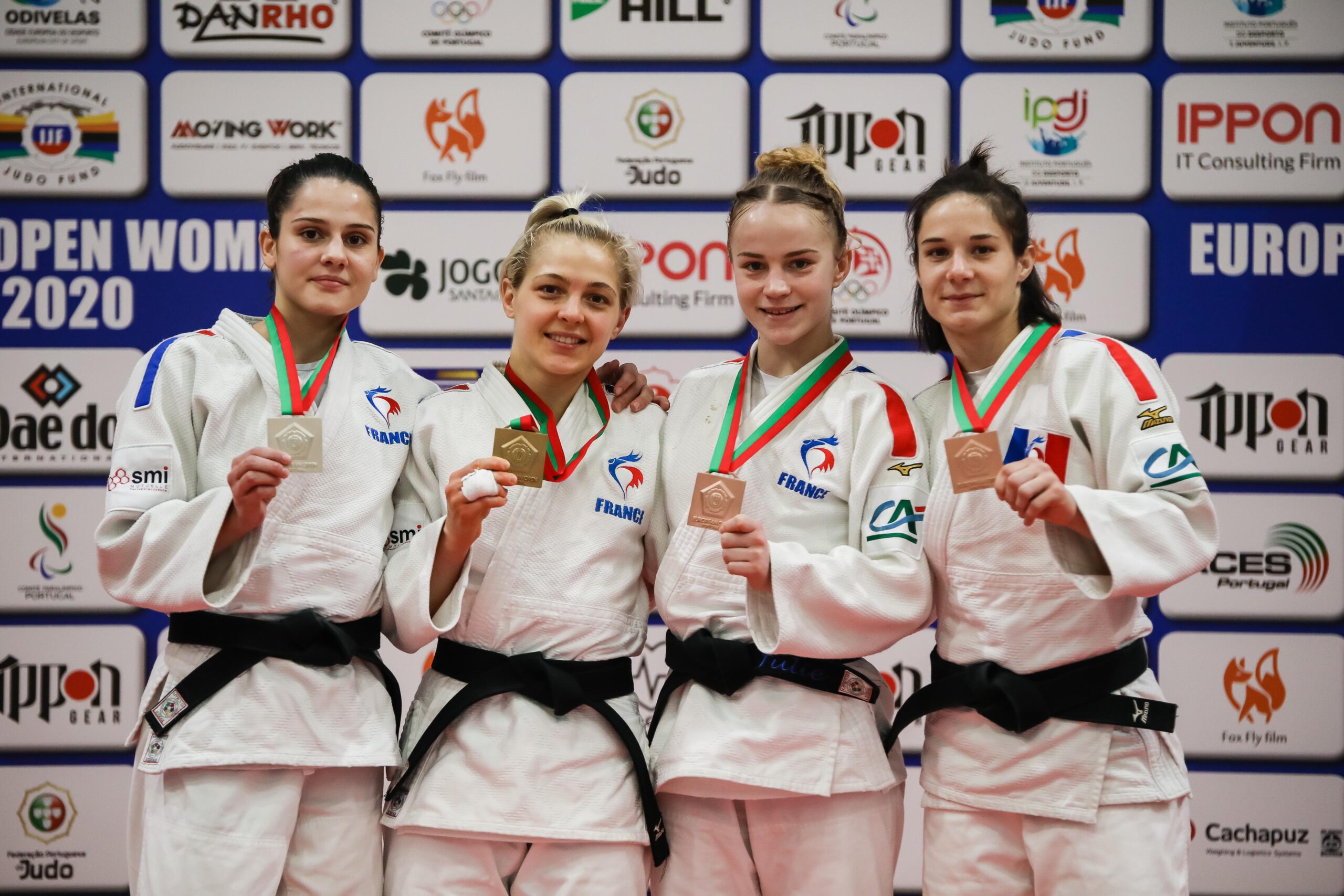 -48kg medallists 1. LHENRY, Marine (FRA) 2. PONT, Blandine (FRA) 3. WEILL DIT MOREY, Julie (FRA) 3. VAUGARNY, Melodie (FRA) – Rui Telmo Romão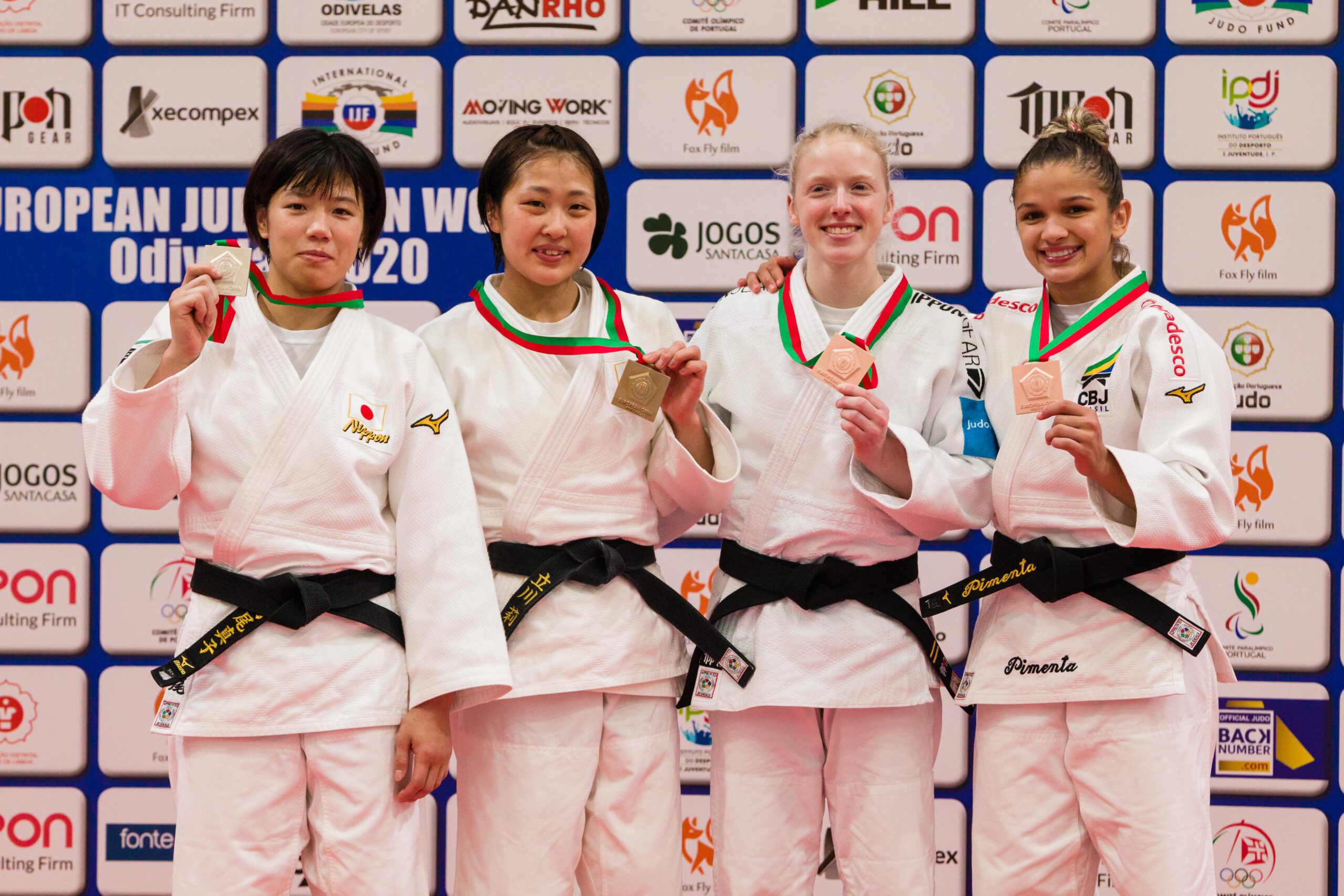 -52kg medallists 1. TATSUKAWA, Rina (JPN) 2. UCHIO, Mako (JPN) 3. VAN KREVEL, Naomi (NED) 3. PIMENTA, Larissa (BRA) – Rui Telmo Romão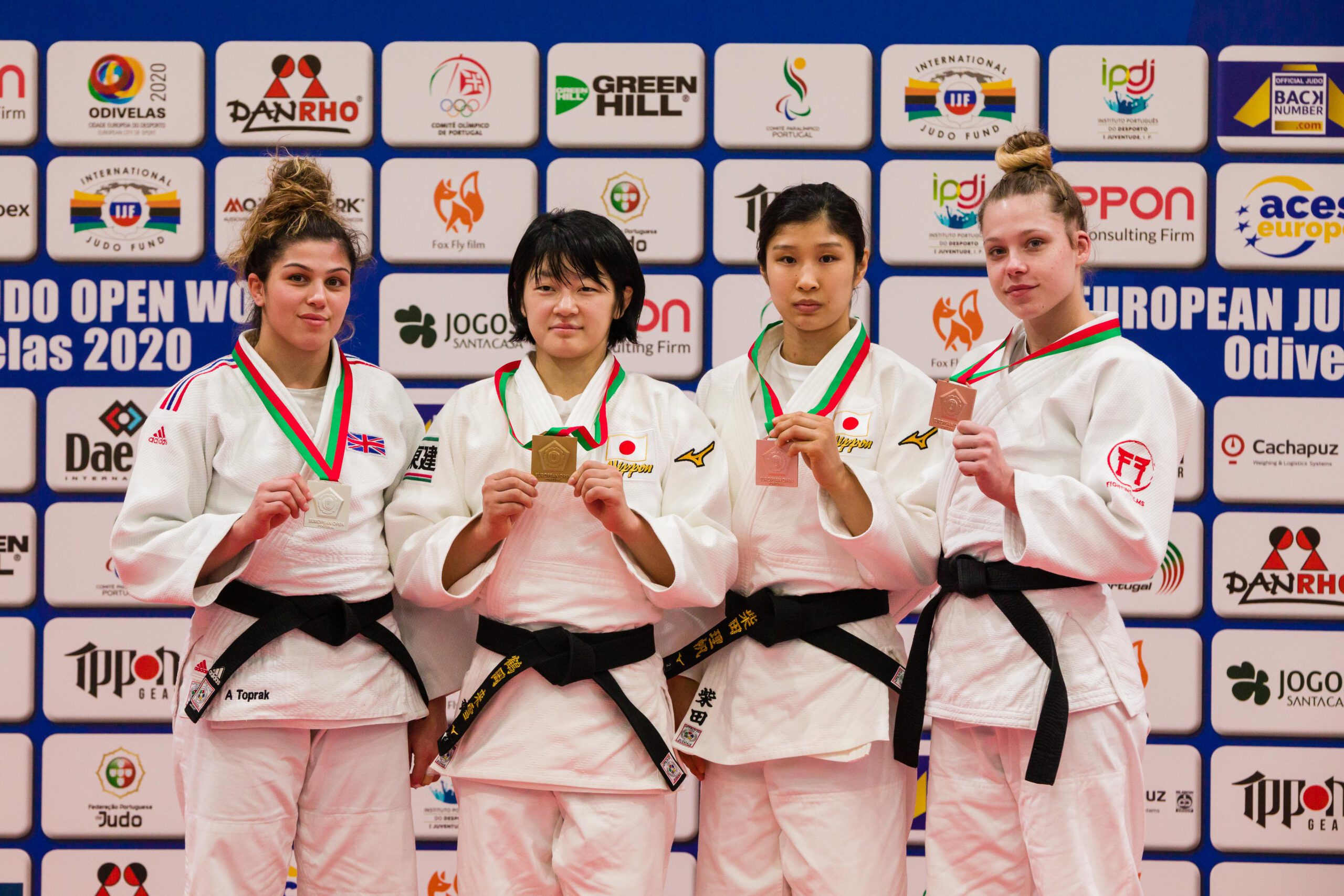 -57kg medallists 1. TSURUOKA, Koyuki (JPN) 2. TOPRAK, Acelya (GBR) 3. SHIBATA, Riho (JPN) 3. VAN DE MEEBERG, Shannon (NED) – Rui Telmo Romão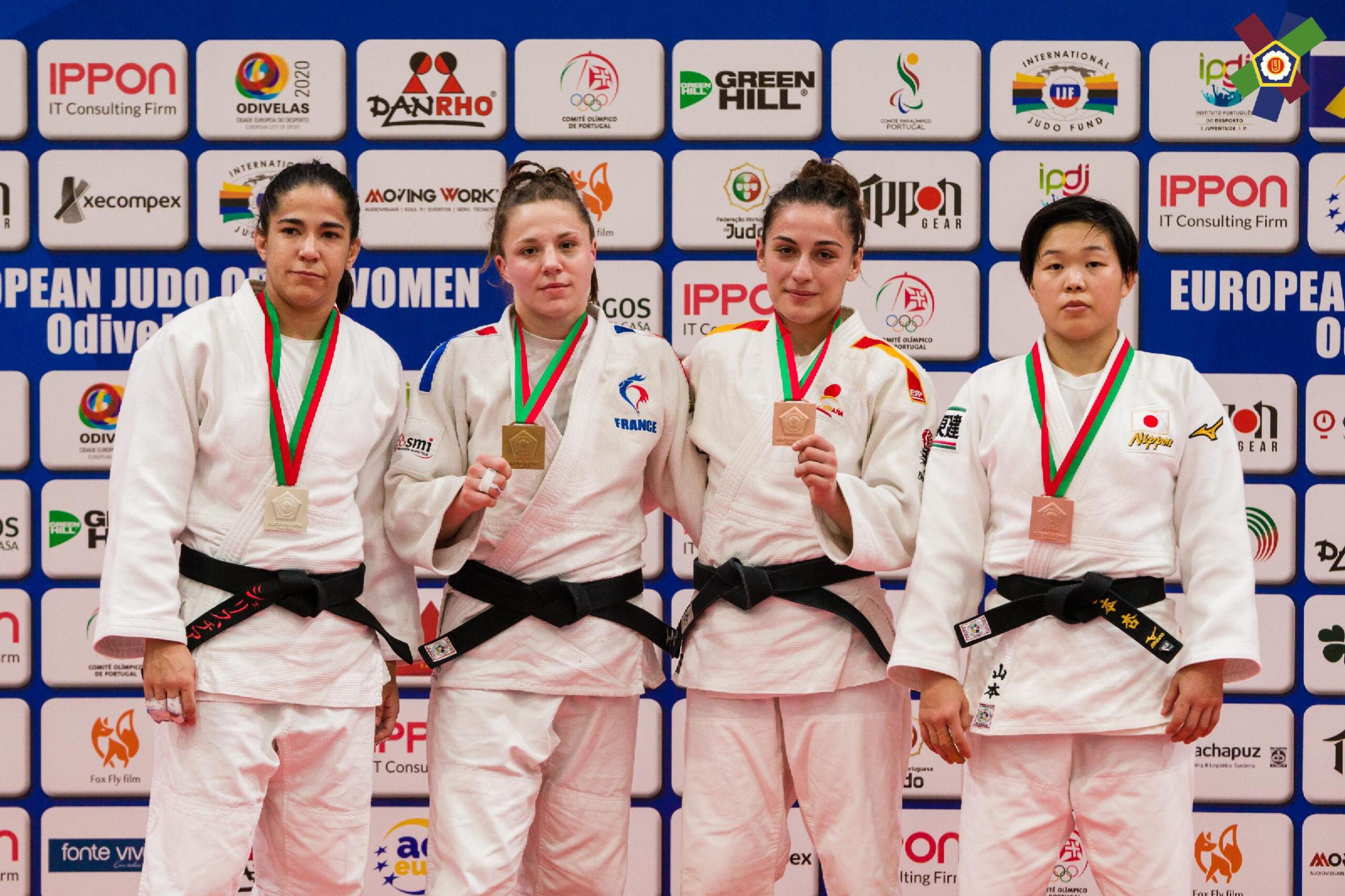 -63kg medallists 1. DEKETER, Manon (FRA) 2. CABANA PEREZ, Cristina (ESP) 3. PADILLA GUERRERO, Sarai (ESP) 3. YAMAMOTO, Anzu (JPN) – Rui Telmo Romão
Tomorrow the remaining weight categories; -70kg, -78kg and +78kg will compete for the European Open titles and will be streamed live from 10am local time at www.eju.net.
Judoka
Author: Thea Cowen
---