In the -70kg category, the medallists stepped on the podium one by one receiving their sought after neck piece, but this could have been the European Championships as on each position, stood a European athlete, French, Portuguese and British. 
The eventual World Champion of the women's category on day five was Marie Eve GAHIE of France. Last year in Baku, there was disappointment painted on her face as she lost out in the final to ARAI Chizuru (JPN) and was forced to settle for second place, but this year there was no stopping her. Determination and self belief are, in her opinion, what took her to the final and had her leaving the Nippon Budokan with the gold medal.
All but one of GAHIE's five contests were finished in ne waza and under two minutes, the only one avoid an early defeat against the French Champion was Maria PEREZ (PUR) who took the fight to the very end and ceded a waza ari score.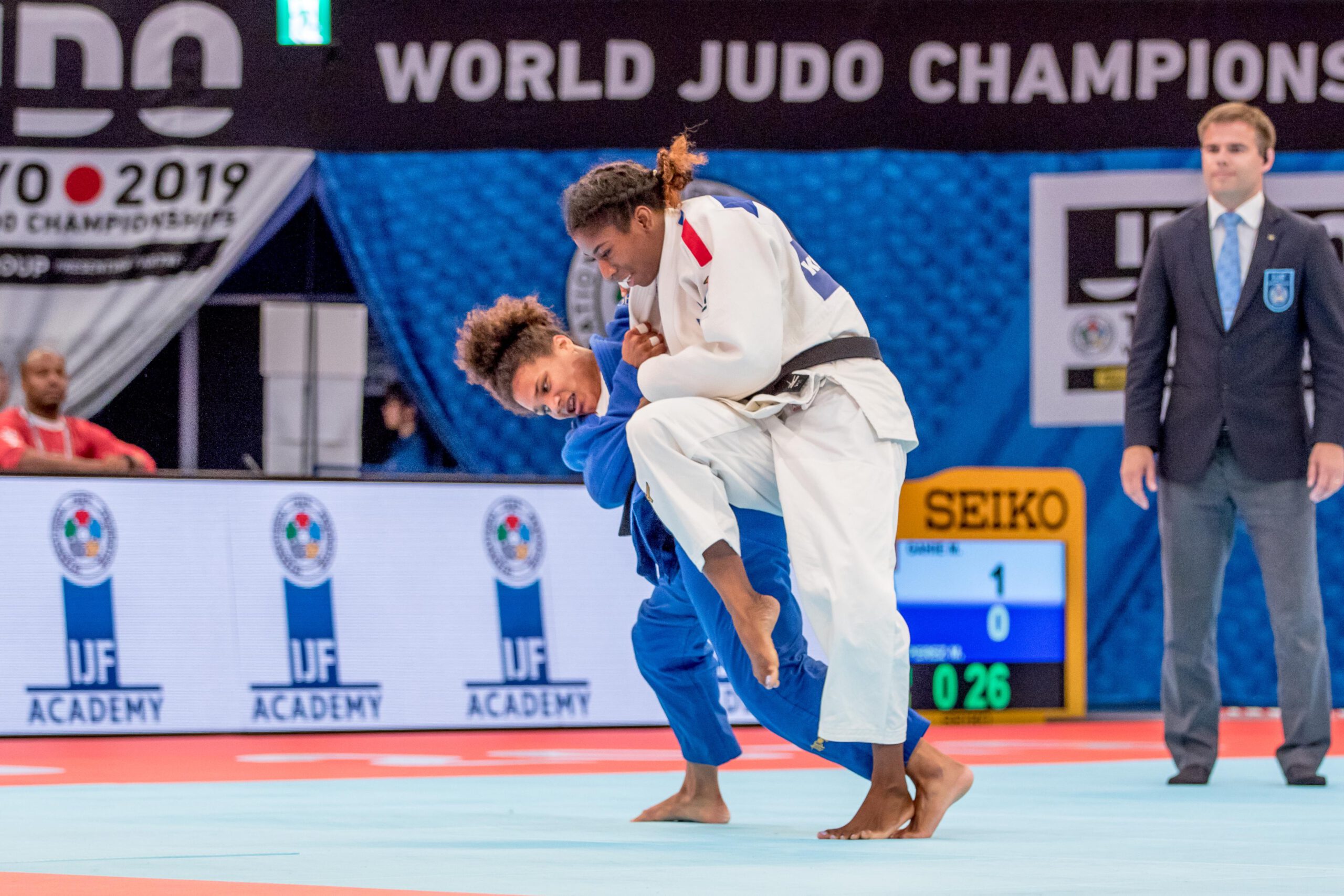 GAHIE wasn't the only French athlete to medal today and when asked if the previous days success from Clarisse AGBEGNENOU had affected this in any way, she told us,
Yes, yes, yes. I don't know about the others but for me it is a big inspiration, because when I look at her, her determination and the way she's focussed, her confidence in herself, it's an inspiration and I know that everyone has to be like this.
Though the crowd were tremendously loud in their support for GAHIE, the experienced athlete and now World Champion is able to focus solely on her fight, no matter where she competes she tells herself she is home and not to let her surrounding distract her from the end game.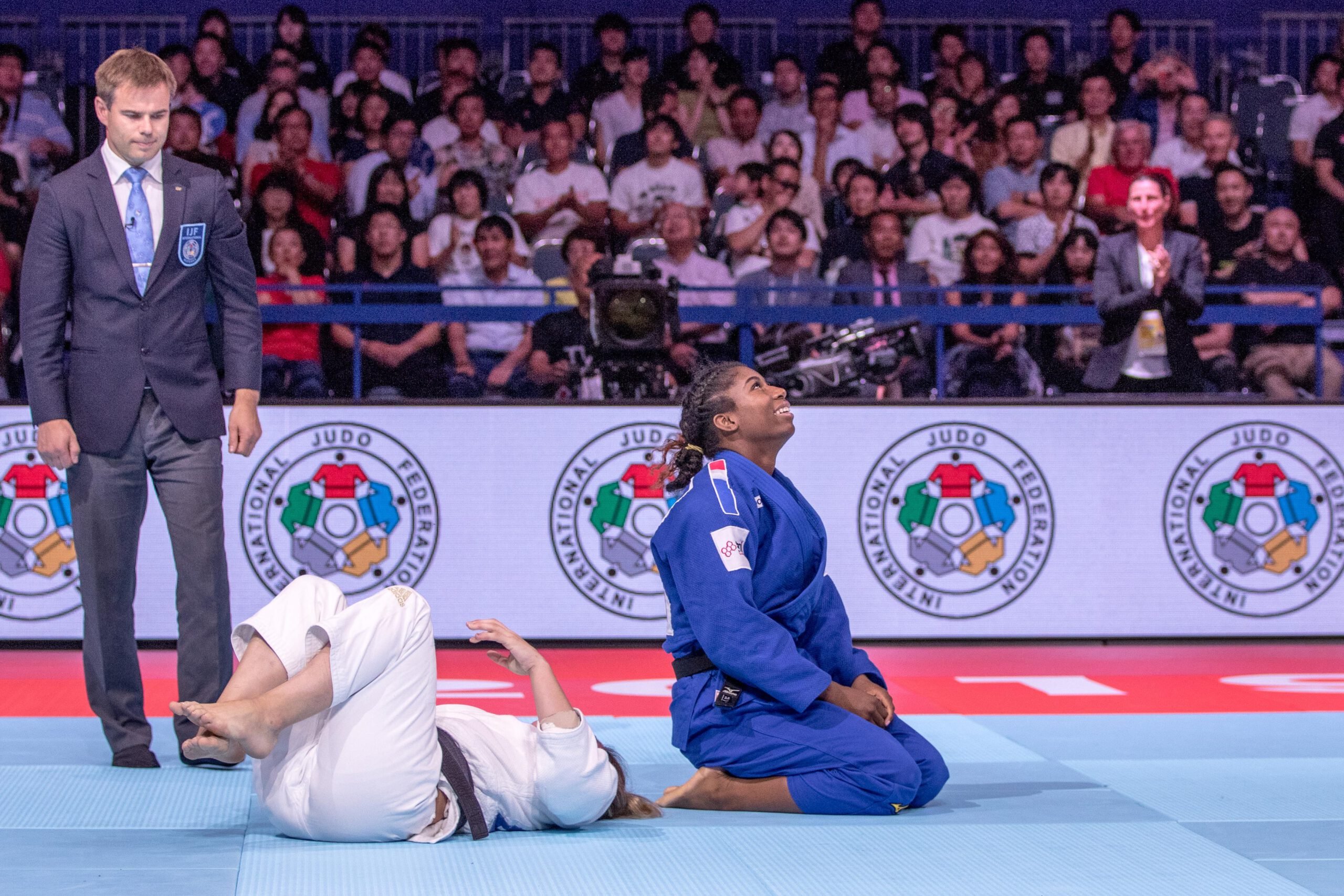 The -70kg final was against Paris Grand Slam bronze medallist and Tbilisi Grand Prix winner, Barbara TIMO of Portugal. Though this didn't work out as well as the Portuguese would have liked, today was a memorable one for TIMO, overcoming some extremely tough opponents.

Once making her way through her first and second round, past athletes from Mongolia and Belgium, she was to face the 2018 World Champion, #1 seed and favourite to win, ARAI. The Japanese team haven't performed as well as predicted this week and TIMO added another mark to the list. With pure conviction, the Portuguese athlete executed a soto makikomi to score waza ari. The rest of the contest was fought tactically and intelligently, TIMO making her way in the fourth round against Sanne VAN DIJKE (NED).


First I was afraid because of my injuries but against her I wasn't afraid, she was World Champion last year but today it was my day and I was prepared to fight that way.
After defeating VAN DIJKE, the next step was the semi final against the current European Champion, Margaux PINOT (FRA). In under one minute, she secured a place in the final against GAHIE, a blinding seoi nage scoring ippon and bringing out a lot of emotion for the athlete, realising she was going to be on that podium regardless of the outcome in the final.
After I got the ippon, I felt a sensation, like I was out of my body and I was trembling and I just went where my body allowed me to go.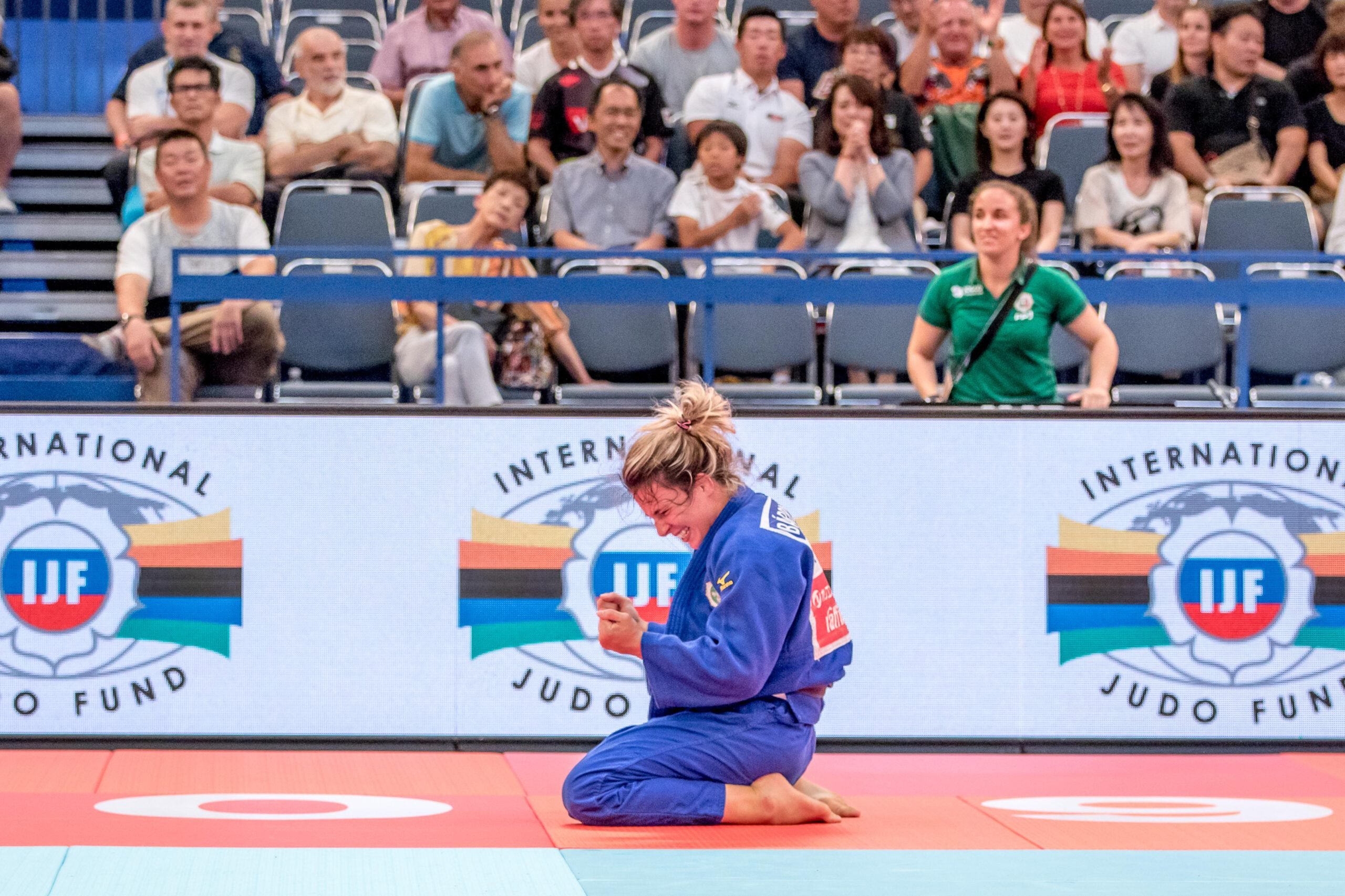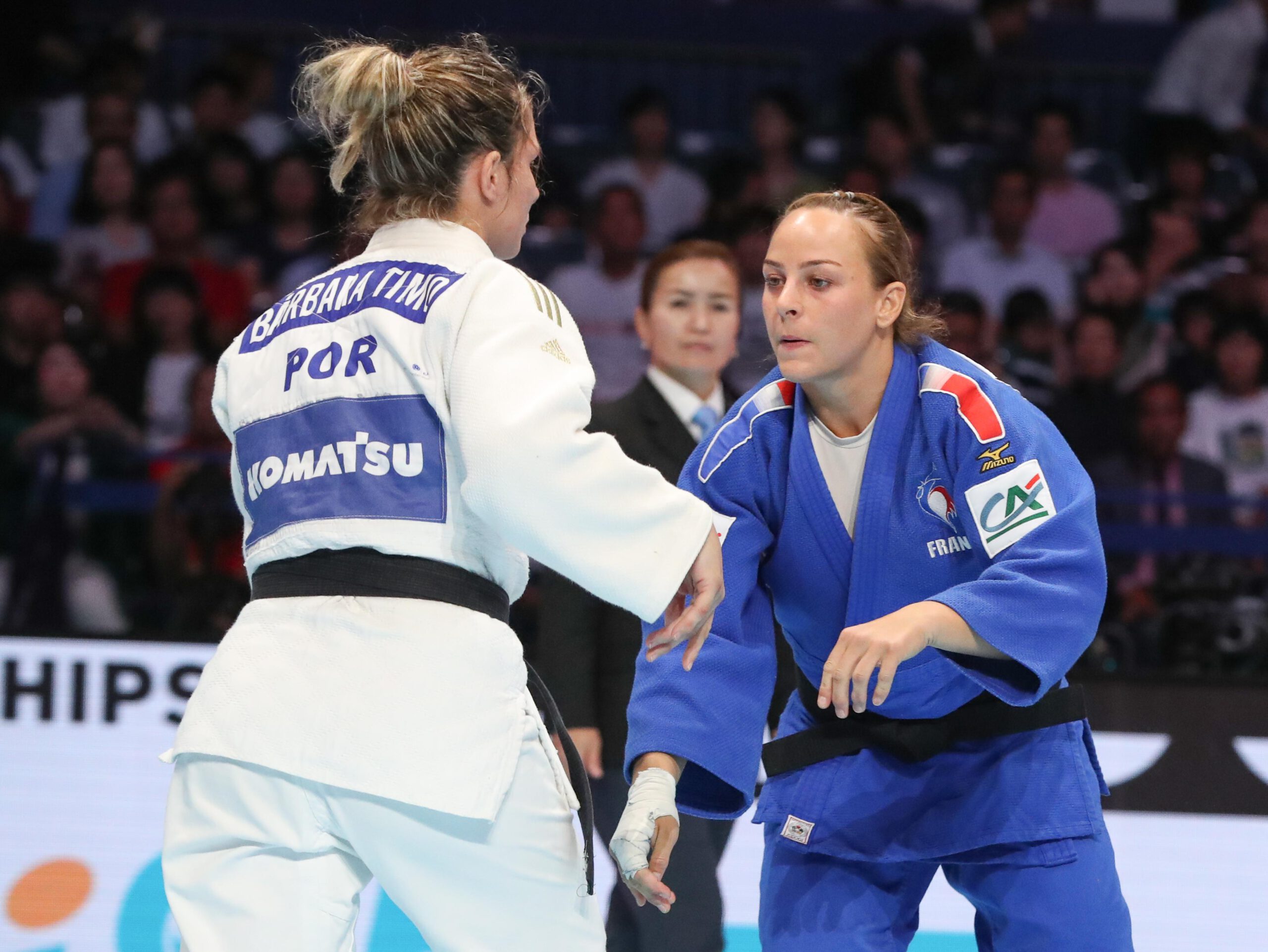 Of course the final went to GAHIE, but this achievement was about more than the medal. TIMO has been competing for Portugal for only one year, gaining citizenship on the 26th of December in 2018. Previously a member of the Brazilian team, it was difficult to travel and compete enough to earn points as the #2 seed, however the young woman has outdone herself today, the decision to move proving successful, and will undoubtedly be gracing the Grand Slam and Grand Prix podiums in the build up to the Olympic Games, and perhaps returning for a medal in the Budokan once again.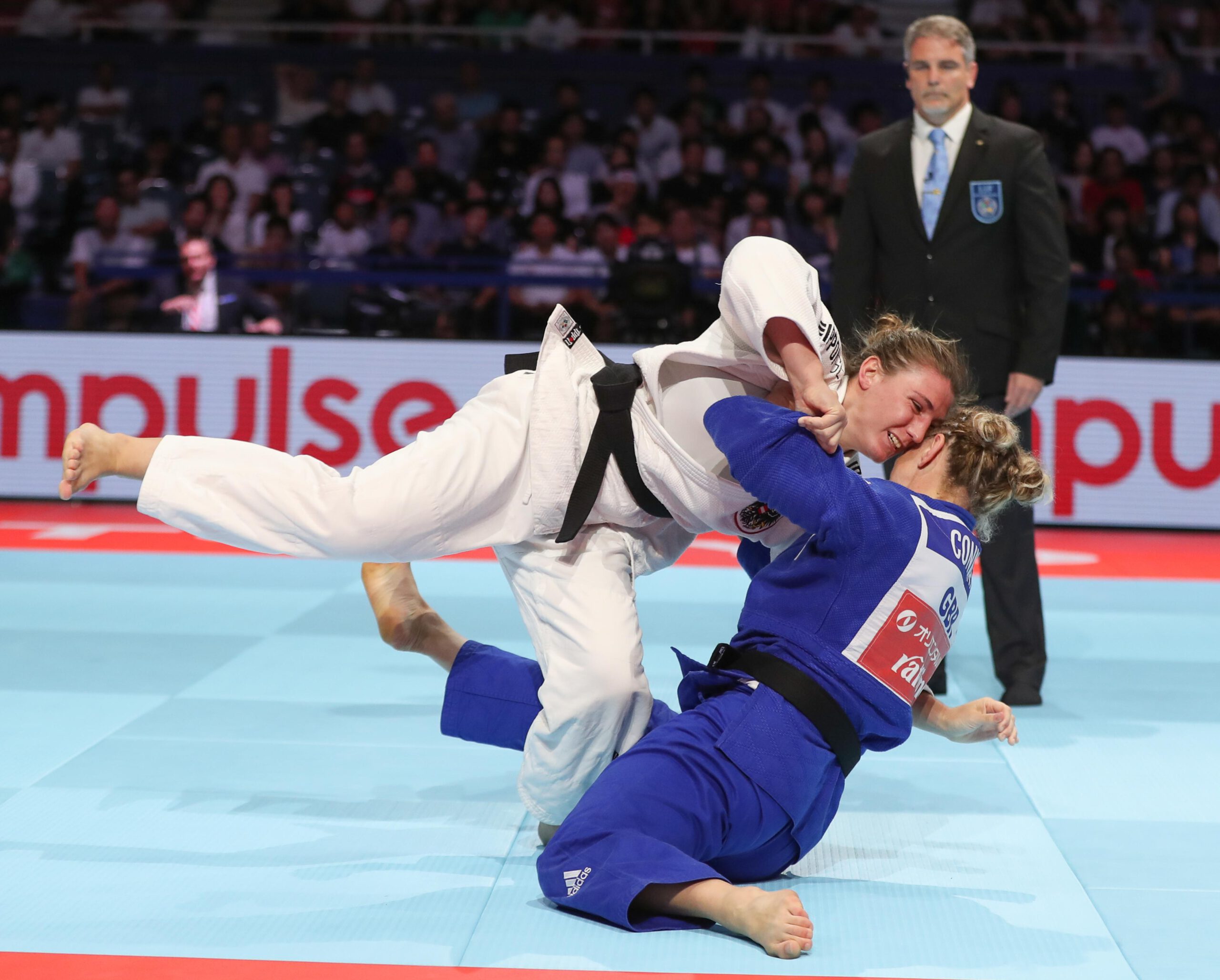 32 year-old Sally CONWAY of Great Britain was one of the bronze medallists in this weight category and spoke to us following the medal ceremony, elated with her achievement,
I couldn't be happier and can't smile wide enough, it has been a long time coming, I've been to 7 or 8 World Championships now and this is the first medal. I fought with my heart today and really couldn't have asked more of myself. To be standing here now with a World medal, I'm just so happy.
CONWAY contributes her success to the support she had here today including her coach as well as her focus on improving her judo tactics in the lead up to this World Championships.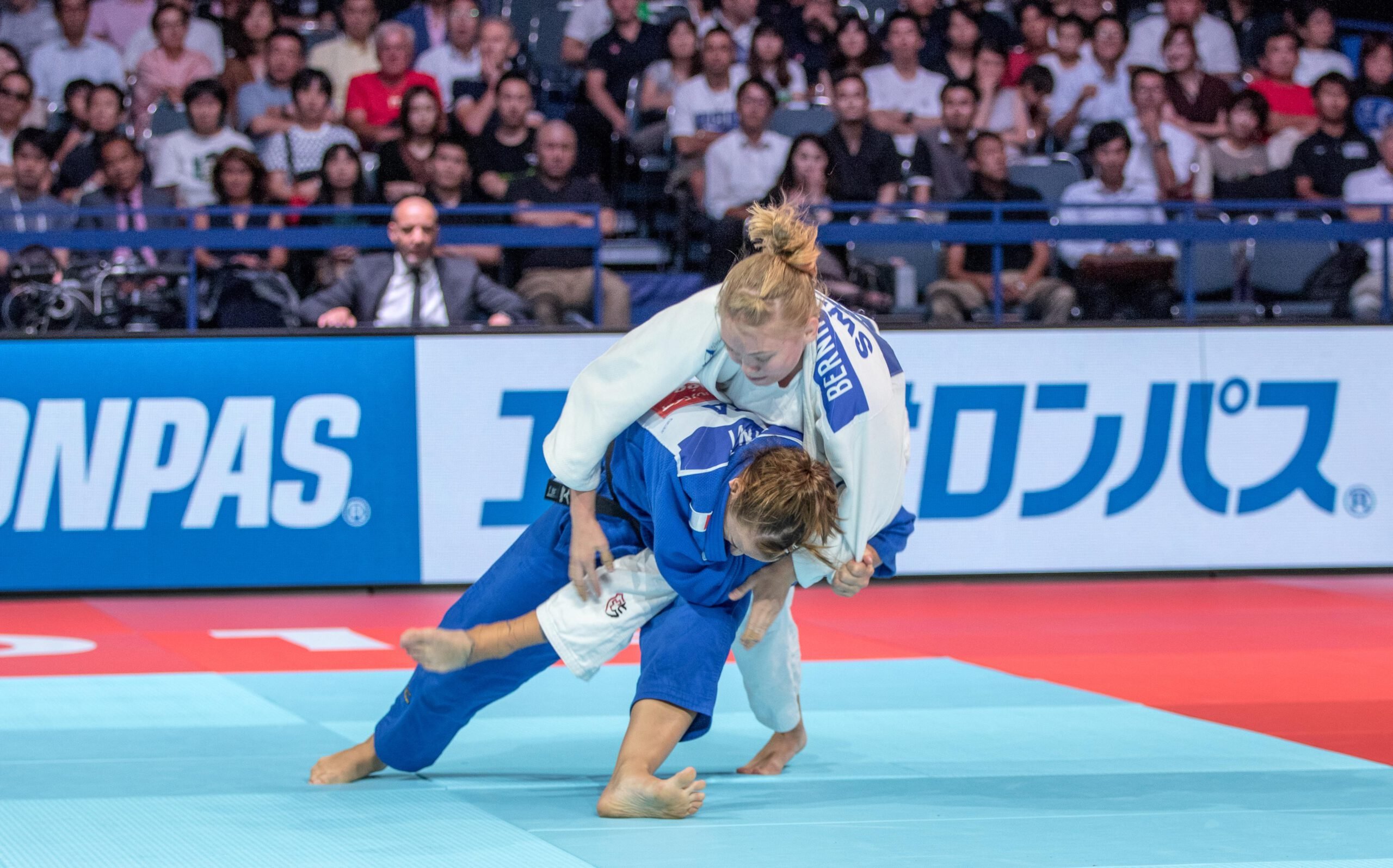 France ruled the -70kg category today and though there was potential for an all-France final, TIMO brought an end to that. PINOT defeated back to back Grand Prix winner, Gemma HOWELL (GBR) as well as Maria PORTELA (BRA) and Michaela POLLERES (AUT) on her way to the semi final against TIMO. The last time their pair fought one another was in 2015, where the now World silver medallist came out on top in the Odivelas European Open.
I think it was a mix between sadness and happiness, sadness about the semi final but happiness to get the bronze medal, but now I am okay, I'm proud of today and of my work. I was confident today, I was concentrating on my goal and it was a great afternoon for me.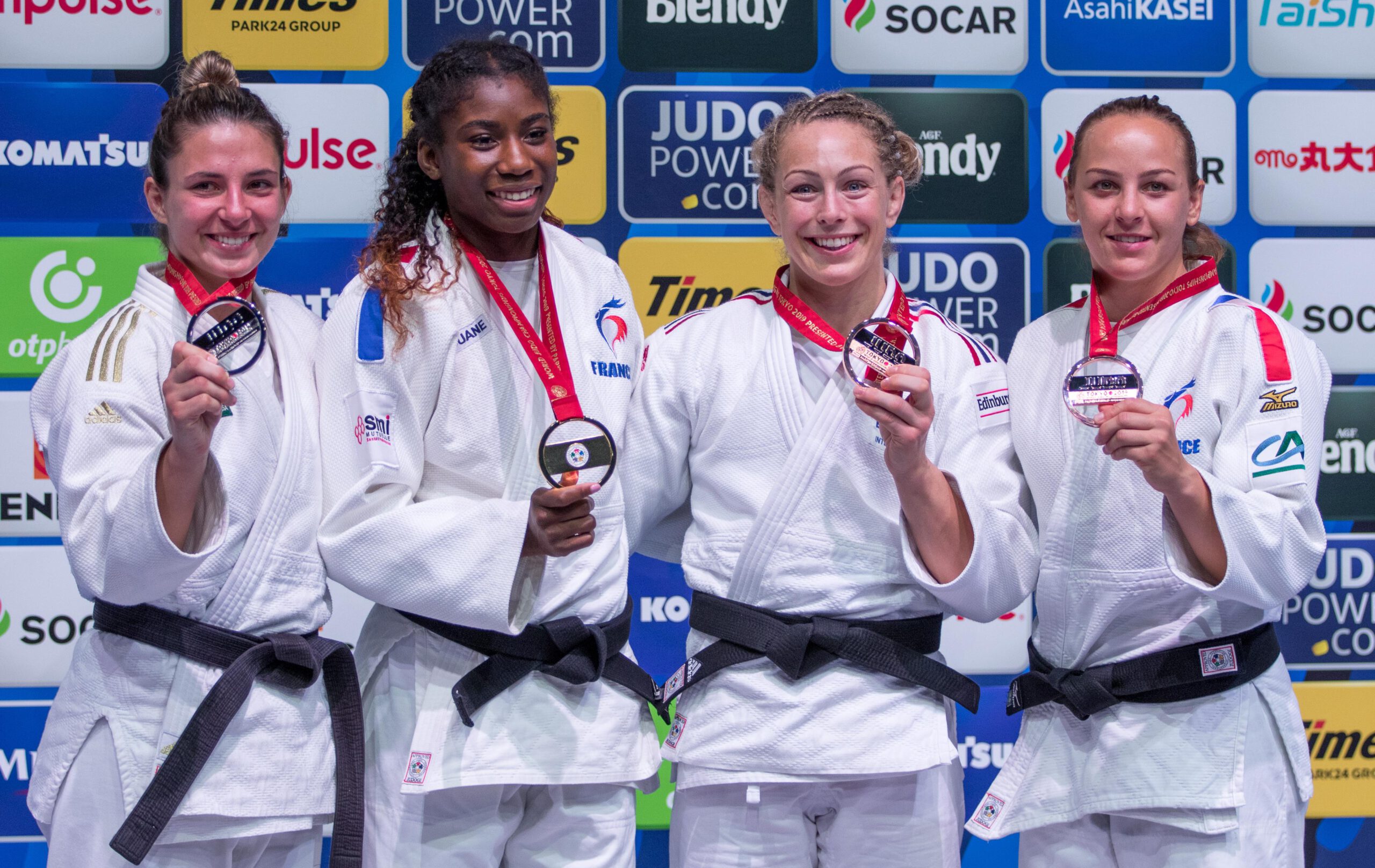 Judoka
---