Once again we are back in Bosnia and Herzegovina, this time in Sarajevo for their second major event of the year following the Cadet World Championships in August. This weekend, we will see two champions defend their U23 European titles, while all fourteen weight categories will have hungry athletes looking to steal the glory.
For the national federation of Bosnia and Herzegovina it is an honour to once again host the U23 European Championships, the last time was in 2010. Speaking with the General Secretary of the national federation, former Olympic athlete, coach and EJU Sport Commissioner Arijana JAHA, she is delighted to welcome back the delegations as well as spectators.
This year we have organised a European Open, European Cup for seniors and for juniors, a cadet world championships and now to end the year, the U23 European championships. We are so glad to once again host this event and that the EJU have entrusted us with this.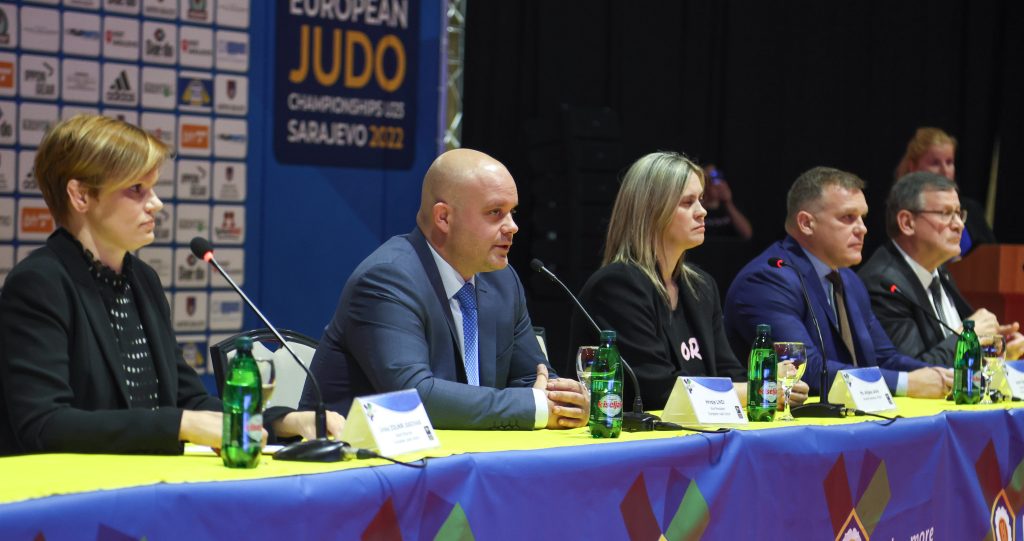 Not all continents have this U23 level of competition and it really serves a special purpose for the athletes who are moving out of the junior level.
I think it is very important for the junior athletes who are moving on to the senior circuit, sometimes there is such a big difference it can feel almost impossible for them to follow the IJF tour. This is a great opportunity for them to collect a continental medal, to gain more contests, and it helps the transition to senior level.
Another wonderful aspect of this tournament is that many are eager to arrive to see the talent Europe has to offer. This also falls in with the World Judo Day theme of inclusion, judo is for all and it is readily available here.
Before this week I have had people from all over Europe calling, from Germany, Netherlands, Italy, all over the Balkan area, asking if they need to book tickets but we want everyone to be able to come and spectate this event and be together so we have made it free entry for anyone who wants to come and have a full house. We will also have guests from the Ministry here, as well as the Japanese Embassy Ambassador who likes to be with us. Along with these VIP guests, we also have our athletes for example Larisa CERIC and Aleksandra SAMARDZIC who you see with the organisation.
Tomorrow the tournament begins and the first seven categories will see new athletes become title holders with the potential for Seija BALLHAUS (GER) to defend her title in the -57kg category. Follow the event live from 09:30 local time.
Judoka
Author: Thea Cowen
---