The World Championships always has devastating surprise exits, the standard is so high that we see top seeds or previous champions go out in the second or third round. The sixth day has been no different. The French team had a particularly unfortunate morning during the preliminaries. With a tough second round contest against World and Olympic silver medallist Varlam LIPARTELIANI (GEO), Alexandre IDDIR accepted defeat in the -100kg category.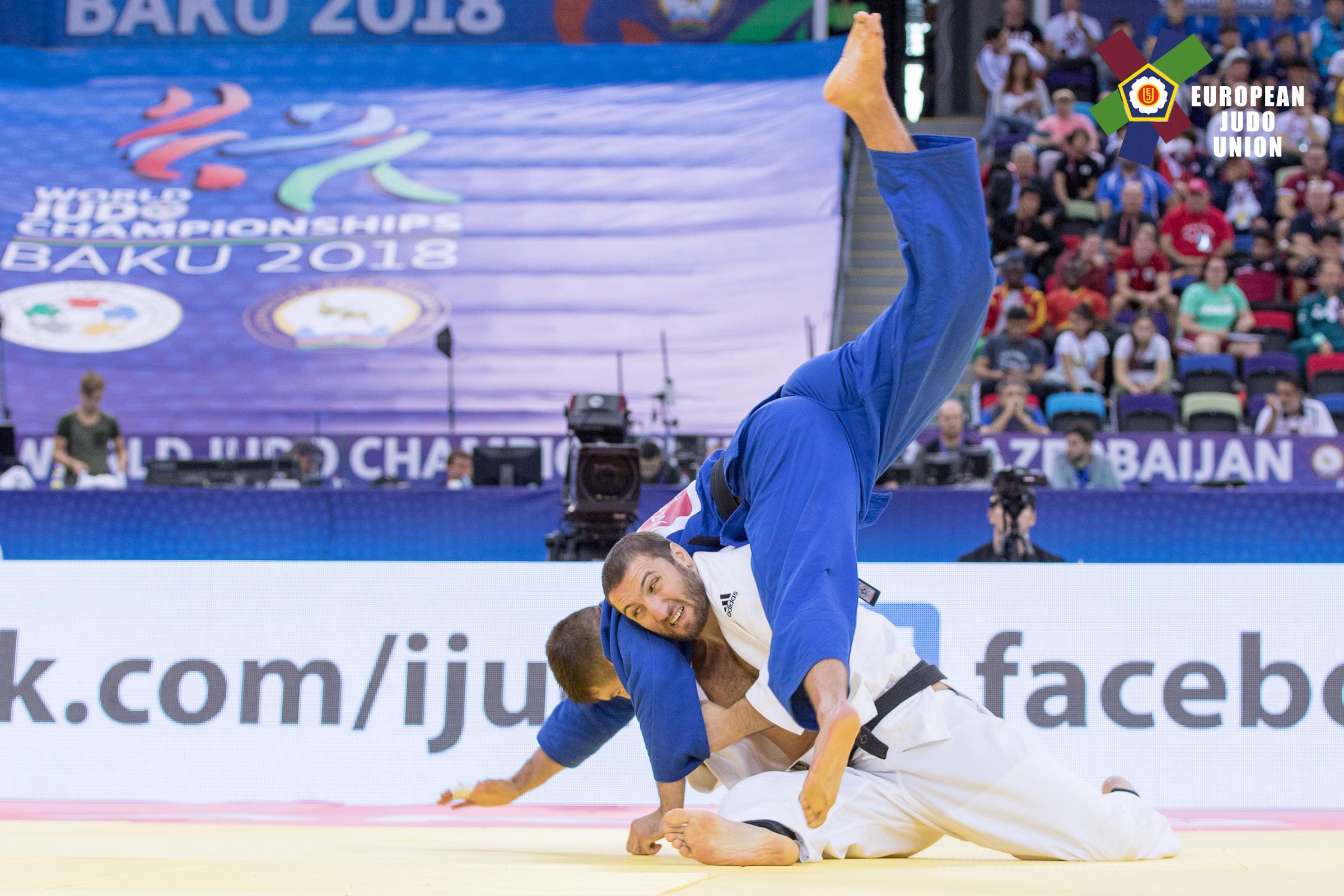 In the same weight category, Olympic bronze medallist Cyrille MARET, left the tournament in the same round to eventual World Champion, CHO Guham (KOR). Disappointment came around again, but this time in the -78kg category. World Champion and Olympic silver medallist came in to the tournament as the #3 seed but left in the third round, just missing out on the quarter finals, Russian Aleksandra BABINTSEVA taking her place. The final French hope was Madeleine MALONGA who eventually went out in the repechage fight to Katie-Jemima YEATS-BROWN (GBR).
VARLAM LIPARTELIANI (GEO) -100KG SILVER
The crowd remained predominantly Georgian for the second day as #1 seed, Varlam LIPARTELIANI stepped on the tatami, not only to defend his silver medal from last year, but to go one better and take the gold. The Georgian judo has found himself in the World Championship final twice and an Olympic final, only to have the title taken from him.
Amongst the crowd were his wife and children along with many of his family members which was very special for him,
"Of course, my family is everything for me, every day I do hard work, without my family, training and competitions. I am out 300 days and home 65 days, they are for me very important, my second life is judo. I want to thank my wife, sisters, mothers and fathers, everybody, I love you."
His first contest was in the second round against Alexandre IDDIR (FRA), the athletes have faced each other on multiple occasions in both the -90kg and -100kg categories. A quick attack from the Georgian put him a waza ari score up that IDDIR could not return. Home nation favourite and Olympic silver medallist, Elmar GASIMOV (AZE) took his opponent in to a battle in golden score, however LIPARTELIANI came out on top, going in with an uchi mata maki komi.
"The atmosphere inside the competition area is very good, many Georgian's came to support our team and I'd like to say thank you."

Next up was the strong Egyptian athlete, Ramadan DARWISH, a counter and osae komi seeing his demise and putting LIPARTELIANI in to the semi final against LKHAGVASUREN Otgonbaata of Mongolia.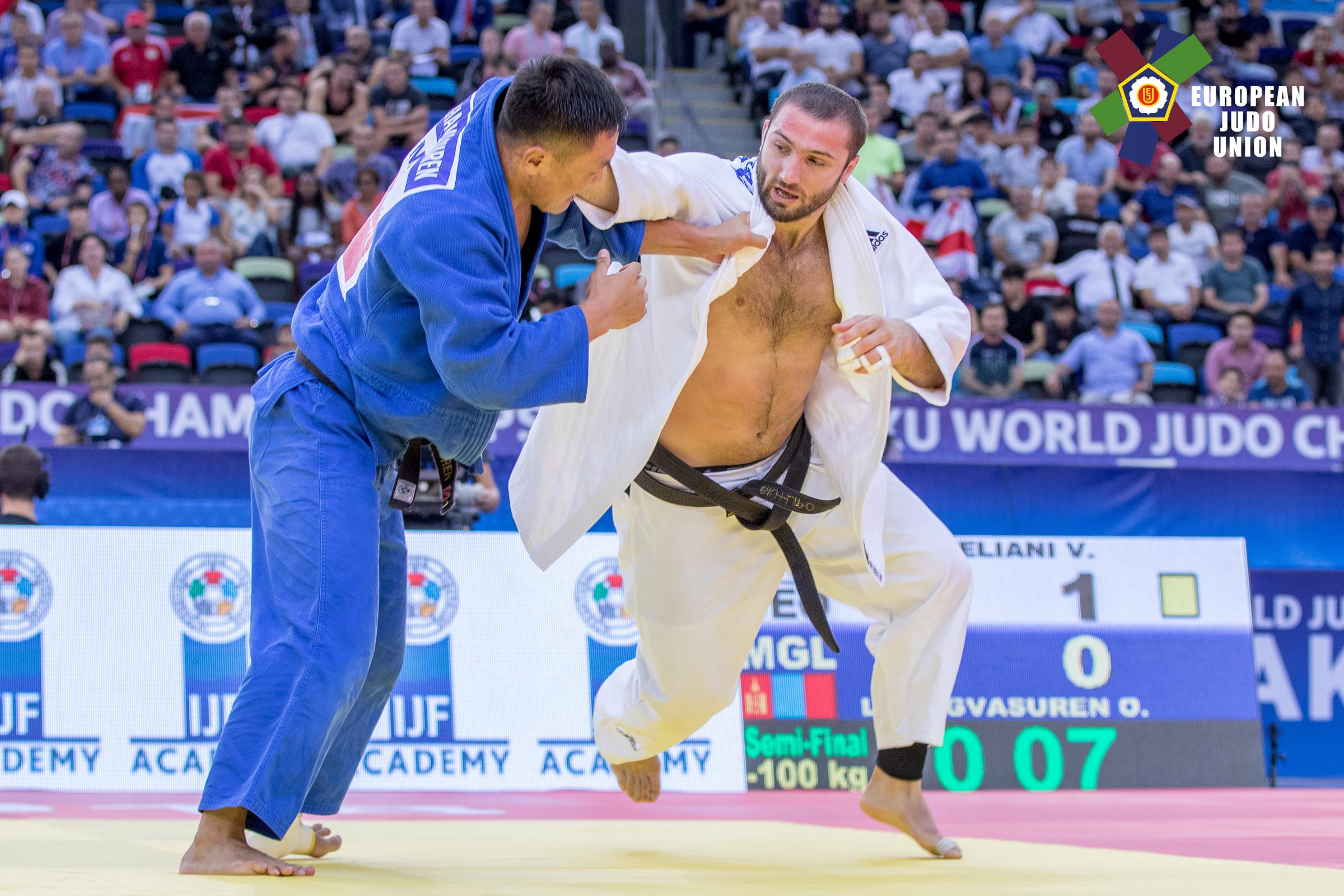 LKHAGVASUREN fought hard but LIPARTELIANI used his popular technique, osoto maki komi to take him down for waza ari, neither scored again before the clock ran down. Unfortunately, the final was a different story for the Georgian.
Five minutes in to golden score, neither athlete had scored but LIPARTELIANI had been awarded a second penalty, forcing him forward on to his opponent. CHO Guham (KOR) used this to his advantage and came in for a seoi nage, then using the Georgian athlete's reaction to switch direction and take him backwards.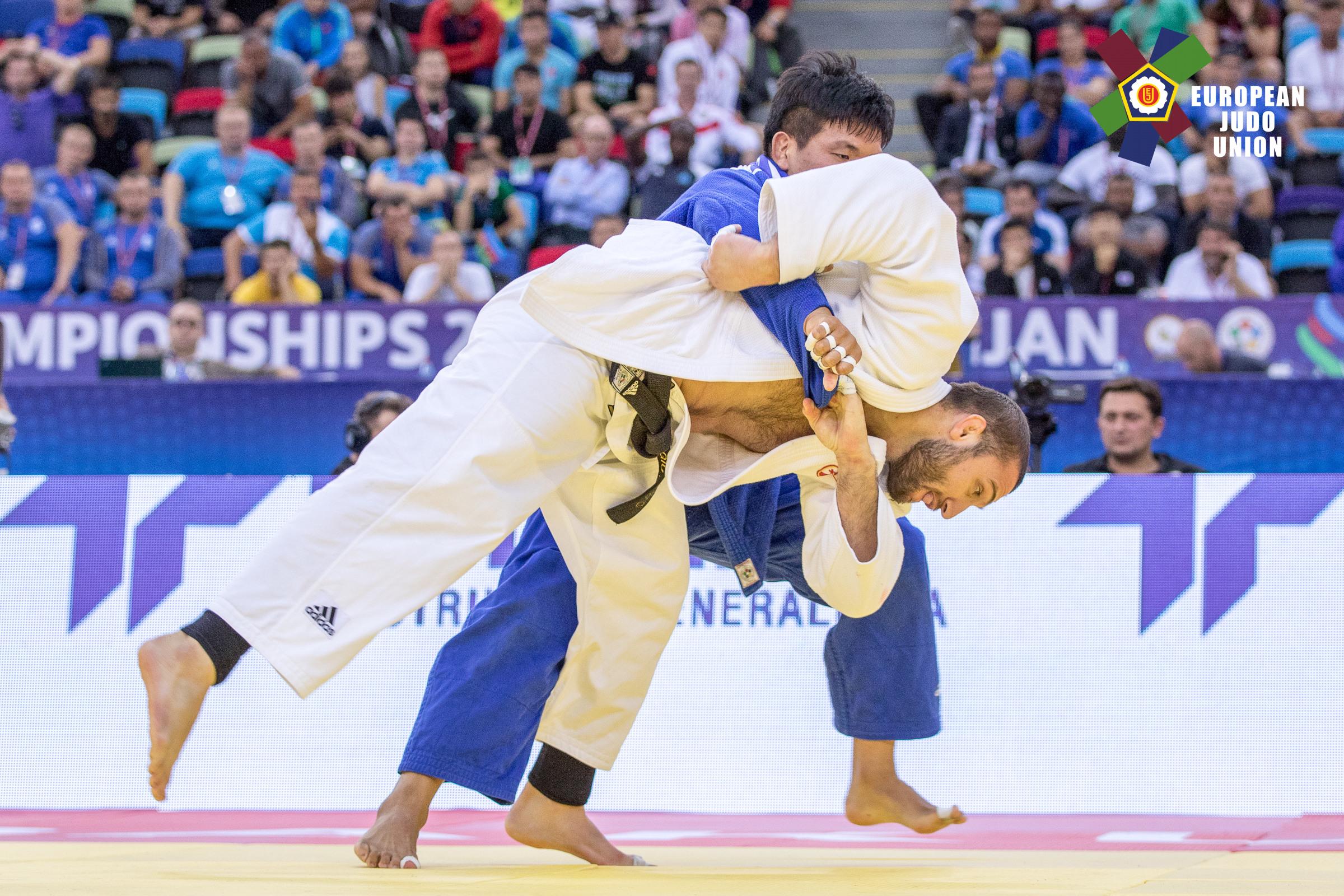 This is Varlam LIPARTELIANI's third World silver medal and although that in itself is certainly no easy achievement, it wasn't what he wanted to walk away with.
The Georgian team experienced some disruption earlier in the year which prevented them from preparing adequately for the European Championships in Tel Aviv, we asked about their preparation for this tournament as it has allowed for a great improvement.
"After the Europeans, we went to Japan, we had a hard period in Georgia, but after this we had hard physical and tactical training, we came back home to Georgia and trained hard. Before the Europeans we didn't have the same situation, we didnt have many partners, it was a problem and we didn't get good results."
This is his first Olympic cycle in the -100kg category, we asked what is next on the Georgian's agenda,
"I will take a little rest and will continue training with my coach and maybe compete in another two or three competitions this year."
A DUTCH DOUBLE ACT
The Dutch have a very strong team, particularly their -78kg women, three of whom are ranked in the top eight in the world.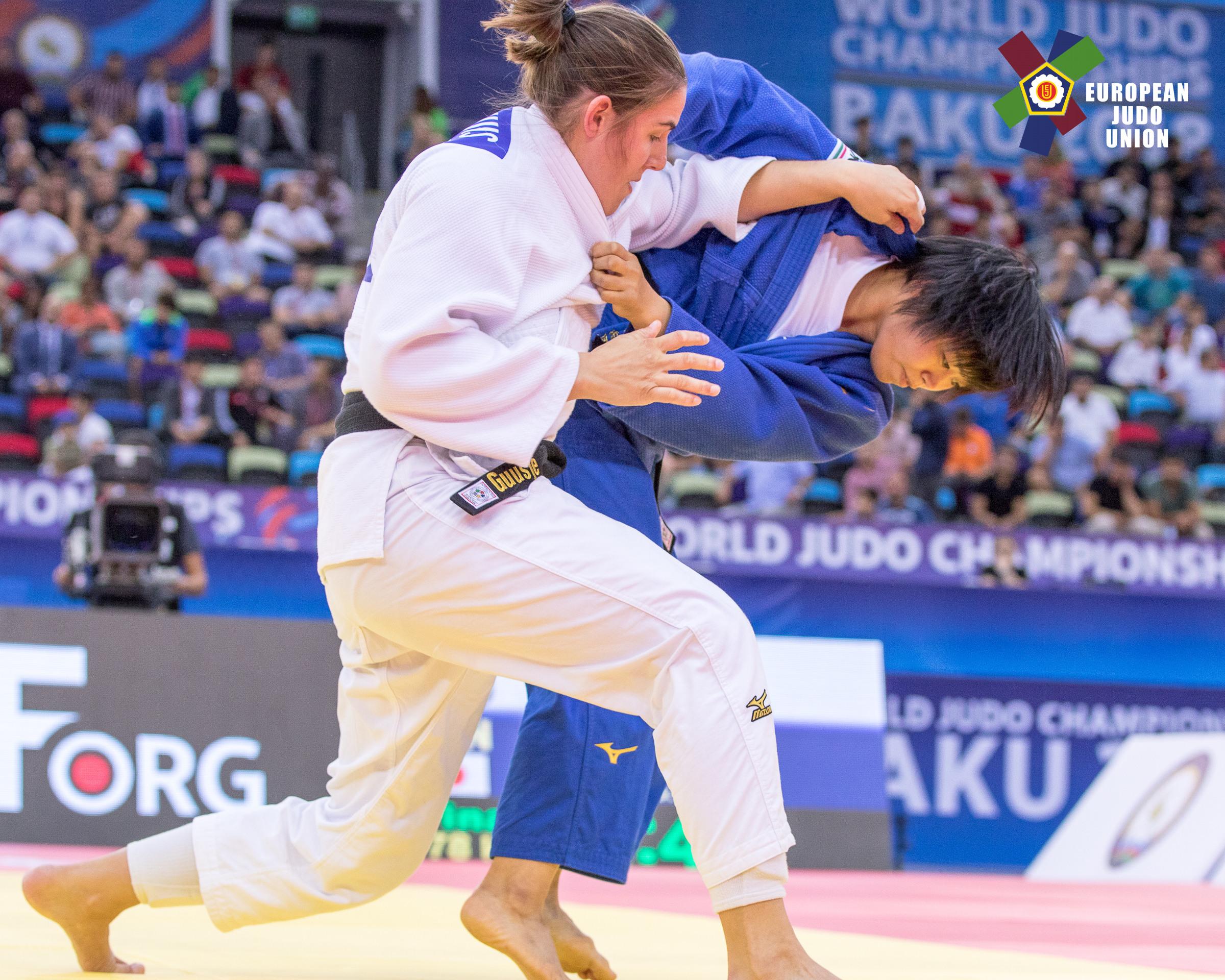 Going in to the tournament as the #1 seed was Guusje STEENHUIS. Being the higher seeded athlete from the Netherlands, we asked if that put any extra pressure on her to perform and prove herself,
"No it didn't, I was just trying to focus on my opponents."
Many of the athletes had their conditioning tested today, something STEENHUIS has successfully managed to avoid up until the final, her talent and strength winning her contests before the four minutes were up. Fifteen minutes after stepping on the tatami against HAMADA Shori (JPN), both athletes were exhausted, unfortunately STEENHUIS had picked up two penalties and a third one was issued at 5.23 in to golden score.
Though disappointed about the result, this was STEENHUIS' fifth attempt at a world medal and a silver was a well received reward for her hard work. Afterwards, asking her how she felt, the result was still sinking in and the athlete put her all in to this final, she was exhausted.
"I'm happy with the result but I wanted the gold. I was mentally very strong today and that's what made me so good."
The bronze medallist was 32 year-old, Marhinde VERKERK. In 2009 she took the World Champion title, and nine years later she shows us that she is still World class,
"Just keep on with the hard work, stay hungry, I also take a rest at the right moment so I can charge up and accelerate "
Only losing out to the eventual World Champion, VERKERK put in a fantastic performance showing that she will be part of the strong Dutch team for some time to come, VERKERK was hoping for an all-Dutch final. She didn't know if this would be possible at the beginning of the year as the Dutch athlete is still in recovery following an injury.
The bronze fight went in to golden score against Katie-Jemima YEATS-BROWN (GBR). The young British athlete has not long moved in to this weight category after having to take time out due to injury. She made a good comeback this year and impressed the crowds, taking the last French athlete standing, MALONGA, out of the running for a medal. However, she had to settle for a fifth place.
The experience of VERKERK was evident as she fought positively in the fight for bronze, just over a minute in the golden score, openining up YEATS-BROWN for an ippon seoi nage and going home with third place. VERKERK lost out in the World Championships in Budapest last year to another British athlete, Natalie POWELL.
"Last time in budapest I went out to the British girl so now I'm happy I won at the right moment."
Podium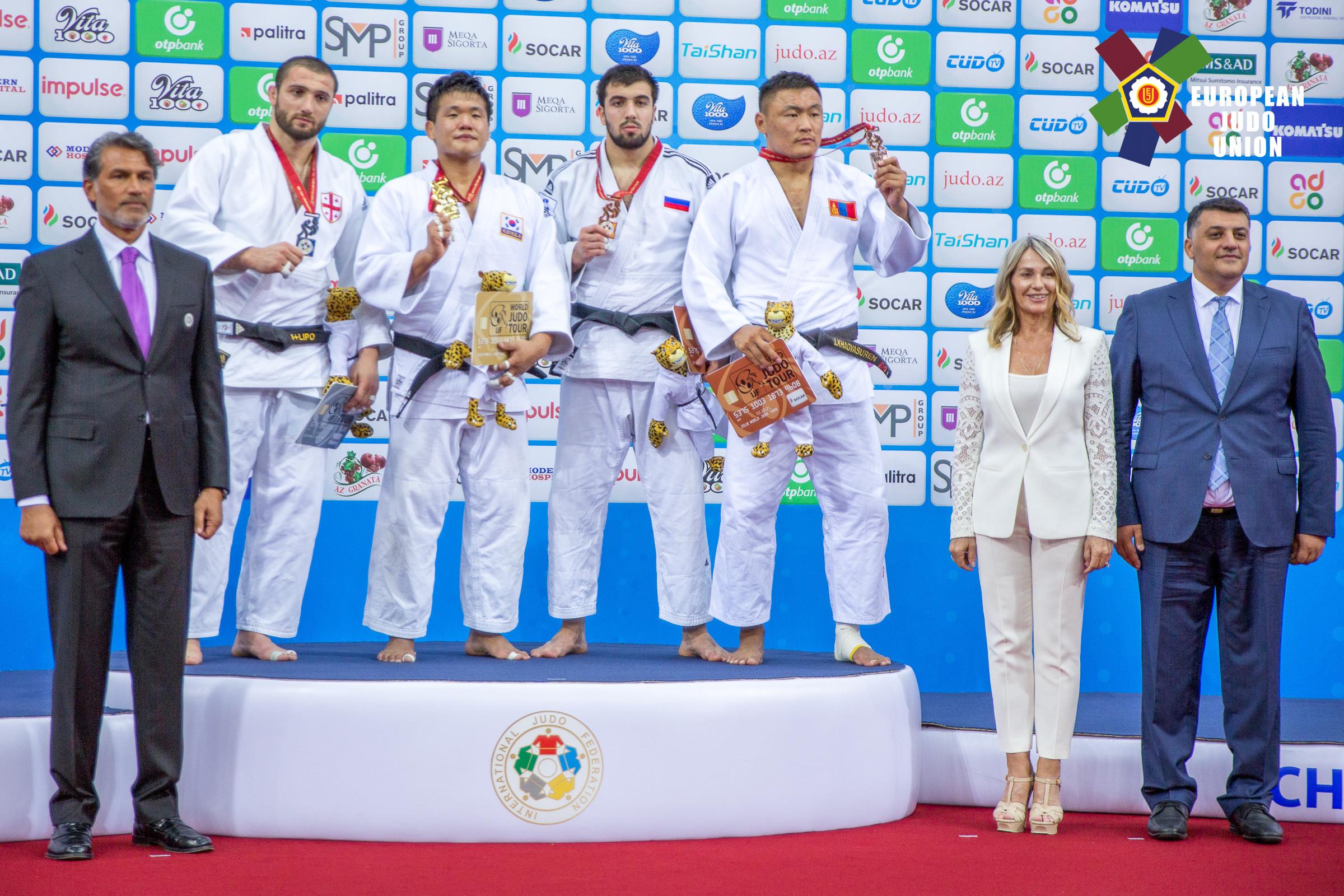 Podium -100kg 1. CHO, Guham (KOR) 2. LIPARTELIANI, Varlam (GEO) 3. ILYASOV, Niyaz (RUS) 3. LKHAGVASUREN, Otgonbaatar (MGL) – Rafal Burza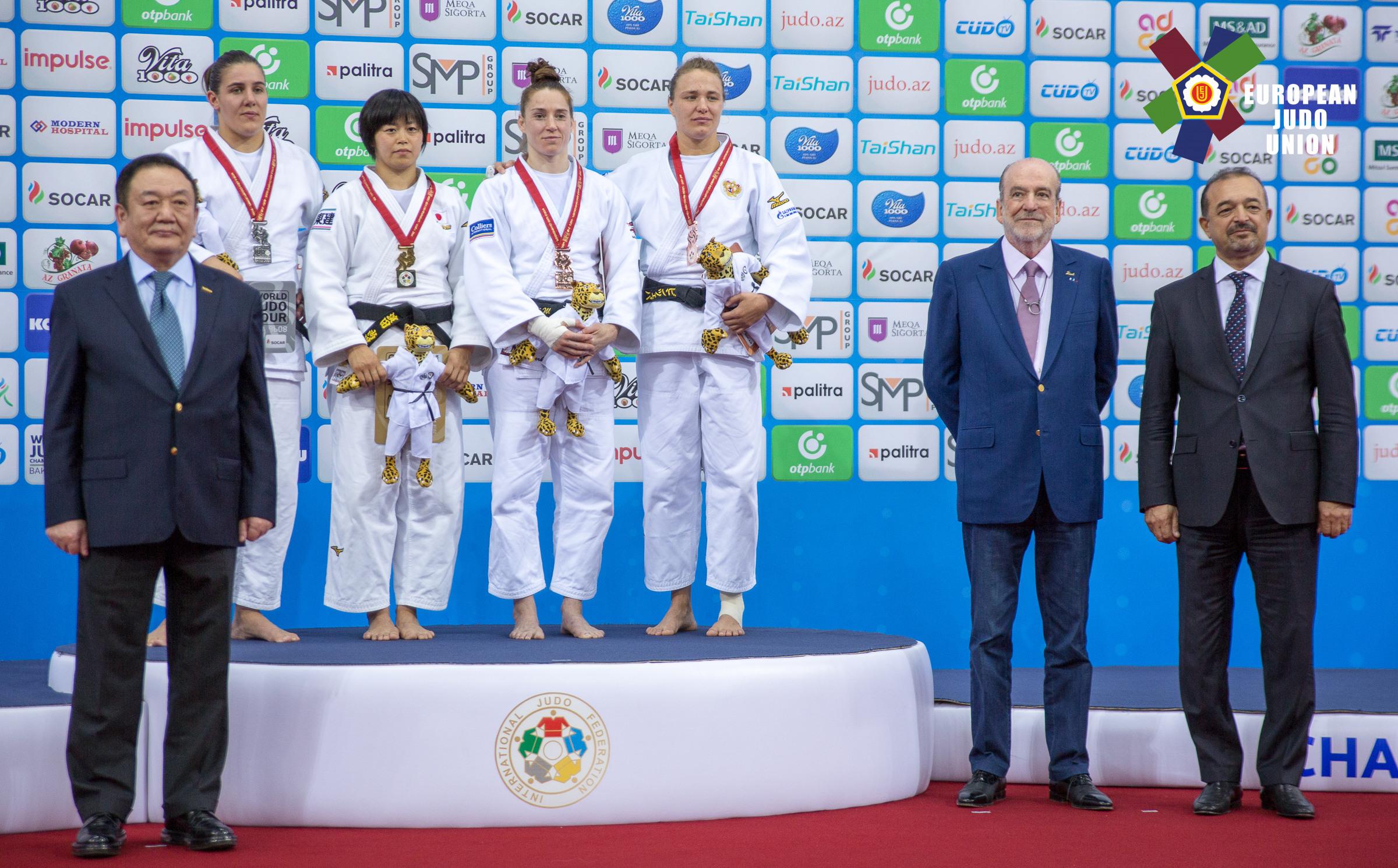 Podium -78kg 1. HAMADA, Shori (JPN) 2. STEENHUIS, Guusje (NED) 3. VERKERK, Marhinde (NED) 3. BABINTSEVA, Aleksandra (RUS) – Rafal Burza
---