There were two chances for Italy to claim a final place in the -81kg category, Leonardo CASAGLIA (ITA) went first against Georgi GRAMATIKOV (BUL). The Bulgarian had already gone toe to toe with Italian hopeful, Bright MADDALONI NOSA, a contest spanning almost seven minutes. This time he wasn't willing to go the distance, grappling to score waza ari and transitioning immediately in to ne waza. With the weight of Italian expectation on his shoulders, Tiziano FALCONE stepped up next against Jus MECILOSEK (SLO). It was definitely from the heart that Falcone attacked, a hard-hitting o uchi gari attack that travelled half the tatami gave him the ippon win and Italy a place in the final.
It was a hard initial contest, the first of the -70kg semi finals between Kelly PETERSEN POLLARD (GBR) and Assmaa NIANG (MAR) with the latter accruing two shidos. Then a contested score or disqualification followed. Niang attacked and an ippon score given but, as in her last tournament, a 'bear hug' grip was debated, though eventually the score given. Italy looked to Irene PEDROTTI for another gold medal hope as she fought with Giovanna SCOCCIMARRO (GER). The physical contest went in to golden score with the German making her comeback in ne waza.
An all-French semi final ensued between Francis DAMIER and Eniel CAROLY. It wasn't long until Damier started making moves, scoring waza ari in the first 30 seconds, and using ashi waza to score again soon after. The current U23 European silver medallist Marat KRYZHANSKYI (UKR) quickly realised he would have a tough fight on his hands with Daniel NIETO TRINIDAD (ESP) for a place in the final and after a short clinch, and counter, the Ukrainian scored waza ari. This only motivated the Spaniard more and his uchi mata attempts came exceptionally close but Kyzhanskyi anticipated the next attack and scored ippon with ura nage.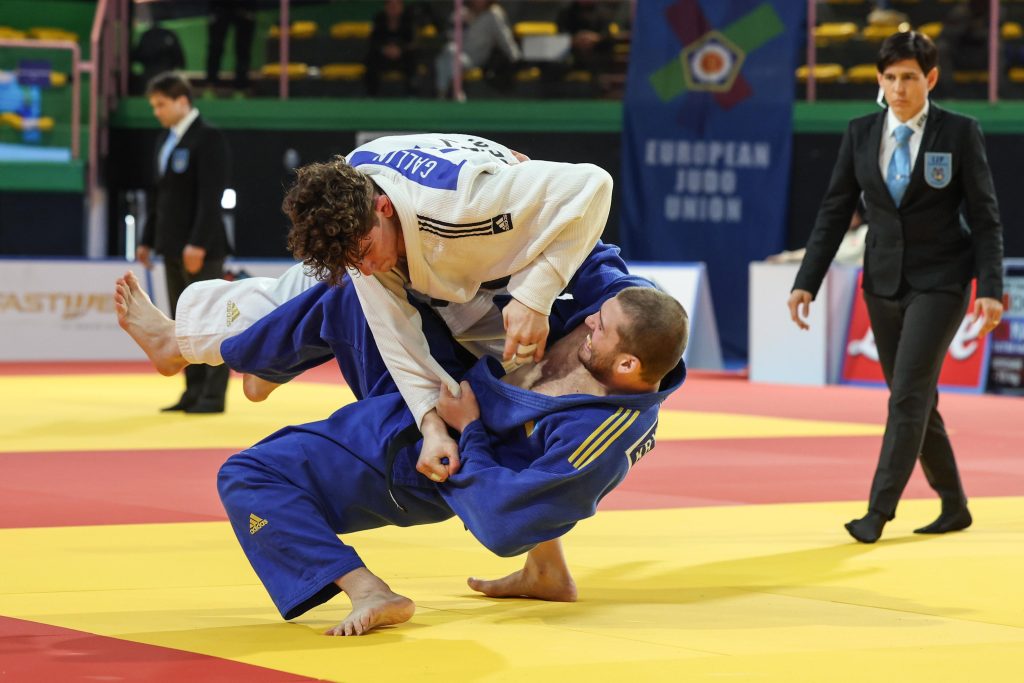 Once again Anna Monta OLEK (GER) and Lieke DERKS (NED) went head to head in the semi final, the previous exchange was only in the last continental open in Warsaw. Though Derks had a game plan, Olek scored waza ari with ko uchi and eventually took her place in the final. Just like in Warsaw in February, it was detained to be an all-German final. The second semi final was between Rafaela IGL (GER) and Julie HOELTERHOFF (GER) meaning that it could be the exact final from Warsaw, and with only 40 seconds left, Hoelterhoff was leading. Igl initiated ashi waza and surprised her opponent, then following with strong the waza for a place in the final.
Asley GONZALEZ (ROU) came in as the number one seed in the -100kg category today and though arguably not his back to former standard yet, he still demonstrated that he has the top skills. Falk PETERSILKA (GER) gave him a tough time in the semi final but a swift and low tai o toshi gave Gonzalez the win. Harry LOVELL-HEWITT (GBR) and Boris GEORGIEV (BUL) took the following semi final in to golden score with the Bulgarian also holding on to two shidos, after another gruelling minute of battling one another, a great effort and maki komi from Lovell-Hewitt finished the contest, giving the Great Britain men's team a second chance at a gold medal this weekend.
Both of the +78kg category semi finals were over in under 40 seconds. First up was the number one seed, Warsaw European Open winner and Tashkent Grand Slam silver medallist, XU Shiyan (CHN) against Tahiti Oceania Open winner Sydney ANDREWS (NZL). An initial score from the world ranked number eight with a strong o uchi. In the following exchange, Xu attempted to dominate with a deep grip on the back but Andrews took her by surprise and slid behind to take her back for ippon. People's Republic of China were in with another chance as the teams number two SU Xin found herself against Carmen DIJKSTRA (NED). Su wasted no time, only 16 seconds in fact, throwing with o soto gari for ippon. 
Number one seed of the +100kg category, Jonas SCHREIBER (GER) looked the more dominant in the first semi final against Anto DUBRETA (MNE) and in just less than half the contest took his place in his third continental open final. On his previous two occasions in Sarajevo and Oberwart he had to settle for the silver but given his performances today, he could be changing the record. Decided his final opponent were Irinel Vasile CHELARU GRIGORAS (ESP) and Guerman ANDREEV (FRA). Though Chelaru looked the stronger based on stature, Andreev scored first. With only 45 seconds left on the clock, the Frenchman finished off the contest.
the final block starts at 14:45 local time at live.ijf.org.
Judoka
Author: Thea Cowen
---