Multiple continents were strong today in the -57kg, -73kg, -63kg and -81kg categories, which also meant that Europe couldn't claim all of the final places, in fact, only the -63kg saw an all-European final.
First up were the -57kg women. We had two guaranteed bronze medals as Poland, Italy, Latvia and France had representatives in the early contests in the final block.
Initially, Julia BULANDA (POL) and Savita RUSSO (ITA) went head to head and it was Russo to take the first waza ari score in ne waza, but Bulanda managed to escape to attempt a comeback. The contest went the full four minutes and Italy took another medal.
Next up was Anna GULITE (LAT) and Emma MELIS (FRA). Unfortunately for the pair they travelled in to golden score and Melis accumulated three shidos, awarding the bronze to Gulite.
The final was between Linthoi CHANAMBAM (IND) and Bianca REIS (BRA). Chanambam was the crowd's favourite for gold and she scored with what was arguably a close ippon with ko soto. She was most definitely one of the performers of the day and winning gold for India, has left an imprint in everyone's mind.
Joshua DE LANGE (NED) was caught off guard in the first 10 seconds and sadly lasted only 30 as his opponent, Samariddin MUXIBIDDINOV (UZB) scored ippon with an uchi mata variation, countering De Lange's ko soto. The number one seed, Giorgi MISHVELIDZE (GEO) competed for the second bronze against Antonio MEDEIROS NETO (BRA).  Though Mishvelidze was on the back foot throughout, Medeiros relaxed for a moment and the Georgian took advantage, standing up from the ground, a ko soto saved the number one seed.
Another medal was going home to Georgia, Luka JAVAKHISHVILI took on KIHARA Keito (JPN) for the title. In the end it was a silver as a result on hansoku make, again like on a few occasions today it seemed to be a lack of awareness and could be explained by the age of these athletes. A lesson he will most definitely remember!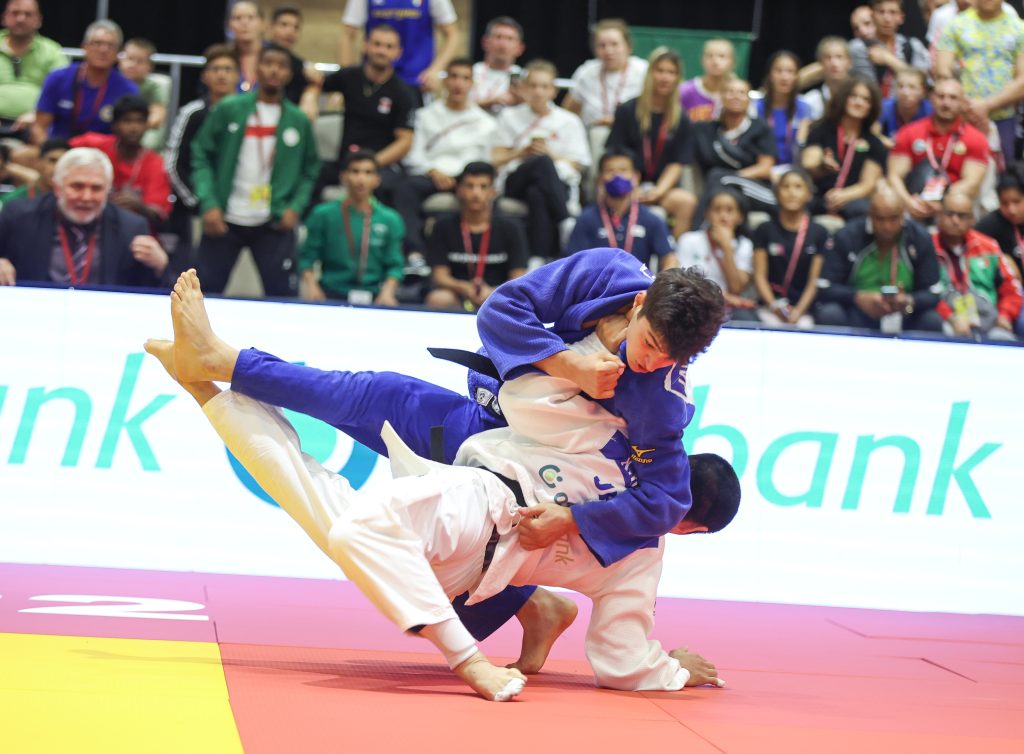 Lenka TOMANKOVA (SVK) wasted little time to take her bronze medal in the -63kg category, a beautiful uchi mata in 25 seconds. Europe had another chance for bronze with Emily STARZER (AUT) in the second contest, but it was another quick one in favour of her opponent, Khurshida RAZZOKBERDIEVA (UZB).
Nevertheless, Austria were still able to take a medal home as Franziska SCHLOEGL made it in the final against Sinem ORUC (TUR). The -63kg category were on the tatami altogether less than three minutes, the current cadet European champion scored ippon with a driving o uchi gari, doubling up on her major titles this year and she is ecstatic!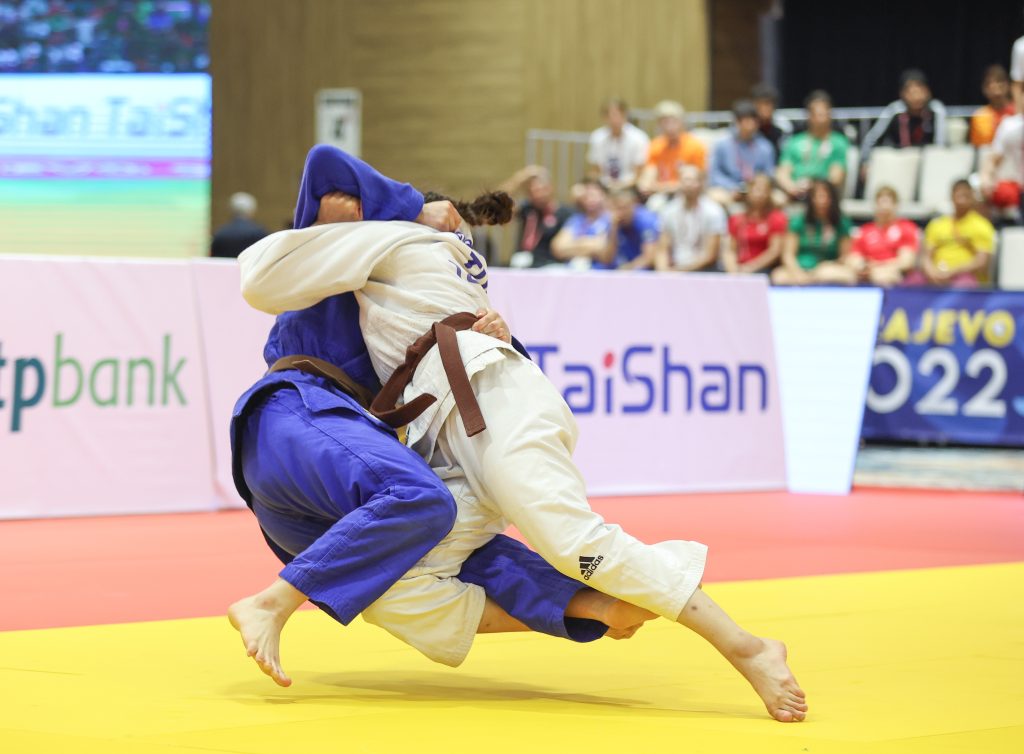 The crowd certainly came to life for the first -81kg bronze contest, as neighbouring Serbia's Dusan GRAHOVAC stepped on the tatami, after only 1.10, osae komi secured his medal against Panagiotis KYVELIDIS (GRE) and was a delight for the crowd. The next bronze was equally as exciting. Once again Igor TSURKAN (UKR) put himself in a dangerous position with shidos, moving directly on to the arm, Thomas PUCHLY (FRA) took a waza ari in osae komi but it just wasn't enough. Tsurkan came back with a waza ari of his own, and then sealed the deal, throwing his opponent as he executed a weak drop seoi nage.
Gor KARAPETYAN (ARM) was taken by surprise with sumi gaeshi early on in the fight for the world title, and worked tirelessly to come back, levelling the playing field half way in with a ko soto. Almost each exchange was tightly played, the tension was simply incredible in the crowd. The pair went in to golden score, yet kept up their energy, and just over a minute in, Karapetyan took Alisher SAMANOV (UZB) on to his hip to lift him enough for a huge throw and final score, giving him the gold.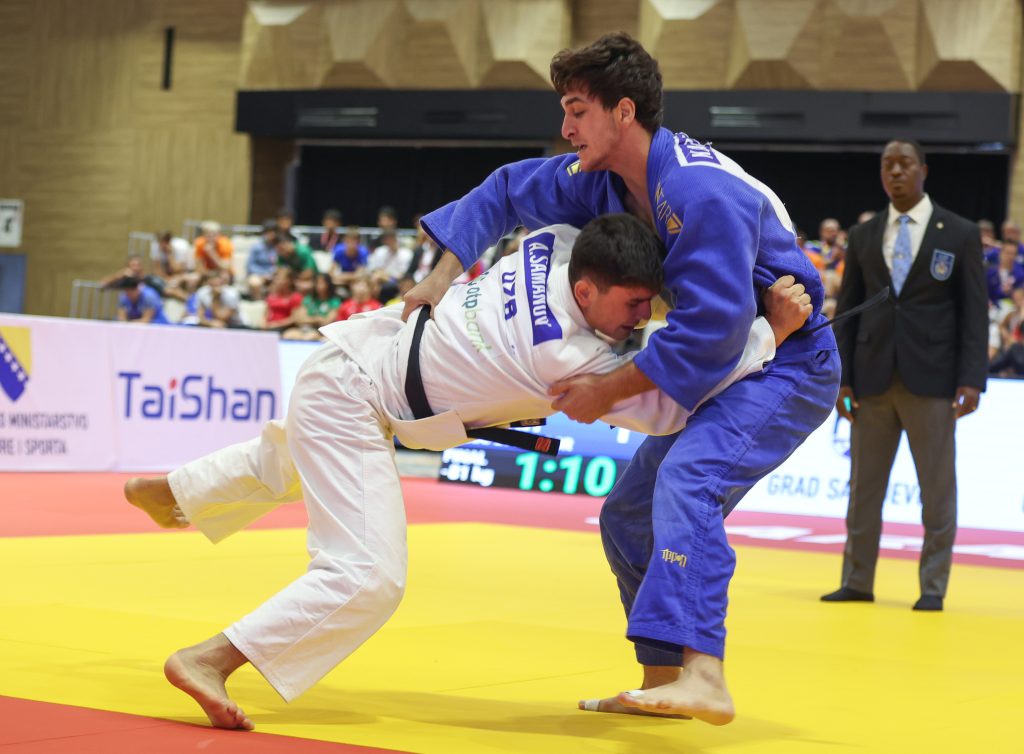 The final day of individual competition will begin at 11:00 tomorrow morning, follow the live stream at live.ijf.org.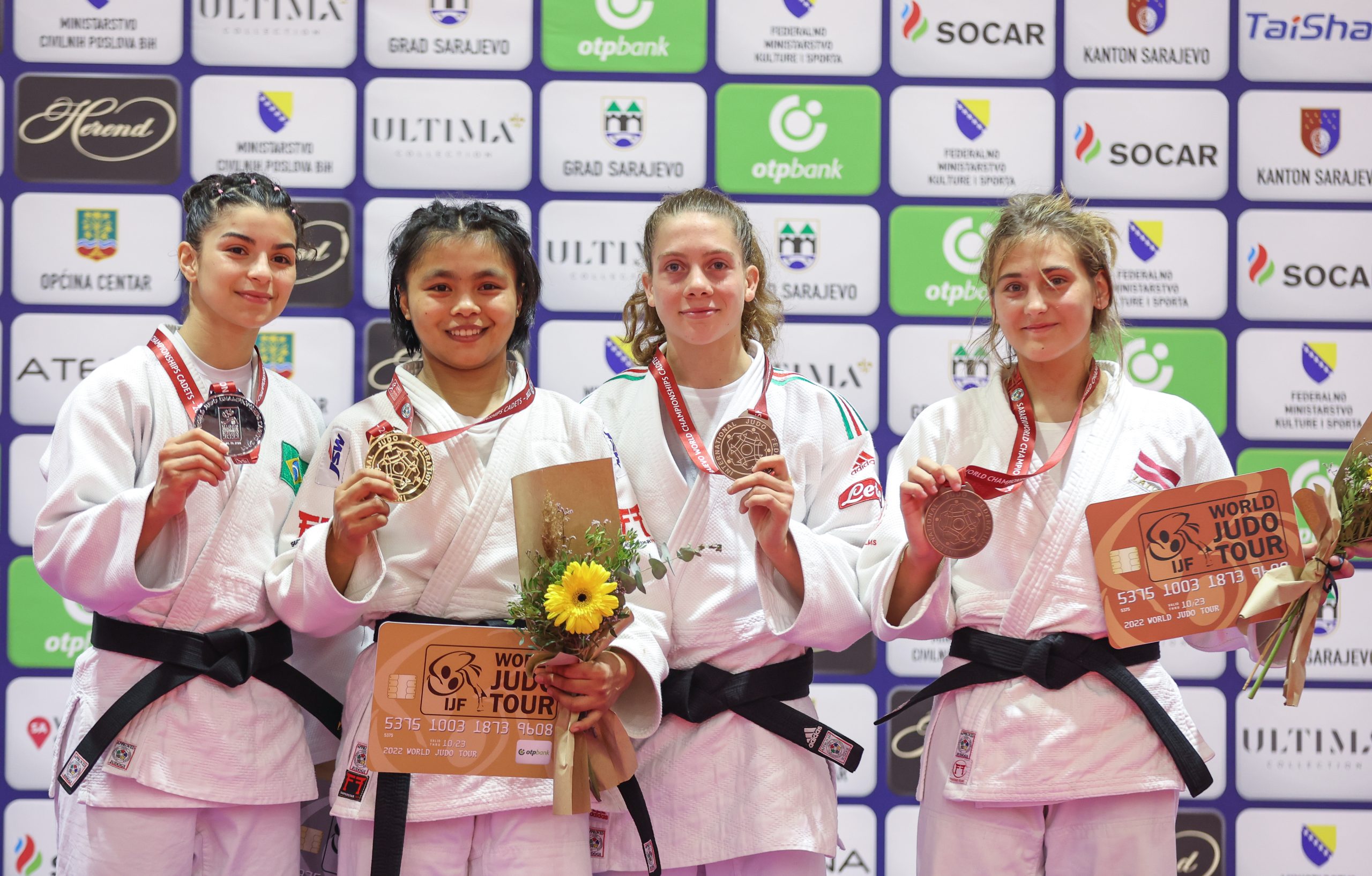 -57kg Medallists 🥇CHANAMBAM Linthoi 🇮🇳 🥈REIS Bianca 🇧🇷 🥉RUSSO Savita 🇮🇹 🥉GULITE Anna 🇱🇻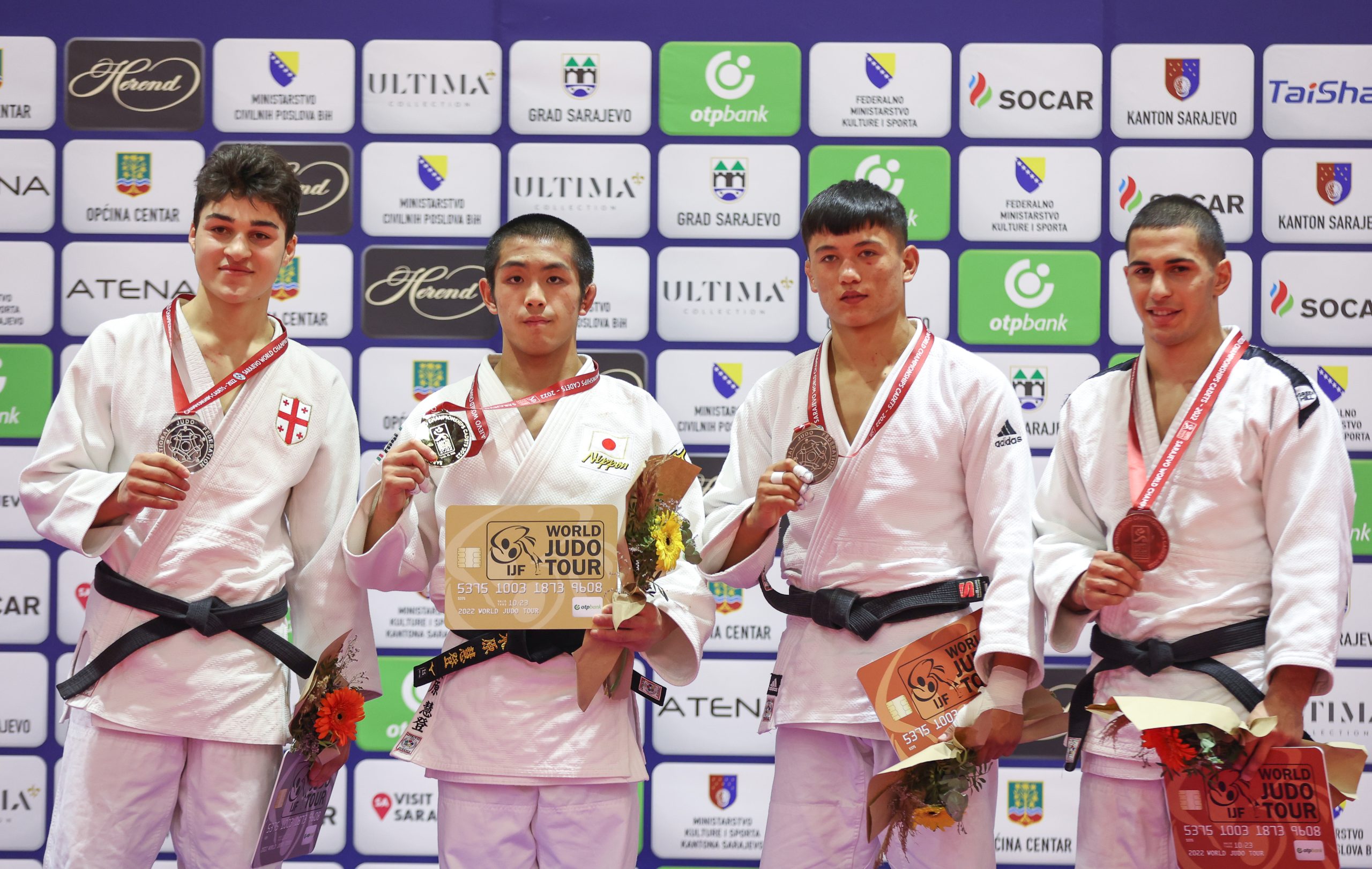 -73kg Medallists 🥇KIHARA Keita 🇯🇵 🥈JAVAKHISHVILI Luka🇬🇪 🥉MUXIBIDDINOV Samariddin 🇺🇿 🥉MISHVELIDZE Giorgi 🇬🇪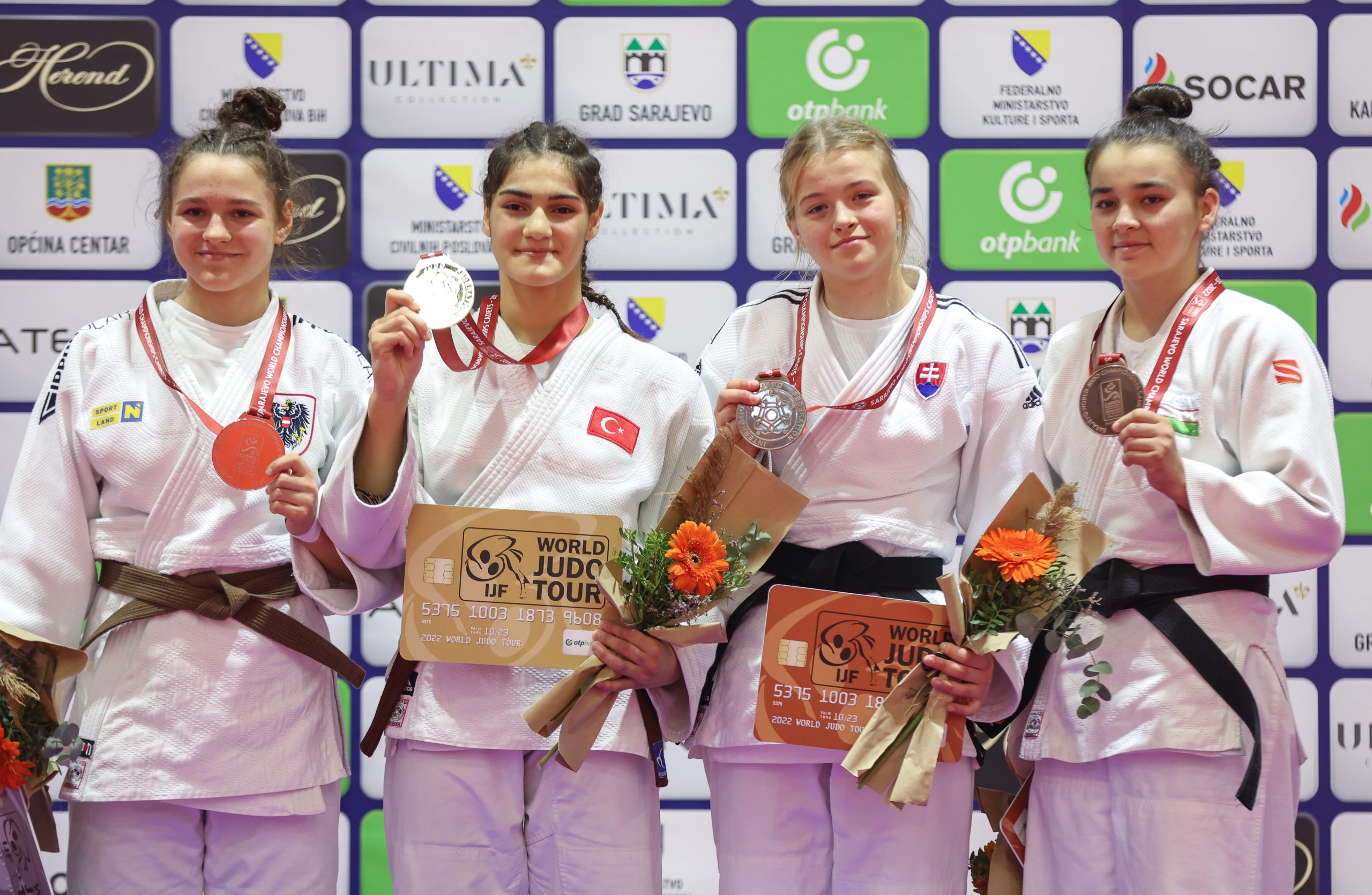 -63kg Medallists 🥇ORUC Sinem 🇹🇷 🥈SCHLOEGL Franziska 🇦🇹 🥉TOMANKOVA Lenka 🇸🇰 🥉RAZZOKBERDIEVA Khurshida 🇺🇿
-81kg Medallists 🥇KARAPETYAN Gor 🇦🇲 🥈SAMANOV Alisher 🇺🇿 🥉GRAHOVAC Dusan 🇷🇸 🥉TSURKAN Igor 🇺🇦
Judoka
Author: Thea Cowen
---