There they were, all the coaches arm in arm in the stands, singing the national anthem at the top of their voices. The pride was written all over their faces. The first competition day of the European Cadet Championships in Odivelas, Portugal, was dominated by Team Azerbaijan. With four gold medals and one bronze medal, they already surpassed last year's result on the first day (in Porec/CRO: 3-1-4).
"It can go on like this for us. We also have a very good chance of winning gold on the next days. But of course, whether we will be as lucky as today again, that's impossible to predict," beams head coach Rustan ALIMLI.
"If you had asked me in the morning today how we would stand in the evening, I would have expected a maximum of 2 gold medals. But that's judo, it can go fast, once in your direction, then also in the other… In the category up to 50 kg, Mohammad (Mamishov, winner) and Ahmad (Rustaman, 3rd place) could well have both been in the final and fought for gold. We have a very strong team and we are getting stronger every day."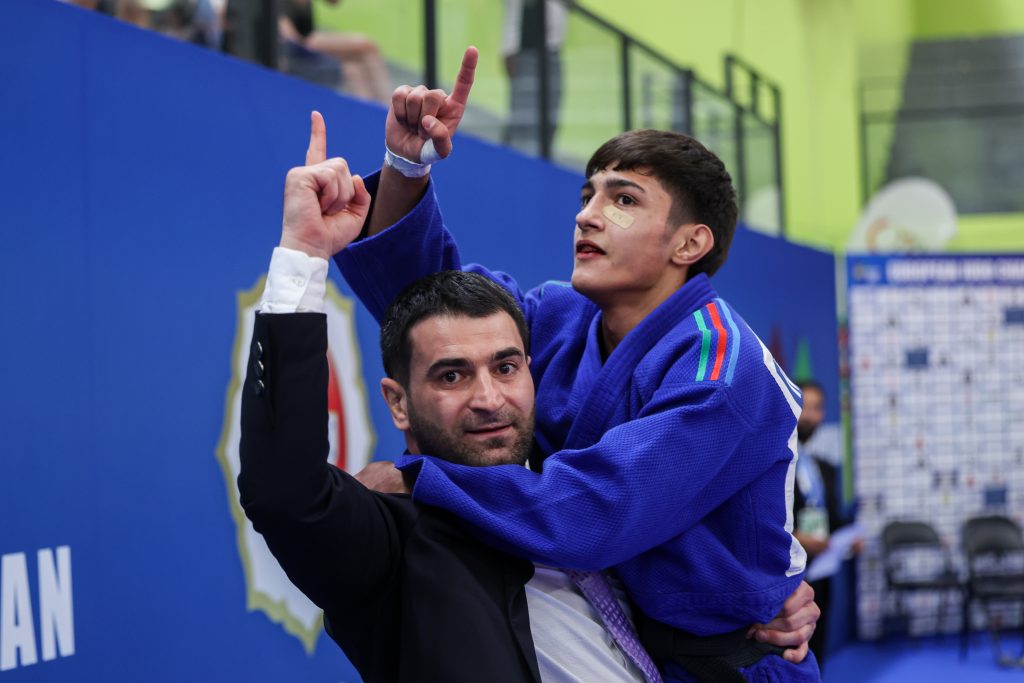 The 33-year-old young coach, who ended his active career (-81kg) in 2016, has been at the helm of the under-18 team for only a year. Together with national coach Nijat SHIKHALIZADA and chief adviser Natik BAGIROV, he may now reap the success.
"At the moment everything is going perfectly. We are working very well together. The roadmap is right," former World Championship medallist Bagirov praises his colleagues.
"This is a nice success, no question about it. Today is very special for our country, for our judo and we are happy about the five medals. But of course, what counts in the end is that as many of our talents as possible make it to the World Tour. As a cadet, you are only at the beginning. Only the next few years will show how good our girls and boys really are. Step by step."
Backing up these comments was Vice President and former Olympic Champion, Elnur MAMMADLI,
"The Azerbaijan Judo Federation is doing very productive work, the results speak for themselves. Today, the team of Rustam Alimli showed all of Europe the preparation of Europe. On the first day of competition four gold and one bronze is a very special achievement and we believe that in the coming days there will be the same great performance."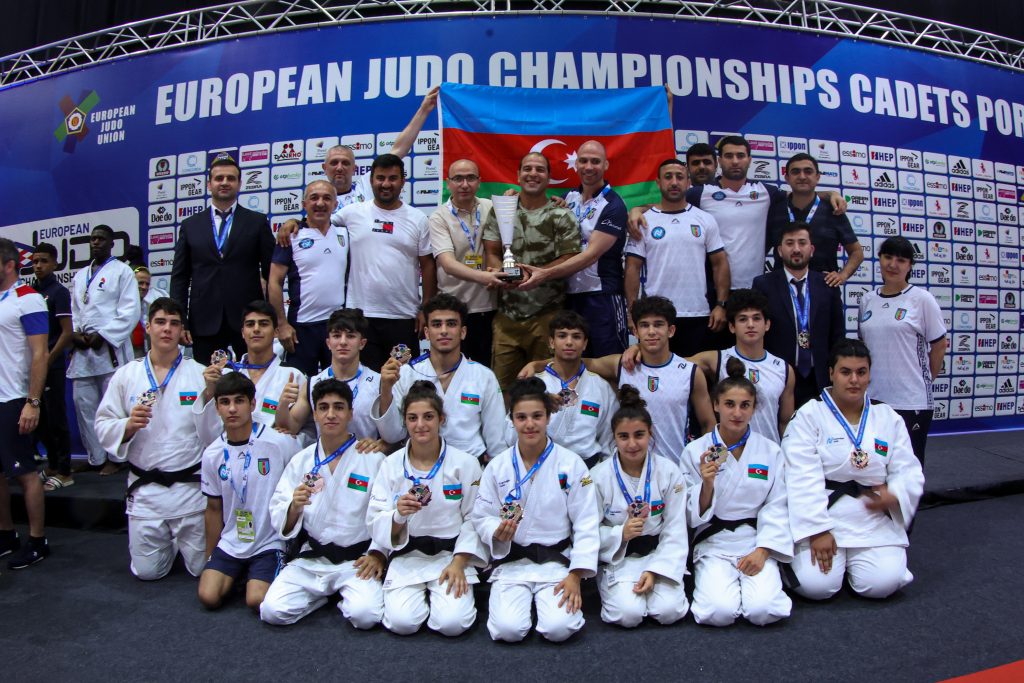 The gold quartet from Lisbon will almost certainly still be watching the Olympic Games in Paris in 2024 on TV, but at the latest in 2028 in Los Angeles, the golden four would be at the right age. Just like Natik Bagirov almost 30 years ago (1996), when he finished fifth at the Olympic Games in Atlanta/Georgia and narrowly missed out on the precious medal. Head coach Rustan Alimli has the last word before they leave the hall. "No doubt: We will hear our anthem again at the weekend."
One is inclined to believe him…
Judoka
Author: EJU Media
---